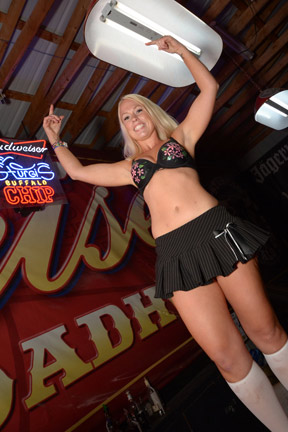 Awesome concerts, endless fun, bikers, and of course gorgeous ladies have always made the Buffalo Chip Campground a must visit destination during the 2012 Sturgis Motorcycle Rally. This year the Chip and Bunko Behinders, a team of women from the surrounding areas, are using some of these attributes to help raise money for cancer awareness with Lingerie for Life™.
Lingerie for Life™ is an event in which lovely ladies wear unique, one-of-a-kind bras to be auctioned with proceeds going to The American Cancer Society. The Bunko Behinders have held similar events in Spearfish for three years.
Cheryl Leahy a Bunko Behinders spokesperson said, "We wanted to raise awareness to raise more money and we thought of the Chip, owner Rod Woodruff said let's give it a try. You need the fun atmosphere and rally and Chip participants can have fun with it."
There will be 27 bras all together and three will be auctioned each night with the help of Sturgis Real Estate Company auctioneer Dave Wilson. The beautiful Budweiser Roadhouse bartenders will model the bras throughout the night and one will be auctioned at 8:15 p.m. and two more at 10 p.m. The bras will be delivered immediately after a bidder wins. Cash and credit will be the only currency accepted. There is an ATM available. All of the money raised will go into funding research against all types of cancer.
Whether you enjoy partying hard or kicking back and enjoying the sights and sounds of the Sturgis Motorcycle Rally everybody has a common and that is to help fight the war against cancer and the Buffalo Chip Campground is the perfect venue for maximum exposure.