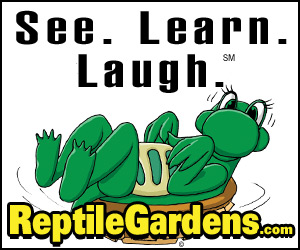 Reptile Gardens, a world-renowned family attraction in Rapid City, South Dakota, is taking a road trip! On August 4th, 2009, Reptile Gardens' team of snake experts will travel to the Buffalo Chip Campground for a show-and-tell of some popular deadly snakes – featuring rattlesnakes, cobras, and pythons, along with a special appearance by Fluffy the gator.
This interactive family-oriented show will give you the chance to have an up-close-and-personal experience with some of Reptile Gardens' reptilian ambassadors, including the American alligator (Fluffy) and this snake triad. The professional snake keepers will also discuss snake safety, including precautions to take if you ever come face-to-face with these fearsome creatures in the wild.
Here are some characteristics of the snake show star line-up.
Rattlesnake – Belongs to the class of venomous snakes known as pit vipers. They are characterized by the presence of a "rattle" at the tip of the tail used to warn off predators and threats.
Cobra – Venomous snake usually inhabiting tropical and desert regions. The cobra's most recognizable feature is its hood, a section of its neck which it can flatten outwards in a threat display to appear larger
Python – Known as a constrictor, pythons are large, very strong non-venomous snakes who kill their prey through asphyxiation. As a python wraps around its prey, it applies and maintains enough pressure to prevent the victim from inhaling.
Reptile Gardens started as a one-man-show in 1937, founded by 21-year-old reptile enthusiast Earl Brockelsby. Earl had been fascinated with snakes ever since he was a child. He observed many people, while initially expressing a fear of reptiles, also were intrigued by these fascinating creatures, so he set up a small display of snakes and charged people to see them.
Earl began adding other reptiles to his collection – giant tortoises, alligators, crocodiles, lizards, and exotic, poisonous snakes from the four corners of the globe. Alligator, snake, and bird shows were also added to the list of exciting family experiences offered by this Rapid City family attraction. Although Earl passed away in 1993, his extended family continues to carry on his proud legacy – Reptile Gardens remains a thriving family-owned and operated business taking home "South Dakotas Family Business of the Year" award in 2008.
Reptile Gardens is a one-of-a-kind family attraction that remains deeply involved in their local and global community with a mission "To educate the public on important environmental issues, while working closely with many major zoos worldwide to promote species survival."
Click on the coupon below and you will be taken to the Reptile Gardens site where this coupon can be printe