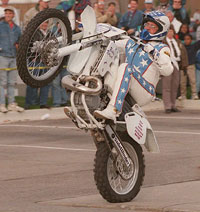 Knievel to commemorate Hall of Fame induction with third Chip jump
World famous motorcycle stunt rider and TV star Robbie Knievel will
commemorate his induction into the Motorcycle Hall of Fame with a
third motorcycle jump at the Legendary Buffalo Chip Campground during
the annual Sturgis Motorcycle Rally.
Knievel will thrill his Sturgis Motorcycle Rally crowd with a jump over two
WWII tanks at the Buffalo Chip shortly after midnight on Tuesday,
Aug. 7, 2007 after a performance by Grand Funk Railroad and Foreigner.
Knievel made headlines in 2000 when he made a ramp to ground jump
over the huge Buffalo Chip Stage, avoiding concert lighting which was
hung from the stage's roof. The thrilling Sturgis Rally jump excited
Chip crowds when crashed into haystacks in the amphitheater cracking
several ribs, but managing to party through the rest of the evening.
The jump was featured on the Travel Channel's Sturgis: The Great
Ride, one of the network's most requested shows, which is still in
rotation.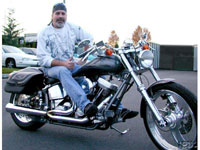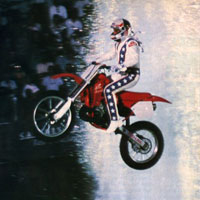 Knievel went one better during the 2003 Sturgis Bike Rally when he
commemorated Harley-Davidson's 100th Anniversary by successfully
jumping over 100 Harley-Davidsons inside the amphitheater at the
Chip. That jump also featured Knievel's wild trike with a jet engine.
Knievel will be inducted into the Sturgis Motorcycle Museum's Hall of
Fame at its annual breakfast Wednesday morning, August 8, 2007.
"We congratulate Robbie on this well-deserved honor," said campground
owner Rod Woodruff. "Robbie remains one of the most exciting icons of
the motorcycle industry and it's always a treat for us and our crowd
when he jumps at the Chip. He tries to out-do himself every time he
jumps and we'll be excited to see what he has in store for us when he
clears those two tanks. We can count on a real pyrotechnic light show
and an exciting and dangerous jump."
Producers of Robbie's A&E program, Knievel's Wild Ride said "Robbie
Knievel is a real life action-hero who is one of the most compelling
characters to ever to blast across the television landscape."
Robbie Knievel, son of legendary daredevil "Evel" Knievel, has
completed more than 250 motorcycle jumps and has set 20 world
records, which include the famous Caesars Palace Fountain jump and
Grand Canyon jump.
Other performers appearing at the Legendary Buffalo Chip in 2007
include Edgar Winter, Kenny Wayne Shepherd, Poison with Ratt, Toby
Keith with the Classic Rock All Stars, Velvet Revolver with Dale
Earnhardt, Jr., ZZ-Top with Buckcherry, Daughtry with Blue October
and Papa Roach with Seether. More information is available at
www.buffalochip.com