Flat Track Roller Derby Event Returns to the Sturgis Buffalo Chip
Witness all the knockdown, drag-out excitement of the world's fastest-growing sport at the Legendary Buffalo Chip during the 2015 Sturgis Rally. The sixth annual Rolling Sturgis Roller Derby Festival, brought to you by Danger Girl Enterprises, amplifies the party that already boasts the best in Sturgis Rally music and entertainment.
The Rolling Sturgis mission is to help grow this amazing sport; and that's exactly what they'll do when they unite some of the best derby players from around the country with revved-up Sturgis Rally crowds. This eight-day knockdown roller derby event features competitive nightly roller derby bouts from 6-8:30 pm at the CrossRoads. These action-packed bouts showcase strong and sexy female athletes in the full-contact sport of flat track roller derby.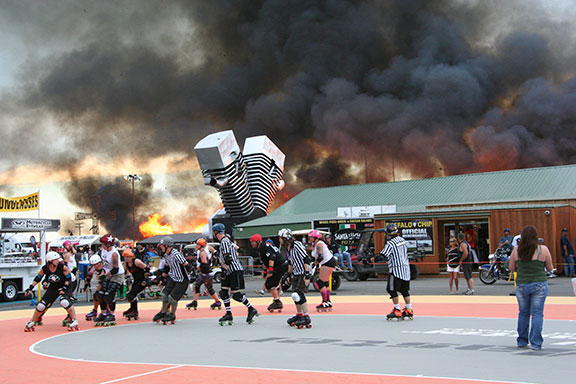 For skaters at the Sturgis Buffalo Chip, this premiere roller derby event presents the opportunity to play for a fired-up audience and skate with talented players from all over the country. In addition to competing in daily flat track roller derby bouts, skaters may take part in clinics taught by talented guest coaches during the day and treat themselves to some amazing concerts later that night.
If you're a roller derby skater who would like to participate in the Rolling Sturgis Roller Derby Festival, visit http://www.rollingsturgis.com.