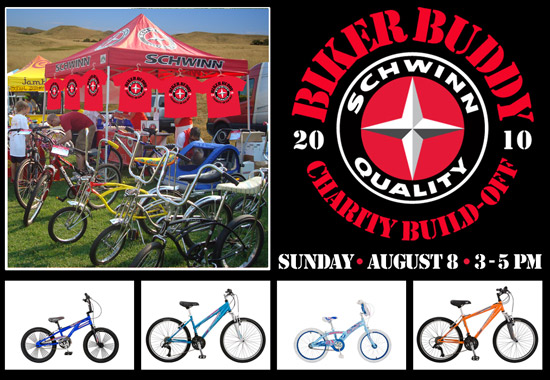 SCHWINN SPONSORS "2010 BIKER BUDDY BUILD-OFF" AT LEGENDARY BUFFALO CHIP DURING STURGIS RALLY
We're very pleased and proud to announce that Schwinn has generously donated 60 new bicycles and helmets to the Kids & Chrome Foundation to benefit the Black Hills Children's Home Society. These bicycles will enhance the stay of each child in residence at this loving foster home for battered and abused children.
Currently, all of the bicycles are unassembled in boxes at the Buffalo Chip warehouse.
We're looking for two-person "Biker Buddy" teams with big hearts and some experience in bicycle assembly, willing to donate an hour of their time to to pitch-in and assemble a bicycle (or two) for these children in need, on Sunday, August 8 between 3-5pm.
Here's how the "Schwinn Biker Buddy Build-Off" works:
Bicycle boxes will be located at the Schwinn Tent located at The Chip's Custom Corral on Sunday, August 8 between 3-5pm.
Pre-registered "Biker Buddies" will simply sign-in at the Schwinn Tent (photo ID required)
Registered two-person teams will work together
Individuals who register alone will be paired with a "Biker Buddy" partner
Each 2-person "Biker Buddy Team" is provided a "bike-in-a-box" to assemble in the The Chip's Staging Area
It's very likely a variety of TV, Radio and Print Media will be covering this local charity event and taking video & photographs
Each "Biker Buddy" will receive a special, free commemorative "Biker Buddy" t-shirt from Schwinn and an invitation to a special VIP Reception at the The Chip's Event Center where the new Schwinn bicycles will be displayed.

Click here to register for your chance to volunteer as a "Schwinn Biker Buddy"