Welcome to Camp Easy Ride! Camping with a concierge touch. You'll never have to overload your bike, haul your gear, hunt for a great campsite, set up, tear down, or clean up your camp again.
You'll have tons of extra time to enjoy the fun and shenanigans without having to fuss with camp gear. All you need is your bike and personal items and be ready to party like it's 1999!
| | |
| --- | --- |
| Who: | You! |
| What: | Concierge Camp Easy Ride Camping |
| When: | 2023 Sturgis Rally |
| Where: | Buffalo Chip |
| Why: | Never haul, setup, tear-down and cleanup your camp again! |
| How: | Reserve Now |
Simply Arrive, Party, Drop, Repeat, Leave!
Your Camp Easy Ride reservation gives you access to premier camping equipment, a large social area, coffee and refreshment center, Black Stone Cooking station and the Easy Lounge for relaxing. It also makes you eligible to win awesome prizes such as free bar drinks, sponsor swag, and even free event lodging at upcoming events.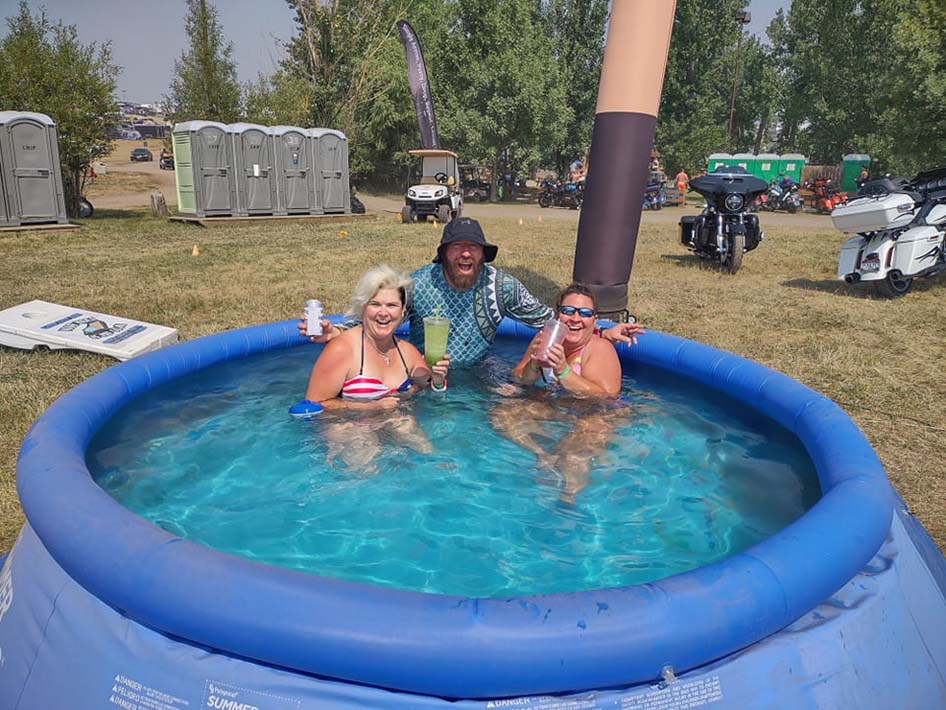 What to expect at Camp Easy Ride?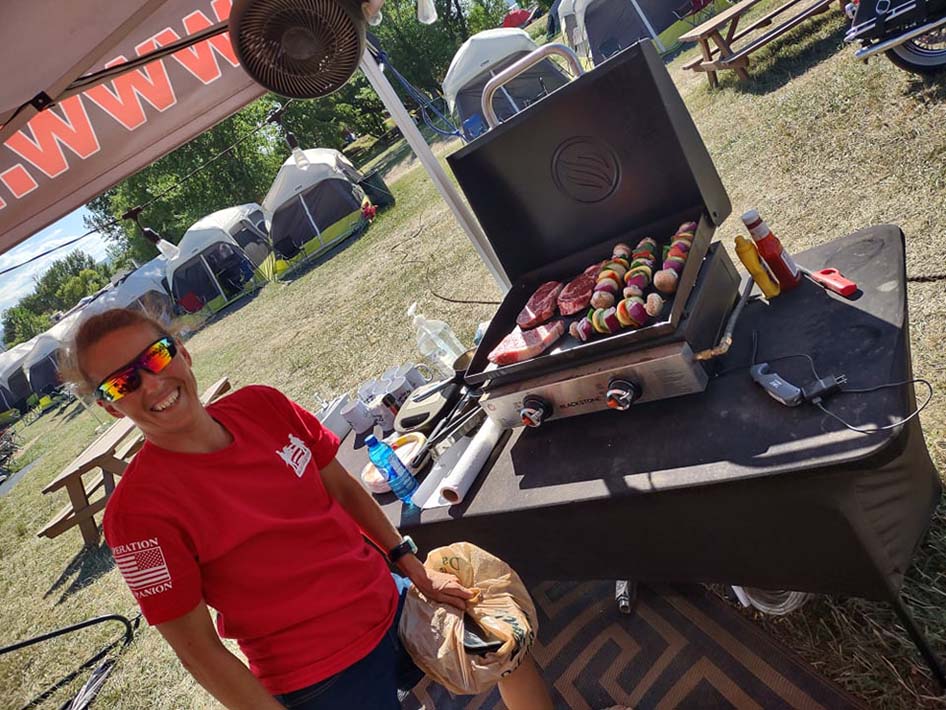 Upon arrival you'll take a self-guided tour of the horse shoe shaped Camp Easy Ride compound to choose which tent you prefer. Tents are secured by your reservation, but your selection is first come first serve. The opening of the Camp Easy Ride horse shoe compound is where the social area is located, so choose carefully whether you're interested in being involved with the party zone or you'd prefer a little quieter area.
Each tent is identical except for three distinguishing factors:
Your tent number on a dry erase board. The board is lit at night, so you can easily locate your tent. You may customize your board
Your bed comforter is either Red or Blue. Another small way of identifying that you are in the correct tent. 😜
The type of mattress: A high rise, low rise, and backboard supported.  Each offers a different comfort style.
Once you choose a tent, you'll return to the Welcome Tent to indicate your tent number and receive a Camp Easy Ride band and tent lock code. You must wear both a Buffalo Chip Campground and Camp Easy Ride wristband at all times. Only Camp Easy Ride customers will be allowed entry past the red ropes into the primary Camp Easy Ride tenting area. All visitors must accompany a Camp Easy Ride reservation holder and must also have a Buffalo Chip Wristband, or they will not be permitted on the Camp Easy Ride compound.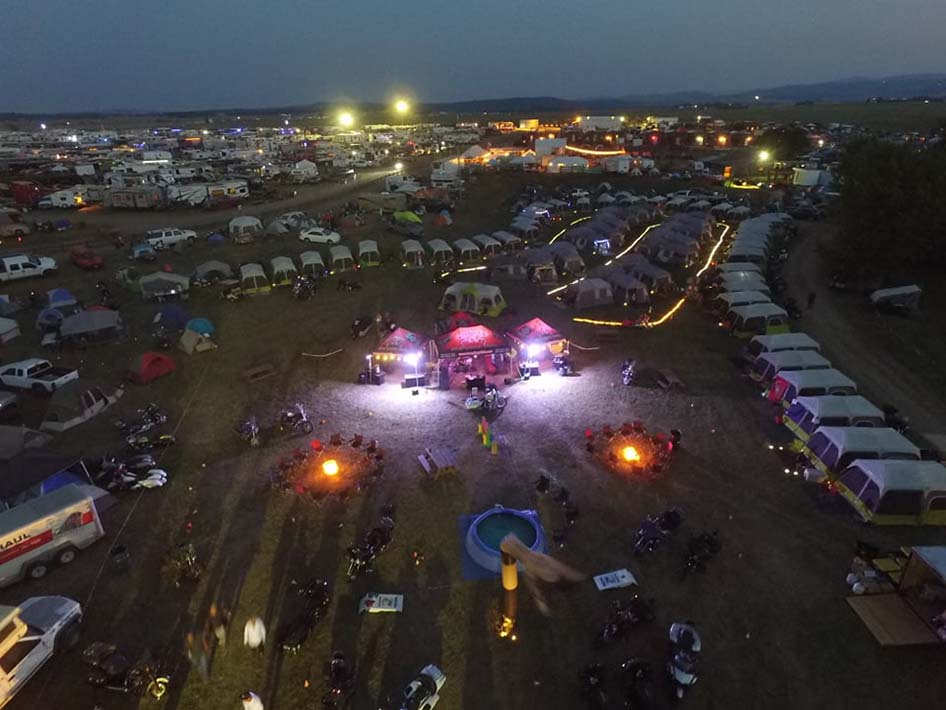 As you may know by now, you're staying at a biker party. Don't expect a lot of quiet time. We will do our best to ensure that you're as comfortable as possible during your stay.
Once you settle into your tent, you'll notice built in LED lighting, a premium adjustable air mattress, plush comforter, fresh linens, a side table, small vanity mirror, an indoor rug, an outdoor rug and two camp chairs, and a fan. In addition, you'll notice a few items in the storage pouch to the right of the bed. We call this our Care Package. The Care Package includes a bottle of water, Ibuprofen, earplugs, a night mask and other random niceties.
Power for any small amperage items, such as cell phone charger, C-pap machine, is included. A fan will be available from 8 pm to 8 am via a gas-powered whisper generator. No personal AC or heating units are allowed unless they are battery or propane-powered.  You can charge your cell phone at the community charge station during the day.
If you do not check-in by 8 pm on your check-in day, a Camp Easy Ride assistant will reach out to you via phone, text, and email to ensure you make it safely to your camp and provide afterhours check-in instructions.
A Camp Easy Ride staff member will be available at all times to ensure you have the best possible experience.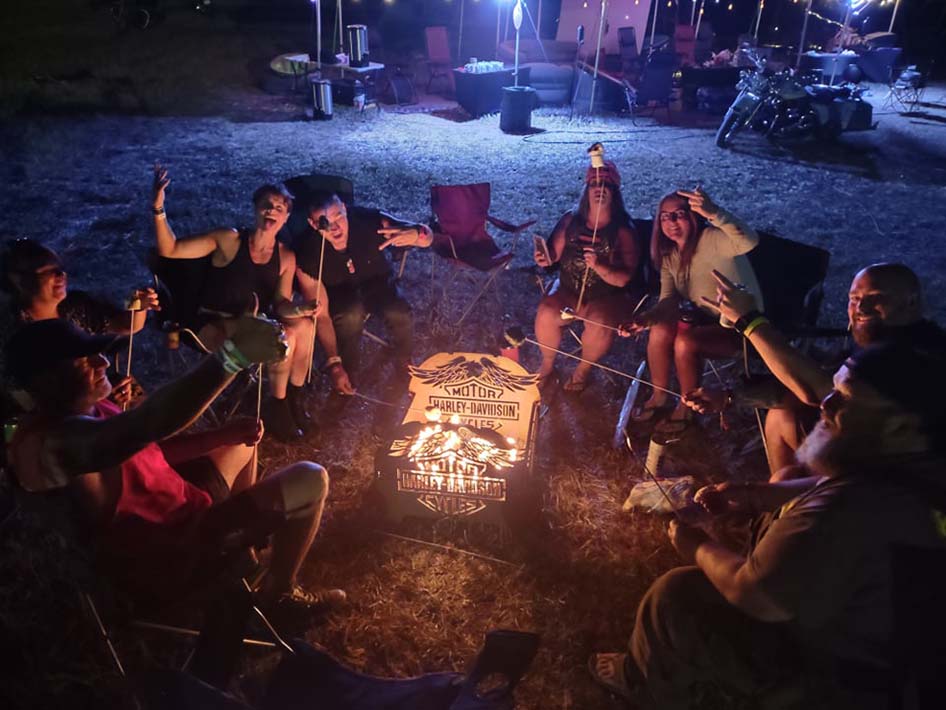 When your stomach begins to growl throughout the day, you may venture over to one of the great food options at the event or grill yourself up your own steak at the Black Stone cooking station. Small disposable coolers and ice will be available for you to purchase to store your own food or beverage.
As the sun begins to set, you can explore the wonders of the event grounds or just relax at the Camp Easy Ride compound.
When you wake the next day, a fresh pot of coffee will be waiting as you receive info on your breakfast options and a list of the daily activities. You are free to enjoy events at the Buffalo Chip or just relax in one of the many hammocks or play a rousing game of Giant Jenga with new or old friends.
And now this is where our trademark phrase comes in:
Simply Arrive, Party, Drop, Repeat, Leave!!!
When you check out at 10 a.m., open up all your tent windows to allow last night's questionable decisions to air out 😜, grab a bottle of water for the road and all of your items, and leave! That's it. 
When you check out, you'll receive several more emails, including a Safety Call, to ensure you made it home safely and a Thank You for Visiting message. 
Thank you for choosing the one and only Camp Easy Ride, camping with a concierge touch. Reserve now before the rates go up or worse yet, we sell out!