Custom Series' Show Featuring Bill Dodge of Bling's Cycles
Complete S&S V111 Engine, Baker OD6 Transmission and Paughco 5-Speed Wishbone Frame to best of Show Winner!
Celebrate Harley-Davidson's classic and reliable workhorse engine at the Buffalo Chip's 2nd annual Evo Entanglement Bike Show presented by S&S Cycle. On Wednesday, Aug. 10, the free-access CrossRoads at the Buffalo Chip will be packed to the edges with Dynas, Softails, FXRs, Sportys, touring bikes and even CVOs, all outfitted with these long-revered engines.
Who:

You!
What:
Evo Entanglement Bike Show
When:

Wednesday, Aug. 10, 2022

Registration: 11 a.m. – 1 p.m.

Judging: 3 p.m.

Awards: 4 p.m.

Where:
Free-Access CrossRoads at the Buffalo Chip
Where:
Celebrate Evos, meet Bill Dodge of Bling's Cycles, win valuable prizes
Where:

Ride in! It's free to enter, free to attend.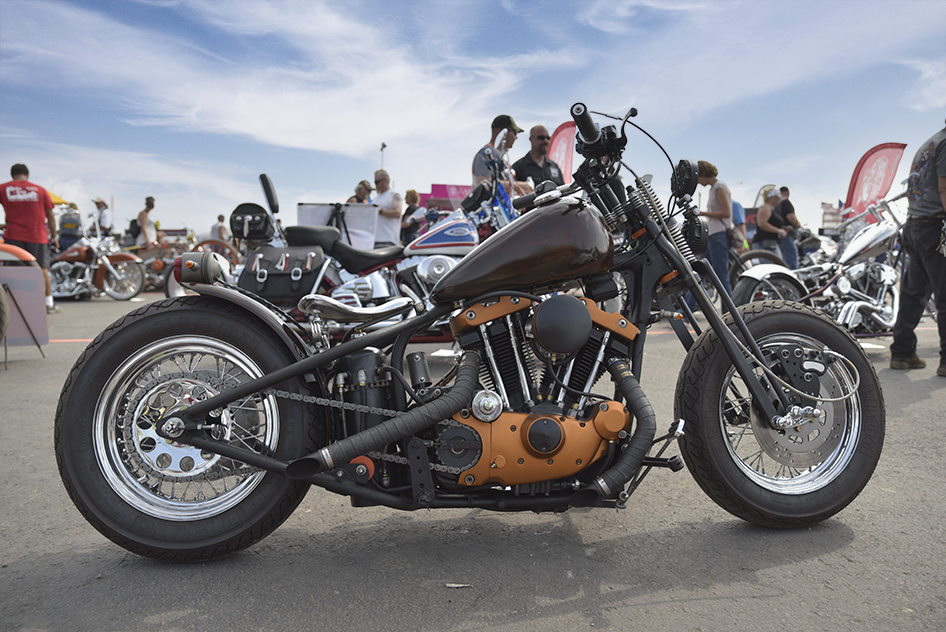 The Evo's durability has made it a favorite among riders, and its approachability has allowed it to become one of the most popular engine platforms amongst builders and mechanics of all skill levels. Are you one of them? Enter what you've got for a chance to win valuable prizes – including a complete S&S Cycle engine and Paughco frame for Best of Show!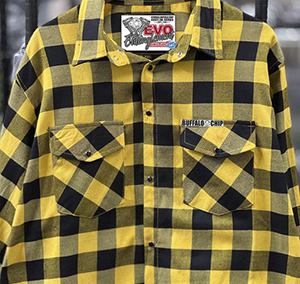 How to Enter and Win
Entry is free! Ride in and register on site from 11 a.m.-1
p.m. Pre-registration is also available. Be one of the first
100 to preregister and receive a FREE
limited edition Buffalo Chip Evo Entanglement Flannel,
courtesy of Mint Speed Shop!
(Shirt size guaranteed if registered before May 31, 2022.)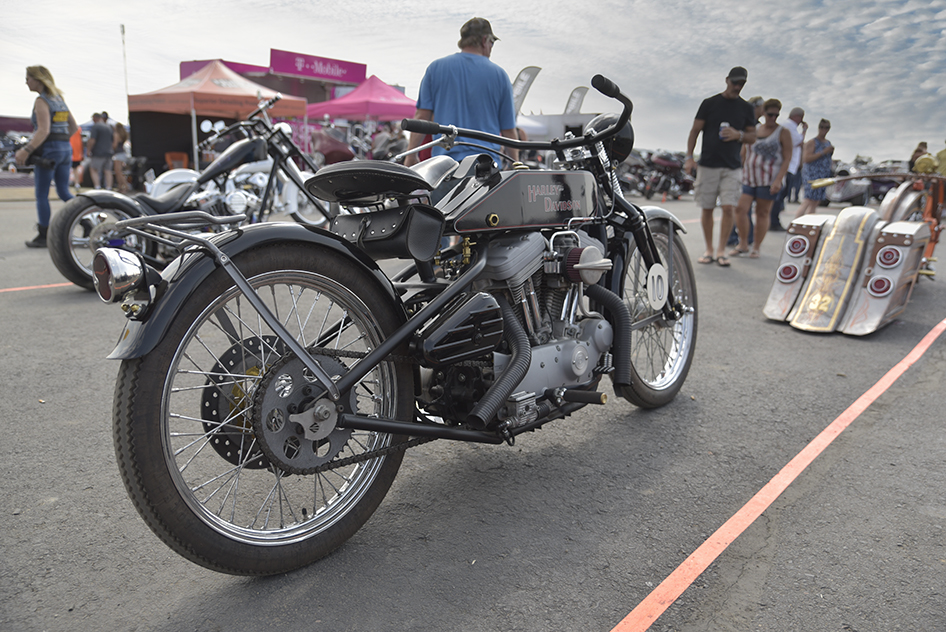 Prizes
The Best of Show winner will receive a complete S&S Cycle Engine, Paughco Frame and Baker Drivetrain Transmission and go on to compete against the winners of the other shows in the Sturgis Buffalo Chip Custom Series for the title of Custom Series King on Friday, Aug. 12.
The Best in Show winner will also go on to compete against the winners of the other shows in the Sturgis Buffalo Chip Custom Series for the title of Custom Series King. All Best in Show winners will be invited onto the Buffalo Chip's legendary Wolfman Jack Main Stage where celebrity judges will crown the winner of this prestigious award.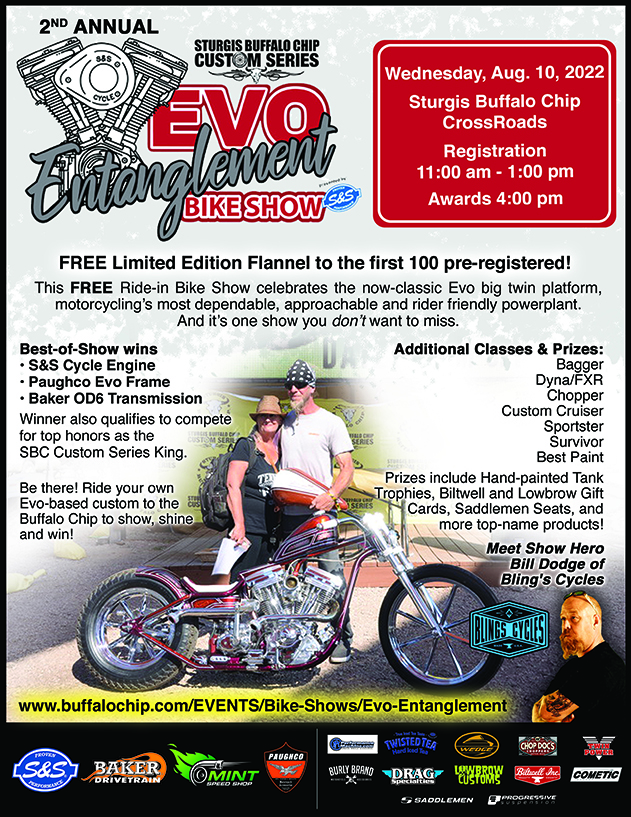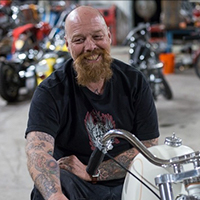 Bling's Cycles is a tight shop lead by Bill Dodge based in Richmond, Kentucky, where you can find Bill, at any given time, dividing himself between a dozen lifts.
Bling's Cycles is a place someone can come to acquire a truly one-off, affordable custom motorcycle that not only is aesthetically O.G. as they come but is also built to ride regularly, ride fast, perform and last. They do not provide an assembly line of production models or attempt to suck up the lime light. Instead, they deliver sustainable, custom motorcycles, backed by decades of industry experience, affordable and tailored individually to the working man and woman. If you're fortunate enough to become a client, you will likely remain a client for about thirty minutes. After that time, you are a friend for life and happy to own a timeless machine with deep details that you may later find containing hidden meanings, relative to you personally, milled into some of its parts.
Bill is recognized and repeatedly invited to national and international builder showcases and returns home with best of show trophies duct taped to his fender rails, yet perpetually remains grounded in what he loves to do: Ride fast American motorcycles, and provide products, made in the USA, solid and rare as diamonds.