Custom Series' Show Features Classic Easyriders Magazine & Mondo Porras of Denver's Choppers
$2500 Cash to Best of Show Winner plus $500 Cash to All First Place Winners
The first campers to ever pass through the Buffalo Chip gate in 1981 rode in on choppers, so it's only fitting that the Chip starts the week off with a show for chopper lovers.
Who:

You!
What:
Buffalo Chip School's Out Chopper Show
When:

Saturday, Aug. 6, 2022
Registration: 11 a.m.. – 1 p.m.
Judging: 2 p.m.
Awards: 2:30 p.m.

Where:
Free-Access CrossRoads at the Buffalo Chip
Why:
Celebrate choppers, meet Mondo Porras of Denver's Choppers, win valuable prizes, see the Classic Easyriders Replica Captain America Giveaway Bike
How: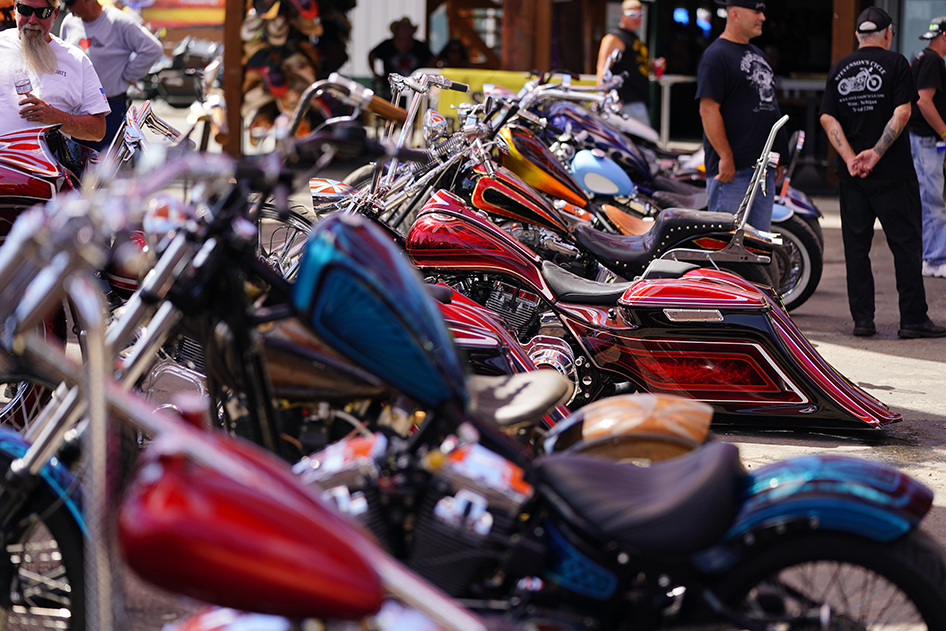 Old school, new school and everything in between will be on display during the 5th annual Buffalo Chip School's Out Chopper Show on Saturday, Aug. 6. And thanks to show partners, Motorcycle Knucklebusters, Denver's Choppers, Twisted Tea, Classic Easyriders Magazine, Metalwood Garage and Kirsh Helmets, this show and shine will give you the chance to meet some of the biggest stars in chopper building, see the Classic Easyriders Replica Captain America giveaway bike, and win cash to get you going on your next chopper build.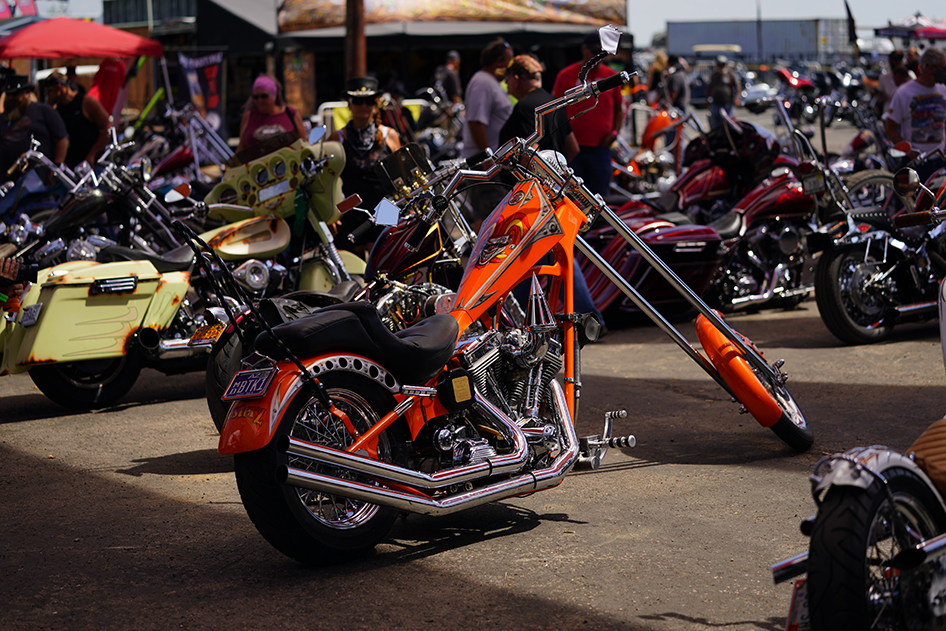 Classes
Radical
Chopper (Pre-Evo)
Old School Original (Chopper or Bobber, Pre-Evo)
Metric
Modern Bobber (Evo & up)
Modern Chopper (Evo & up)
Best in Show
Best Paint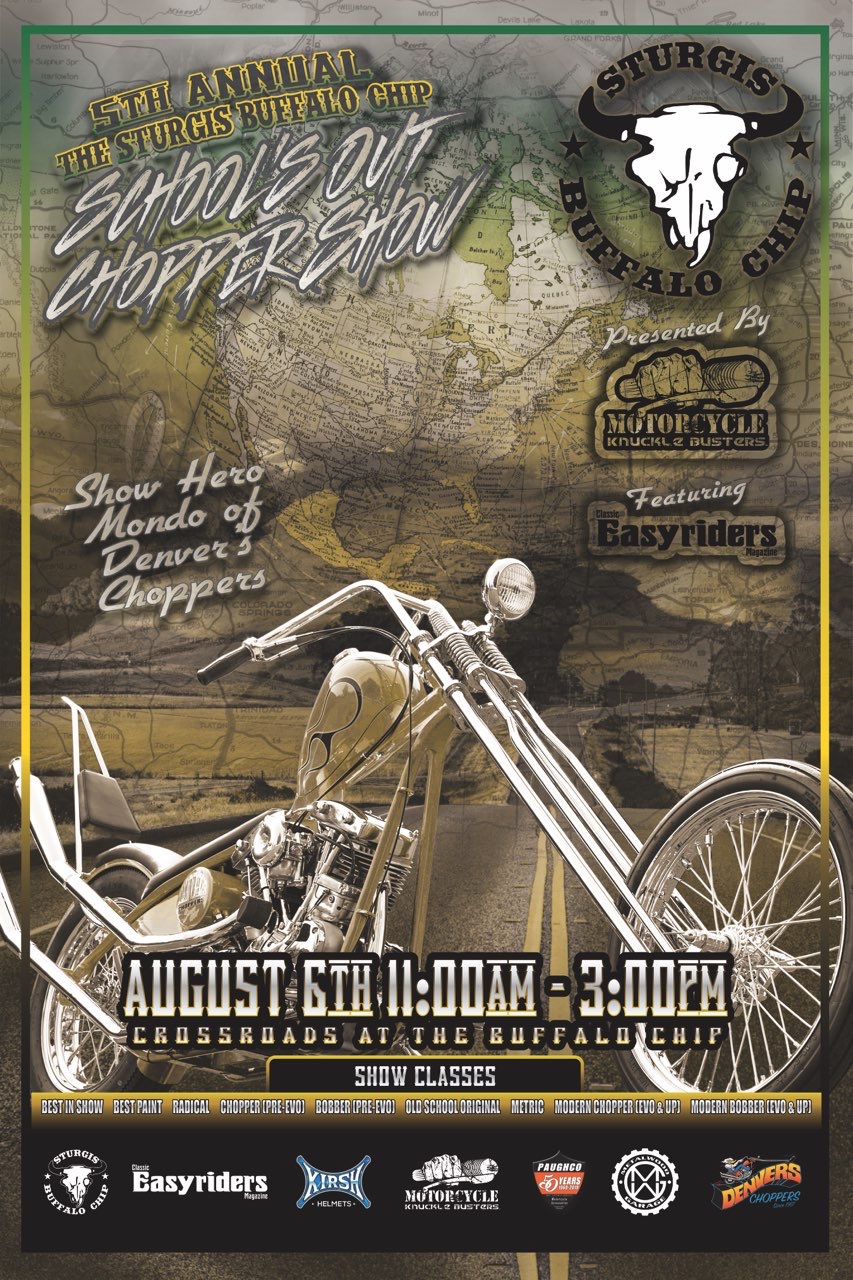 How to Enter and Win
Ride in and register FREE on site at the Buffalo Chip's free-access CrossRoads Saturday, Aug. 7 from 11 a.m.-1 p.m. and get ready to school the competition! You can also pre-register online ahead of time.
Over $10,000 in Cash and Prizes
In addition to your autograph from the celebrity judges, you could be going home with one of these valuable prizes for winning in your class:
Best in Show Show
Best Paint

Denver's Choppers Custom Painted Trophy
($750 Value)

1st and 2nd place in all classes:

$500 Cash for First, Kirsh Helmet for Second
In addition, the Best in Show winner will go on to compete against the winners of the other shows in the Sturgis Buffalo Chip Custom Series for the title of Custom Series King on Friday, Aug. 12. All Best in Show winners will be invited onto the Buffalo Chip's legendary Wolfman Jack Main Stage where celebrity judges will crown the winner of this prestigious award.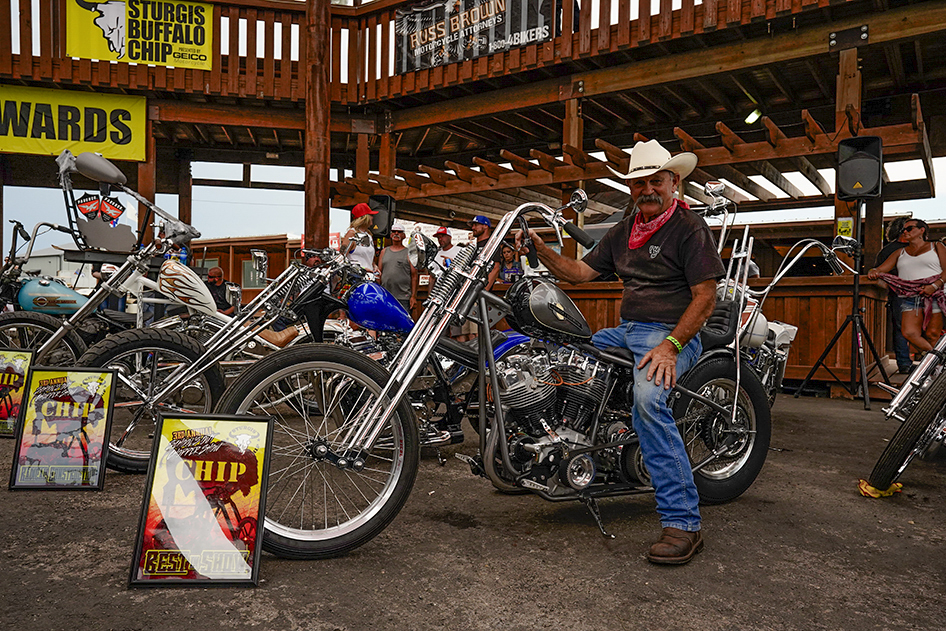 Celebrity Judges & Guests
Special guests including Mondo Porras of Denver's Choppers and Dave Nichols, Editor of Classic Easyriders Magazine, will make appearances to serve as show judges and to sign autographs. Judging begins at 3 p.m.
Meet Mondo Porras
Mondo Porras has been defining the "look" of motorcycles since 1967. Together with Denver Mullins, custom builder and founder of Denver's Choppers, Mondo created some of the first aftermarket parts for the burgeoning chopper industry.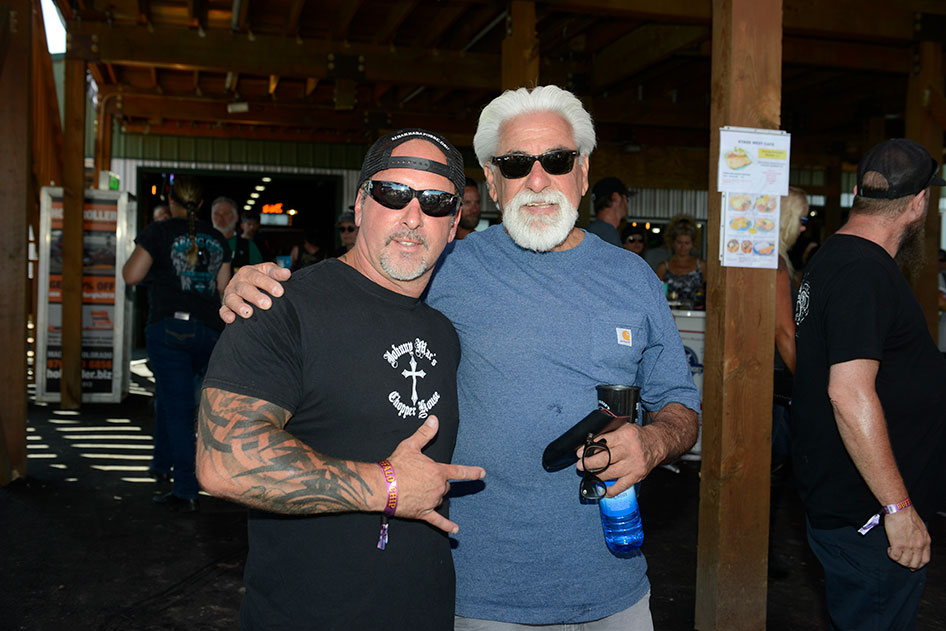 Denver's Choppers globally influential extended springer front ends and custom frames were influential in establishing the "long-bike" phenomenon that is synonymous with "choppers" and still popular around the world. This distinctive look has earned Mondo many awards in the custom bike world.
For more than 50 years, Mondo Porras has been building custom motorcycles and promoting the sport. Through television, books, magazines, and producing vintage chopper shows, his influence continues to this day, and his peers have deemed him the "Godfather of Choppers."
Mondo has been a positive role model for Mexican American bike builders and has a large following in the Mid-East, Asia, and Sweden. Mondo is known and respected worldwide.
He has been featured on Discovery Channel's Biker Build Off, Motorcycle Mania, The Art of the Chopper 2 book, as well as countless custom motorcycle magazines. Mondo has been on the cover of Easyriders Magazine four times.
Mondo was part of the "Blood Sweat and Gears Tour" with Billy Lane. They toured around the country building bikes on stage and giving them to deserving military vets.
Mondo is a member of the International Master Bike Builders Assoc. and Hall of Fame and travels around the world promoting the art of custom motorcycles.
******
This show is likely to bring together the area's largest assembly of choppers in 2022. Don't miss the chance to kick off your rally celebrating this iconic style.