Feel the Family Bond of the Klock Family as you Follow the Journey of Three Women Who Ignore Gender Roles and Burn Rubber with the Best
You may have felt an adrenaline rush zipping down the highway on your way to Sturgis, but could you imagine how it feels to fly across a stretch of flat land at 153 mph? Laura Klock and her daughters Karlee and Erica Cobb can.
Live through the journey of these three women motorcycle riders who don't know the meaning of the words "slow down" by watching a special screening of the new feature-length documentary "Klocked: Women With Horsepower" at the CrossRoads Rose Garden Tent on Aug. 11 at 6 p.m.
| | |
| --- | --- |
| Who: | YOU! |
| What: | "Klocked: Women With Horsepower" Screening |
| Where: | Thursday, Aug. 11, 2016 at 6 p.m. |
| When: | Rose Garden tent at the CrossRoads |
| Why: | Be inspired by women with horsepower! |
| How: | Show up at CrossRoads — it's FREE! |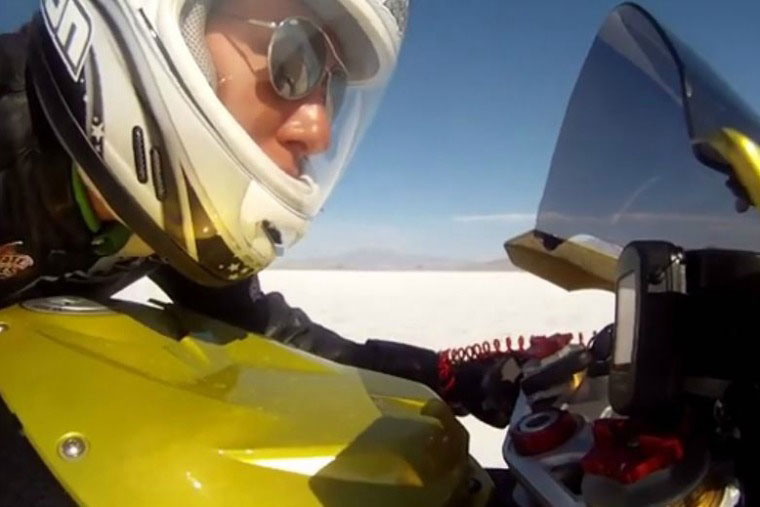 Join documentarian Michelle Carpenter at this exclusive screening during the Sturgis rally as she explores the lives of land-speed record holders Laura Klock and her daughters Karlee and Erica Cobb. (This isn't Karlee's only Buffalo Chip event – she's also a panelist for this year's Biker Belles® Symposium "Two-Wheeled Transformation.")
Witness the familial bond between Laura and her two daughters, and their determination to break the binds of gender in an often male-dominated world of motorcycle riding.
Through moving and candid interviews, you'll discover the diverse and compelling lives of these women motorcycle riders. The hairs on the back of your neck will stand up as you immerse yourself in their insane, land speed record-breaking adventures at the Bonneville Salt Flats.