Take a Journey Through the Beautiful Black Hills and Party Alongside Your Fellow Trikers
Are you riding a trike to the Sturgis Rally this year? Looking to hit up all the hot spots in the Black Hills? Got a camera? If so, then you'll definitely want to fit this one-of-a-kind adventure into your vacation. The T.O.U.R. Black Hills Photo Hunt presented by Roadsmith will send you on a journey to the strangest and most wonderful Sturgis Rally destinations, and throw you a party just for going there.
So how does the Black Hills Photo Hunt work? It's pretty simple. A few weeks before the Sturgis Rally, Roadsmith will upload a photo album of interesting people, gorgeous places and strange things to their Facebook page. You will then seek out the subjects of Roadsmith's photos and attempt to recreate them including you and your trike.
Upload your photos to the comments section of Roadsmith's Black Hills Photo Hunt photo album. Each photo you submit will be worth a set amount of points, so snap and upload as many photos as you can. Be sure to attend the T.O.U.R. Black Hills Photo Hunt special reception at the Buffalo Chip CrossRoads on Aug. 5, where Roadsmith will announce the winner and award prizes. After that, all you've got to do is hang out and party with your fellow trikers and share all your crazy stories from going on the Photo Hunt!
Who:
YOU!
What:
A fun photo hunt and reception for trike riders
When:
Wed., Aug. 5, 3-5 p.m.2015
Where:
CrossRoads at the Buffalo Chip®
Why:
To discover fun locations around the Black Hills, meet fellow trikers and win prizes!
How: Register below!
Register for the Photo Hunt and Buffalo Chip Reception here!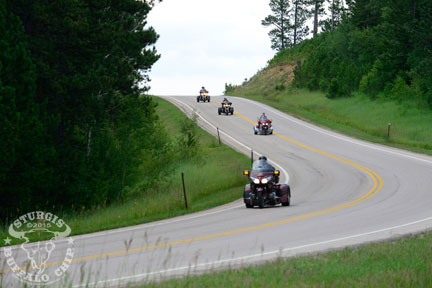 The T.O.U.R. Black Hills Photo Hunt will be an exciting exploration you won't soon forget. Don't miss your chance to capture the beauty of the Black Hills and the oddities of the Sturgis Rally alongside your fellow trikers. Register today!
What Black Hills hot spots do you hope to capture for the photo hunt? Tell us in the comments below!
"Fun! You have to try this one to know… "
– Dale Martin White