For Immediate Release
The Sturgis Buffalo Chip kicks off the 82nd Sturgis Rally the right way on Aug. 5 with a parade of motorcycles and UTVs, the Star-Spangled Banner, The Rally Roar, a Beer Wall Smash stunt, and entertainment from Quiet Riot and Judd Hoos. Other 2022 festival events announced include GUNFEST, Ultra4 Racing, Cool Hand Speedco Antique Hangout and the Sturgis Rally Wrap Party.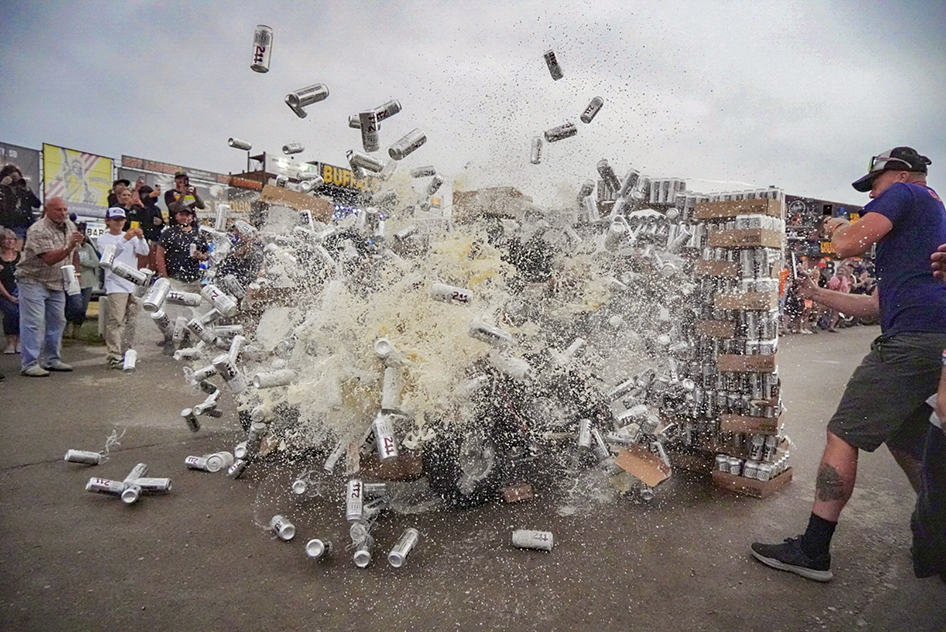 Sturgis, SD (June 9, 2022): There's no such thing as being fashionably late to the Sturgis Rally, so the Sturgis Buffalo Chip is blasting out of the gate right away with their Sturgis Rally Kickoff Party on Friday, Aug. 5. The event includes entertainment from legendary '80s metal quartet Quiet Riot and the Black Hills' own rock 'n' rollers Judd Hoos. In addition, the Sturgis Buffalo Chip is bringing in both new and returning events to the 2022 Best Party Anywhere®, including the inaugural GUNFEST presented by GunBroker.com, Billy Lane's Cool Hand Speedco Antique Hangout, Ultra4 Racing and the Why We Ride Sturgis Rally Wrap Party. See the full announcement at BuffaloChip.com/EVENTS.
"The Kickoff Party is when our year-long spark of anticipation finally touches the powder keg," said Sturgis Buffalo Chip president Rod Woodruff. "This night sets the pace for the entire nine days of music, motorcycles, freedom and friends. We hope all our friends will come join the fun."
Buffalo Chip Official Sturgis Rally Kickoff
Aug. 5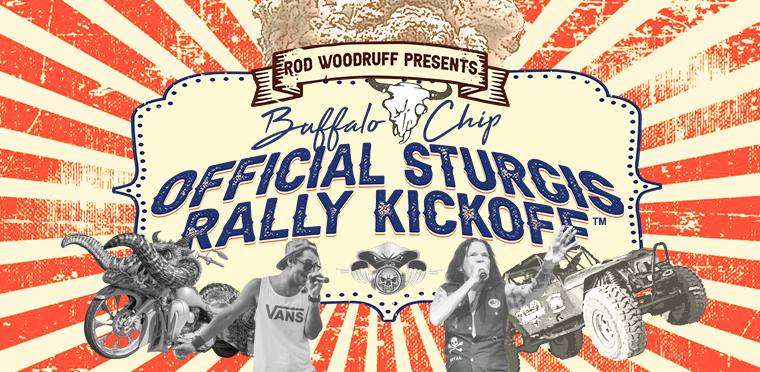 On Aug. 5 the Sturgis Buffalo Chip will come alive, welcoming all to take part in kicking off the 82nd Sturgis Motorcycle Rally. Official Sturgis Rally Kickoff events include:
Woody's Motorcycle Industry Happy Hour at the Big Engine Bar (open to the public)
The Badgers and Biker Lifestyle Moto Meetup at the Big Engine Bar
Parade down Main Street to the Buffalo Chip Amphitheater
National Anthem
Beer Wall Smash featuring Daymon Woodruff and Joe Mielke
The Buffalo Chip Rally Roar
Live music from Quiet Riot and Judd Hoos
Quiet Riot
Aug. 5
Famously described as the first heavy metal band to top the pop charts, the Los Angeles quartet became an overnight sensation thanks to their monster 1983 smash album "Metal Health". Their follow-up album "Condition Critical" went double platinum, and the band continued to record and tour throughout their 25+ year history. Quiet Riot will keep heads banging all throughout the Buffalo Chip amphitheater Aug. 5 at the Official Sturgis Rally Kickoff Party.
Judd Hoos
Aug. 5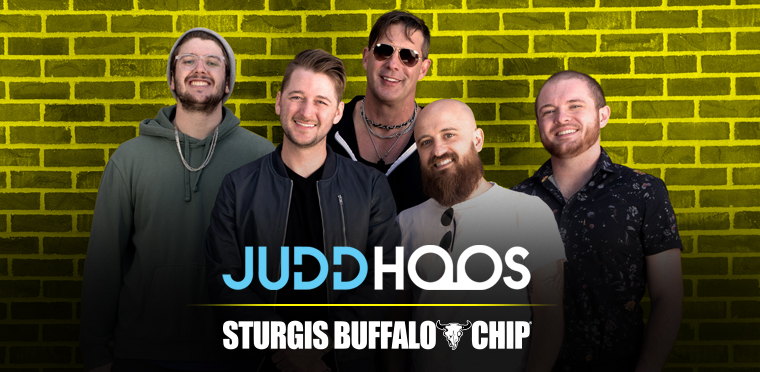 South Dakota's own golden boys, Judd Hoos, take the biggest stage at the Sturgis Rally on Aug. 5 to kick off nine nights of music at the Largest Music Festival in Motorcycling®. Recently featured on NBC's American Song Contest, Judd Hoos bring rock 'n' roll hits like "Bad Girl," "Lipstick Stain," "We Were Young" and many more to the Wolfman Jack stage for the first time ever.
GUNFEST
Aug. 5 – 7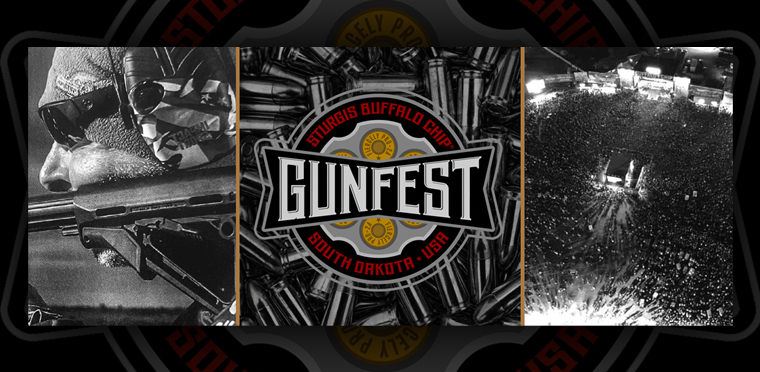 Rally week starts off with a bang at the inaugural GUNFEST presented by GunBroker.com. This three-day interactive event at the Buffalo Chip Shooting Range gives visitors the opportunity to watch demonstrations and test out the latest firearm products, ammunition, accessories and more in a safe and controlled environment. This will be the ultimate experience for firearm and outdoor enthusiasts, offering private shooting lanes and a chance to try out live ammunition, thermal optics, air guns, shotguns, rifles and handguns. The event is free and open to the public.
Cool Hand Speedco Antique Hangout
Presented by Billy Lane and the Sturgis Buffalo Chip
Aug. 11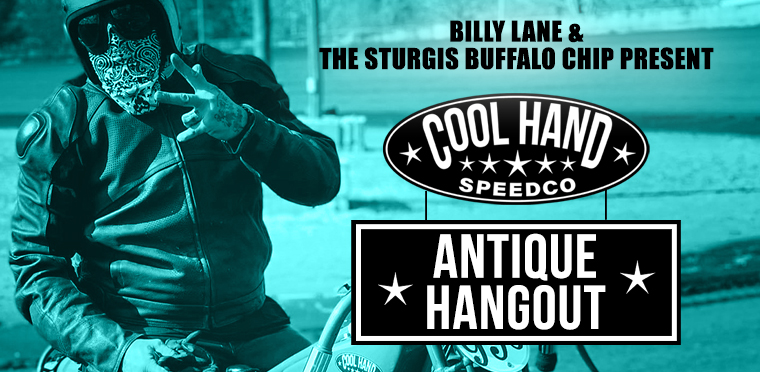 Don't be fooled just because the bikes are vintage. The Cool Hand Speedco Antique Hangout presented by Billy Lane & The Sturgis Buffalo Chip ain't your daddy's bike show. This invitational exhibition will allow the public to see and hear antique bikes on display and in motion and be there when Billy Lane unveils his latest creation in the Buffalo Chip CrossRoads, Thursday, Aug. 11 from 12-2 p.m. During the hangout, there's also the chance to check out Billy Lane's new hand-numbered and stamped Cool Hand Speedco builds based on the look of his 45 Crocker.
Ultra4 Racing
Aug. 5-7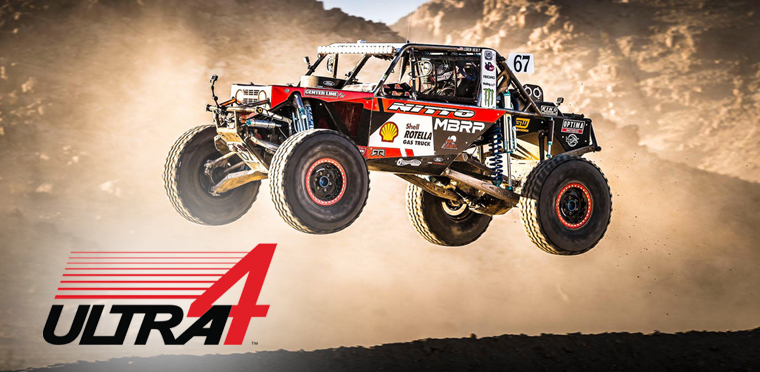 Get your dirt on and get your pulse racing with ULTRA4 off-road racing at the Sturgis Buffalo Chip. Bring the whole family and watch in awe as this off-road racing series pushes man and machine right up to the brink at the Chip's PowerSports Complex. ULTRA4 kicks off a week's worth of racing events at the Buffalo Chip with races on Aug.5, 6 and 7. Race fans can catch all the high horsepower excitement for just $20 per day. Better yet, admission is free for campers staying at the Buffalo Chip.
Sturgis Rally Wrap Party
Aug. 12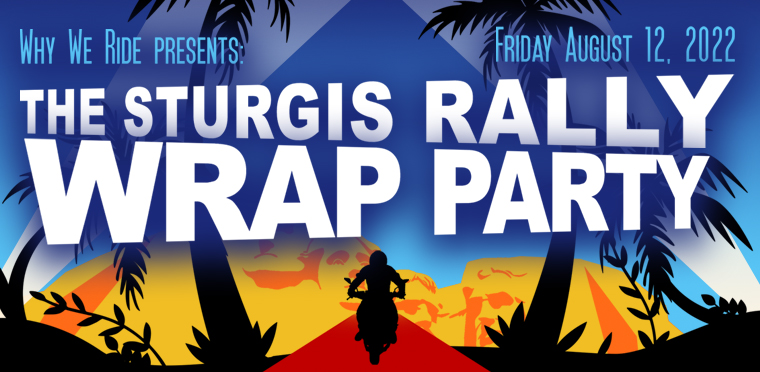 Here's a wind-down party with a great cause. Why We Ride is returning to the Sturgis Buffalo Chip to raise money for Treasured Lives, a non-profit dedicated to ending sex trafficking, through the second annual Sturgis Rally Wrap Party at the Buffalo Chip Event Center. The night includes a red-carpet experience, relaxing cocktail hour, a large array of delectable island foods, beautiful custom motorcycles and more. There are only 250 tickets available, and all proceeds benefit charity.
Performances from world-class entertainers are just part of what the Sturgis Buffalo Chip has in store again for 2022. Guests will have the opportunity to experience thrilling events, legendary rides, powerful freedom celebrations, top-tier bike shows, worthwhile charity events, heart-pounding stunts, white-knuckle racing, and so much more. All events are outdoors in an open environment for the safest experience possible. Entertainment is free with camping. A full list of Sturgis Buffalo Chip events is available at BuffaloChip.com/EVENTS. The Buffalo Chip is home to the Sturgis Rally Information Center™ and is the official sponsor of the free Sturgis.com Official Sturgis Rally Registration Program.
2022 Sturgis Buffalo Chip Event and Entertainment Lineup
Friday, Aug. 5
Official Sturgis Rally Kickoff Party
Quiet Riot
Judd Hoos
Ultra4 Racing
Saturday, Aug. 6
Snoop Dogg
Buckcherry
Schools Out Chopper Show
Wango Tango Custom Gold Wing Show
Motorcycles As Art Exhibit Opens
Ultra4 Racing
Sunday, Aug. 7
Lynyrd Skynyrd
Bush
FXR Show & Dyna Mixer
Ultra4 Racing
Monday, Aug. 8
Rob Zombie
Lita Ford
Legends Ride®
Hardcore Cycles Performance Show and Skinny Tire Bagger Build-Off
Tuesday, Aug. 9
Papa Roach
Falling In Reverse
Hollywood Undead
Bad Wolves
Biker Belles® Women's Day Celebration
Biker Belles Women's Bike Show
Sportster Showdown
Mini Bike Show
Wednesday, Aug. 10
Travis Tritt
Aaron Lewis and the Stateliners
Williams and Ree
Rusty Wallace Ride
Evo Entanglement
Thursday, Aug. 11
Jon Pardi
Williams and Ree
Freedom Celebration
Western Frontier Motorcycle Ride
50th Anniversary Rats Hole Custom Bike Show
Billy Lane's Cool Hand Speedco Antique Hangout
Friday, Aug. 12
Pop Evil
Puddle of Mudd
All Brands Bike Show and Bagger Blastoff
Sturgis Rally Wrap Party
Saturday, Aug. 13
Entertainment TBA
###
About the Sturgis Buffalo Chip
The Sturgis Buffalo Chip® is the award-winning leader in music and motorcycle lifestyle experiences. Hailed as The Largest Music Festival in Motorcycling® and The Best Party Anywhere®, it has been the epicenter of the annual Sturgis Motorcycle Rally since its establishment in 1981. Every August, the Buffalo Chip brings together the world's largest gathering of music and motorcycle fans, with visitors from all 50 states and over 20 countries. It remains one of the world's most televised and longest-running independent music festivals. The Chip advances the Sturgis Rally by being home to the Sturgis Rally Information Center™ and the official sponsor of the Sturgis.com Official Sturgis Rally Registration Program. More details are available at BuffaloChip.com
Further Inquiries
Cody Ertman
[email protected]
605-347-9000