Steel Panther takes the Buffalo Chip stage for the first time on Aug. 5 prior to a performance from Koe Wetzel. Pop Evil returns to the Sturgis Buffalo Chip on Aug. 10 to perform between The Death Wire Daredevil Spectacular and Def Leppard.
Sturgis, SD (May 17, 2023): The Largest Music Festival in Motorcycling® adds two more good-time bands to turn up the 83rd Sturgis Rally to eleven. The premier party band of '80s metal debauchery, Steel Panther, bring the leopard print and high energy to the Wolfman Jack Stage on Aug. 5, and modern rock superstars and rally favorite Pop Evil return to the Sturgis Buffalo Chip Thursday, Aug. 10. See the Buffalo Chip band lineup so far at BuffaloChip.com/BANDS.
"There might be over 75 days till you kick off the rally, but we've got the party ready to go!" said Rod Woodruff, President of the Sturgis Buffalo Chip. "Pop Evil and Steel Panther both have a contagious way of setting a fun mood."
Steel Panther
Aug. 5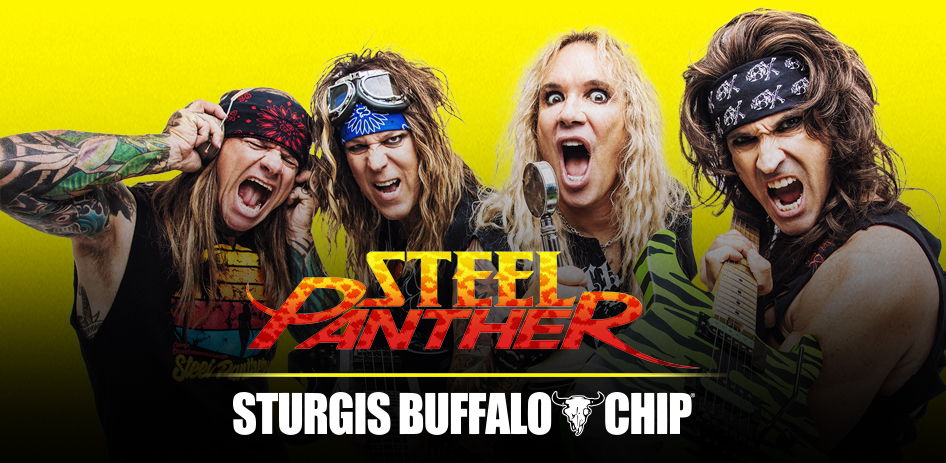 Wild, wacky and thoroughly entertaining, Steel Panther's satire of the arena-sized hair, sound and debauchery of the Sunset Strip hard rock bands of yesteryear can be hard to take serious. Their ability to absolutely shred, however, is no joke. Steel Panther has established themselves as the world's premier party band, melding hard rock virtuosity with parody and criminally good looks. This global phenomenon takes the Wolfman Jack Stage for the first time prior to a performance from Koe Wetzel on Aug. 5.
Pop Evil
Aug. 10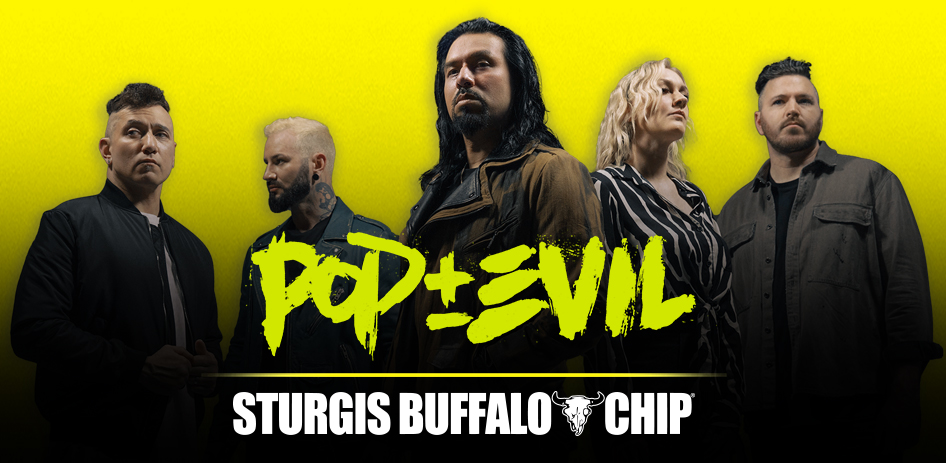 Sound the alarms! You're about to wake up for a night of hard-hitting rock jams when Chip fan favorites Pop Evil wake the lions of The Best Party Anywhere on Friday, Aug. 10 following the Death Wire Daredevil Spectacular and prior to a performance from Def Leppard.
World-class entertainment is just part of what the Sturgis Buffalo Chip will present again for 2023. Guests will have the opportunity to experience thrilling events, legendary rides, powerful freedom celebrations, top-tier bike shows, heart-pounding stunts, white-knuckle racing, worthwhile charity events and so much more. Entertainment is free with campground admission pass. A full list of Sturgis Buffalo Chip events is available at BuffaloChip.com/EVENTS. The Buffalo Chip is home to the Sturgis Rally Information Center™ and is the official sponsor of the free Sturgis.com Official Sturgis Rally Registration Program.
2023 Sturgis Buffalo Chip Event and Entertainment Lineup
Friday, Aug. 4
ZZ Top
Buffalo Chip Official Sturgis Rally Kickoff Party™
Support Bikers Moto Meetup
Full Throttle Magazine Official Rally Kickoff Bike Show
Parade into the Amphitheater
Beer Wall Smash
Saturday, Aug. 5
Koe Wetzel
Schools Out Chopper Show
Wango Tango Custom Gold Wing Show
Motorcycles As Art Exhibit Opens
Sunday, Aug. 6
Lynyrd Skynyrd
FXR Show & Dyna Mixer
Wango Tango Custom Gold Wing Show
Monday, Aug. 7
Limp Bizkit
Lita Ford
Legends Ride®
Hardcore Cycles Performance Show
Sassy & Classy Over 35 Model Search
Tuesday, Aug. 8
Styx
REO Speedwagon
Biker Belles® Women's Day Celebration
Biker Belles Women's Bike Show
Sportster Showdown
Mini Bike Show
Wednesday, Aug. 9
Whiskey Myers
George Thorogood & The Destroyers
Rusty Wallace Ride
Evo Entanglement
Bike Show Mafia Bike Show & Godfathers of Bass Soundoff
Thursday, Aug. 10
Def Leppard
The Death Wire Daredevil Spectacular
Freedom Celebration
Western Frontier Motorcycle Ride
Rats Hole Custom Bike Show
Friday, Aug. 11
Entertainment TBA
Saturday, Aug. 12
Entertainment TBA
###
About the Sturgis Buffalo Chip
The Sturgis Buffalo Chip® is the award-winning leader in music and motorcycle lifestyle experiences. Hailed as The Largest Music Festival in Motorcycling® and The Best Party Anywhere®, it has been the epicenter of the annual Sturgis Motorcycle Rally since its establishment in 1981. Every August, the Buffalo Chip brings together the world's largest gathering of music and motorcycle fans, with visitors from all 50 states and over 20 countries. It remains one of the world's most televised and longest-running independent music festivals. The Chip advances the Sturgis Rally by being home to the Sturgis Rally Information Center™ and the official sponsor of the Sturgis.com Official Sturgis Rally Registration Program. More details are available at BuffaloChip.com
Further Inquiries:
Cody Ertman
[email protected]
605-347-9000