The Ride Captain, influential special guests, and Harley-Davidson's return announced
All are invited to join Biker Belles Women's Day Tuesday, Aug. 8 at the Sturgis Buffalo Chip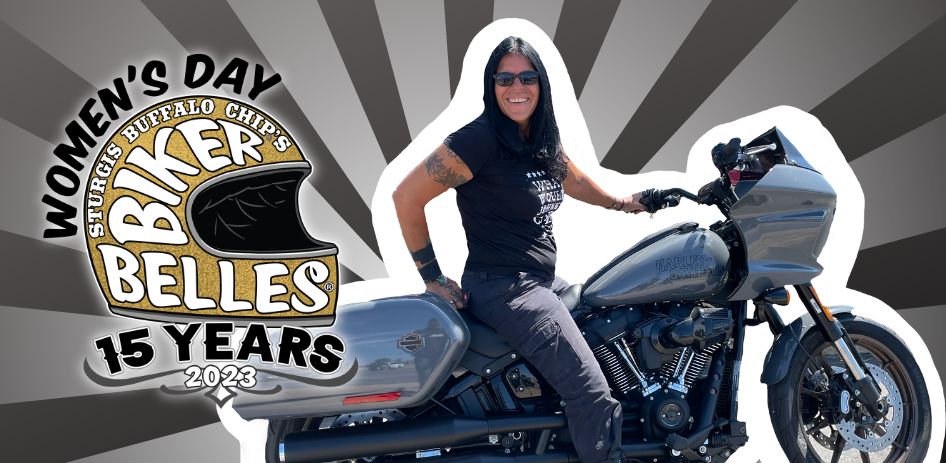 Visit Site
Sturgis, S.D. (May 2, 2023): Women riders, passengers and friends who support
them are invited to gather at the Sturgis Buffalo Chip® for the 15 th anniversary of Biker
Belles Women's Day Tuesday, Aug. 8, 2023. Harley-Davidson® and a long list of
leading ladies who are shaping the motorcycle industry will join the upcoming event held
during the 83 rd Sturgis Rally, including some of the Biker Belles' original founders–Laura
Klock, Cris Sommer Simmons and Lori Struck DeSilva (representing Gloria
Struck). Ride Captain Athena "Chickie" Ransom and Biker Belles Ambassador Diva
Amy Skaling will lead participants on the guided Morning Ride™ from The Lodge at
Deadwood to the Buffalo Chip CrossRoads. Once there, riders will hear from featured
speakers in the Coffee Clutch, enjoy a delicious brunch from Bonafide Food Love,
experience a MotoDoffo wine tasting and witness one influential woman receive the
prestigious Biker Belles Ambassador Award in recognition of Nancy Davidson.
Following the Coffee Clutch, the comradery and mentorship continues with the Biker
Belles Bike Show presented by Maiden Moto, the Real Deal Revolution
Workshoppes with The Jessi Combs Foundation, the Comfort Zone by Team
Diva and more. See the full schedule of events and special guests at BikerBelles.com.
"Fifteen years of Biker Belles empowering women in motorcycling and giving them a
home in Sturgis is something we can all be proud of and celebrate," said Toni Woodruff,
Biker Belles Director. "We're honored and excited to once again have so many
influential women, who have changed and continue to change the world of motorcycling,
take part in this year's event!"
Riders will have plenty of opportunity to connect with women who are shaping the
industry throughout Biker Belles Women's Day. Special guests for the 2023 Biker Belles
are Brigitte Doffo, Samantha Doffo, Gevin Fax, Sarah Liberte, Em Powered, Ellie Rains,
Savannah Rose, Emily Stewart, Stephanie Thompson, Her Two Wheels, Staci Wilt,
Gina Woods and more to be announced.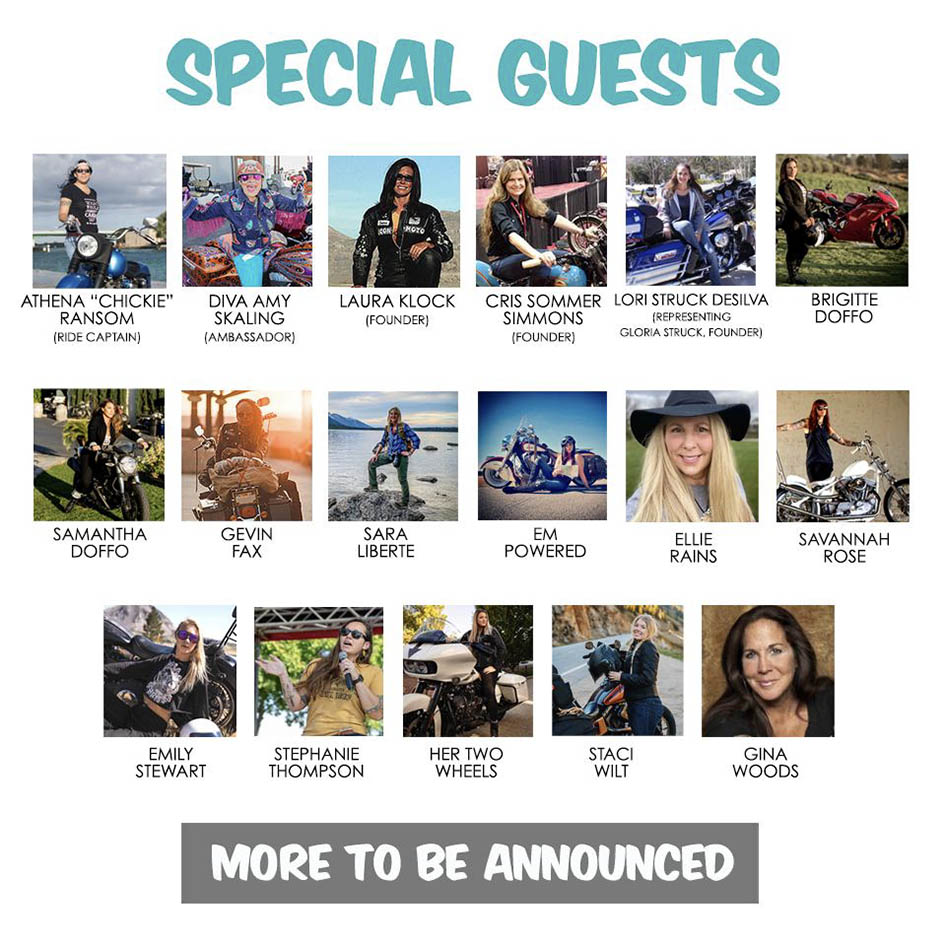 Biker Belles Women's Day Events
The Morning Ride: Ride Captain Athena "Chickie" Ransom and Biker Belles
Ambassador Diva Amy Skaling will lead riders on the guided Morning Ride from the
Lodge at Deadwood through the beautiful Black Hills, landing at the Buffalo Chip
CrossRoads.
Coffee Clutch: Riders will feed their hunger and their hunger for knowledge with
informative talks and a catered brunch from Bonifide Food Love, coffee provided by
Sturgis Coffee Company, and a wine tasting from MotoDoffo.
Comfort Zone by Team Diva: Women's Day riders and friends will be able to treat
themselves to some well-deserved pampering, chair massages, facial care, hair care
and a retail experience including jewelry, clothing and riding gear.
Women's Bike Show Presented by Maiden Moto: Whether it's a mile muncher
covered in dirt, a mild custom, or even a really great story behind the ride, all female-
owned bikes are welcome to roll down on Tuesday to show off at the show. Free to
enter or attend.
Helping With Horsepower™ Diva Glide Unveil: Guests will witness a special
unveiling of a motorcycle with an amazing story and a sparkling presence. A 2007 HD
Road Glide donated by Biker Belles Ambassador Diva Amy Skaling has been
completely revamped thanks to participants in Laura Klock's Helping With Horsepower
Bike Rebuild Program. The program provides hands-on problem-solving skills for 40
Abbott House girls, ages 7-17.
All rider contributions go to support Biker Belles' charities Helping with Horsepower, the
Sturgis Motorcycle Museum and Hall of Fame and All Kids Bike.

Worthwhile charity events are just part of what the Sturgis Buffalo Chip will present
again for 2023. Guests will have the opportunity to experience world-class entertainers,
thrilling events, legendary rides, powerful freedom celebrations, top-tier bike shows,
heart-pounding stunts, white-knuckle racing, and so much more. Entertainment is free
with camping. A full list of Sturgis Buffalo Chip events is available
at BuffaloChip.com/EVENTS. The Buffalo Chip is home to the Sturgis Rally Information
Center™ and is the official sponsor of the free Sturgis.com Official Sturgis Rally
Registration Program.

2023 Sturgis Buffalo Chip Event and Entertainment Lineup

Friday, Aug. 4
ZZ Top
Buffalo Chip Official Sturgis Rally Kickoff Party™
Support Bikers Moto Meetup
Full Throttle Magazine Official Rally Kickoff Bike Show
Parade into the Amphitheater
Beer Wall Smash


Saturday, Aug. 5
Koe Wetzel
Schools Out Chopper Show
Wango Tango Custom Gold Wing Show
Motorcycles As Art Exhibit Opens

Sunday, Aug. 6
Lynyrd Skynyrd
FXR Show & Dyna Mixer
Wango Tango Custom Gold Wing Show

Monday, Aug. 7
Limp Bizkit
Lita Ford
Legends Ride®
Hardcore Cycles Performance Show
Sassy & Classy Over 35 Model Search

Tuesday, Aug. 8
Styx
REO Speedwagon
Biker Belles® Women's Day Celebration
Biker Belles Women's Bike Show
Sportster Showdown
Mini Bike Show

Wednesday, Aug. 9
Whiskey Myers
George Thorogood & The Destroyers
Rusty Wallace Ride
Evo Entanglement
Bike Show Mafia Bike Show & Godfathers of Bass Soundoff

Thursday, Aug. 10
Def Leppard
The Death Wire Daredevil Spectacular
Freedom Celebration
Western Frontier Motorcycle Ride
Rats Hole Custom Bike Show

Friday, Aug. 11
Entertainment TBA

Saturday, Aug. 12
Entertainment TBA

###

About Biker Belles
The Biker Belles is the Sturgis Buffalo Chip's celebration of women in the world of
motorcycling. This leading charity event focuses on encouragement, empowerment, and
mentorship. As the Home for Women Riders, Biker Belles brings pioneering women and
friends together to share their happy place, ride and support worthy charities. Buffalo
Chip charity events such as the Biker Belles have raised more than $2.1 million for
charity. For more information, visit www.bikerbelles.com

About Helping with Horsepower
Laura Klock's Helping with Horsepower, a 501(c)3 non-profit organization, that
empowers and encourages women and girls who are at risk or are victims of abuse.
The organization has developed several programs that have shown proven results
including their SpiritHorse Program, Entrepreneur Experience and the nationally
recognized Helping With Horsepower Bike Rebuild Program. Find out more
a www.helpingwithhorsepower.com

About the Sturgis Buffalo Chip
The Sturgis Buffalo Chip® is the award-winning leader in music and motorcycle lifestyle
experiences. Hailed as The Largest Music Festival in Motorcycling® and The Best Party
Anywhere®, it has been the epicenter of the annual Sturgis Motorcycle Rally since its
establishment in 1981. Every August, the Buffalo Chip brings together the world's
largest gathering of music and motorcycle fans, with visitors from all 50 states and over
20 countries. It remains one of the world's most televised and longest-running
independent music festivals. The Chip advances the Sturgis Rally by being home to
the Sturgis Rally Information Center™ and the official sponsor of the Sturgis.com Official
Sturgis Rally Registration Program. More details are available at BuffaloChip.com

Further Inquiries:
Cody Ertman
[email protected]
605-347-9000