Buffalo Chip, SD (May 5, 2016) – In an ongoing effort to inspire Black Hills students to discover a career in the expanding world of motorcycle engineering and manufacturing and prepare the next generation of American motorcycle craftsmen, Sturgis Buffalo Chip® president, Rod Woodruff today announced the winners of the 2016 Buffalo Chip ChallengeTM scholarship awards. Three outstanding Black Hills students have been chosen to receive awards totaling $8,500. The Buffalo Chip collaborates with some of the motorcycle industry's leading professionals to offer a free industrial education and scholarship program to Black Hills students, enabling them to take hold of dreams that might otherwise seem impossible.
Calvin Tohm, a junior from Whitewood attending Spearfish High School, was selected to receive the top scholarship award of $5,000. In addition to earning academic honors, Tohm is a member of several school organizations, attended Boys State, has been nominated to attend the 2016 National Youth Leadership: Engineering & Technology Conference, volunteers in the community, works part-time and dedicated himself to the 2016 Challenge program as a member of Team Indian. His investment in the project was infectious, and his growth and understanding of the mechanics made an observable improvement.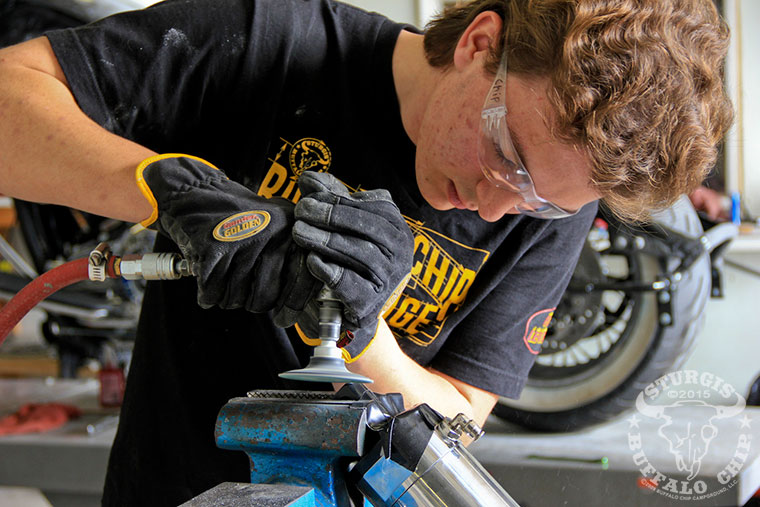 Calvin Tohm grinds down the top of the rear air ride mount in order for it to fit properly with the seat pan.
Rapid City Central High School senior Brennan Davis will be awarded a $2,500 scholarship. An honor student, Davis has a particular interest in math and engineering and has plans to further his education in performance engine machining. As a member of the Buffalo Chip Challenge Team Victory, Davis brought some existing knowledge to the project and was able to assist other students in understanding the build process and making sure it was done correctly. He displayed an intimate knowledge of the bikes' specs and a passion for the build.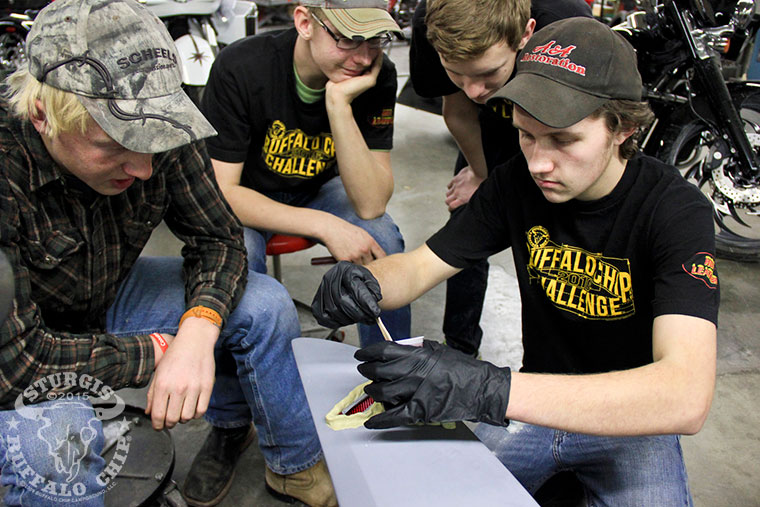 Brennan Davis pours resin for custom taillights.
2015 Buffalo Chip Challenge alumnus Arianna Nelson will receive the $1,000 scholarship. Nelson, a senior at Sturgis Brown High School, was also a member of Team Victory. She accompanied the bikes to both the Black Hills Motorcycle Show and the Donnie Smith Bike & Car Show in St. Paul, Minn. where both bikes took top honors. Her contagious positive spirit and leadership skills had a profound influence on the 2016 Challenge build program.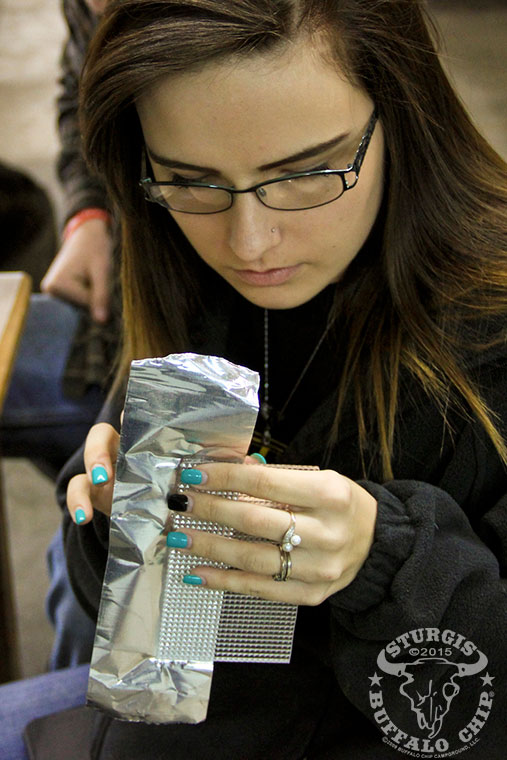 Arianna Nelson builds light refractors to mount inside the saddlebags for the rear lights.
"The time and effort these outstanding students put into the Challenge program is proof positive they are deserving of these scholarships," said Buffalo Chip president Rod Woodruff. "I'm pleased to be able to help them further their career goals and hope to see them opening their own businesses someday, contributing to the economy of the Black Hills. If the leadership they displayed here is any indication, they will all go far."
A variety of criteria was used to determine scholarship awards including level of participation, interest and improved abilities over the course of the program. In addition to assistance from program coordinator Keith Terry of Terry Components, Chris Malo of Baggster led Team Indian to build a John Shope Signature 2015 Indian Chieftain and Randy Cramer led Team Victory to build a Rusty Jones Signature 2016 Victory Cross Country. The student-built custom 2015 Indian Chieftain and the 2016 Victory Cross Country both took first place honors at the Black Hills Motorcycle Show and the prestigious Donnie Smith Bike Show in St. Paul, Minn. The students competed against professional custom bike builders from around the country, which makes winning these awards a remarkable achievement.