Rapid City, SD (March 21, 2016) – Black Hills area high school students participating in the 2016 Buffalo Chip Challenge scored their first big win this weekend at the Black Hills Motorcycle Show. Just days after completing two world-class, custom baggers, the students unveiled the bikes at the Black Hills show and received two first place trophies. The students will now take the motorcycles on to compete at the prestigious Donnie Smith Bike and Car Show in St. Paul, Minn. on April 2 & 3. The program, developed by Sturgis Buffalo Chip® president Rod Woodruff and coordinated by Keith Terry of Terry Components, was designed to prepare the next generation of American motorcycle experts and cultivate motorcycle industry economic development.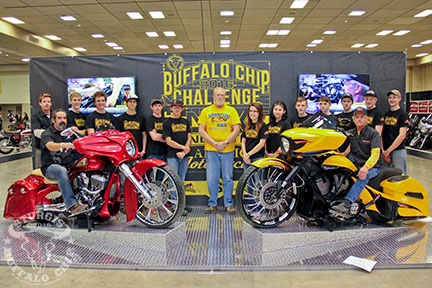 The 2016 Buffalo Chip Challenge participants had the opportunity to fully customize a 2016 Victory Cross Country and a 2015 Indian Chief Classic under the instruction of some of the industry's most celebrated customizers. Randy Cramer of Dakota V-Twin and Chris Malo of Baggster provided hands-on instruction to students from start to finish to create signature builds that fit the style of their teams' esteemed captains. Renowned builders Rusty Jones of Rusty Jones Customs and John Shope of Dirty Bird Concepts served as team captains and provided a great deal of influence on the look and style of each bike, with their extensive lines of custom body parts and components.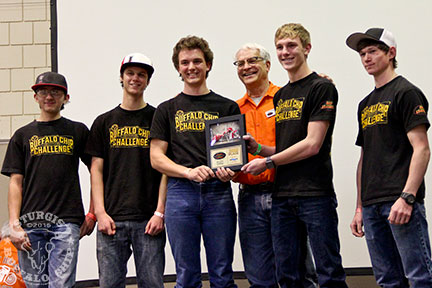 The student-built custom Victory Cross Country took top honors, winning first place in the Full Custom Bagger – Victory class and the Indian Chief Classic took first place in the Full Custom Bagger – Indian class. The students competed against professional custom bike builders, which makes winning these awards an even more remarkable achievement.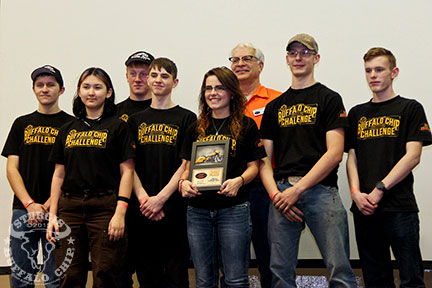 "The students are the big winners in the Buffalo Chip Challenge program," says Rod Woodruff, president of the Sturgis Buffalo Chip. "They've spent countless hours after school and on weekends learning from the pros to build these magnificent bikes. I couldn't be more proud to see them succeed and win such well-deserved awards."
The two award-winning custom motorcycles will be auctioned in support of the Buffalo Chip's signature Legends Ride® charity event on Deadwood's Main Street on Monday, Aug. 8.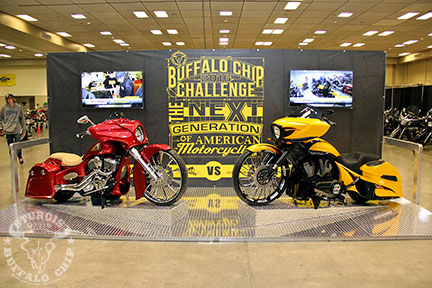 The Buffalo Chip Challenge is a collaboration between the Sturgis Buffalo Chip, Terry Components, Dakota V-Twin, Baggster and a large group of industry-leading sponsors. This is the sixth consecutive year the Sturgis Buffalo Chip has led the regional program focused on American innovation and craftsmanship.
Many of the motorcycle industry's top companies continue to supply world-class parts and services for the Buffalo Chip's build program each year, recognizing its significance as part of the growth and success in American custom bike building. Special thanks to American Iron Magazine, Baggster, Dakota V-Twin, Dirty Bird Concepts, Hot Leathers, Indian Motorcycle Sturgis, Rusty Jones Customs, Terry Components, Arlen Ness Enterprises, Carl Brouhard Designs, CT Designs, Flat Earth Art, Hawg Halters, Inc., Jamie's Repair, KewlMetal, Kreun Kustom, Legend Suspensions, Lloyd'z Motor Workz, MTX Audio, RC Components, Sturdevant's Refinish Supply Center, Trask Performance, and Vee Rubber America for contributing to the program.
Those interested in bidding to win one of these award-winning bikes can visit LegendsRide.com or call (605) 347-9000.