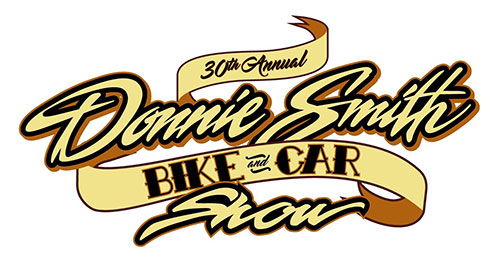 Industry celebrities, prestigious sponsors, gear-heads, artists, custom enthusiasts, and their families and friends gather to share passions, enter projects and welcome new expo to the show.
Saint Paul, MN (January 17, 2017) – Motorcycle and car enthusiasts across the country will soon congregate at the 30th Annual Donnie Smith Bike & Car Show presented by Dennis Kirk to see and be seen at the largest custom bike and car show in the Midwest. In addition to motorcycles and cars, the 225,000 sq. ft. indoor event showcases a brand-new Tattoo Expo and a popular swap meet billed as the largest parts extravaganza on the planet. Right now, anyone, from amateur to pro, can enter a custom project, register to sell goods or set up a tattoo display at www.DonnieSmithBikeShow.com. All events will take place at the St. Paul RiverCentre in St. Paul, Minn., 9 a.m. to 7 p.m. Sat., March 25 and 10 a.m. to 5 p.m. Sun., March 26, 2017.
"People travel together from all over the country to enjoy the weekend, checking out award-winning cars and bikes, talking to famous builders, shopping and having a great time," said Donnie Smith, famed customizer and show namesake. "This is a fantastic show for bikers, car fans, friends, families and kids of all ages."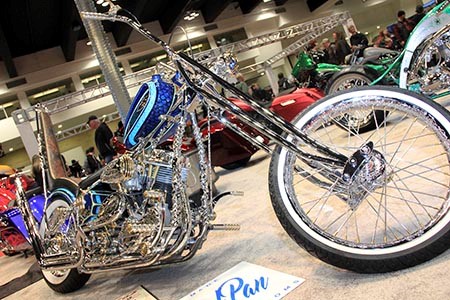 ​OUTRAGEOUS MOTORCYCLES
Well over half the show, 135,000 sq. ft., will be dedicated to motorcycles, paying homage to the machines that started the show in 1987. Over $7,500 in cash awards will be presented to the top baggers and customs with awards also given for best paint, display, lighting, antique, bagger, bobber, chopper, pro-street, sport bike and a judge's choice. Some of the biggest guns in the biker world including Donnie Smith, Rod Woodruff, Kevin Baas and the Kennedy High School Chopper class, Dave and Jody Perewitz and Pat Patterson will be in attendance. The inclusionary show allows anyone to enter. Now's the time to finish that custom and enter the bike show by filling out the entry form located here. Deadline for entry is March 10, 2017, but the show historically sells out so early entry is encouraged.
GIGANTIC SWAP MEET
The parts extravaganza, which covers nearly an acre, is a huge attraction. This is an opportunity to find missing parts and get those bikes and cars ready for the road this spring. Cruising season is just around the corner. It's a motorcycle part pickers paradise.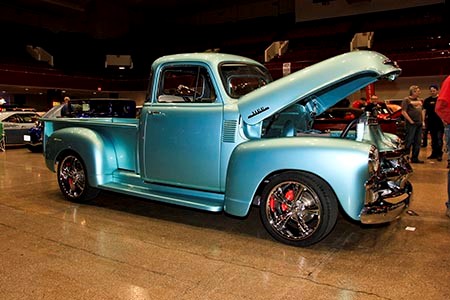 ATTENTION-GETTING CAR SHOW
The car show has been experiencing significant growth and offers 16 classes in 2017 including Vintage, Antique, Hot Rods and Rat Rods. All makes and models of cars and trucks are accepted with $5,000 in cash and prizes to be awarded. Entry deadline is March 15, 2017, and the form can be found here.
NEW TATTOO EXPO
New this year, the Donnie Smith Bike & Car Show is offering a Tattoo Expo. The event will expose new talent, showcase proven artists and provide enthusiasts with a gathering place to share their love for this enduring art form. The Tattoo Expo will be located in the upper level of the Roy Wilkins Auditorium. Those interested in reserving a booth for the Tattoo Expo can find the exhibitor form here. Space is expected to sell out quickly.
SPECIAL HAPPY HOUR AND LIVE MUSIC
A special happy hour party with live music by Corey Stevens, a blues-based rock singer, songwriter and guitarist, will take place in the RiverCentre on Saturday night from 5 p.m. to 7 p.m. Join your friends and make some new ones as you relax and discuss the show.
NATIONAL SPONSORS
Blue chip brands and major industry players are supporting the show in 2017 including presenting sponsor Dennis Kirk, GEICO Motorcycle, Budweiser, Lucas Oil, Russ Brown Motorcycle Attorneys, Sturgis Buffalo Chip and Metzeler Tires as well as flagship industry brands S & S Cycle, Kuryakyn, House of Kolor, Magnaflow and many others.
TICKETS
Tickets for the Donnie Smith Bike & Car Show are on sale at the RiverCentre Box Office, all Ticketmaster locations, charge by phone at 800-745-3000 or online at www.ticketmaster.com. Children under the age of 12 are admitted free.
Find high resolution photos here.
About the Donnie Smith Bike and Car Show
In its 30th year, the famed Donnie Smith Bike and Car Show presented by Dennis Kirk is the largest custom bike and car show in the Midwest. The show draws the nation's most prestigious brands, top competitors and tens of thousands to the RiverCentre in Saint Paul, Minn. It is widely known as the annual kickoff to the riding and cruising season and features a unique mix of competitions, shopping and entertainment in a fun, family-friendly environment with 35 classes of custom motorcycles, 16 classes of cars, the largest swap meet on the planet, a tattoo expo and other entertainment. Additional information can be found at www.donniesmithbikeshow.com.