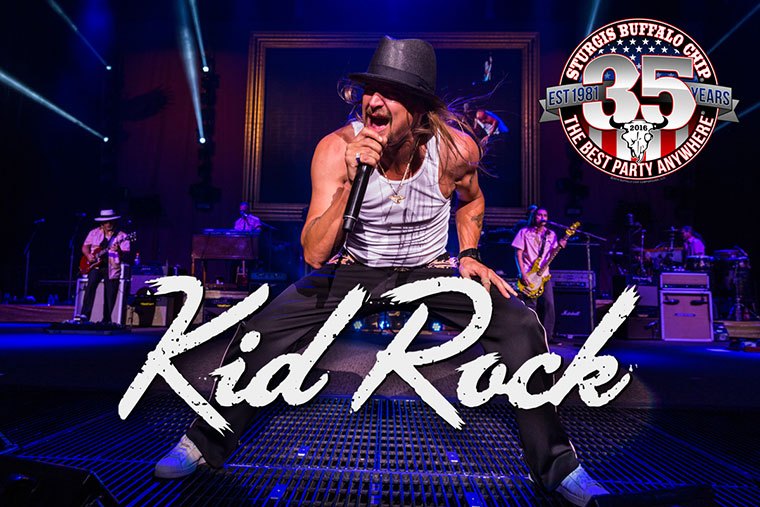 This is an exciting time of year–the start of many weeks and months in which Buffalo Chip fans are eager to hear which of their favorite bands will be performing next summer. I realize many of you plan your vacations around our annual motorcycle and music festival, and that's why we take choosing the entertainment so seriously. This year is no exception. We are thrilled to tell you for our 35th anniversary in 2016, one of the Buffalo Chip's most requested acts of all time, American bad ass Kid Rock, is going to perform on the Wolfman Jack Stage on Sunday, Aug. 7.
The video announcing Kid Rock's performance at the Chip and detailing a bit of the story leading up to our 35th anniversary can be watched here.
Kid Rock is one of my personal favorites and obviously most of yours as well. I've already received hundreds of requests this year alone pleading with us to book him for 2016. Not only is he an incredible performer who's been nominated for five Grammys and sold more than 25 million albums worldwide, the guy's got brass balls. As tens of thousands of you remember well, the last time Kid performed at the Chip he literally rocked his way through fire from the sky. A fierce thunderstorm had rolled in, rain poured down and lightning struck the water tower, but he refused to leave that cheering, packed house with anything less than a full Kid Rock concert experience. It was an astounding night no one will soon forget. We are extremely excited to have him back in 2016.
Kid Rock is only the first of many world-class performers we're announcing for the 2016 event at the Chip. We will be celebrating 35 years of The Best Party Anywhere™ with a good number of great people, and we'd love to see you here. The festivities will begin on Friday, Aug 5 and run through Saturday, Aug. 13, 2016. The campground will open for camping on Monday, Aug. 1, 2016.
Ride Free and Take Risks and we'll see your smiling faces in August.
Woody
Sturgis Buffalo Chip, President