The sounds of boot-tapping country music and comedic favorites will fill the Best Party Anywhere® Aug. 11 with Jon Pardi and Williams and Ree. The 15th annual Sturgis Buffalo Chip Legends Ride brings in famous faces – actor Kevin Sorbo, custom motorcycle icon Billy Lane and Super Bowl Champion Earl Dotson to help raise money for worthy causes.
Sturgis, SD (May 19, 2022): Fans of good-time, hip-swinging country music are going have the chance to get a little dirt on their boots dancing the night away with country music star Jon Pardi Aug. 11 at the Largest Music Festival in Motorcycling®. Topping the charts with numerous number one hits, Jon Pardi takes the stage for the Thursday night of Sturgis Rally week. Joining Pardi on Aug. 11, and also opening up the stage for Travis Tritt and Aaron Lewis and the Stateliners on Aug. 10, is comedic duo Williams and Ree. Big names are also joining the Sturgis Buffalo Chip's Legend's Ride, with actor Kevin Sorbo, custom motorcycle icon Billy Lane and Super Bowl Champion Earl Dotson adding their names to the growing list of celebrities participating in the 2022 event. See the band announcement video at BuffaloChip.com/bands and view the full list of Legends Ride celebrities at LegendsRide.com.
"Big names for the biggest party in Sturgis!" said Rod Woodruff, President of the Sturgis Buffalo Chip. "We hope all our friends coming out for the rally will take advantage of the amazing entertainment lineup coming to the Chip this year, and we hope they get a chance to meet and ride alongside the many celebrities and industry icons joining our 15th annual Legends Ride. It's going to be a year they won't ever forget!"
Jon Pardi
Aug. 11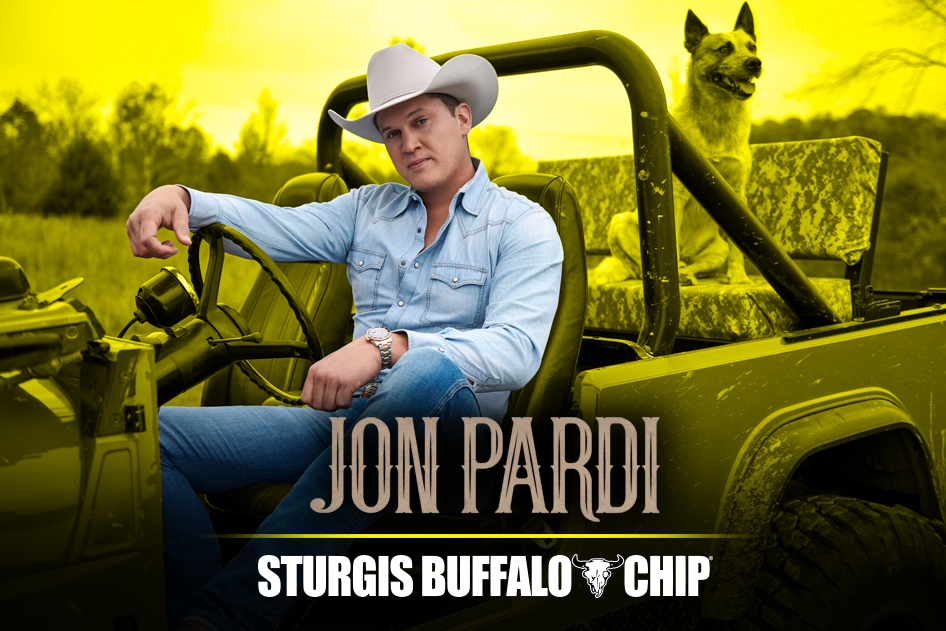 Fans of toe-tappin' country music might get a little dirt on their boots when CMA and ACM winning singer/songwriter/producer Jon Pardi rolls into The Best Party Anywhere on Thursday, Aug. 11. Known for applying fresh ideas to country's classic sounds, Pardi brings no. 1 singles including "Head Over Boots," "Dirt On My Boots," "Heartache on the Dancefloor," "Heartache Medication," and more to the Sturgis Rally for the first time ever in 2022.
Williams and Ree
Aug. 10 and 11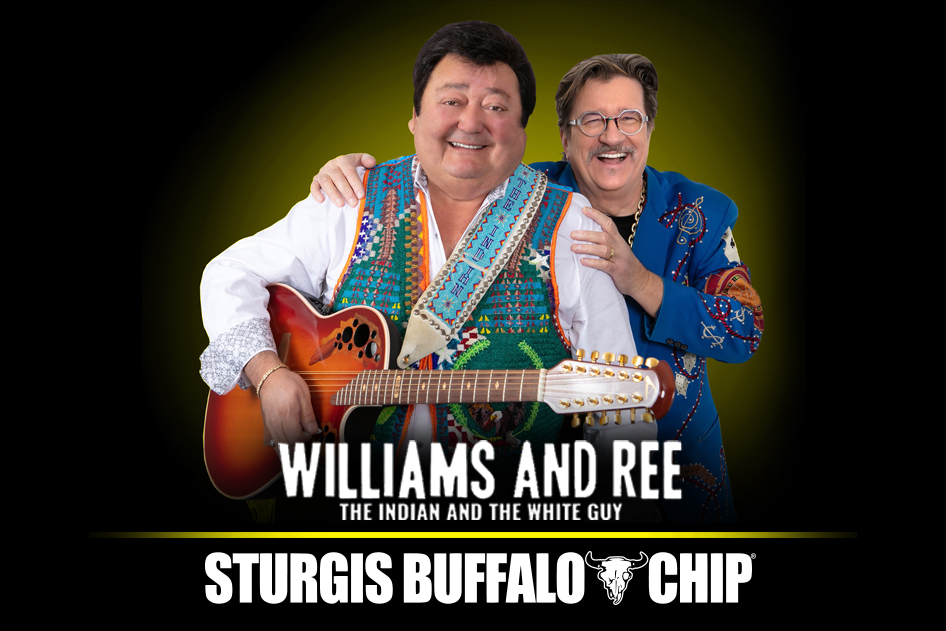 This award-winning duo eschews political correctness and conformity and spins comedy gold from the union of the Plains Indian (Terry Ree) and the White Guy (Bruce Williams). Williams and Ree bring their unique brand of musical comedy to the Wolfman Jack Stage Aug. 10 and 11 and put on a private performance for riders signed up for the Sturgis Buffalo Chip's Rusty Wallace Ride on Aug. 10 following the ride.
Legends Ride Celebrity Guests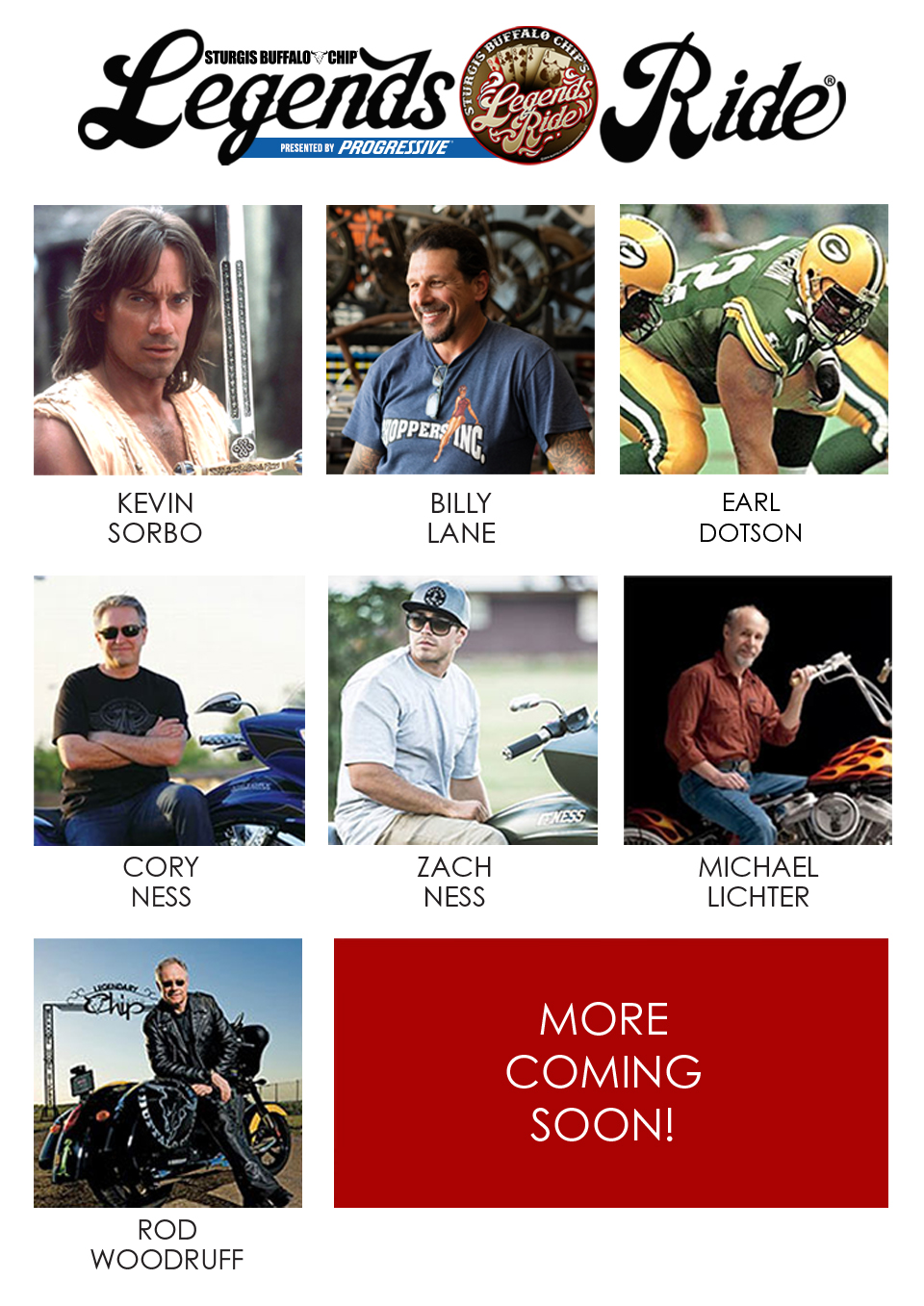 Kevin Sorbo: Reaching international stardom for his lead role in "Hercules, the Legendary Journeys," actor/producer/director Kevin Sorbo found success in various roles throughout his long and ongoing career including "Gene Roddenberry's Andromeda", "Soul Surfer," "God's Not Dead" and many others. Sorbo brings his philanthropic spirit to the 2022 Legends Ride and Legends Lunch for the first time ever Aug. 8.
Billy Lane: As a world-renowned custom motorcycle builder, Billy Lane made a powerful mark on the exploding chopper scene in the mid '90s. Forming Choppers Inc. in 1995, Lane has been featured in many publications and TV shows including Discovery Channel's "Monster Garage" and "Biker Build Off." In 2017, Lane developed Sons of Speed, a motorcycle race inspired by early 20th-century board-track racing, which hearkens back to a wide-open, full-throttle, thrilling style of motorcycle racing.
Earl Dotson: Super Bowl champion Earl Dotson is known as one of the premier offensive linemen in Green Bay Packers history. Dotson started in Super Bowls XXXI and XXXII and later earned from his teammates the Ed Block Courage Award. The former NFL star is proud to participate in charitable outreach organizations and events throughout the U.S.
Cory Ness: The chief designer behind all that is Arlen Ness Motorcycles today, Cory Ness runs the day-to-day business and designs new parts and accessories at the world-famous Arlen Ness Motorcycles. His award-winning innovations can be seen on covers and spreads in national and international motorcycle magazines and have made appearances at all major international custom bike shows.
Zach Ness: It's clear to see that Zach Ness comes from a long line of legendary custom bike builders. As the third generation of Ness builders, Zach's personal style is very different from that of his family, but each of Zach's incredible customs include touches identifying them as true Ness motorcycles.
Michael Lichter: Michael Lichter started photographing custom Harley-Davidsons and the biker-lifestyle in the 1970s and his continuing contributions have earned him international recognition. Lichter is credited with 10 books on motorcycling, more than 1200 magazine articles and numerous other printed materials. The annual Motorcycles as Art™ display Michael curates for the Sturgis Buffalo Chip has become the most celebrated exhibition of its kind
Rod Woodruff: Rod "Woody" Woodruff is the President and CEO of the Legendary Sturgis Buffalo Chip. Since its beginnings in 1981, Woody has transformed what was once 20 acres of leased land into a 600-acre destination that is one of the top party venues in American and is the focal point of the Sturgis Rally.
Performances from world-class entertainers are just part of what the Sturgis Buffalo Chip has in store again for 2022. Guests will have the opportunity to experience thrilling events, legendary rides, powerful freedom celebrations, top-tier bike shows, worthwhile charity events, heart-pounding stunts, white-knuckle racing, and so much more. All events are outdoors in an open environment for the safest experience possible. Entertainment is free with camping. A full list of Sturgis Buffalo Chip events is available at BuffaloChip.com/EVENTS. The Buffalo Chip is home to the Sturgis Rally Information Center™ and is the official sponsor of the free Sturgis.com Official Sturgis Rally Registration Program.
2022 Sturgis Buffalo Chip Event and Entertainment Lineup
Friday, Aug. 5
Entertainment TBA
Saturday, Aug. 6
Snoop Dogg
Buckcherry
Schools Out Chopper Show
Wango Tango Custom Gold Wing Show
Motorcycles As Art Exhibit Opens
Sunday, Aug. 7
Lynyrd Skynyrd
Bush
FXR Show & Dyna Mixer
Monday, Aug. 8
Rob Zombie
Lita Ford
Legends Ride®
Hardcore Cycles Performance Show and Skinny Tire Bagger Build-Off
Tuesday, Aug. 9
Papa Roach
Falling In Reverse
Hollywood Undead
Bad Wolves
Biker Belles® Women's Day Celebration
Biker Belles Women's Bike Show
Sportster Showdown
Mini Bike Show
Wednesday, Aug. 10
Travis Tritt
Aaron Lewis and the Stateliners
Williams and Ree
Rusty Wallace Ride
Evo Entanglement
Thursday, Aug. 11
Jon Pardi
Williams and Ree
Freedom Celebration
Western Frontier Motorcycle Ride
50th Anniversary Rats Hole Custom Bike Show
Friday, Aug. 12
Pop Evil
Puddle of Mudd
All Brands Bike Show and Bagger Blastoff
Saturday, Aug. 13
Entertainment TBA
###
About the Sturgis Buffalo Chip
The Sturgis Buffalo Chip® is the award-winning leader in music and motorcycle lifestyle experiences. Hailed as The Largest Music Festival in Motorcycling® and The Best Party Anywhere®, it has been the epicenter of the annual Sturgis Motorcycle Rally since its establishment in 1981. Every August, the Buffalo Chip brings together the world's largest gathering of music and motorcycle fans, with visitors from all 50 states and over 20 countries. It remains one of the world's most televised and longest-running independent music festivals. The Chip advances the Sturgis Rally by being home to the Sturgis Rally Information Center™ and the official sponsor of the Sturgis.com Official Sturgis Rally Registration Program. More details are available at BuffaloChip.com
Further Inquiries:
Cody Ertman
[email protected]
605-347-9000