Tuesday February 16, 2015
Good Morning!
We've been on the edge before, and we like taking the plunge because, frankly, predictable is boring. Nobody shows up at the Buffalo Chip expecting to nestle into a hammock and read a book. We're all about extraordinarily mad fun. Over the years, Chipsters have partied with some of the zaniest comedians in history, like Sam Kinison, Peewee Herman and Cheech & Chong. And so to keep the good times going until the very last second of the 2016 rally, we booked the wizard of weird, Weird Al Yankovic, to crank some of his bizarre hits on Saturday, Aug. 13, 2016. Inspired by Weird Al's super sense of satire, we put together our own ridiculous video parody to announce his performance. It can be seen here: http://bit.ly/1KZAQw0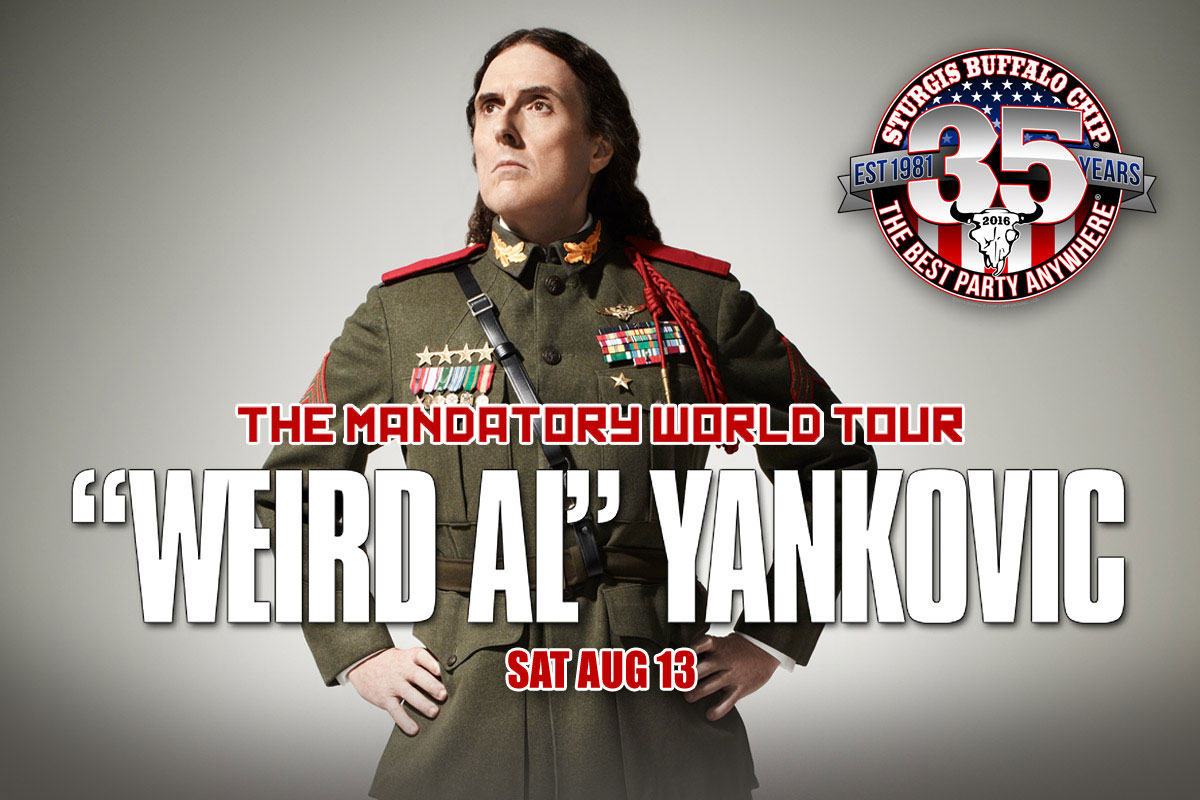 We love Al for his musical and comedic genius. He twists lyrics like green Twizzlers; they aren't quite right, but you love them anyway. We aren't the only ones who think he's great either. His last studio album, "Mandatory Fun," debuted at no. 1 on the Billboard Top 200 album chart, a feat that hasn't been accomplished by a comedy album since Jack Kennedy was President. When you break out singing "…just eat it, just eat it!" to Michael Jackson's "Beat It," you can blame Al. When you hear "like a surgeon" as Madonna pines for her priest, yup, that's Al's fault too. He broke all the rules when he sent a homemade demo tape to Dr. Demento's Radio Show in 1976, and audiences have loved him ever since. Now, with four Grammys to his credit, Weird Al is a megastar with enough hutzpah to bring his show to The Largest Music Festival in MotorcyclingTM.
Weird Al makes three world-class acts announced so far to perform at the Buffalo Chip in 2016. Celebrating the Chip's 35th anniversary with Kid Rock, Miranda Lambert and now Weird Al Yankovic, it's starting to smell like Nirvana around here. Don't miss out; the saga begins Monday, Aug. 1 and will continue through Weird Al's epic performance on Saturday, Aug. 13.
Ride Free and Take Risks, and we'll see your white and nerdy smiling faces in August.
Woody
Sturgis Buffalo Chip, President