SOMERSET, WIS, MARCH 17, 2016—The Rock, Rumble & Rebellion Tour officially kicked off at Daytona Bike Week with Kuryakyn® unveiling the Sturgis Buffalo Chip® 35th anniversary Harley-Davidson® Road Glide® and Epiphone® Sheraton II guitar. The stage is now set for an epic celebration honoring 35 years of freedom, motorcycles and music at the iconic venue.
The stunning bike and guitar will be displayed at the Buffalo Chip throughout the 35th anniversary celebration held August 1-14. At the culmination of the Rock, Rumble & Rebellion bash, the one-off commemorative bagger and matching six-string will be up for private sale.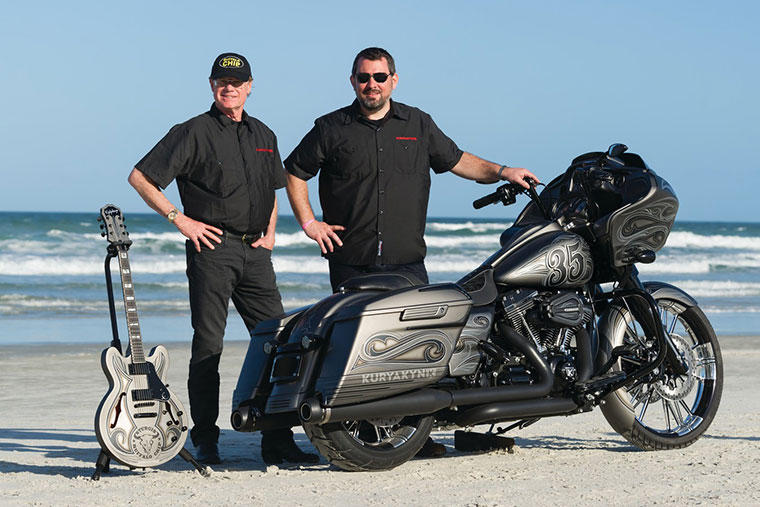 "Kuryakyn has created a motorcycle masterpiece," said Rod Woodruff. "It's so much more than I expected. The fine attention to detail and design is remarkable, and it's a joy to ride. There is no mistaking that the muscle and melodious grace embodied in this bike and matching Epiphone guitar clearly represent 35 years of rock, rumble and rebellion at the Buffalo Chip.
Senior Designer Michael Bates led the Kuryakyn build team, working closely with the Buffalo Chip to give the stock 2015 Road Glide a complete overhaul. Close to 40 Kuryakyn parts are incorporated into the overall design, including nearly the entire collection of Tri-Line accessories for Road Glides, new satin black Teardrop Mirrors, Kinetic Grips and foot controls, L.E.D. Turn Signal Conversions and Saddlebag Extensions, and much more. A number of outside brands also stepped up to support the Rock, Rumble & Rebellion project, including Bahn™, Jim Nasi Customs, Mustang® Seats, Performance Machine®, Progressive® Suspension, Roland Sands Design®, and Xtreme Machine®.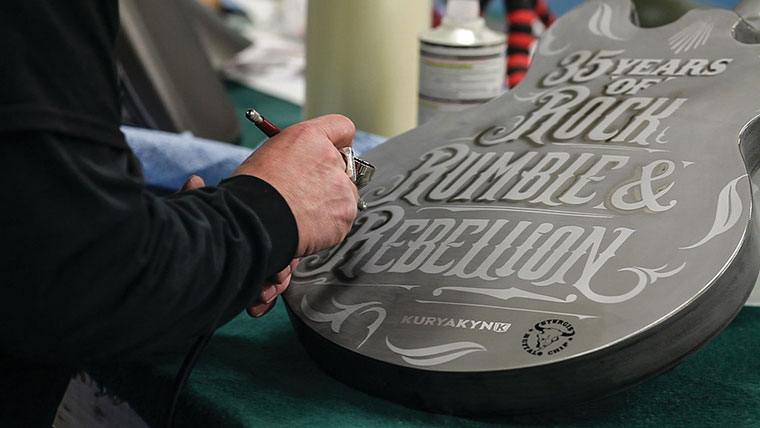 Kuryakyn collaborated with renowned custom shop Gilby's Street Dept. (River Falls, Wis.) to craft a paint scheme that embodies the natural rhythm and artistry behind music in order to bring the Rock, Rumble & Rebellion theme to life. Various color-matched Kuryakyn parts seamlessly blend in with the smooth satin graphite base coat. Inspired by the Epiphone Sheraton II, Gilby laid down line after line of intricate pin striping that provides a pure, organic flow throughout the entire build.
The horsepower is supplied courtesy of Kuryakyn's Performance Division, Crusher. TC-24D Cams, Easy Install Adjustable Pushrods, High-Performance Lifters, plus the all-new Maverick Pro Air Cleaner and Crusader 4″ Slip-Ons put approximately 93 horsepower at the rear wheel, with 113 ft/lbs of torque. The Buffalo Chip 35th anniversary Road Glide is a true performance bagger designed to rip up the streets in style.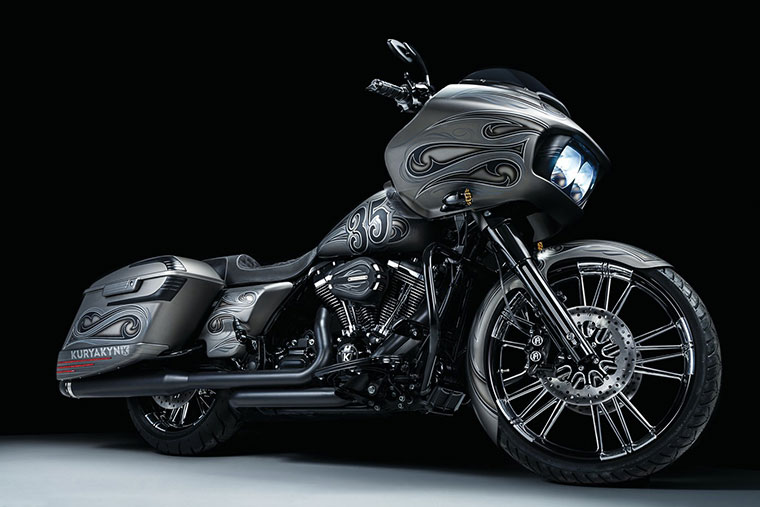 "The response we received throughout Bike Week was remarkable," said Kuryakyn President Holger Mohr. "We're incredibly honored Rod and the Buffalo Chip team presented Kuryakyn with the opportunity to commemorate their legacy through a custom bike build. People love both the bike and guitar. I think our product development and design team really shocked the industry with this project, proving there's much more to Kuryakyn than just chrome."
Kuryakyn and the Buffalo Chip are also excited to announce a media partnership with Baggers magazine of the Bonnier media group. The 35th anniversary Rock, Rumble & Rebellion Road Glide will be featured in the August issue of Baggers, which will be on newsstands during the annual August rally in the Black Hills.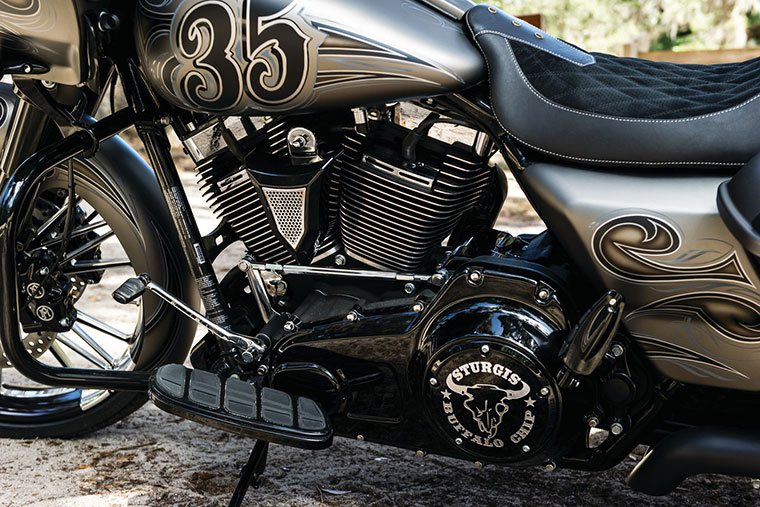 Go behind the scenes of Rock, Rumble & Rebellion to access scheduled rally appearances, additional photos, a full build list, plus video interviews with the painter Gilby and lead designer Michael Bates at www.kuryakyn.com/c/rockrumblerebellion and <http://enews.kuryakyn.com/q/WfC0Zf1PYwSoqCS6SWRZX9u-oEy1i9C8wVUiPdY58jeJk2xGvCCYm7KxD>.