There's No Such Thing as Fashionably Late at the Sturgis Rally Thanks to the Buffalo Chip Official Sturgis Rally Kickoff Party
The party begins with a bang Friday, Aug. 6 at 5 p.m. at the #1 Sturgis Rally destination – the Sturgis Buffalo Chip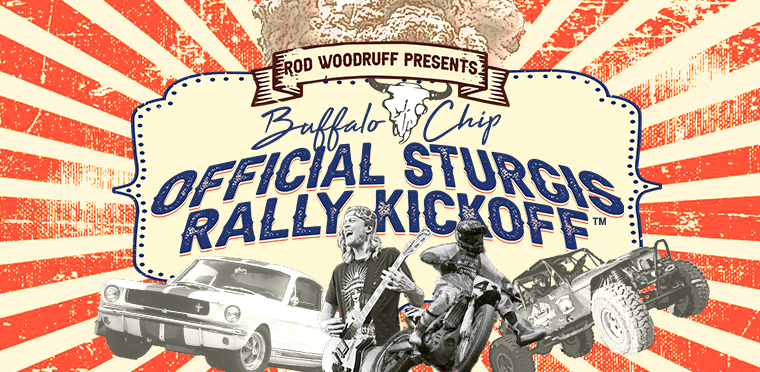 Sturgis, SD (June 30, 2021): The Sturgis Buffalo Chip is kicking off the 81st Sturgis Rally and their 40th anniversary celebration the only way they know how – by throwing one huge party. On Friday, Aug. 6, the Buffalo Chip amphitheater will come alive with the roar of motorcycles and the deafening bump of music courtesy of Puddle Of Mudd and Blacklite District. The Sturgis Rally Kickoff Party will feature a parade of magnificent machines and famous faces making their grand entry down Buffalo Chip Main St. starting at 5 p.m, including racers from Ultra4 Off Road Racing and Xtreem Flat Track. For those that can't make it but want to attend, the entirety of the Kickoff party will be livestreamed on YouTube on Buffalo Chip Live.
"There's no such thing as being fashionably late when it comes to the Sturgis Motorcycle Rally," said Rod Woodruff, President of the Sturgis Buffalo Chip. "You come early, and you party all the way through. That's how you do the rally, and that's how you do the Chip."
Puddle of Mudd
Friday, Aug. 6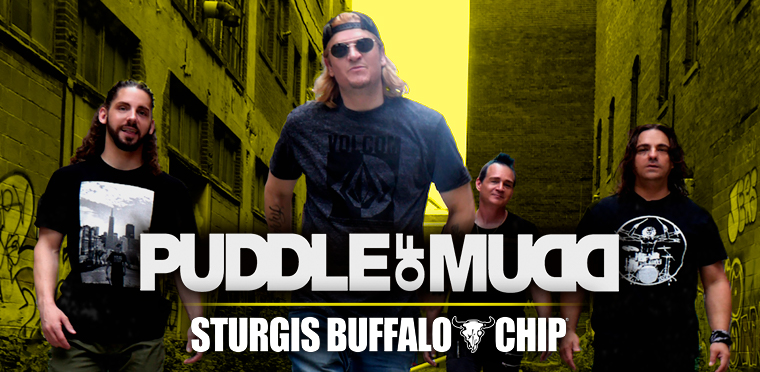 Rally goers will need their galoshes ready to wade through some of the biggest hard rock hits of the last couple decades when Puddle of Mudd kicks off the 40th anniversary of The Best Party Anywhere. The revitalized Kansas City, Missouri quartet will get the festivities underway during the Buffalo Chip's official Sturgis Rally Kickoff on Friday, Aug. 6.
Blacklite District
Friday, Aug. 6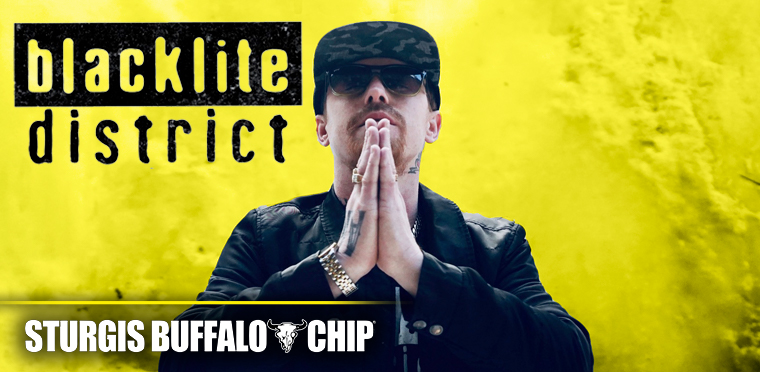 Jumpstarting the Buffalo Chip Official Sturgis Rally Kickoff™ Party is South Dakota's own Blacklite District. The YouTube star and Billboard Top 40 charting artist returns to the legendary Wolfman Jack Stage to get the party started prior to headliners Puddle Of Mudd.
Buffalo Chip Live
Aug. 6 – 14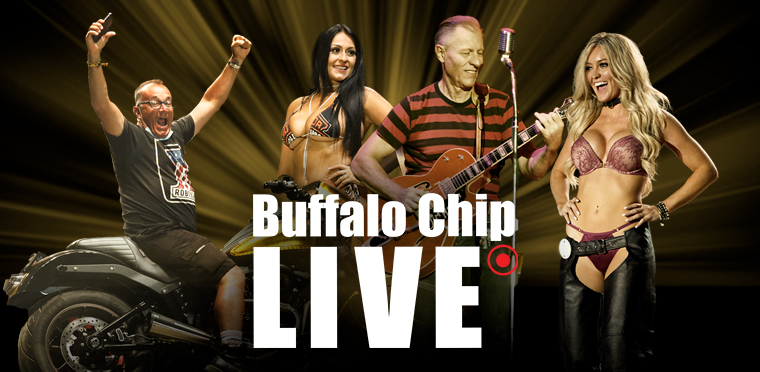 The Buffalo Chip's Wolfman Jack Main Stage is wired to the max with cameras and microphones to put people inside the most entertaining stage in Sturgis. There's going to be motorcycles, there's going to be music and, of course, there's going to be girls. Loads of free content is available by subscribing to Sturgis Buffalo Chip's YouTube page, and memberships are available to access all that Buffalo Chip Live has to offer.
Performances by top entertainers are just a part of what the Sturgis Buffalo Chip has in store for its 40th Anniversary in 2021. Visitors will have the opportunity to experience countless events, including legendary rides, powerful freedom celebrations, top-tier bike shows, white-knuckle racing events and so much more. All events are held outdoors in an open environment for the safest experience possible. Entertainment is free with camping. A full list of Sturgis Buffalo Chip events is available at buffalochip.com/EVENTS. The Buffalo Chip is home to the Sturgis Rally Information Center™ and is the official sponsor of the free Sturgis.com Official Sturgis Rally Registration Program.
2021 Sturgis Buffalo Chip Event and Entertainment Lineup
Friday, Aug. 6
Buffalo Chip Official Sturgis Rally Kickoff Party
Puddle Of Mudd
Blacklite District
ULTRA4 Off-Road Racing – Qualifier
Maiden Moto Art Show begins
Buffalo Chip Live begins
Saturday, Aug. 7
Buckcherry
Drowning Pool
ULTRA4 Off-Road Championship Racing
School's Out Chopper Show
Sunday, Aug. 8
Kid Rock
Reverend Horton Heat
FXR Show & Dyna Mixer
Bell Brawl
Monday, Aug. 9
Stone Temple Pilots
REO Speedwagon
Legends Ride®
Hardcore Cycles Performance Show and Skinny Tire Bagger Build-Off
Tuesday, Aug. 10
Clint Black
Biker Belles®
The Morning Ride™
Women, Wind & Wheels™ Bike Show presented by Ride Wild
Women Riders Turnout
Buffalo Chip Super TT Xtreem Flat Track Racing
Sportster Showdown
Mini Bike Show
Wednesday, Aug. 11
ZZ Top
Corey Taylor
Rusty Wallace Ride
Evo Entanglement Bike Show
Thursday, Aug. 12
Anthrax
Black Label Society
Lingerie Fighting Championships
Western Frontier Ride
Buffalo Chip Super TT Xtreem Flat Track Racing
Freedom Celebration
Rat's Hole Custom Bike Show
Friday, Aug. 13
Shinedown
Black Stone Cherry
Lingerie Fighting Championships
Full Throttle Bagger Blastoff bike show
Saturday, Aug. 14
P.O.D.
From Ashes To New
Lingerie Fighting Championships
More announcements coming soon.
###
About the Sturgis Buffalo Chip
The Sturgis Buffalo Chip® is the award-winning leader in music and motorcycle lifestyle experiences. Hailed as The Largest Music Festival in Motorcycling® and The Best Party Anywhere®, it has been the epicenter of the annual Sturgis Motorcycle Rally since its establishment in 1981. Every August, the Buffalo Chip brings together the world's largest gathering of music and motorcycle fans, with visitors from all 50 states and over 20 countries. It remains one of the world's most televised and longest-running independent music festivals. The Chip advances the Sturgis Rally by being home to the Sturgis Rally Information Center™ and the official sponsor of the Sturgis.com Official Sturgis Rally Registration Program. More details are available at BuffaloChip.com
Further Inquiries:
Cody Ertman
[email protected]
605-347-9000