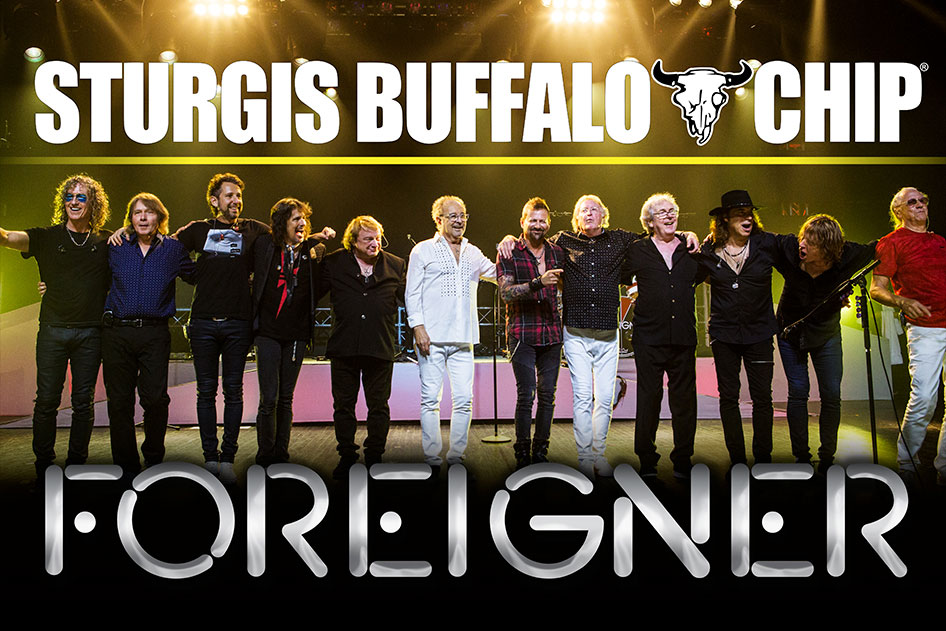 "I Want To Know What Love Is." "Cold As Ice." "Hot Blooded." "Juke Box Hero." FOREIGNER, the band behind these classic and iconic songs, recently kicked off their 29-city "Juke Box Heroes" tour as they rock across the US with one of the hottest Live Nation tours of the summer. Last night in Syracuse, New York, history was made after FOREIGNER – Mick Jones (lead guitar), Kelly Hansen (lead vocals), Tom Gimbel (rhythm guitar, sax, vocals), Jeff Pilson (bass, vocals), Michael Bluestein (keyboards), Bruce Watson (guitar) and Chris Frazier (drums) – played the latest stop on their "Juke Box Heroes" tour.
Here, founding member Mick Jones and Kelly Hansen shared a historic announcement – FOREIGNER's first-ever ticketed reunion concert featuring all original members will take place on August 4, 2018 at The Sturgis Buffalo Chip in Sturgis, South Dakota. Here, Lou Gramm, Dennis Elliott, Al Greenwood, Ian McDonald and Rick Wills will join Mick Jones and FOREIGNER to rock through some of the best-selling songs from the band's 10 multi-platinum albums and 40 years of enduring top ten hits. While FOREIGNER's original members have joined the band for surprise appearances in the past, never before have they announced a ticketed reunion where fans can join in for the ultimate soundtrack of summer. For tickets to FOREIGNER's performance on Chip's Wolfman Jack Stage as part of the 9-day annual event known as "The Largest Music Festival in Motorcycling,"® please visit www.buffalochip.com.
Says Mick Jones, "It's been incredible to have Lou, Dennis, Al, Ian and Rick join us for some surprise appearances throughout the past few years. It always brings back special memories. But now, for the first time, we are letting our fans know we'll be making history together at The Buffalo Chip on August 4th with a FOREIGNER reunion concert, and we hope they'll come on down to Sturgis and join us!"
This announcement comes on the heels of the 40th Anniversary of FOREIGNER's best-selling album, Double Vision, and the band is working on a very special release to celebrate the momentous occasion.
FOREIGNER is also charting new territory on the album charts, as their latest album, Foreigner with the 21st Century Symphony Orchestra & Chorus has topped the Billboard Classical Album Chart for multiple weeks, and continues to sell out tour dates across the world. This album has also inspired a new 60-minute concert special airing on PBS TV stations across the country in June and July; FOREIGNER LIVE AT THE SYMPHONY. Please check local PBS listings for air dates in your city.
To check out FOREIGNER joined by WHITESNAKE and JASON BONHAM'S LED ZEPPELIN EVENING for the 2018 "Juke Box Heroes Tour" in other cities this summer, please visit LiveNation.com.
TICKETS TO FOREIGNER'S REUNION, "THE LARGEST MUSIC FESTIVAL IN MOTORCYCLING,"® AND CAMPING PASSES ARE AVAILABLE AT www.buffalochip.com
VIDEO ANNOUNCEMENT APPROVED FOR POSTING/SHARING (VIDEO CREDIT: KARSTEN STAIGER) – https://www.youtube.com/watch?v=PcJlUsb3jNg&feature=youtu.be

PRESS PHOTO APPROVED FOR POSTING/SHARING (PHOTO CREDIT: BILL BERNSTEIN) – https://www.dropbox.com/s/1ksxz54mzd1b4n1/FOR_BRIDGE_BB_PRESS%20edited.jpg?dl=0
ABOUT FOREIGNER
Since the 1977 release of their first hit "Feels Like The First Time" and their self-titled debut album on Atlantic Records, FOREIGNER has been universally hailed as one of the world's most popular rock acts with 10 multi-platinum albums, 16 Top 30 hits, and worldwide album sales exceeding 80 million. Responsible for some of rock and roll's most enduring anthems including "Juke Box Hero," "Cold as Ice," "Feels Like The First Time," "Urgent," "Head Games," "Say You Will," "Dirty White Boy," "Long, Long Way From Home," and the worldwide #1 hit, "I Want To Know What Love Is," FOREIGNER continues to rock the charts more than forty years into the game. Business Insider recently named FOREIGNER one of the "Top 50 Best Selling Artists of All Time."
ABOUT THE STURGIS BUFFALO CHIP®
The Sturgis Buffalo Chip® is the Largest Music Festival in Motorcycling®. It is the world's first and leading entertainment destination for the motorcycle enthusiast and South Dakota Excellence in Tourism Innovation award winner. Since 1981, the venue's high-profile, nine-day festival, known as The Best Party Anywhere®, remains one of the world's most televised and longest running independent music festivals. Located three miles east of Sturgis, SD on 600 creek-fed acres, it offers six stages of entertainment, a swimming hole, bars, mouth-watering food, showers, cabins, RVs, camping and more to visitors traveling from all corners of the world. The Chip's concerts and races are free with camping. The 2018 Motorcycles as Art exhibit, "Passion Built – Garage to Gallery" curated by Michael Lichter, numerous bike and stunt shows and all shopping, live music and events at the CrossRoads are free and open to the public. More details are available at www.buffalochip.com.
www.foreigneronline.com
www.facebook.com/Foreigner
www.twitter.com/ForeignerMusic
www.instagram.com/foreignerlive
www.youtube.com/user/FWebTeam