Rock, Rumble & Rebellion Kuryakyn® customized motorcycle and matching Epiphone® guitar classically represent 35 years of Buffalo Chip history, and the new owner will be treated like a rock star for life*.
Buffalo Chip, SD (July 15, 2016) – The stunning Rock, Rumble & Rebellion Kuryakyn® customized motorcycle and matching Epiphone® guitar created to commemorate Sturgis Buffalo Chip®'s 35th anniversary have been packaged with a never before offered VIP pass for life*. The purchaser of this one-off package not only will be the owner of one the coolest custom bikes and guitars on the planet, they will instantly find themselves treated like a rock star and will be able to enjoy concerts from VIP seating or front of the stage pit access, and when available have the opportunity to shake hands and have their photo taken at celebrity meet and greets as a VIP for as long as they own the bike. This is the first time in history the Buffalo Chip has ever offered this level of VIP status to the public.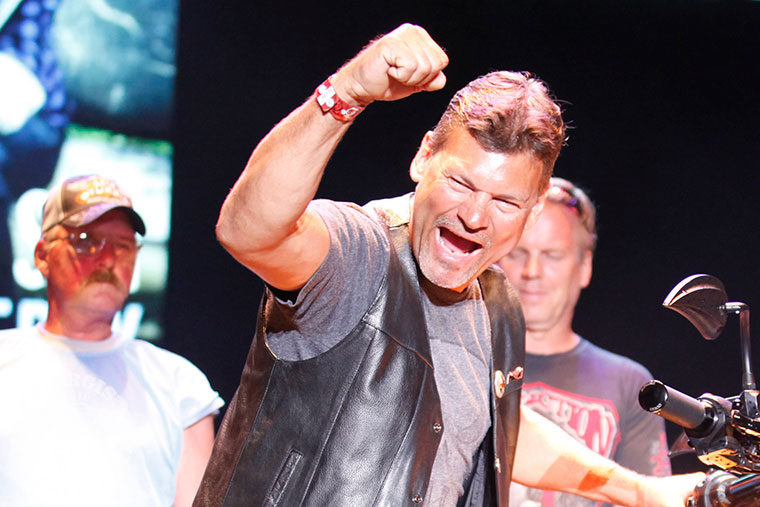 "This is a one-time special deal not likely ever to be repeated," said Buffalo Chip President Rod Woodruff. "This beautiful custom bagger will make you feel like biker royalty, and its matching guitar will make you feel like a rock god. But the celebrity status that accompanies them at the Sturgis Buffalo Chip is what makes this even more special. The person who purchases this package is in for a real treat."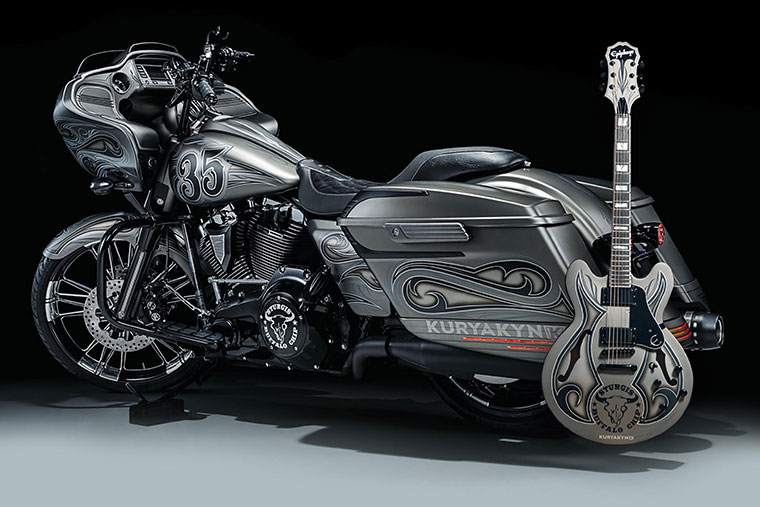 The Package
The custom performance bagger, which began life as a 2015 Harley-Davidson Road Glide FLTR, now sports nearly 40 Kuryakyn enhancement parts with contributions from Bahn, Jim Nasi Customs, Mustang Seats, Performance Machine, Progressive Suspension, Roland Sands Design and Xtreme Machine with custom paint on both bike and guitar by Gilby's Street Dept. The intricately painted, matching Epiphone Sheraton II guitar makes a bold statement and perfectly expresses the theme. *The VIP pass is good for Buffalo Chip concerts for as long as the original purchaser owns the bike. The owner of this magnificent machine and matching guitar will experience a lifetime of high-performance muscle, rock star attitude and special treatment.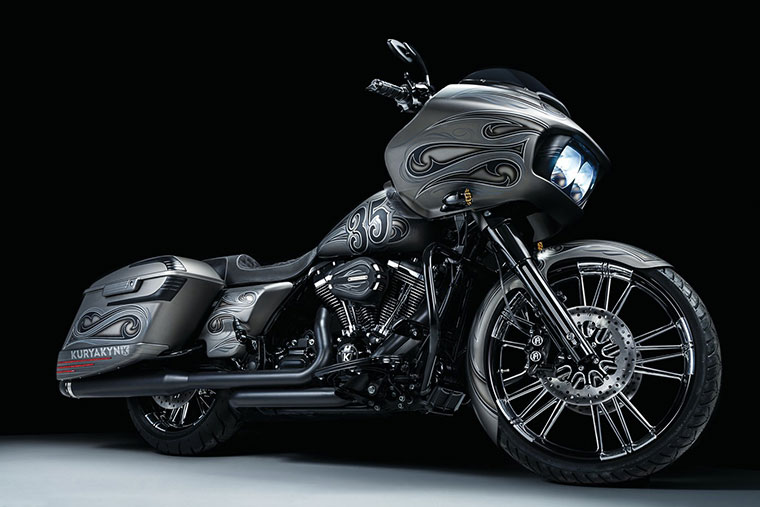 The Rock, Rumble & Rebellion VIP for Life* package is available to the first qualified buyer and, if purchased before the 2016 rally, the new owner will accompany the bike on a tour of the Chip's most prestigious events including the Motorcycles as Art Industry Party, Legends Ride and an unveil on the main stage. For an up close and personal look at the bike and guitar visit Black Hills Harley-Davidson through Friday, Aug. 5 and at the Buffalo Chip Aug. 6-13, 2016. Interested parties may call 605-347-9000 for more information.
About The Sturgis Buffalo Chip
The Sturgis Buffalo Chip is the Largest Music Festival in Motorcycling™. Established in 1981, the venue's nine-day festival, known as The Best Party Anywhere®, remains one of the world's most televised and longest running independent music festivals. Buffalo Chip guests have the freedom to party and play while experiencing world-class concerts, outrageous events, moving freedom celebrations, thrilling PowerSports and more. Located three miles east of Sturgis, SD on 600 creek-fed acres, it offers cabins, RVs, camping, a swimming hole, bars, mouth-watering food, showers, paved roads, and more to visitors traveling from all corners of the world. The Chip's concerts are free with camping. More details are available at www.buffalochip.com.
About Kuryakyn
Kuryakyn has been leading the design and manufacturing of aftermarket parts and accessories for the motorcycle industry for the past 27 years. Our ideas are products of expressive minds that realize a motorcycle isn't simply a means of transportation, but rather a representation of a person's very identity. We are dedicated to producing innovative parts and accessories that keep us miles ahead.
About Epiphone
Celebrating its 140th Anniversary, Epiphone is a leading innovator in musical instrument design and is the official instrument of Rocksmith 2014, the critically acclaimed video experience that is teaching millions around the world how to play guitar and bass.
From Epiphone's humble beginnings in Sparta, Greece in 1873 through its rise to fame on 14th Street in Manhattan, to its reemergence as a dominant force in musical instruments from its new headquarters in Nashville, TN, Epiphone instruments can be heard on a century of classic recordings. Today, Epiphone instruments are played on stages and in studios around the world. Epiphone artists include legends Les Paul, The Beatles, The Rolling Stones, Joe Pass, John Lee Hooker, The Who, and today's top artists like Gary Clark Jr., Paul McCartney, Dave Grohl, Jack Casady, Joe Bonamassa, Zakk Wylde, Dwight Yoakam, Tommy Thayer of KISS, Slash, FUN., Matt Heafy, Alabama Shakes, Vampire Weekend, and Brendon Small. As part of Gibson Brands, Epiphone offers innovation, history, and the guarantee that their instruments can last you a lifetime. www.epiphone.com