First panelists for Biker Belles "Shifting Gears Symposium" and the Women & Wheels Bike Show presented by Wild Gypsy Tour announced.
Buffalo Chip, SD (Jan. 30, 2018) – Availability of the special premium package upgrade for the Sturgis Buffalo Chip's® 10th annual Biker Belles Celebration has been extended for just a few days to Feb. 9. The addition of two new symposium panelists and the all-women's "Women & Wheels Bike Show™" presented by Wild Gypsy Tour, make this deal even more appealing. The inclusive event set to take place on Tuesday, Aug. 7, 2018 celebrates women in motorcycling and offers participants a day of real riders, real stories and real passion. Biker Belles was created in 2009 to raise awareness of the passion, diversity and spirit of women in motorcycling and to raise funds for local worthy charities.
Shifting Gears Symposium Panelists
Moto-traveler and journalist Alisa Clickenger, and motivational rider and health coach Leah Misch will both participate in the inspiring symposium, titled "Shifting Gears." Clickenger credits motorcycling with saving her life. She has ridden across the globe, on dirt and pavement, bringing her message of support and empowerment particularly to women. Misch escaped a horribly abusive relationship and obesity, turning her life around through exercise and motorcycling. As a health coach and independent nurse, she has run eight marathons and ridden over 21,000 miles. More information on 2018 Biker Belles' special guests can be found here.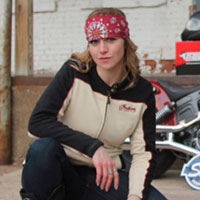 Women & Wheels Bike Show™
Women & Wheels, an all-women's bike show presented by the Wild Gypsy Tour, will bring together a unique collection of women-created machines to kick off the day's events. Experience this one-time collection of custom designs at the Buffalo Chip CrossRoads starting at 8 a.m., and ending at 10 a.m. when kickstands go up for The Morning Ride™ to The Lodge at Deadwood. There's no cost to attend or participate in this bike show. Participants may ride in the day of the show or register in advance at WildGypsyTour.com.
Special Premium Package Deal to End Feb. 9
Biker Belles registration includes:
Space on The Morning RideTM led by land-speed record holders Laura Klock and Karlee Cobb
On-the-Go breakfast and coffee
Catered Luncheon
Admittance to the "Shifting Gears" Symposium
Pampering and retail experience at the Comfort Zone by Team Diva
Souvenir gift bag and T-shirt
The Premium Upgrade Package is limited to the first 30 reservations and in addition to the above includes:
Premium seating at reserved table during the symposium and luncheon
Sponsor welcome gift
High-resolution download of the group photo
One hundred percent of riders' fee from this event benefit Helping With Horsepower and the Sturgis Motorcycle Museum & Hall of Fame.
More information can be found at BikerBelles.com.
Find high-resolution photos at https://drive.google.com/drive/folders/1GP3_P-m4f-BR3hz_5nO9fm68yx4qUftM?usp=sharing