Sturgis Buffalo Chip rounds out Best Party Anywhere® lineup with more bands, races and bike shows.
Sturgis, SD (July 10, 2018) – The world's largest music and motorcycle festival has announced the full two-week lineup of world-class concerts, professional racing, legendary bike shows and seriously fun events to take place July 30-Aug. 12. Twenty more acts have joined the likes of Kid Rock, Eric Church, Lynyrd Skynyrd, Foreigner, Aaron Lewis, Theory of a Deadman, The Marshall Tucker Band and Phil Vassar. Some of the world's top party bands have also made the list including Pop Evil, Red Sun Rising, John Kay & Steppenwolf, Yelawolf, Chevelle, Reverend Horton Heat and Queensrÿche. The full list of bands scheduled for 2018 and the official 2018 lineup announcement video can be found here: http://www.buffalochip.com/bands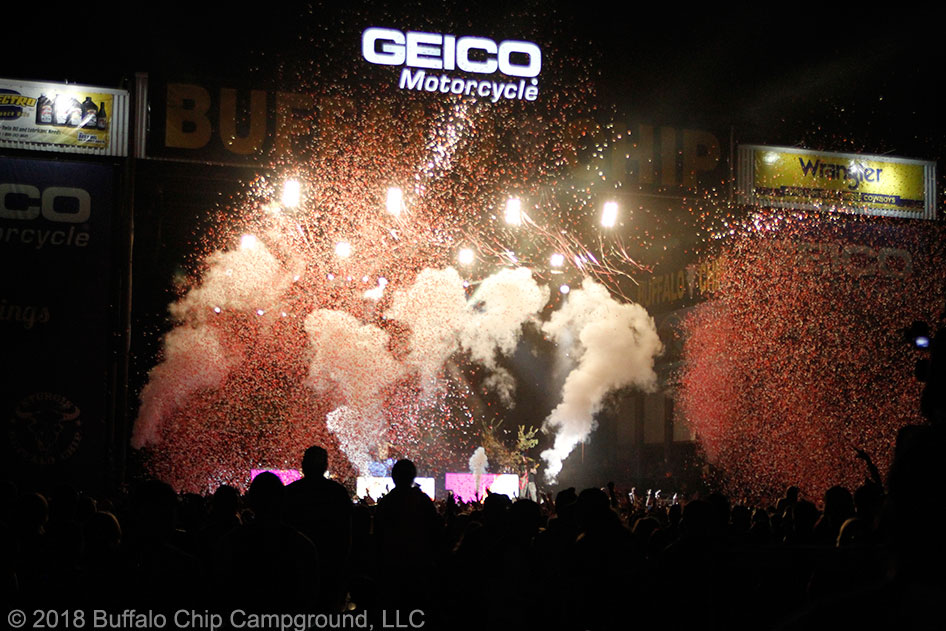 2018 Limited Edition Commemorative Poster
Artist EZ Wheelin' has created a limited-edition poster to commemorate the full 2018 entertainment lineup. The retro art depicts timeless scenes from "The Best Party Anywhere!"® A limited run of 100 poster prints are available for purchase for $20 here: www.buffalochip.com/poster
Acts Added to the Concert Lineup
Nearly 3000 bands submitted for the chance to get a spot in the 2018 Buffalo Chip lineup through the ReverbNation Road to the Buffalo Chip Opportunity. From this group the Buffalo Chip selected Scattered Hamlet, Ted Z and The Wranglers, The Hawkeyes, Well Hung Heart and BC & The Big Rig to get opening slots on the Main Stage. In addition to these bands, guests will have the opportunity to see the following acts on the Buffalo Chip's five showcase stages during the event: Charlie Brechtel, OddFellas, The Living Deads, Stone Senate, Cody Cooke & The Bayou Outlaws, Dan Johnson, Black Water Mountain, Crossroad Station, Creed Fisher Band, The Plott Hounds, Big Skillet, Pat Terranova, TRICK, The Buffalo Dreamers and DJ Hulio.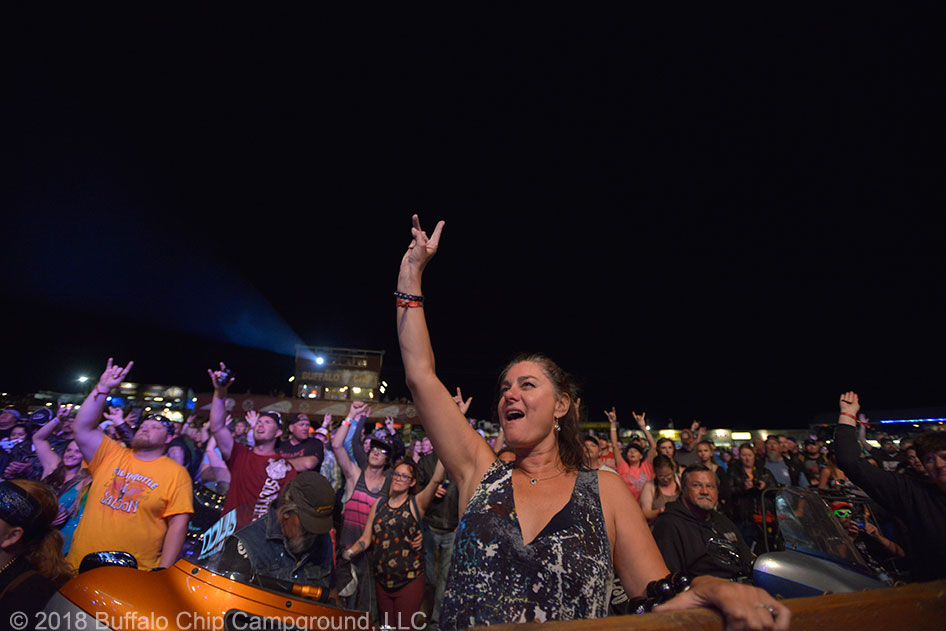 Racing and Bike Shows
In addition to musical entertainment, seven days of racing and nine distinct custom bike shows fill up the day time entertainment schedule.
The 2018 Concert and Races Lineup and Bike Show Schedule:
Monday, July 30 – Thursday, Aug. 2 – Bikini Beach Pre-Party with TRICK
Friday, Aug. 3

Pop Evil
The Flaunt Girls
Charlie Brechtel
Motorcycles As Art Exhibit Opens
Buffalo Chip Off-Road Expo: Dirt Riot Off-Road Trials

Saturday, Aug. 4

Foreigner
Red Sun Rising
Well Hung Heart
HUNKS The Show – #1 All Male Revue
Buffalo Chip Off-Road Expo: Dirt Riot Off-Road Races
Buffalo Chip School's Out Chopper Show

Sunday, Aug. 5

THEORY of a Deadman
Buffalo Chip TT American Flat Track Grand National Championship Races Presented by Indian Motorcycle
The FXR Show & Dyna Mixer
Bell Brawl at the Buffalo Chip
Monday, Aug. 6

Lynyrd Skynyrd
Phil Vassar
The Hawkeyes
Kory Souza Originals – No Class Bike Show
Full Throttle Florida Magazine Bike Show
Buffalo Chip's Gambler 500 Off-Road Mini Bike Enduro Races
Legends Ride®

Tuesday, Aug. 7

Aaron Lewis
The Marshall Tucker Band
BC & The Big Rig
HUNKS The Show – #1 All Male Revue
Sportster Showdown
Women and WheelsTM Bike Show
Three-DomTM Three Wheel Bike Show
The Buffalo Chip's Gambler 500 Off-Road Mini Bike Showdown Races
Biker Belles®

Wednesday, Aug. 8

Eric Church
Reverend Horton Heat
RSD Super Hooligan National Championship Races Presented by Indian Motorcycle
Street Drag Invitational with Crazy John
World's Sexiest Bagger Bike Show

Thursday, Aug. 9

Kid Rock
Lita Ford
Scattered Hamlet
Rat's Hole Bike Show
Freedom Celebration

Friday, Aug. 10

John Kay & Steppenwolf
Yelawolf
Ted Z & The Wranglers
AMA Supermoto West Races

Saturday, Aug. 11

Chevelle
Queensrÿche
The Flaunt Girls
AMA Supermoto West Races
Buffalo Chip concerts and races are free with camping. More information and reservations are available at BuffaloChip.com
High resolution photos available here:
https://drive.google.com/drive/u/1/folders/0B0undnYny2-TUTgzUjZIVERmbU0
About the Sturgis Buffalo Chip
The Sturgis Buffalo Chip® is the Largest Music Festival in Motorcycling®. It is the world's first and leading entertainment destination for the motorcycle enthusiast and South Dakota Excellence in Tourism Innovation award winner. Since 1981, the venue's high-profile, nine-day festival, known as The Best Party Anywhere®, remains one of the world's most televised and longest running independent music festivals. Located three miles east of Sturgis, SD on 600 creek-fed acres, it offers six stages of entertainment, a swimming hole, bars, mouth-watering food, showers, cabins, RVs, camping and more to visitors traveling from all corners of the world. The Chip's concerts and races are free with camping. The 2018 Motorcycles as Art exhibit, "Passion Built – Garage to Gallery"curated by Michael Lichter, numerous bike and stunt shows and all shopping, live music and events at the CrossRoads are free and open to the public. More details are available at www.buffalochip.com.
###
Further Inquiries:
Nyla Griffith
[email protected]
605-347-9000
Cell: 605-920-0626
Sturgis Buffalo Chip