Be the Face of The Best Party Anywhere®!
If you've ever dreamt of becoming a model, the Sturgis Buffalo Chip's annual Poster Model Search presented by Twisted Tea, Jagermeister, Fozzy's Cycle Shop, Silverado Franklin and XRock is the perfect opportunity to show the world that you have what it takes to score the Rally's most coveted modeling job!
It's a once-in-a-lifetime experience that could be yours!
| | |
| --- | --- |
| Who: | You! |
| What: | Poster Model Search |
| When: | Weekly (See Schedule Below) |
| Where: | Regional Bars (See Schedule Below) |
| Why: | Win $7,000, passes to Buffalo Chip concerts, a professional model shoot and much more! |
Winning the search will put you in the spotlight at The Best Party Anywhere and get you featured in the Sturgis Buffalo Chip's national marketing campaigns including:
Print and digital advertisements
Videos
Magazine spreads
Posters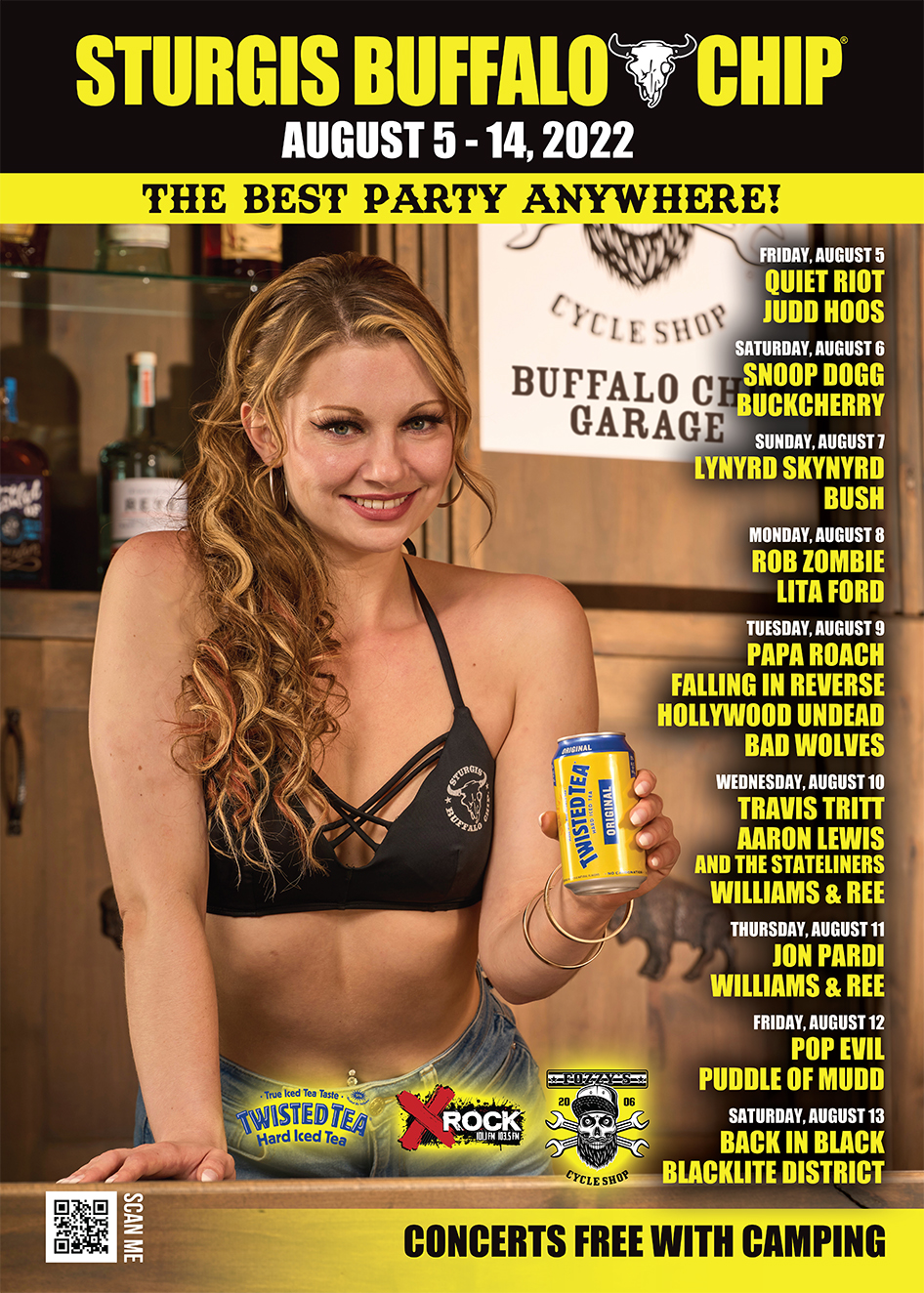 In addition, you'll reign as the 2023 Poster Model at the Buffalo Chip, meeting new people at fun events, signing posters as a rally celebrity and strutting your stuff at the industry's hottest events.
This annual search takes place at bars across the Black Hills. And since Twisted Tea presents the search, you know each stop will be a good time, whether you enter as a contestant or just come to watch!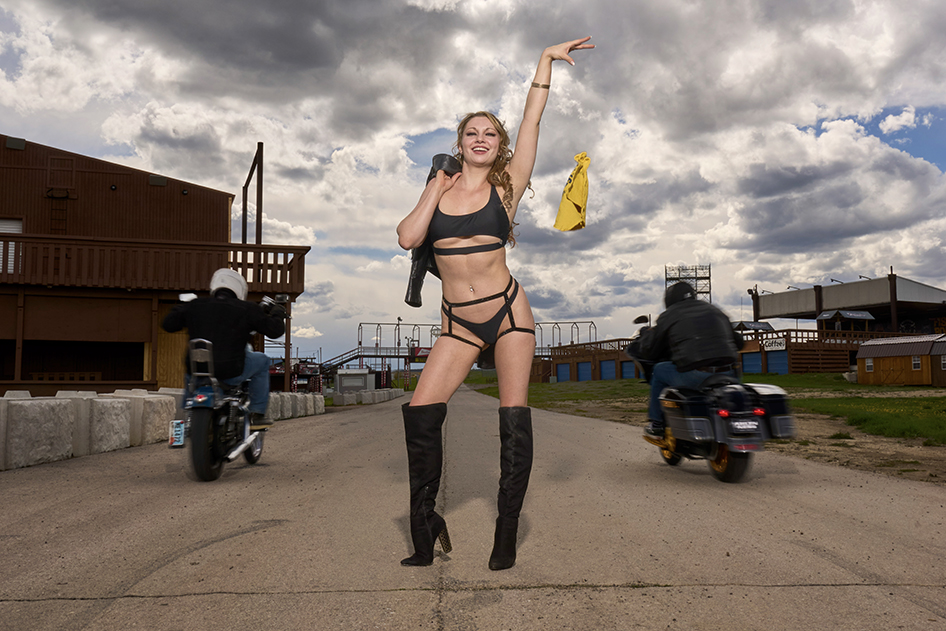 How to Enter and Win the Poster Model Search in 6 Easy Steps!
Attend one or more of the preliminary Poster Model Search stops listed below.
Each establishment will have its own theme. We encourage you to dress to the theme, but it's not a requirement.
Answer a few simple questions.
Don't worry! There usually isn't a right or wrong answer. The judges are simply assessing the way you handle yourself on the microphone and in front of people.
Take a photo of yourself (or have a friend take one of you) in a Twisted Tea shirt (we provide the shirt) with a Twisted Tea IN YOUR HAND.
A little note about your photos:

Feel free to modify your shirt creatively.
Must be portrait oriented (aka up & down).
No nudity.
Must be clothed. Swimsuits are okay, but no underwear photos.
You may submit up to two different photos. We will post one.
Get ideas on how to pose by checking out.

E-mail the photo to

[email protected]

.
Include your name in the email, and use the bar where you qualified as the subject line.
Wait for your photo to show up on the Sturgis Buffalo Chip Facebook page, then share it with all of your friends.
The total number of likes you have by the Semi-Finals will be considered by our panel of judges. Your social network could help you become the next Sturgis Buffalo Chip Poster Model. (Pictures will be posted at the Buffalo Chip's sole discretion.)
TikTok Video Submission
Create a TikTok that shows off your personality in a fun and interesting way utilizing music from your favorite artist who has played (or is scheduled to play) at the Buffalo Chip.
Creatively incorporate Twisted Tea and the Buffalo chip in your TikTok video.
Post your video to TikTok and tag and hashtag #SturgisBuffaloChip @sturgisbuffalochip
Wait for your photo to show up on the Sturgis Buffalo Chip pages and then share it with all of your friends.
Compete in the Semi-Finals.
If you make it to semi-finals, you'll compete in three categories:
Round 1: Theme from the bar where you qualified
Round 2: Americana
Round 3: Bikinis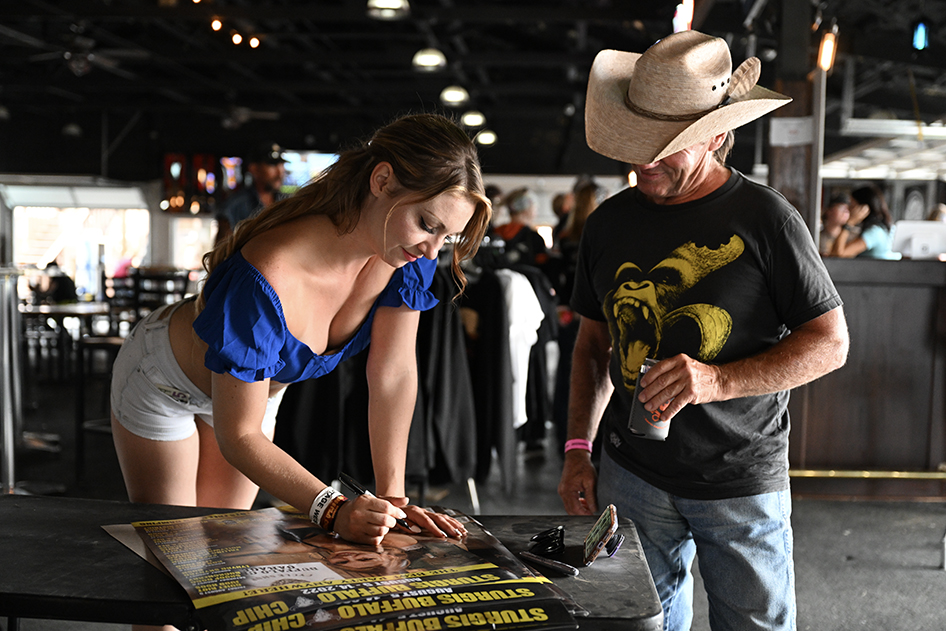 5 Important Hints for Poster Model Search Contestants
If you don't win the first time you compete, try again.
Several competitors have become eventual winners by competing in multiple contests.
This is NOT a "skin-to-win" competition.
We want our representative to be sexy, not sleazy. Models who show too much do not win.
Don't be THAT girl.
We want girls who know how to have a good time and can encourage others to do the same. By this standard, intoxicated contestants aren't considered good representatives. It's no problem if you have a couple Twisted Teas to take the edge off your stage fright. It is a problem if you have six.
Bring your A-game.
The judges will be watching your demeanor onstage and off. How you interact with others will affect your chances of winning.
Don't delay.
If you qualify for semi-finals, get those photos in ASAP. The quicker we get them, the quicker they can go up, and the more time you have to gather likes and shares.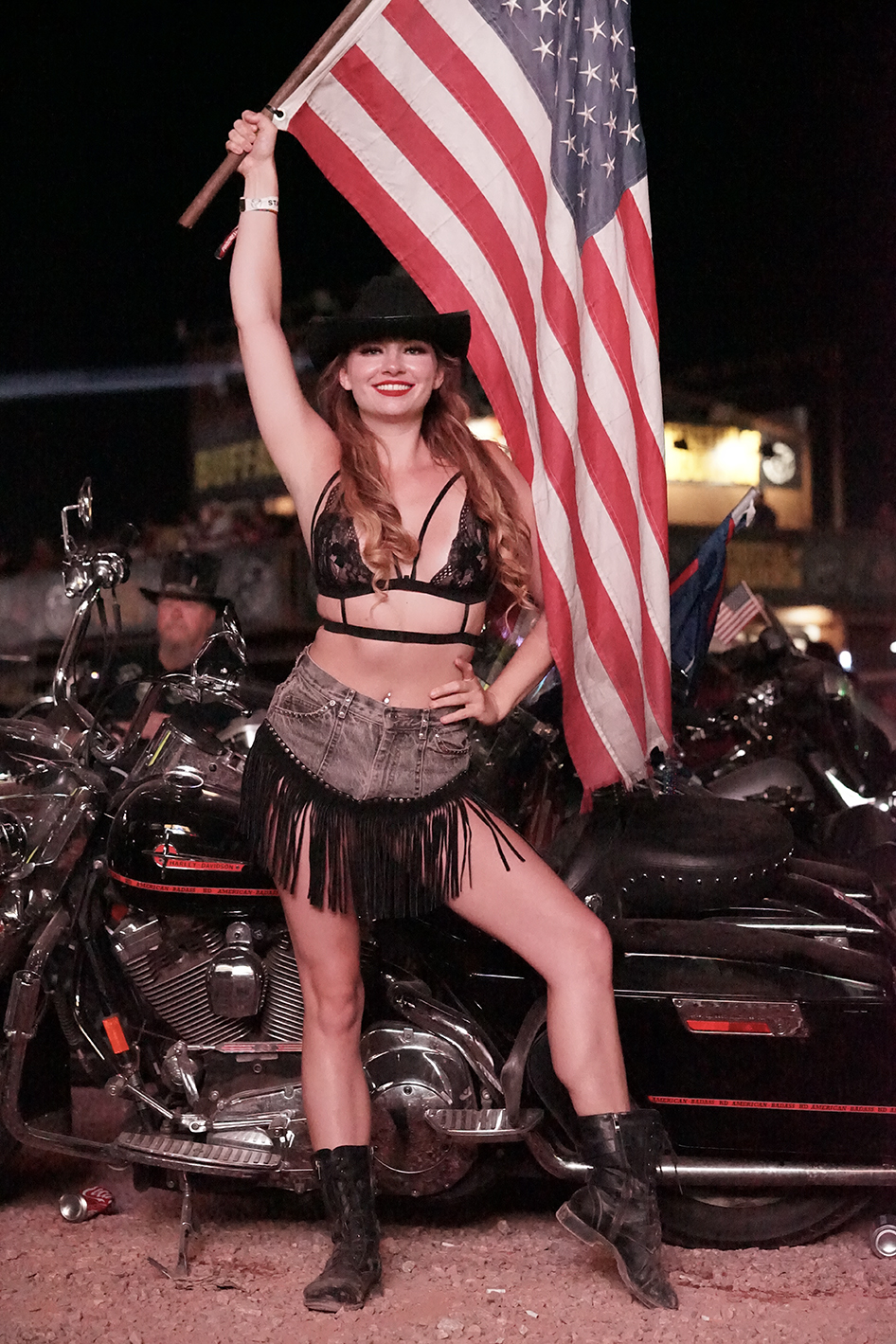 Prizes
Grand Prize
2 – Early Bird Passes (July 31-Aug. 13, 2023) to the Buffalo Chip in 2023 (Passes grant winners free access to all Buffalo Chip concerts and non-ticketed events.)
Modeling contract for the Best Party Anywhere, which includes a full day professional photo shoot for advertisements, billboards and posters.
$7,000 cash.
Appearance fees for autograph sessions around the Black Hills prior to the Sturgis Rally.
Opportunity to earn thousands of dollars from hourly wage and tips for daily appearances at the Buffalo Chip during its Sturgis Rally festival.
Opportunity to make appearances and participate in Sturgis Buffalo Chip events including the Legends Ride®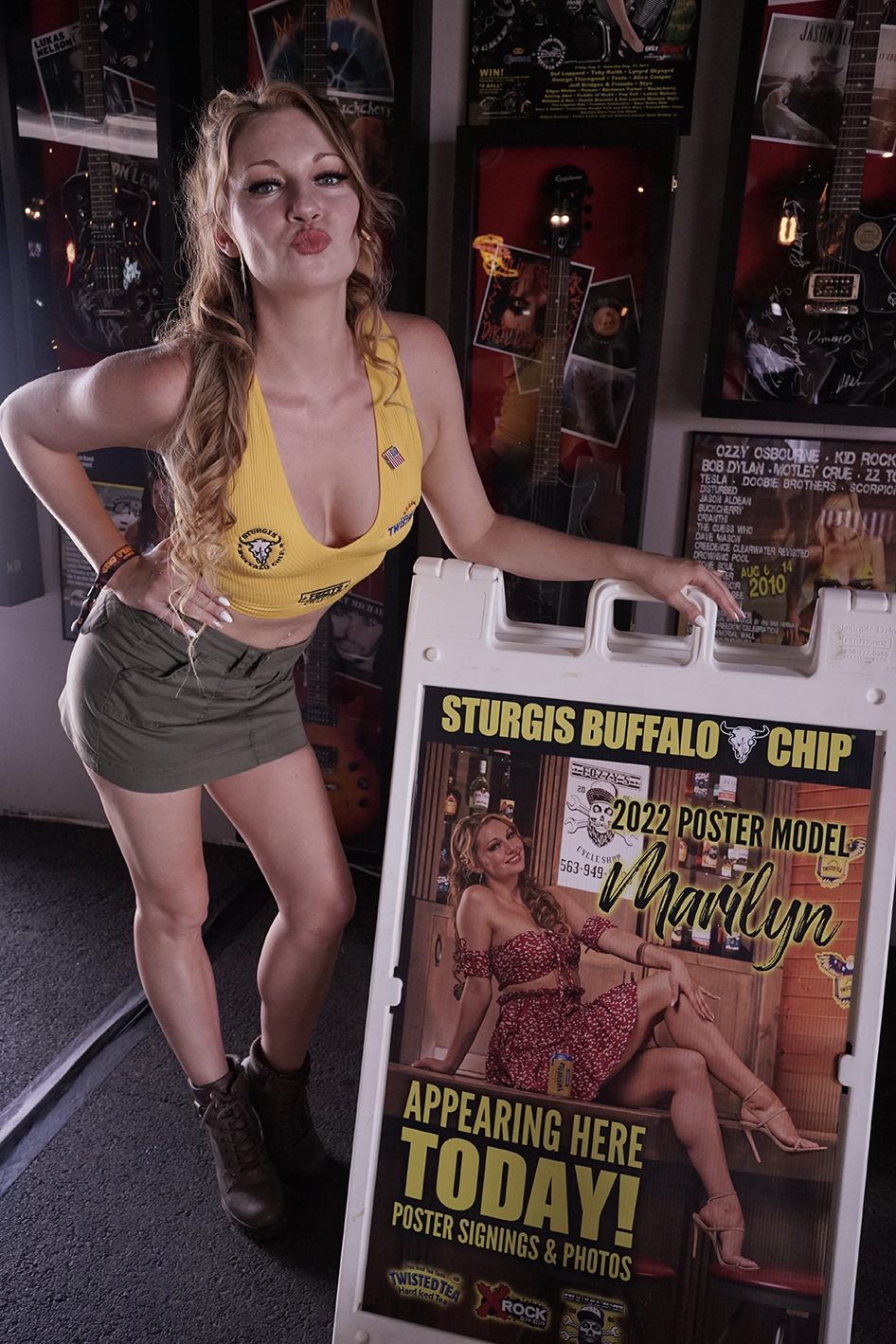 All Participating Semi-Finalists
Early Bird Pass (July 31-Aug 13, 2023) to the Buffalo Chip during the 2023 Sturgis Rally.
(Passes grant winners free access to all Buffalo Chip concerts and all non-ticketed events.)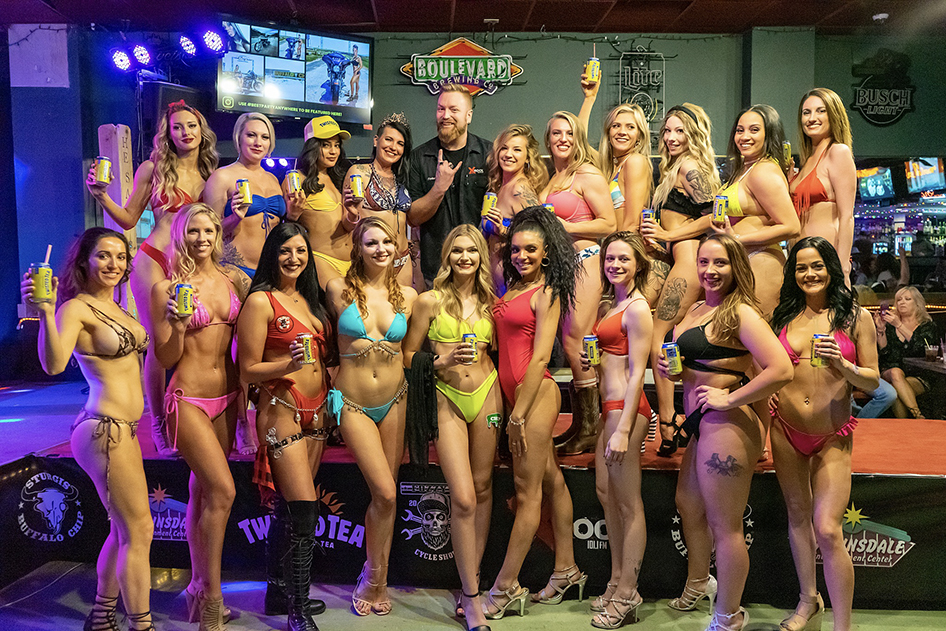 All Contestants
One day pass to the Buffalo Chip on the date of your choice.
(Passes grant winners free access to that evening's Buffalo Chip concerts.)
2023 Poster Model Search Stops
More dates coming soon! Some dates and locations may change. Check back each week for up-to-date information.
Preliminaries

Saturday, February 18 – Robbinsdale Lounge – Rapid City, SD – Sports Theme – Kickoff Party!
Saturday, February 25 – Kickstands – Sturgis, SD – '90s Theme
Thursday, March 9 – Aby's – Rapid City, SD – Rock 'n' Roll Lifestyle Theme
Saturday, March 11 – The Gold Pan Saloon – Custer, SD – Wild West Theme
Thursday, March 23 – Valley Sports Bar – Rapid City, SD – '80s Theme
Thursday, March 30 – 445 Lounge – Rapid City, SD – Hawaiian Luau Theme
Friday, March 31 – The Park – Rapid City, SD – Beach Party Theme
Saturday, April 1 – The Knuckle Saloon – Sturgis, SD – Playboy Bunny Theme
Thursday, April 6 – Paddy O'Neill's Irish Pub – Rapid City, SD – Sports Theme
Thursday, April 13 – Joe's Place – Rapid City, SD – Sexy Country Theme
Friday, April 14 – The J Bar – Rapid City, SD – Sports Theme
Saturday, April 15 – Kickstands – Sturgis, SD – '80s Theme
Friday, April 21 – Double Nickel Bar – Rapid City, SD – Country Theme
Saturday, April 22 – Cowboy Back Bar – Belle Fourche, SD – Cowboy/Hillbilly Theme

Semi-Finals
Saturday, April 29 – Backporch Lounge – Spearfish, SD

Finals
Saturday, May 6 – Robbinsdale Lounge – Rapid City, SD
Get up close and personal with past Poster Model contestants in the Sturgis Rider® News Blog…
Know someone who should enter the next Buffalo Chip Poster Model Search? Click on the share buttons above and tag them there or do so in the comments below!