Get FREE ACCESS to Sturgis Rally Live Music, Bike Shows, Stunts, the Magnificent Freedom Field, Cheap Drinks at the Big Engine Bar™ and More!
Meet up with friends, see the industry's top bike shows and enjoy the best of the Sturgis Rally's FREE motorcycle, music, and freedom-oriented events and attractions at the free-access Buffalo Chip CrossRoads!
Rodeo Games Presented by Classic Easyriders Magazine
School's Out Chopper Show Presented by Motorcycle Knuckle Busters
The Wango Tango Custom Gold Wing Show
Sassy & Classy Over 35 Model Search
Hardcore Cycle Performance Show & Skinny Tire Bagger Build-Off
Biker Belles Women's Bike Show Presented by Maiden Moto
Evo Entanglement Bike Show Presented by S&S Cycle
Cool Hand Speedco Antique Hangout
All Classes Bike Show & Bagger Blastoff
Sturgis Rally Information Center™
Events & Entertainment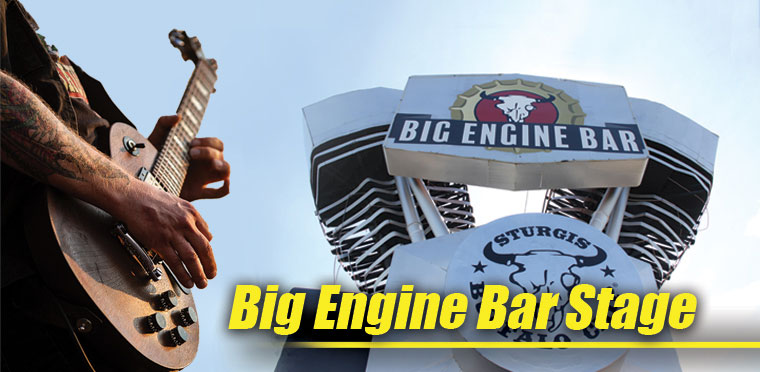 Big Engine Bar Stage - Daily
Knock back a couple cold ones with friends while taking in non-stop entertainment on the Big Engine Bar Stage. Beat the heat and get out of the elements inside the Big Engine Bar while taking in nine days of killer music.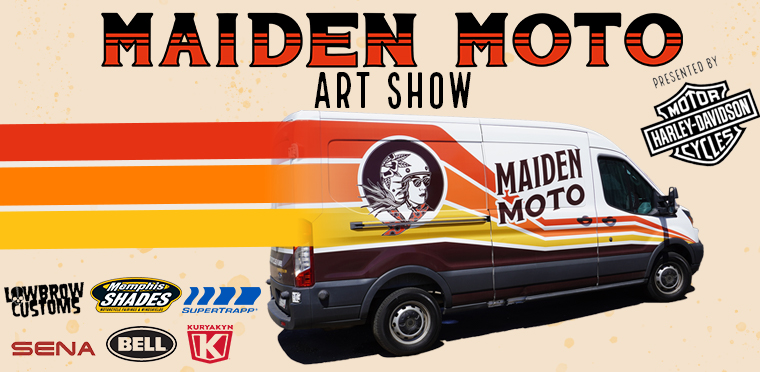 Maiden Moto Art Show - Daily
Visit the Maiden Moto Art Show curated by Savannah Rose at the Sturgis Buffalo Chip's free-access CrossRoads Friday, Aug. 5-Saturday, Aug. 13, 2022. This all-female traveling art and motorcycle show powered by Harley-Davidson showcases female artists from within the moto community. The show at the Buffalo Chip will feature 20+ artists of varying mediums focused on women and their motorcycles, as well as bikes built, owned, and ridden by ladies.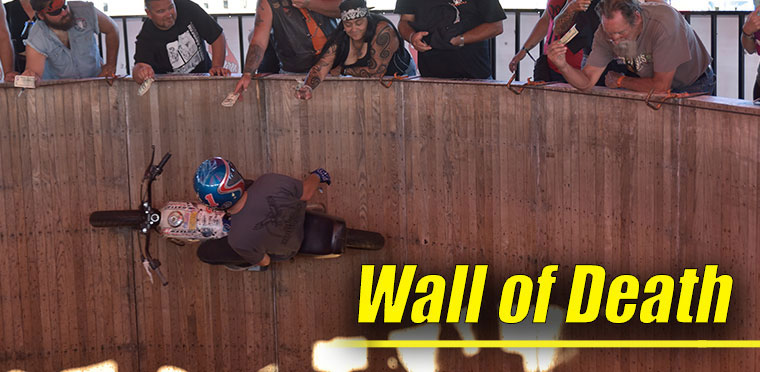 Ives Brothers' Wall of Death - Daily
Hang over the edge and watch in amazement as the world-famous Ives Brothers defy death, performing stunts on their traveling vertical wooden board track. They'll be performing multiple daily shows throughout the rally. Check out the times posted by their motodrome and plan to take one in.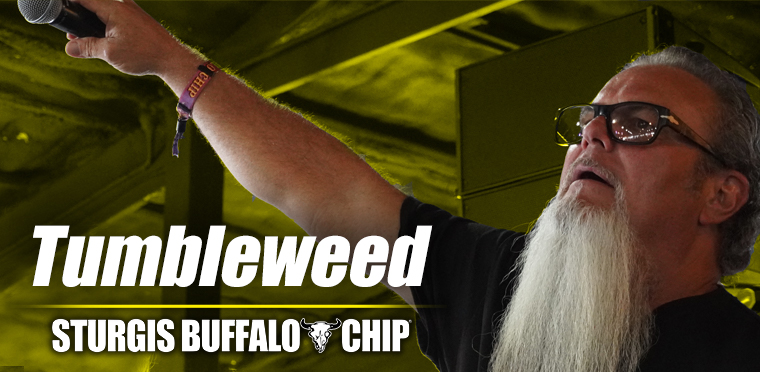 Tumbleweed - Friday, Aug. 5 - Saturday, Aug. 13, 2022
On the Big Engine Bar Stage, the bands bring the rock, and the master of ceremonies brings the roll. Stage emcee Tumbleweed keeps the party going between stage performances, letting the fun move in whatever direction the wind takes him. Watch or participate in a variety of crazy contests and events he hosts including the Buffalo Chip's Sassy & Classy Over 35 Model Contest, Biker Games, Buffalo Chip Fan Fest and many others.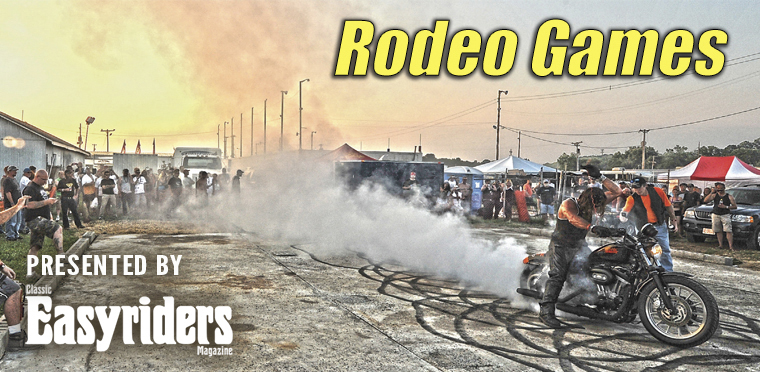 Rodeo Games Presented by Classic Easyriders Magazine - Monday, Aug. 8 – Friday, Aug. 12, 2022
It may be their first time at the Buffalo Chip, but this ain't their first rodeo. Saddle up for five days of motorcycle rodeo games as Classic Easyriders brings their famous motorcycle rodeo tour to the CrossRoads. Point your pony toward the game area just outside the Buffalo Chip box office for games like kickstart, weenie bite, slow race, water balloon toss, potato in the haystack, keg push and more!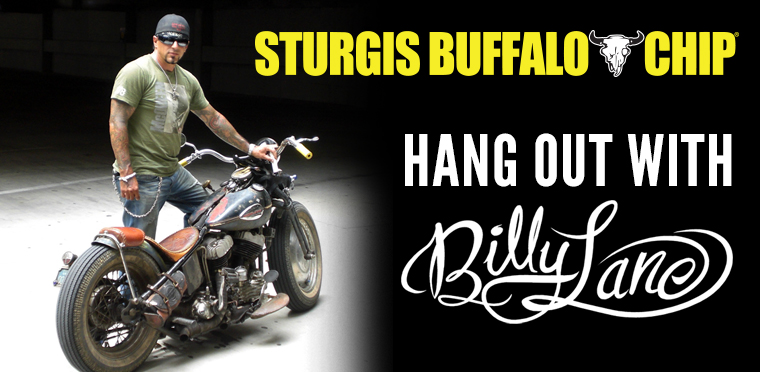 Billy Lane Hang Outs - Learn More
When it comes to a rally hang-out buddy, you won't find someone cooler, faster or more creative than the one and only Billy Lane. The mastermind behind Choppers Inc., Cool Hand Speed Co. and Sons of Speed will be set up at the CrossRoads all week long to meet fans, talk motorcycles and show off his creations. Find him at Buffalo Chip signature events and locations throughout the property, too!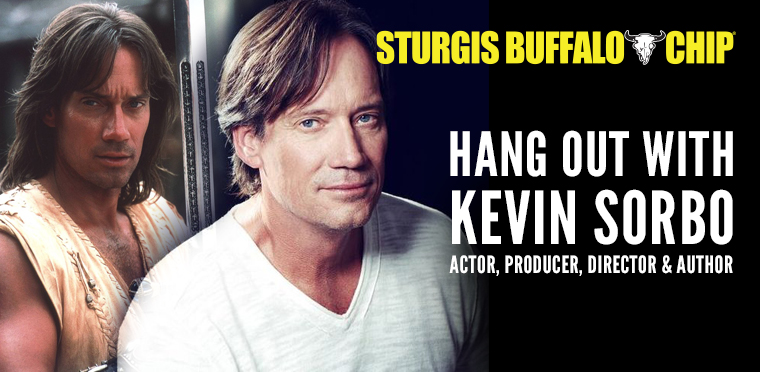 Kevin Sorbo Hang Outs - Learn More
Your legendary journey to the Sturgis Buffalo Chip could have you crossing paths with celebrity hero Kevin Sorbo! Best known for his role as Hercules, this acclaimed actor, producer, director and author will be hanging out at locations throughout the Buffalo Chip Saturday, Aug. 6 through Monday, Aug. 8. Stop by to pose for a photo and pick up a copy of his book "True Faith".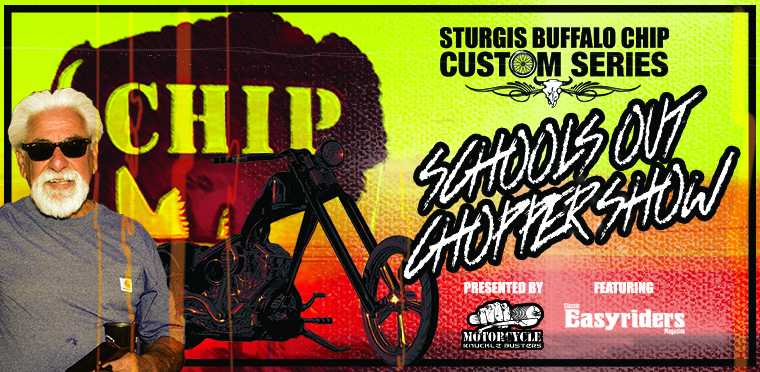 School's Out Chopper Show Presented by Motorcycle Knuckle Busters - Saturday, Aug. 6, 2022
Featuring Classic Easyriders and Mondo Porras of Denver's Choppers
The first campers to ever pass through the Buffalo Chip gate in 1981 rode in on choppers, so it's only fitting that the Chip starts the week off with a show for chopper lovers. Old school, new school and everything in between will be on display, plus you'll have the chance to meet star chopper builders including Mondo of Denver's Choppers and win prizes to get you going on your next chopper build.