Find Yourself Floored by Delta Blues Power on Monday, Aug. 4
Four bass drums, four beats and four musicians will combine on Aug. 4, when the 4onthefloor kick off an unforgettable night of Sturgis concerts during the Largest Music Festival in Motorcycling™. The rumble of stomping feet and the roar of thousands of motorcycles will echo through the night as this up-and-coming, delta blues band rocks the Wolfman Jack Stage prior to performances from Zac Brown Band and legendary blues master, John Mayall.
This four-piece band has become known for each of its members playing a bass drum and only writing songs in 4/4 time. The formula was derived from a style fittingly called "four on the floor," wherein the bass drum is hit on every downbeat. Despite the style's disco-era origins, 4onthefloor uses the concept to fit its fusion of delta blues and classic rock sounds. Don't be fooled, this is no gimmick! According to guitarist, James Gould, these rules are "limiting in a way that really forces you to be more creative." And without a doubt, this creativity will shine through during the band's powerful Sturgis Rally performance.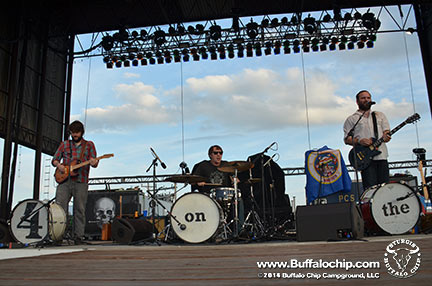 Don't miss your chance to get in on one of the most memorable nights of Sturgis concerts in Buffalo Chip history. Reserve your passes now to see 4onthefloor, John Mayall and Zac Brown Band during the Best Party Anywhere™!
Were you lucky enough to see 4onthefloor perform with Halestorm and ZZ Top during the 2013 Sturgis Rally? Tell us your favorite memory from that night in the comments below!

"Your acts are great, and I love the fact I could stay there the whole time and not need anything!" – Lindy Newsome