Be Part of These Stunning Bikes as They Parade Through The Best Party Anywhere
The Buffalo Chip's original after-sunset LED Sturgis bike show will return for its third year during the 2013 Sturgis rally. Brought to you by Nightflasherleds.com, Beseenatnight.com, and Fusion Motorcycle LED systems, this Sturgis LED bike show features gorgeous glowing bikes from around the globe. Get yourself and your bike to the Chip before 7 p.m. on Tuesday, Aug. 6th, 2013 for the Buffalo Chip's LED Bike Show at the Free public access CrossRoads at the Buffalo Chip.
When: Registration begins at 7 p.m. and the bike parade begins at 8 p.m.
Where: Tuesday, Aug. 6, 2013. The CrossRoads at the Buffalo Chip
How: Register Now or Register Day of Show
Cost: only $10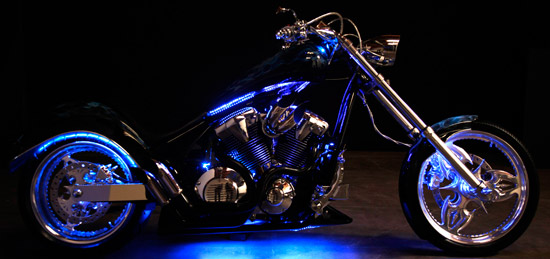 Awards will be handed out based on 1st and 2nd Best of Show and People's Choice. Bikes will be judged based on light presentation. Registration is only $10. All registrants need to already have a Tuesday night wristband.
Do not miss this LED Bike Show on Tuesday, Aug. 6, 2013 at the Free Access CrossRoads area at the Buffalo Chip. Participation is open to the public and will require registration, so get there early to register your bike.
Top prizes include onstage recognition, a photo shoot with the Miss Buffalo Chip contestants, Fan VIP upgrade, and two access passes to the best place to view the best Sturgis concert line-up. Competition will be stiff and is limited to the first 300 contestants. Contestants may register the day of the show at the CrossRoads at the Buffalo Chip. Winners will be selected by 2013 Sturgis Motorcycle Rally attendees and bike show participants.
Join the Buffalo Chip in a visually spectacular celebration of street magic during the 2013 Sturgis Motorcycle Rally. Don't miss your chance to stop by and watch the chrome glow.