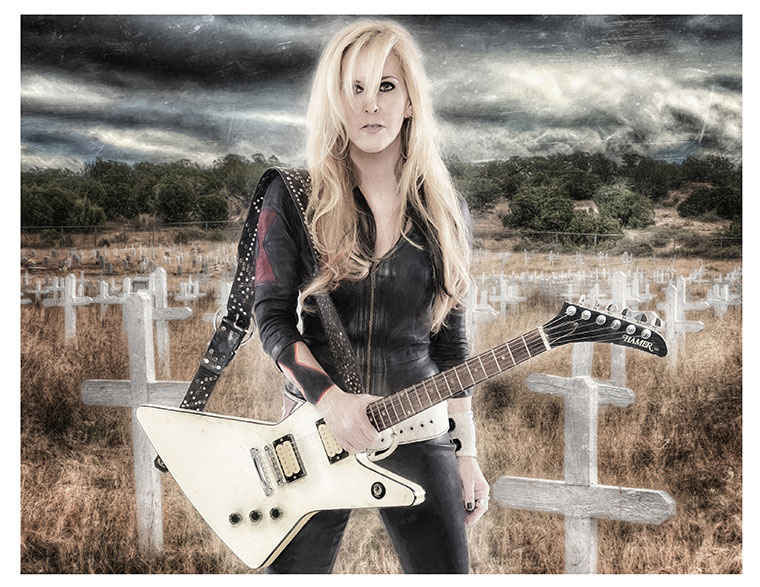 Lita Ford fills rock 'n' roll void left on the Wolfman Jack Stage, opening for Kid Rock.
Buffalo Chip, SD (June 28, 2016) – Matching the chart-topping Kid Rock with a comparable talent who can offer a full-tilt show that barrels through the Buffalo Chip's natural amphitheater is a challenge not offered, nor accepted by many. When Grammy-award-winning singer-songwriter Leon Russell suffered a heart attack last week, it left the Sturgis Buffalo Chip with such an opening in its 2016 lineup. As luck would have it, celebrated Runaways lead guitarist and '80s glam metal maven Lita Ford was able to accept the challenge and will now open for Kid Rock on Sunday, Aug. 7.
More than another pretty face
While British-born Ford earned her stripes as a founder of the smoking-hot, all-girl group The Runaways in the 1970s, she has earned considerably more topping the charts with a duet next to Ozzy Osbourne titled "Close Your Eyes Forever" and hits such as "What Do You know About Love," "Shot of Poison," and "Larger Than Life."
The complete Wolfman Jack Stage band lineup for the 35th anniversary of The Best Party Anywhere:
Friday, Aug. 5 – Willie Nelson, Drake White, Jimmie Bratcher
Saturday, Aug. 6 – 3 Doors Down, ONE – The Only Tribute to Metallica, Midnight Mob
Sunday, Aug. 7 – Kid Rock, Lita Ford, Tim Montana and the Shrednecks
Monday, Aug. 8 – Lynyrd Skynyrd, Elle King, Mothership
Tuesday, Aug. 9 – Cheap Trick, Texas Hippie Coalition, The Grizzled Mighty
Wednesday, Aug 10 – Five Finger Death Punch, Reverend Horton Heat, Low Volts
Thursday, Aug. 11 – Miranda Lambert, RATT, Stolen Rhodes
Friday, Aug. 12 – Buckcherry, Pop Evil, Sweet Cyanide
Saturday, Aug – "Weird Al" Yankovic, Reformed Whores
Those wishing to purchase passes may do so by going to BuffaloChip.com or calling 605-347-9000.
About The Sturgis Buffalo Chip
The Sturgis Buffalo Chip is the Largest Music Festival in Motorcycling™. Established in 1981, the venue's nine-day festival, known as The Best Party Anywhere®, remains one of the world's most televised and longest running independent music festivals. Buffalo Chip guests have the freedom to party and play while experiencing world-class concerts, outrageous events, moving freedom celebrations, thrilling PowerSports and more. Located three miles east of Sturgis, SD on 600 creek-fed acres, it offers cabins, RVs, camping, a swimming hole, bars, mouth-watering food, showers, paved roads, and more to visitors traveling from all corners of the world. The Chip's concerts are free with camping. More details are available at www.buffalochip.com.
###