Sturgis, SD (Nov. 17, 2015) –Sturgis Brown High School students enrolled in the Geometry in Construction class are taking advantage of learning tough math lessons through a new hands-on construction project. The class of 21 16- and 17-year-old students spend half their time in a classroom studying angles, theories and formulas and the other half outside measuring, figuring out how to create the correct configurations and then sawing and hammering. The construction project, fabricating two 16' x 20' cabins, is taking place just behind the main school building, next to a shop where construction tools are stored.
Construction instructor Jon Swan needed a project and materials, so he contacted Rod Woodruff at the Sturgis Buffalo Chip® and suggested the campground purchase the materials and plans for cabins and let the students build them.
"We needed a simple construction project the students could complete in a few weeks, and Rod Woodruff agreed to provide the materials to build the simple camping cabins. They are the perfect size and scope," Swan said. "This project gives students the opportunity to learn more than just classroom geometry; this is applied science, not just traditional formulas. They get to apply what they are learning right here."
Buffalo Chip President Rod Woodruff was happy to take part in the class project and help the students by purchasing the materials. "It's more than just getting a couple of camping cabins; we're excited about giving these students an opportunity they might not otherwise have," said Woodruff. "And although we didn't really need to build more cabins, we will certainly use them."
The class is split into two teams, each with a student-elected leader. Each team is building one cabin, and they have already laid out the flooring foundations, working diligently to ensure the boards are straight and level before proceeding to walls and roof.
Classroom geometry teacher Deb Cano is very encouraged with the students' progress. "The students were learning to square up the corners of the foundation and having trouble with one corner," said Cano. "I asked them how they were going to figure that out, and they started pulling their calculators out and applying the Pythagorean Theorem; it was great. The other classes haven't learned that yet. It's going to get more difficult, and they will have to apply a lot more geometry as they build the pitch of the roof."
The students are also learning to use power tools and what it means to work in the outdoors, no matter the weather.
"My dad works in construction, so I'm learning about his trade. He talks a lot about his work, about angles and stuff, so now I understand him better," said student Ellishian Last Horse.
Fellow student Nicole Bartlett agreed. "Hands on learning is better than just learning in the classroom. When you use geometry out here, you see how it fits; it's real," she said. Bartlett's family is currently building a house, and she is able to help with that project as well. "This is better than just learning from a book, you get to apply it out here."
The class continues through May, and if the students complete the two cabins they may have the opportunity to begin a new project.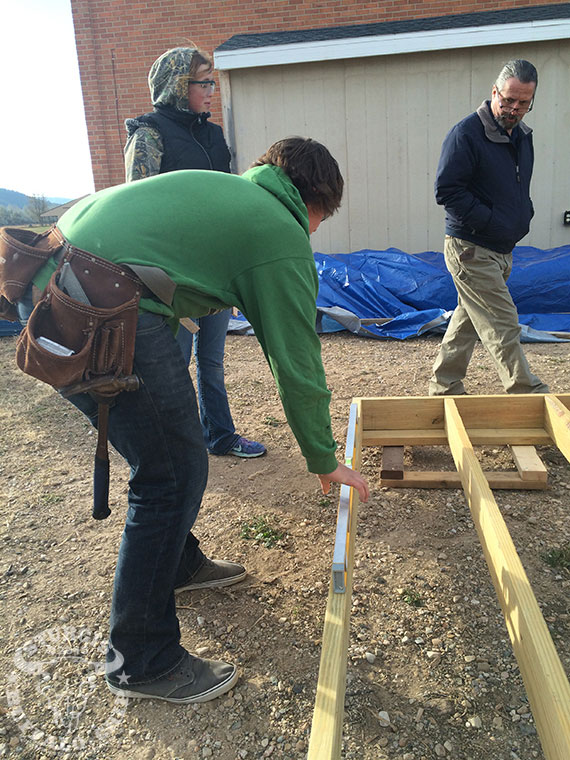 Chyann Cody, Mason Todd, Mr. Swan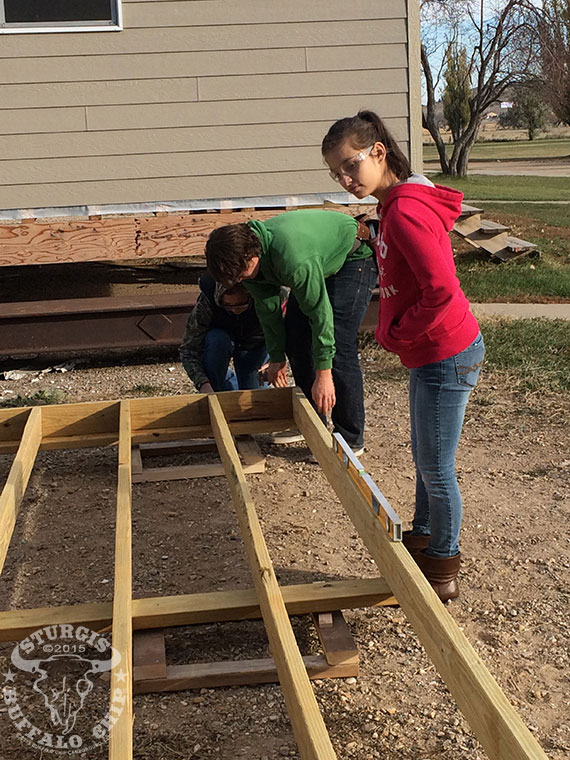 Chyann Cody, Mason Todd, Cante Hermann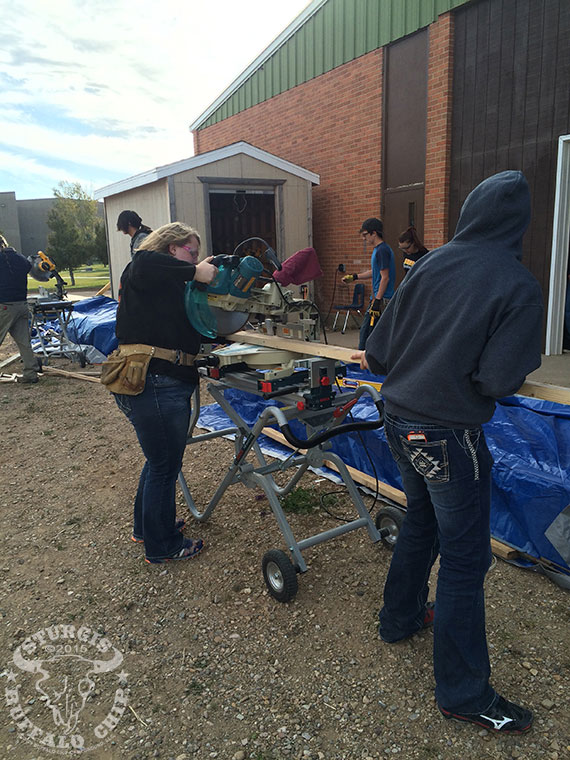 Mr. Swan, Logan Wiedmann, Devin Ward, Alex Voges, Nicole Bartlett, Tallina Spring