Ready or Not, The Sturgis Buffalo Chip® is Expanding 40th Anniversary Entertainment Lineup
​Stone Temple Pilots, Anthrax, Black Label Society, ULTRA4 Off-Road Racing and Xtreem Flat Track Racing join the Largest Music Festival in Motorcycling® for its 40th Anniversary
​
Sturgis, SD (May 11, 2021): The Sturgis Buffalo Chip is bringing the royalty of grunge, the legends of thrash and the ultimate shredders of hard rock to its 40th annual celebration of Music, Motorcycles and Freedom. Joining the growing lineup at the Buffalo Chip's Sturgis Motorcycle Rally concerts for their inaugural performances are Stone Temple Pilots, Anthrax and Black Label Society.
"Many great bands have performed on the Chip's famed Wolfman Jack Stage over the past 40 consecutive annual festivals. We are thrilled these best-selling artists have chosen to join us in 2021 as part of the very best concert lineup of any music festival in the world," said Rod Woodruff, CEO of the Sturgis Buffalo Chip.
The Buffalo Chip's video announcement and band lineup can be seen at BuffaloChip.com/bands.
The Chip also added two adrenaline-pumping race events to their 2021 event schedule. More than 100 racers are expected to join ULTRA4 Off-Road Racing, the producers of The famed King of the Hammers race, to offer the Chip's guests an opportunity to enjoy 1000+ horsepower, state of the art off-road vehicles in a race like they have never seen.
ULTRA4 will be followed by some of the USA's best motorcycle racers competing in the Xtreem Flat Track Buffalo Chip Super TT. Motorcycle racing is alive and well at the Buffalo Chip's PowerSports Complex.
The full 9-day schedule is available at BuffaloChip.com.
​
Stone Temple Pilots
Aug. 9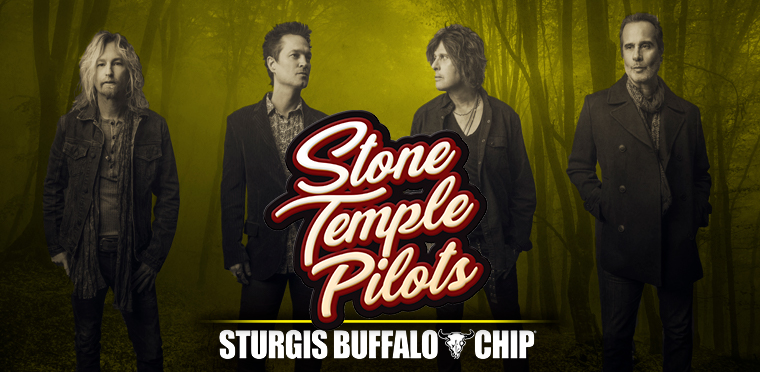 ​
Eight-time platinum-selling, grunge rock legends Stone Temple Pilots make their Buffalo Chip debut on Monday, Aug. 9. The Buffalo Chip's guests will experience the same blend of crunching riffs, candied melodies and psychedelic flair that made STP one of the most popular acts of the '90s. Signature hits like "Plush," "Creep," "Big Empty," "Vasoline," "Interstate Love Song," and "Big Bang Baby," as well as tracks from their most recent sonic adventure "Perdida" will shake the Wolfman Jack Stage at the 81st anniversary of the Sturgis Rally.
​
Anthrax
Aug. 12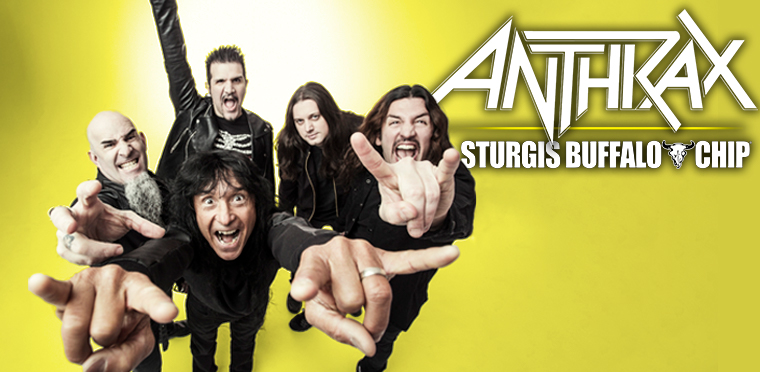 ​ Brace yourselves for one of the notorious "Big Four" (as in Metallica, Slayer, Megadeath and Anthrax) of thrash metal legendary notoriety to pummel the Largest Music Festival in Motorcycling with lightning-fast riffs and solos. Never before seen at the Sturgis Rally, Anthrax fits into the concert lineup like a fist to the eye, bringing the noise to the Sturgis Buffalo Chip's Main Stage with coheadliners Black Label Society on Thursday, Aug. 12.
​
Black Label Society
Aug. 12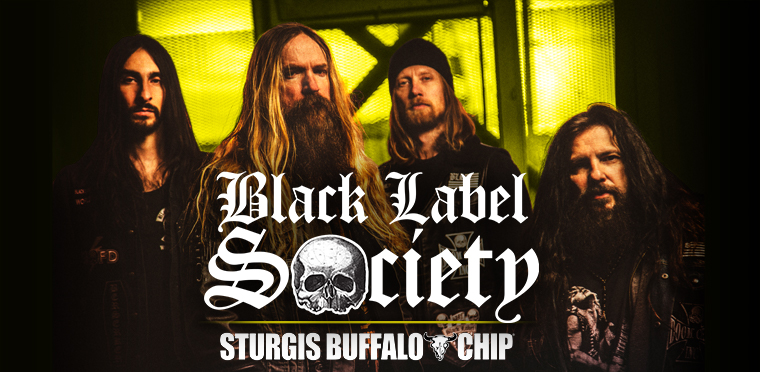 Fans will thrust their horns up for these vigilant keepers of the hard rock flame Thursday, Aug. 12. Black Label Society, led by charismatic beast and consummate showman Zakk Wylde, will be bashing out thick riffage from the Wolfman Jack Stage along with that night's performance by coheadliner Anthrax.
​
ULTRA4 Off-Road Racing
Aug. 6-7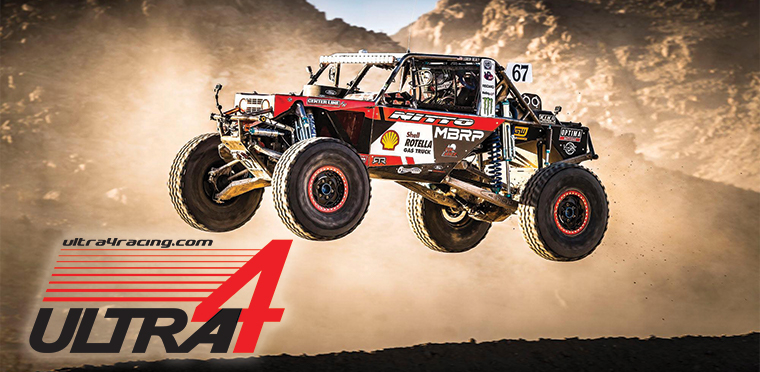 Known worldwide for their annual King of the Hammers desert off-road racing event, the separately ticketed ULTRA4 will bring the same high speeds and big thrills from that event to the Sturgis Buffalo Chip this rally. ULTRA4 kicks off a week's worth of Buffalo Chip Races™ at the with qualifying trials on Friday, Aug. 6 and the real deal going down on Saturday, Aug. 7 at the Buffalo Chip Powersports Complex. Tickets are available to the public online or at the box office. Guests with a campground admission pass can see them for free.
​
Xtreem Flat Track
Aug. 10, 12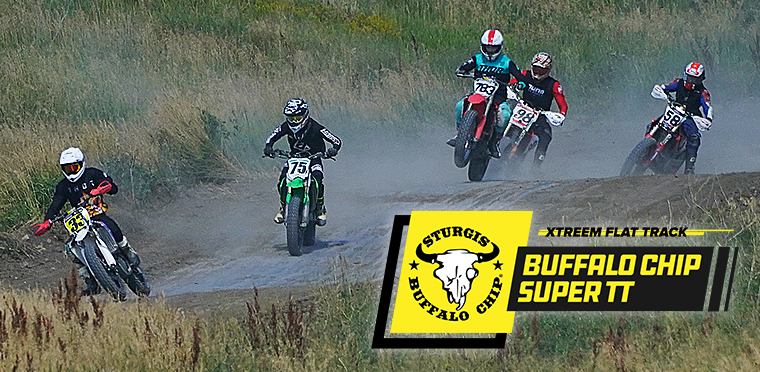 America's original extreme sport is coming to the Sturgis Buffalo Chip this August to inject the party with a serious dose of adrenaline. Dirt will fly as professional and amateur flat track racers from across the country boldly go bar to bar through the Chip's PowerSports Complex during the Xtreem Flat Track Buffalo Chip Super TT races Aug. 10 and 12. Passes are available online or at the box office.
Performances by top entertainers and white-knuckle racing events are just a part of what the Sturgis Buffalo Chip has in store for their 40th Anniversary in 2021. Guests will have the opportunity to experience countless events, including legendary rides, powerful freedom celebrations, top-tier bike shows and so much more. All events are held outdoors in an open environment for the safest experience possible. Entertainment is free with camping. A full list of Sturgis Buffalo Chip events is available at buffalochip.com/EVENTS. The Buffalo Chip is home to the Sturgis Rally Information Center and is the official sponsor of Sturgis.com free Official Sturgis Rally Registration Program.
2021 Sturgis Buffalo Chip Event and Entertainment Lineup
Friday, Aug. 6
Headline Concert TBA
ULTRA4 Off-Road Racing – Qualifier
Saturday, Aug. 7
Headline Concert TBA
ULTRA4 Off-Road Racing
Sunday, Aug. 8
Kid Rock
Reverend Horton Heat
Monday, Aug. 9
Stone Temple Pilots
Legends Ride®
Tuesday, Aug. 10
Headline Concert TBA
Biker Belles®
Women Riders Turnout
Buffalo Chip Super TT Xtreem Flat Track Racing
Wednesday, Aug. 11
ZZ Top
Rusty Wallace Ride
Thursday, Aug. 12
Anthrax
Black Label Society
Lingerie Fighting Championships
Western Frontier Ride
Buffalo Chip Super TT Xtreem Flat Track Racing
Freedom Celebration
Friday, Aug. 13
Shinedown
Black Stone Cherry
Lingerie Fighting Championships
Saturday, Aug. 14
P.O.D.
From Ashes To New
Lingerie Fighting Championships
More announcements coming soon.
###
About The Sturgis Buffalo Chip
The Sturgis Buffalo Chip® is the award-winning leader in music and motorcycle lifestyle experiences. Hailed as The Largest Music Festival in Motorcycling® and The Best Party Anywhere®, it has been the epicenter of the annual Sturgis Motorcycle Rally since its establishment in 1981. Every August, the Buffalo Chip brings together the world's largest gathering of music and motorcycle fans, with visitors from all 50 states and over 20 countries. As the first and leading entertainment destination for the motorcycle enthusiast, it remains one of the world's most televised and longest-running independent music festivals. Located three miles east of Sturgis, SD on 600 creek-fed acres, the Sturgis Buffalo Chip offers nine nights of world-class concerts, multiple entertainment stages, races, motorcycle shows, a swimming hole, bars, food, showers, cabins, RVs, camping and more. The Chip is dedicated to advancing the Sturgis Rally by being home to the Sturgis Rally Information Center and the official sponsor of the Sturgis.com Official Sturgis Rally Registration Program. More details are available at BuffaloChip.com
Further Inquiries:
Cody Ertman
[email protected]
605-347-9000