The ultimate country rockstar brings his catalog of hits and mind-blowing live show to the Buffalo Chip during the Sturgis Rally
Sturgis, SD (February 28, 2023): Superstar singer, songwriter, guitarist, and producer Koe Wetzel brings his unapologetically rowdy live performance to The Best Party Anywhere® Saturday, Aug. 5 during the 83rd Sturgis Rally. Koe Wetzel joins a growing lineup of artists scheduled to rock The Largest Music Festival in Motorcycling® including Lynyrd Skynyrd, Styx, REO Speedwagon, Whiskey Myers, George Thorogood & The Destroyers and more. See more at BuffaloChip.com/BANDS.
"He's rebellious, rowdy, and a powerhouse performer. In other words, Koe Wetzel is a perfect fit for the Buffalo Chip!" said Rod Woodruff, president of the Sturgis Buffalo Chip. "As one of the most popular new artists around, and one of our most frequently requested artists to book, I expect everyone in attendance that night will have a story or two to tell their friends after what is sure to be a wild performance."
Koe Wetzel
August 5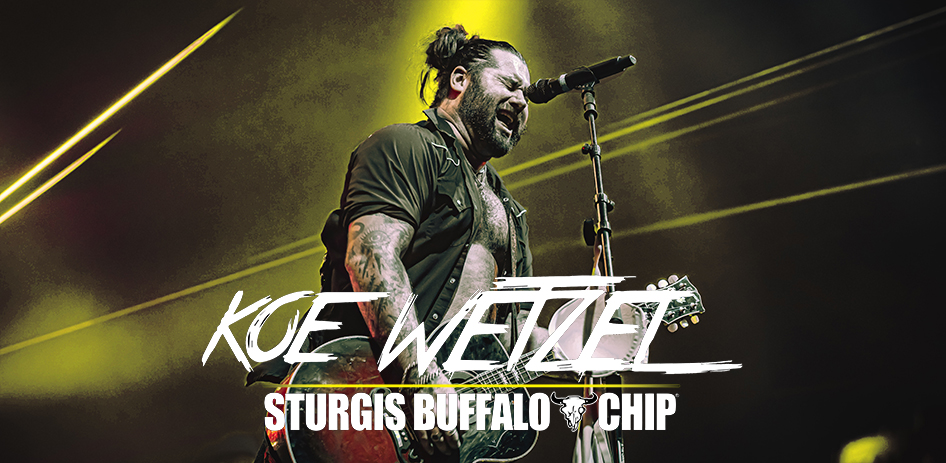 East Texas rebel Koe Wetzel bulldozes the boundaries between Nashville songcraft, rowdy Texas spirit, and Seattle hard rock. Tallying over 1.3 billion streams to date, Koe Wetzel exploded on the country music scene with massive hits including "February 28, 2016," "Something To Talk About," "Drunk Driving," and "Good Die Young." Wetzel brings these hits as well as offerings from his 2022 album release Hell Paso to the Buffalo Chip party crowd for the first time ever Aug. 5, 2023.
Performances from world-class entertainers are just part of what the Sturgis Buffalo Chip will present again for 2023. Guests will have the opportunity to experience thrilling events, legendary rides, powerful freedom celebrations, worthwhile charity events, top-tier bike shows, heart-pounding stunts, white-knuckle racing, and so much more. Entertainment is free with camping. A full list of Sturgis Buffalo Chip events is available at BuffaloChip.com/EVENTS. The Buffalo Chip is home to the Sturgis Rally Information Center™ and is the official sponsor of the free Sturgis.com Official Sturgis Rally Registration Program.
###
About the Sturgis Buffalo Chip
The Sturgis Buffalo Chip® is the award-winning leader in music and motorcycle lifestyle experiences. Hailed as The Largest Music Festival in Motorcycling® and The Best Party Anywhere®, it has been the epicenter of the annual Sturgis Motorcycle Rally since its establishment in 1981. Every August, the Buffalo Chip brings together the world's largest gathering of music and motorcycle fans, with visitors from all 50 states and over 20 countries. It remains one of the world's most televised and longest-running independent music festivals. The Chip advances the Sturgis Rally by being home to the Sturgis Rally Information Center™ and the official sponsor of the Sturgis.com Official Sturgis Rally Registration Program. More details are available at BuffaloChip.com
Further Inquiries:
Cody Ertman
[email protected]
605-347-9000