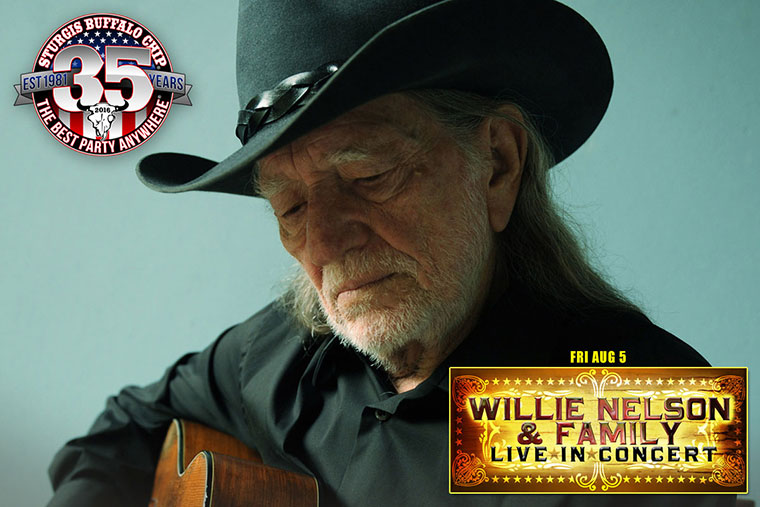 Buffalo Chip, SD (May 17, 2016) – So many of music's greatest legends have come and gone. In the world of country music, renegades who played by their own rules like Johnny Cash, Waylon Jennings and Merle Haggard have all left a wave of musical memories in their wake. But one performer who dared to be different and led the movement is still entertaining and will be creating more magical memories at the Sturgis Buffalo Chip® this August. The great Willie Nelson will be giving Buffalo Chip guests a once-in-a-lifetime opportunity as he jumpstarts the Chip's 35th anniversary party. The living legend will kick-off the party on Friday, Aug. 5 with Drake White. A short video honoring the spirit of rebellion and announcing the performance can be found here: http://bit.ly/S2oE2l
Nelson's nearly endless portfolio of beloved music has been a soundtrack of his life as well as America's. Songs like "Hello Walls," "Crazy," "Willingly," "Bloody Mary Morning," "Blues Eyes Cryin' in the Rain," "Mommas Don't Let Your Babies Grow Up to be Cowboys," "Good Hearted Woman" and "If You've Got the Money, I've Got the Time" helped him earn a staggering 11 Grammy Awards, 7 American Music Awards, 9 CMA Awards, 5 Academy of Country Music Awards and many more. Willie Nelson is an 83 year-old American icon who has inspired generations with his talent and independent spirit. His appearance at the Buffalo Chip on Aug. 5 will offer a connection between the people who adore him and the legend who has championed their way of life and American values.
"We don't get many moments to share with a legend like Willie Nelson," said Buffalo Chip president Rod Woodruff. "He's taken us all on one hell of a ride, and he always brings us back home. This concert opportunity is one you'd kick yourself later for missing."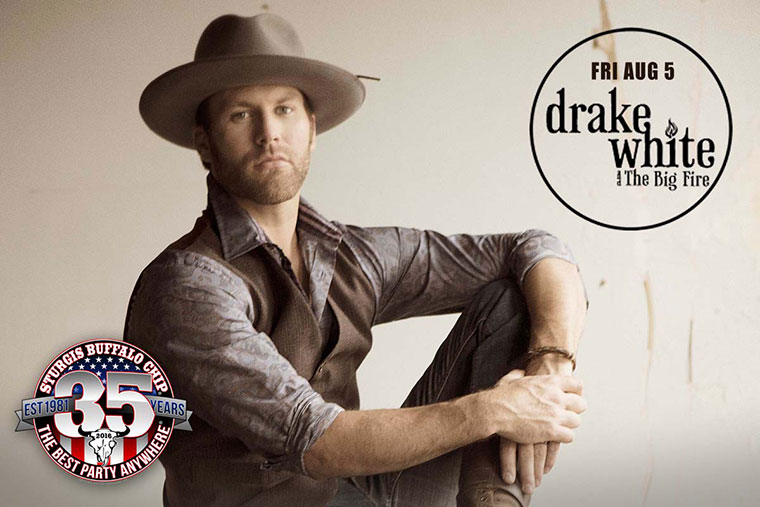 Prior to Wille Nelson's performance, rising country musician Drake White will also make his way to the Buffalo Chip's Wolfman Jack Stage. White's debut Top 40 hit "The Simple Life" propelled him into the spotlight in 2013, and by the end of 2015 "Rolling Stone" said he was "an electric performer with a gospel howl" and "Huffington Post" hailed him as one of the top country artists to watch in 2016.
The list of celebrated musicians scheduled for the 35th anniversary of "The Best Party Anywhere®" continues to grow, with the lineup currently including the following acts:
Friday, Aug. 5 – Willie Nelson, Drake White
Saturday, Aug. 6 – 3 Doors Down
Sunday, Aug. 7 – Kid Rock, Leon Russell
Monday, Aug. 8 – Lynyrd Skynyrd, Elle King
Wednesday, Aug 10 – Reverend Horton Heat
Thursday, Aug. 11 – Miranda Lambert
Saturday, Aug – "Weird Al" Yankovic
More band announcements will be forthcoming until the Buffalo Chip's 9-day festival schedule has been announced. Those wishing to purchase passes may do so by going to BuffaloChip.com or calling 605-347-9000.