Easyriders, Rat's Hole, Full Throttle Magazine and Biltwell/Led Sled bike shows heat up the CrossRoads this August with cool bikes and some hot shows.
Buffalo Chip, SD (July 12, 2016) – Motorcycle lovers and gear heads looking for a display of flashy chrome, crazy customization, slick tricks and old-school horsepower will want to catch all of the bike shows and stunt exhibitions at the Buffalo Chip's free-access CrossRoads in 2016. Incredible stunts, beautiful custom bikes, bikini-clad babes, an inspiring documentary, live music and some of the rally's best shopping, eats and drinks will all be found at the CrossRoads this year.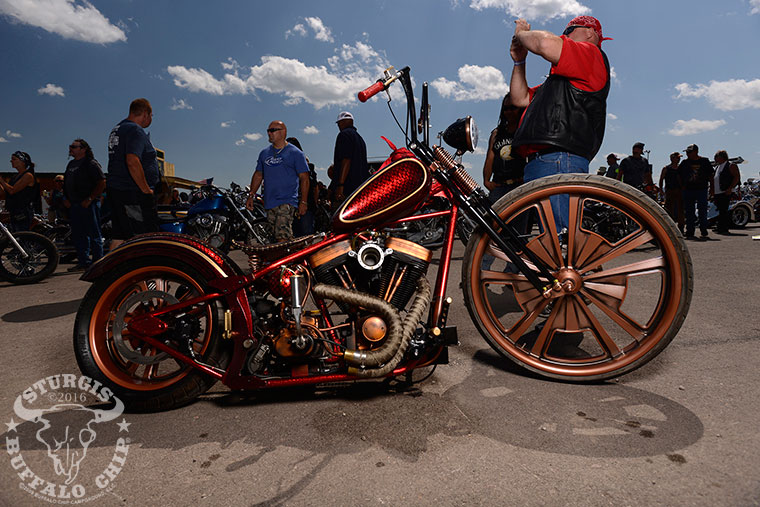 Five days of motorcycle shows to make bikers drool and voyeurs dream will be hosted at the Buffalo Chip Saturday, Aug. 6 -Thursday, Aug. 11. The shows, all slated to feature various makes, models and customs, will attract some of the most radical and eye-popping machines at the rally. In addition, Clint Ewing will bring his stunt stylings, drifting and shifting up some adrenaline-pumping action on his fleet of Kawasaki motorcycles Sunday, Aug. 7 – Thursday, Aug. 11. The Seattle Cossacks will again offer some of their death-defying stunts, piling riders high atop their vintage 1948 Harley Davidsons, Tuesday, Aug. 9 – Thursday, Aug. 11.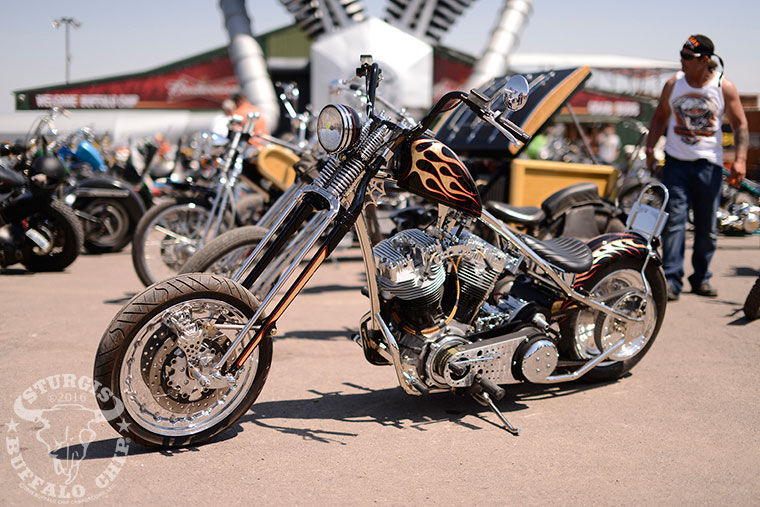 Be inspired by Michelle Carpenter's feature-length documentary "Klocked: Women with Horsepower" featuring land-speed record holders Laura Klock and her daughters, Karlee and Erica Cobb on Thursday, Aug. 11 at 6 p.m. Admittance is free.
Moto Marketplace
Breakdowns and upgrades are handled in the CrossRoads through a host of services and new products. 55 Cycles Mechanical Services will be at the ready to help with nearly any mechanical issue. Other moto-related vendors located at the CrossRoads include AMSOIL, Metzeler Motorcycle Tires, Just Cuz Chrome Retail Center, Led Sled and Royal T. Experience the latest wave of motorized retro fun with a demo ride on a Motoped.Or Catch the Drift Trikes for a spin around the track in the "Trike Daddy Derby."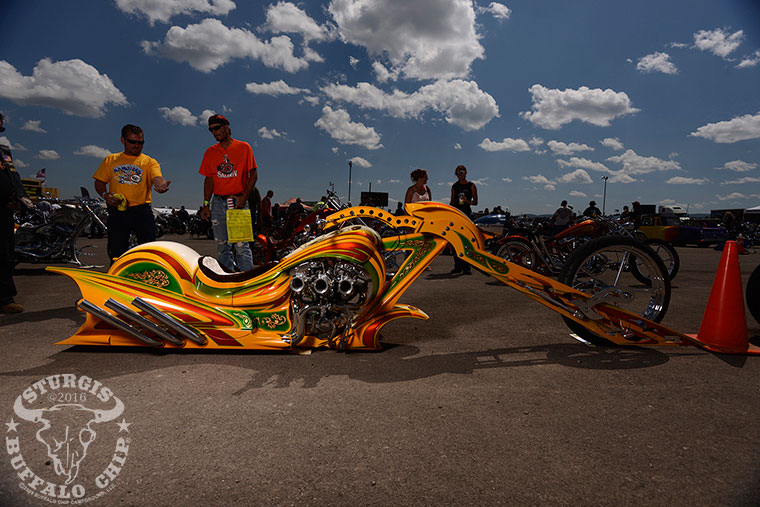 2016 Bike Show Schedule
Saturday, Aug. 6
Full Throttle Magazine 10-Class Bike Show
12 p.m. Registration, 5 p.m. Awards
Registration fee $20, Awards for 1st and 2nd place, "Best in Show" and "Judges Choice"
Sunday, Aug. 7
Full Throttle Magazine Buffalo Chip Bagger Nationals
12 p.m. Registration, 5 p.m. Awards
Registration fee $20, Awards for 1st and 2nd place, "Best in Show" and "Judges Choice"
Tuesday, Aug. 9
Biltwell "Sportster Showdown" – Moto Stampede
2 p.m. – 3 p.m. Registration, 5 pm. Awards
Best chopper, tracker, vintage and café Sportsters
Presented by Biltwell, Led Sled, Street Chopper, S&S, Rusty Butcher and Chop Cult
Wednesday, Aug. 10
Easyriders Bike Show & David Mann Art Auction
9 a.m. – 12 p.m. Registration, 4 p.m. Awards
Enter your bike for free to win trophies, cash, prizes and bragging rights
5 p.m. to 6:30 p.m. – David Mann Art Auction
Thursday, Aug. 11
Rat's Hole Bike Show
10 a.m. Registration, Awards 5 p.m.
The "Best of Show" winner will be presented a trophy on the Wolfman Jack Stage
About The Sturgis Buffalo Chip
The Sturgis Buffalo Chip is the Largest Music Festival in Motorcycling™. Established in 1981, the venue's nine-day festival, known as The Best Party Anywhere®, remains one of the world's most televised and longest running independent music festivals. Buffalo Chip guests have the freedom to party and play while experiencing world-class concerts, outrageous events, moving freedom celebrations, thrilling PowerSports and more. Located three miles east of Sturgis, SD on 600 creek-fed acres, it offers cabins, RVs, camping, a swimming hole, bars, mouth-watering food, showers, paved roads, and more to visitors traveling from all corners of the world. The Chip's concerts are free with camping. More details are available at www.buffalochip.com.
###
Further Inquiries:
Nyla Griffith
[email protected]
605-347-9000
Cell: 605-920-0626
Sturgis Buffalo Chip