Ten world-class bike shows and the 2022 Motorcycles As Art exhibit – Emergin' Virgin descend on the Sturgis Buffalo Chip. One "Best Of Show" builder to be crowned Custom Series King live on the Wolfman Jack stage.
Sturgis, SD (May 13, 2022): The Sturgis Buffalo Chip has joined forces with the world's preeminent custom motorcycle builders to host a series of prestigious motorcycle shows and the Motorcycles As Art Exhibit for 2022 – Emergin' Virgin' for the 82st Sturgis Rally. The Sturgis Buffalo Chip Custom Series is comprised of ten world-class bike shows that will take place Aug. 6 – 12. In addition to winning prizes like $2,500 or an S&S Cycle V111 engine, builders showcasing their creations will have the opportunity to compete for the Custom Series King award, which is awarded live on the main stage Friday, Aug. 12 prior to headlining entertainment from Pop Evil. More information and the official announcement video can be found at BuffaloChip.com/BikeShows.
As if ten bike shows weren't enough custom culture for one place, the Buffalo Chip's world-famous Motorcycles As Art exhibition curated by Michael Lichter is returning, this time featuring talented builders who have never before been in the annual exhibit. Motorcycles As Art "Emergin' Virgin': Coming Out Custom" runs Aug. 6 – 12 from 3 to 11 p.m. at the Buffalo Chip Event Center. The exhibit, as well as all bike shows at the Chip, are free to spectate, and many of the bike shows are free to enter.
"It's unreal," said Rod Woodruff, President of the Sturgis Buffalo Chip. "Ten custom bike shows and a world-class motorcycle exhibit in one place is something you won't find anywhere else in the world."
Sturgis Buffalo Chip Custom Series King
Main Stage Award Presentation
Friday, Aug. 12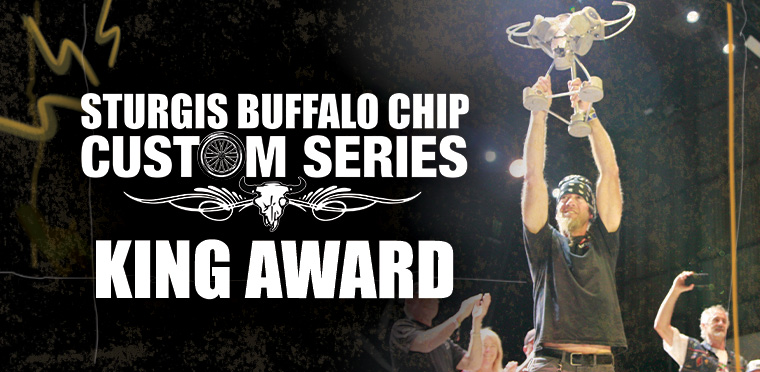 Each of the ten shows in the Sturgis Buffalo Chip Custom Series will advance one "Best in Show" winner to compete against each other for the title of Custom Series King. All Best in Show winners will be invited onto the Buffalo Chip's legendary Wolfman Jack Main Stage on Friday, Aug. 12 where celebrity judges, including Billy Lane of Choppers Inc. will crown the winner of this prestigious award and present them with a one-of-a-kind, custom trophy handcrafted by Joe Mielke of Snap Fabrications.
The Sturgis Buffalo Chip Custom Series
Featuring Ted Smith and Big Daddy Rat
Thursday, Aug. 11
Buffalo Chip CrossRoads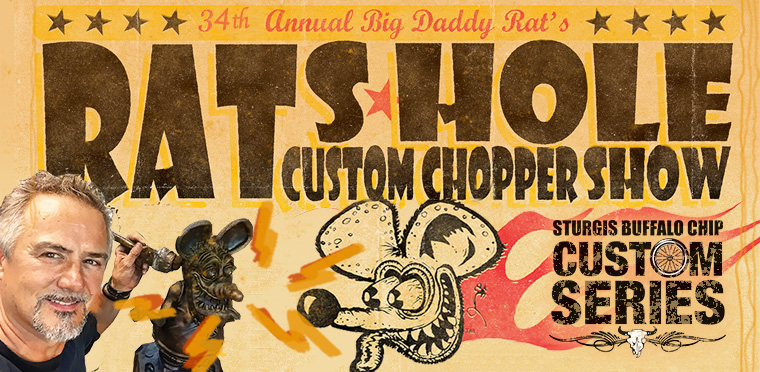 The Rat's Hole Custom Bike Show celebrates its 50th anniversary this year as the longest-running and most prestigious bike show in the world, featuring 14 classes filled with the finest bikes the Sturgis Rally has to offer. The Rat's Hole show displays the work of the world's best builders, whose handiwork is judged on personality, function and a progressive sense of motorcycle culture. Over 70 coveted, hand-sculpted Rat Awards will be presented to the show winners.
Featuring Pat Patterson of Led Sled Customs
Tuesday, Aug. 9
Camp Zero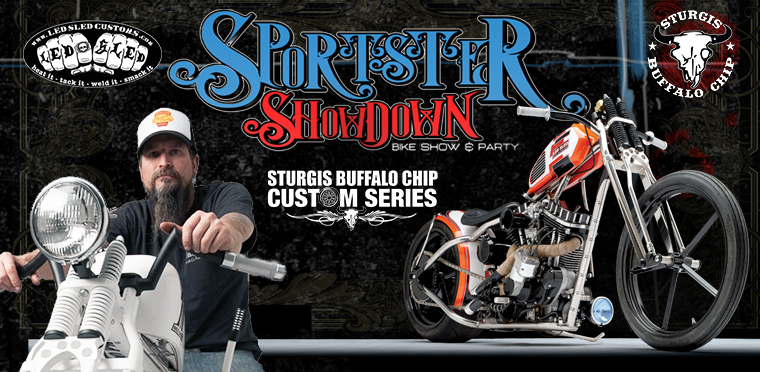 Half bike show, half communal party, the Sportster Showdown brings out a mind-blowing collection of the coolest chopper, tracker, vintage and café Sportsters in existence. The show offers entrants some incredible prizes including cash, aftermarket parts and handmade trophies, not to mention the bragging rights that come with winning the Best Sportster in Sturgis. New for 2022 are the Sportster Drags, which will be happening right next door at the Buffalo Chip Camp Zero.
Featuring Joe Mielke of Snap Fabrications
Sunday, Aug. 7
Buffalo Chip CrossRoads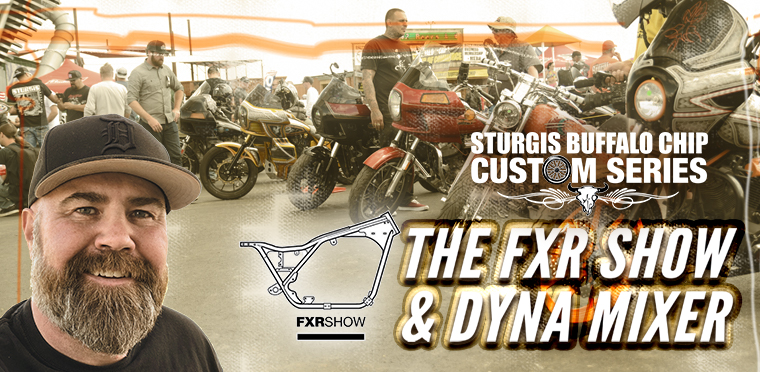 The 10th running of the FXR Show and Dyna Mixer welcomes riders to have fun and talk motorcycles at this no-nonsense motorcycle event that puts the emphasis on the riders, their stories and their rides. Popular vote determines the winners who receive prizes courtesy of some of the biggest names in the motorcycle industry, and 100 percent of revenue from donations and t-shirt sales go directly to LifeScape of SD.
Presented by Maiden Moto
Featuring Savannah Rose
Tuesday, Aug. 9
Buffalo Chip CrossRoads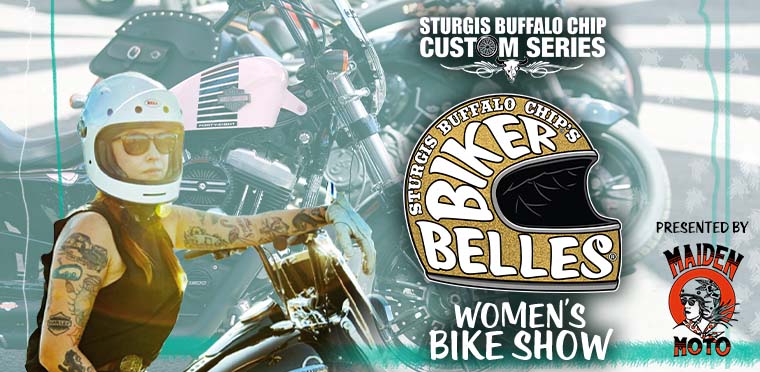 Riders don't have to have a fully custom-built motorcycle at the Biker Belles Bike Show to enter. Whether it's a mile muncher covered in dirt, which may win the Dirtiest Bike award, a mild custom, an insanely clean bike that might win the Cleanest Bike Award, or even a really great story behind the ride, all women-owned bikes are invited to roll down to show it off at the Biker Belles Women's Bike Show. While this show will only be displaying bikes ridden by women, all are invited to attend.
Featuring Tony Cianci
Friday, Aug. 12
Buffalo Chip CrossRoads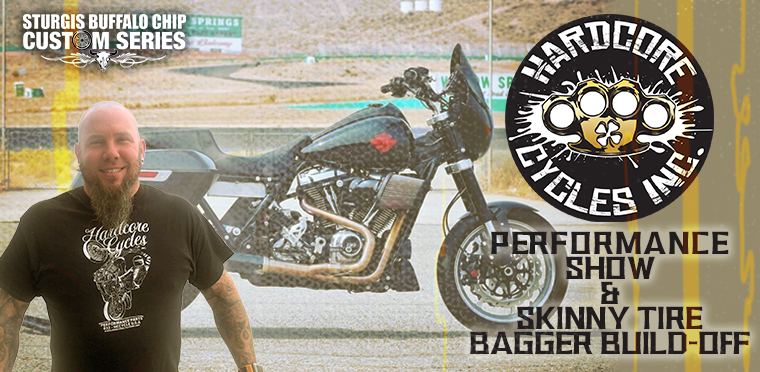 The Florida Full Throttle All Brands Bike Show and Bagger Blastoff may be the last show of the week, but it's certainly not packing any less punch. This show welcomes all brands and awards prizes in 10 classes, giving guests a huge variety to view and participants a greater chance of winning. Classes include the Bagger Blastoff, which invites any brand bagger with a loud-and-proud sound system to come crank it to 11.
Presented by Motorcycle Knuckle Busters
Featuring Classic Easyriders Magazine and Mondo Porras
Saturday, Aug. 6
Buffalo Chip CrossRoads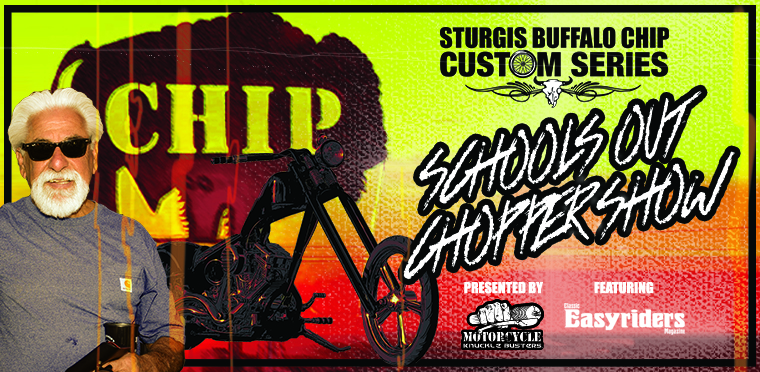 The very first motorcycles to enter the Buffalo Chip gate in 1982 were choppers, so it is only fitting that the Chip starts the week off with a show for chopper lovers. Featuring old school, new school and everything in between, the School's Out Chopper Show brings in some of the biggest names in chopper building and this show and shine will give attendees the chance to see the Classic Easyriders Replica Captain America giveaway bike up close and personal. Massive prizes are offered including $2,500 for Best Of Show and $500 for first place in the six other classes.
Featuring Joe Mielke
Tuesday, Aug. 9
Camp Zero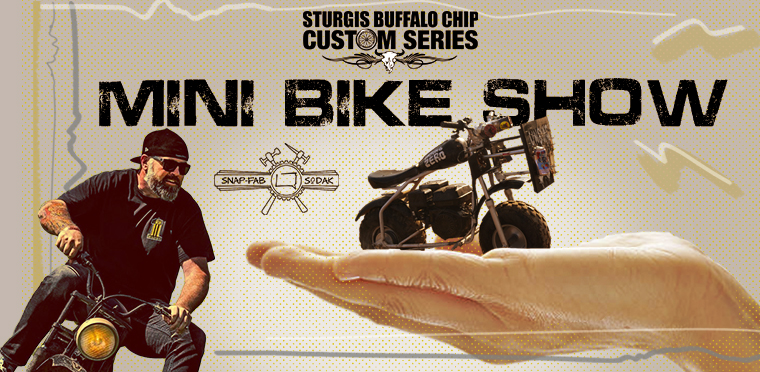 At the Mini Bike Show, it's not the size of the bike that matters, it's how you customize it. The show will feature two classes of competition – Coleman Powersports mini bikes, and all other things mini and two-wheeled. Master fabricators and self-deprecators will gather for the show's third year to showcase minis that are small in stature but big in character.
Presented by S&S Cycle
Featuring Bill Dodge
Wednesday, Aug. 10
Buffalo Chip CrossRoads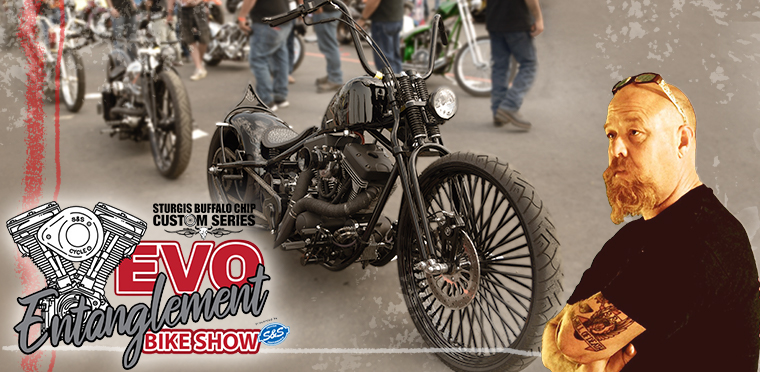 The Evo Entanglement Bike Show presented by S&S Cycle celebrates the long-revered Harley-Davidson Evo engine. The Evo Entanglement welcomes custom Dynas, Softails, FXRs, Sportsters, touring bikes and even CVOs featuring the beloved power-plant. Colossal prizes will be offered including an S&S Evo-style 111" engine and a Paughco frame for the Best In Show winner. Pre-registration is now open online, and the first 100 to register for this free show receive a free limited-edition Buffalo Chip Evo Entanglement Flannel, courtesy of Mint Speed Shop. The show will be broadcast live on Torque TV and Garage Built Podcast.
Featuring John O'Brien
Monday, Aug. 8
Buffalo Chip CrossRoads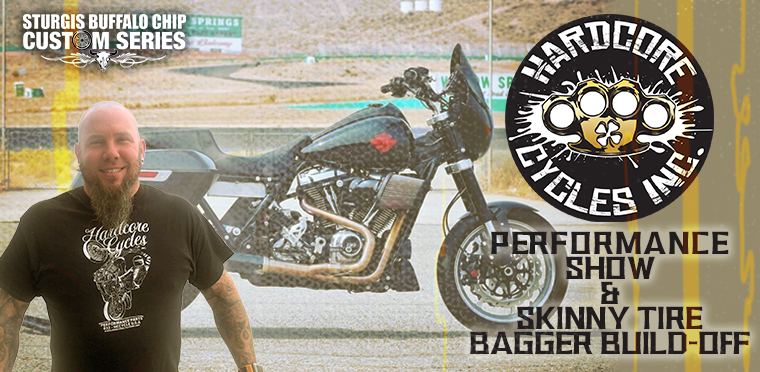 This show is tailor-made for those who live the two-wheel performance life. The Hardcore Cycles Performance Show rounds up the industry's top performance builders to go head-to-head where it counts: getting power to the pavement. In addition, the Skinny Tire Bagger Build-Off will challenge owners/builders to customize a late model performance-oriented V-Twin bagger. The show will be broadcast live on Torque TV and Garage Built Podcast.
Presented by Snap Fabrications and CROIG
Saturday, Aug. 6
Buffalo Chip CrossRoads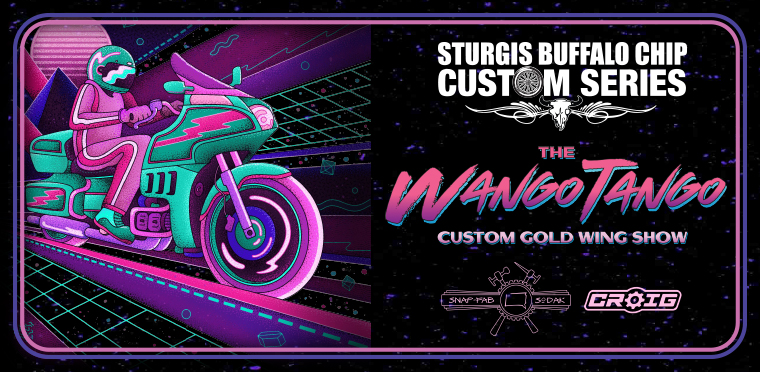 A brand-new show – the first of its kind – is setting up shop at the Buffalo Chip CrossRoads to showcase Honda's luxurious Gold Wing touring motorcycles. The Honda Gold Wing changed the face of two-wheeled touring in the '70s and '80s, and now it's about to change the face of the greatest V-Twin rally with a sea of modern and vintage metric customs. This show is free to attend and all-inclusive, welcoming riders and fans of all ages and from all walks of life.
Featuring Michael Lichter
Aug. 6 – 11
Buffalo Chip Event Center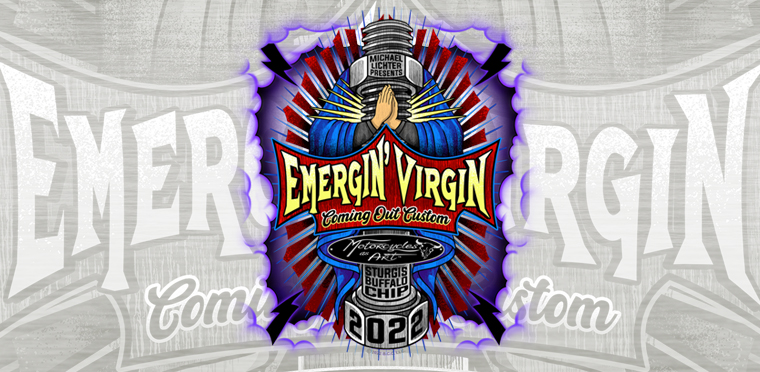 Over the years, the Sturgis Buffalo Chip's Motorcycles As Art Exhibit has played host to hundreds of custom motorcycle builders. Getting a personal invitation from show curator Michael Lichter is one of the highest honors a builder can receive. Unlike previous years, the Emergin' Virgin is open to builders whose work has never before been in a Motorcycles As Art Exhibition. Removing any kind of thematic limitation will allow some fantastic new faces and works of art to emerge. Having this freedom gives the Buffalo Chip the chance to offer a display that shows how truly diverse the world of custom motorcycling is today.
Motorcycles As Art Emergin' Virgin opens to the public with a builder meet and greet Aug. 6 at 8:00 p.m. and continues 3 p.m. to 11 p.m. daily through Aug. 11. This one-time exhibit is free and open to the public at the Sturgis Buffalo Chip Event Center. More information on the exhibit can be found at MotorcyclesAsArt.com.
Top-tier bike shows are just part of what the Sturgis Buffalo Chip has in store again for 2022. Guests will have the opportunity to experience thrilling events, including performances from world-class entertainers, legendary rides, powerful freedom celebrations, worthwhile charity events, heart-pounding stunts, white-knuckle racing, and so much more. All events are outdoors in an open environment for the safest experience possible. Entertainment is free with camping. A full list of Sturgis Buffalo Chip events is available at BuffaloChip.com/EVENTS. The Buffalo Chip is home to the Sturgis Rally Information Center™ and is the official sponsor of the free Sturgis.com Official Sturgis Rally Registration Program.
2022 Sturgis Buffalo Chip Event and Entertainment Lineup
Friday, Aug. 5
Entertainment TBA
Saturday, Aug. 6
Snoop Dogg
Buckcherry Schools Out Chopper Show
Wango Tango Custom Gold Wing Show
Motorcycles As Art Exhibit Opens
Sunday, Aug. 7
Lynyrd Skynyrd
Bush
FXR Show & Dyna Mixer
Monday, Aug. 8
Rob Zombie
Lita Ford
Legends Ride®
Hardcore Cycles Performance Show and Skinny Tire Bagger Build-Off
Tuesday, Aug. 9
Papa Roach
Falling In Reverse
Hollywood Undead
Bad Wolves
Biker Belles® Women's Day Celebration
Biker Belles Women's Bike Show
Sportster Showdown
Mini Bike Show
Wednesday, Aug. 10
Travis Tritt
Aaron Lewis and the Stateliners
Rusty Wallace Ride
Evo Entanglement
Thursday, Aug. 11
Entertainment TBA
Freedom Celebration
Western Frontier Motorcycle Ride
50th Anniversary Rats Hole Custom Bike Show
Friday, Aug. 12
Pop Evil
Puddle of Mudd
All Brands Bike Show and Bagger Blastoff
Saturday, Aug. 13
Entertainment TBA
###
About the Sturgis Buffalo Chip
The Sturgis Buffalo Chip® is the award-winning leader in music and motorcycle lifestyle experiences. Hailed as The Largest Music Festival in Motorcycling® and The Best Party Anywhere®, it has been the epicenter of the annual Sturgis Motorcycle Rally since its establishment in 1981. Every August, the Buffalo Chip brings together the world's largest gathering of music and motorcycle fans, with visitors from all 50 states and over 20 countries. It remains one of the world's most televised and longest-running independent music festivals. The Chip advances the Sturgis Rally by being home to the Sturgis Rally Information Center™ and the official sponsor of the Sturgis.com Official Sturgis Rally Registration Program. More details are available at BuffaloChip.com
Further Inquiries:
Cody Ertman
[email protected]
605-347-9000