ARE THESE GUYS GOING TO DIE? – See for yourself Aug. 10!
The Death Wire Daredevil Spectacular raises money for Pediatric Brain Tumor Foundation
On Thursday, Aug. 10 Blake Wallenda and Daredevil Kyle Ives will risk their lives attempting a death-defying feat that even Evel Knievel and Karl Wallenda wouldn't attempt
The Death Wire Daredevil Spectacular!
Before the headlining performance by Def Leppard, Wallenda and Ives will have you and the rest of the Sturgis Rally on the edge of your seats as they attempt to avoid a collision course so far up in the air that failure would mean certain death!
Wallenda will attempt one of the longest highwire walks of his career, "The Death Wire Walk," over the Sturgis Buffalo Chip amphitheater while Ives attempts to jump a motorcycle over him.
| | |
| --- | --- |
| Who: | Blake Wallenda & Motorcycle Daredevil Kyle Ives |
| What: | A Death-Defying Daredevil Spectacular followed by an Explosive Def Leppard Concert |
| When: | Thursday, Aug. 10, 2023 at 6 p.m. |
| Where: | Sturgis Buffalo Chip Amphitheater |
| Why: | See a death-defying spectacular that will go down in the annals of history while raising funds for Pediatric Brain Tumor Foundation |
| How: | |
Wallenda will be challenged to walk 375 feet across the middle of the Buffalo Chip amphitheater on a steel wire with a diameter of only 5/8 of an inch. There will be no safety tether or net.
A couple hundred feet into his walk, as he reaches a spot above Buffalo Chip Main Street, Kyle Ives will throttle his motorcycle up a specially built ramp in hopes of soaring so high he flies over Wallenda without striking the wire, the daredevil or the balance beam. After this, Ives must still land successfully and Wallenda must walk the remaining distance of about 175 feet.
Failure Means Death!
The Families & History Behind this Historic Event
On October 20, 1973, Evel Knievel cleared 13 cars with a broken upper back while Karl Wallenda, founder of the Flying Wallendas, wire-walked overhead.
Today, Blake Wallenda, Karl's great-grandson, carries on the bold tradition by attempting to defy death. Karl died falling from a highwire on March 22, 1978. Other Wallendas have died or been crippled for life. Blake's own career might have ended when he fell in 2017, had he not been able to grab onto and hold the wire.
"Fifty years ago, when my great-grandfather, Karl Wallenda, produced a daredevil show with Evel Knievel, the two conceived the plan to execute this death-defying feat, but for some reason they didn't follow through on it. Some speculated that it was too dangerous, but that's just what these amazing daredevils lived for. I know that I'll be honoring their memories by my attempt, and that's why I have decided to go through with this deadly performance without any safety tether or safety netting. Everything about this whole event is unprecedented. But if I'm not scaring myself, I'm not doing my job right."
–– Blake Wallenda
The Buffalo Chip founder Rod "Woody" Woodruff and Wall of Death stunt rider Shawn Ives (Kyle's father) dreamed up the idea to attempt the sensational feat as a way to pay tribute to motorcycle daredevil Robbie Knievel, son of Evel. Robbie had a long history of performing daredevil jumps at the Buffalo Chip, including a jump over the Main Stage.
Robbie passed away in Jan. 2023 after a battle with pancreatic cancer, and Shawn Ives is a survivor himself, overcoming throat cancer in 2022.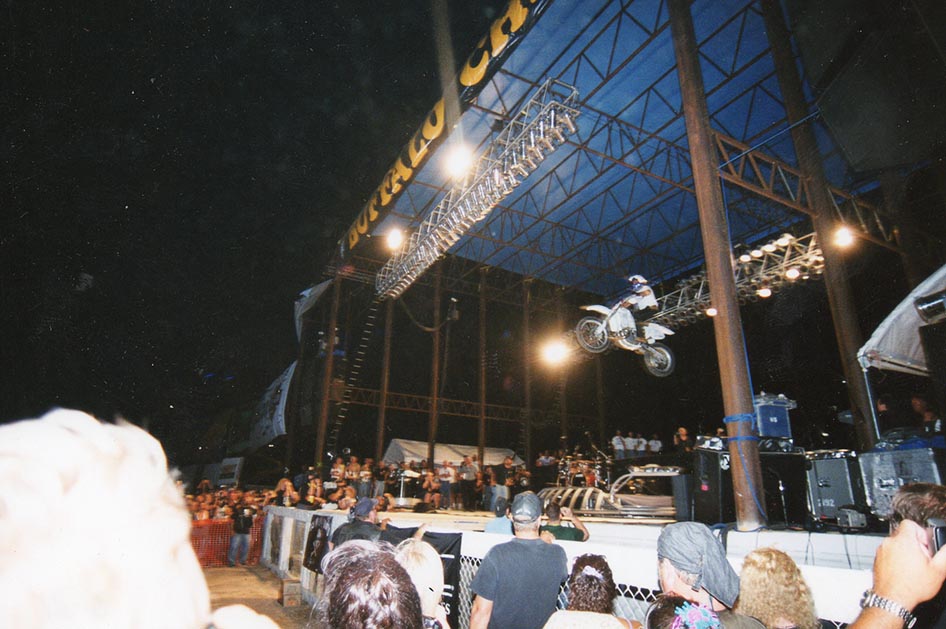 Robbie Knievel jumps over the Buffalo Chip's Wolfman Jack Main Stage in 2000.
To honor both Robbie Knievel and Shawn Ives, the daredevil spectacular aims to raise awareness of the deadliest and most diagnosed childhood cancer. The Chip has teamed up with the Pediatric Brain Tumor Foundation, a non-profit organization with a long history of working with the motorcycling community, for a fundraising effort.

Limited Edition Death Wire Daredevil Spectacular Posters
Illustrated by Darren McKeag
Proceeds Benefit the Pediatric Brain Tumor Foundation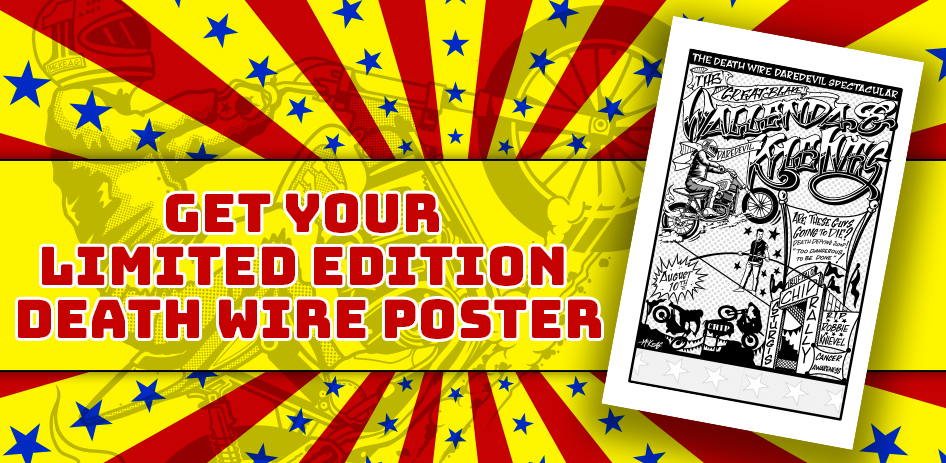 To commemorate this history-making performance, the Buffalo Chip commissioned artist Darren McKeag to create a collector's edition poster that you would be proud to hang on your wall.
McKeag's signature illustration style depicting the two daredevils will capture your attention, and his incredible details including stunt riders, the iconic Chip sculpture, and the legendary Buffalo Chip Main Stage, will keep it!
The posters will be released in a limited run of prints, and sales from the poster will benefit the Pediatric Brain Tumor Foundation.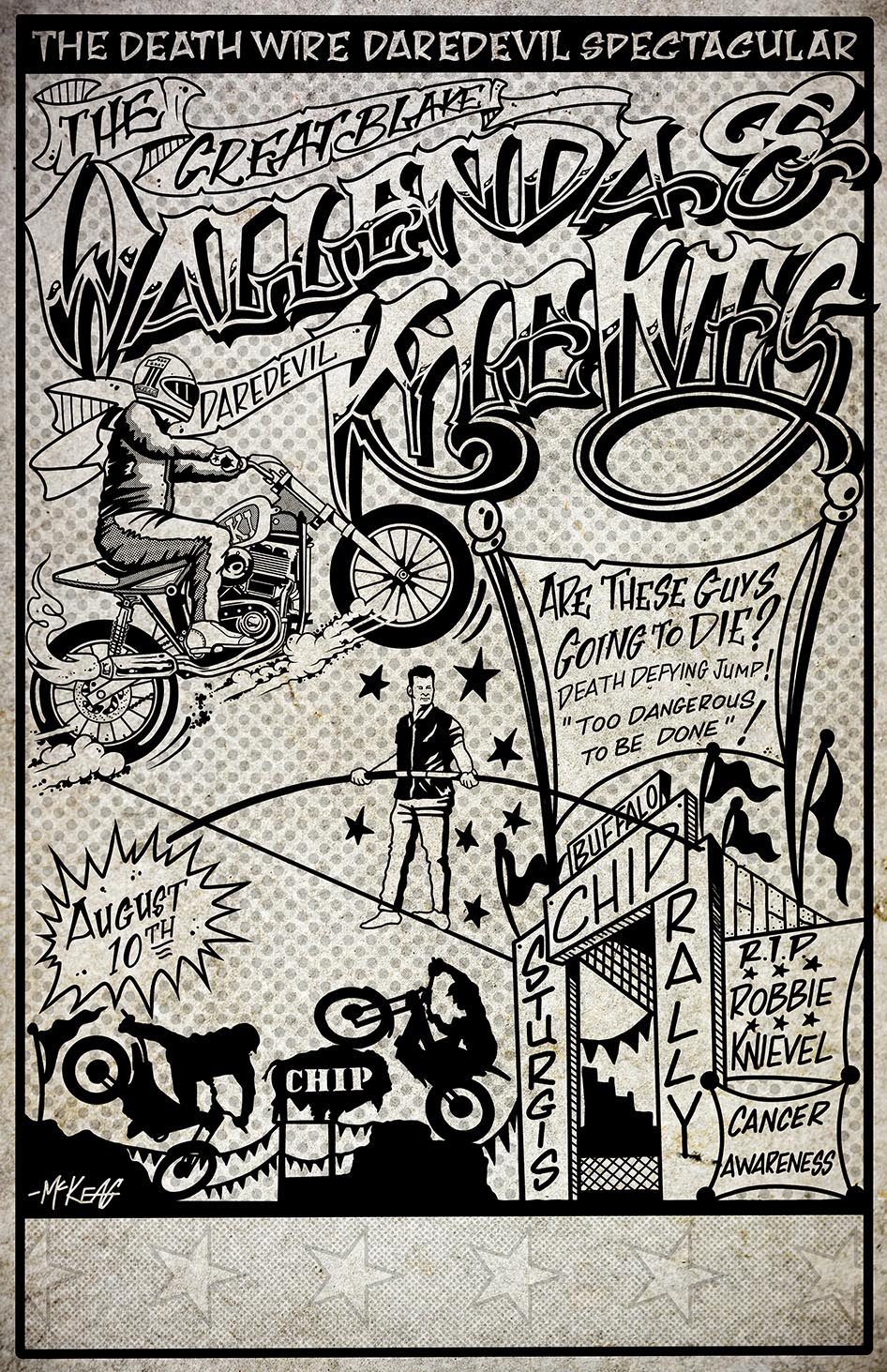 Get Your Poster Signed by the Daredevils and Artist
The only thing that could make owning this poster better would be a signature from McKeag, Wallenda and Ives themselves, and that's exactly what you'll be able to get when you show up to experience the spectacle.
Order your poster now, pick it up and get it signed on Aug. 10.
Posters will be available for pickup in the amphitheater that day, and the daredevils, along with the artist, will be on hand to sign them…as long as they make it out alive!
Shawn Ives Harley-Davidson Jump
Don't be late to this event, because the spectacle begins with a whole lotta other craziness you won't want to miss!
To kick things off, Shawn Ives, Kyle's father, will attempt a ramp-to-ramp jump on a Harley-Davidson XG750 street bike.
As half of the original Ives Brothers along with his brother Bill, Shawn Ives has been riding motorcycles for over 30 years. He is deeply passionate about vintage V-Twins and custom Harley-Davidsons has performed the Wall of Death, Globe of Death, and MX jumping at nearly every bike rally there is. But it's safe to say he's never opened for a performance with such high stakes.