2023 LEGENDS RIDE AUCTION INFO
2023 Legends Ride Auction Bike
Custom Harley-Davidson Street Glide by Arlen Ness Motorcycles
The highlight of each year's Legends Ride festivities in Deadwood is the special live custom motorcycle and art auction. This year's auction features the truly unique bagger by famed customizers Cory and Zach Ness. The stock Street Glide model, sponsored by Black Hills-Harley Davidson, includes a wide array of upgrades.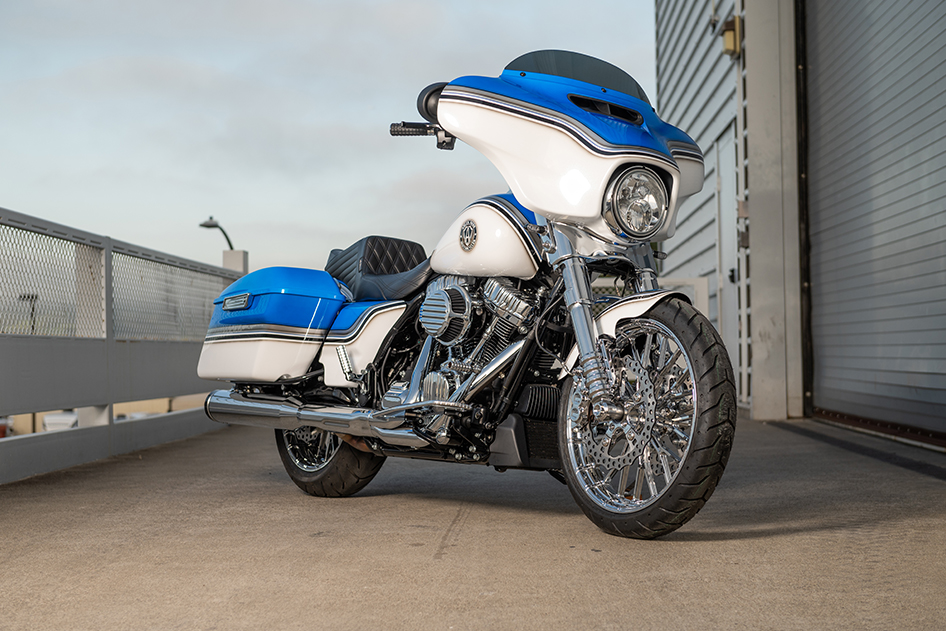 The Ness Street Glide features Arlen Ness Motorcycles' upgrades back to front, including the first ever set of Method chrome fork legs and covers. Cory and Zach Ness added chrome styling throughout from the Ness Y-Spoke forged wheels to the Jagged performance rotors and calipers, Finned-style engine covers, Rough Crafts rocker boxes and derby cover, and Speedliner hand and foot controls.
Ness installed Legends Suspension front and back and added some extra ponies in the form of Khrome Werks exhaust and Ness Finned air cleaner. The build was given the final touch with a custom LePera seat and a standout Riff Raff Custom Paint Job featuring a white pearl and candy blue graphic scheme.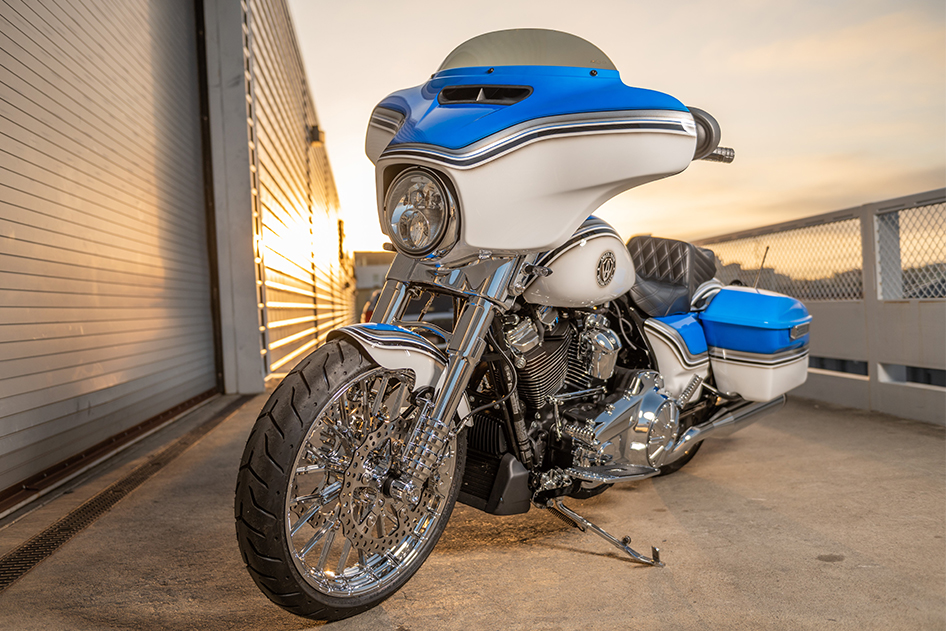 Don't miss your opportunity to take home this jaw-droppingly detailed one-of-a-kind custom motorcycle and support a great cause during the Legends Ride auction on Monday, Aug. 7, 2023. Reserve your spot on the Legends Ride now!
More auction items coming soon!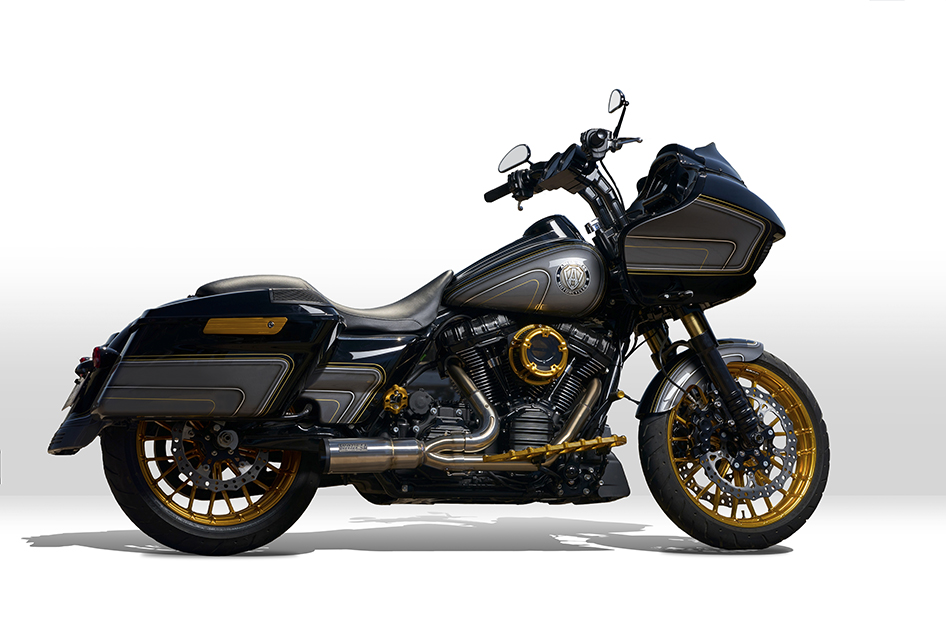 Arlen Ness Custom Road Glide
The Ness Road Glide is the first bike showcasing the new line of Performance Bagger products from Arlen Ness Motorcycles. Ness added extra horsepower to the Milwaukee-Eight powerplant in the form of a gold Ness Method air cleaner and a Vance & Hines stainless 2-into-1 Hi-Output racing exhaust. Eye-catching Ness gold anodized floorboards, pegs, shift lever and derby cover, along with a stunning paint job from Riff Raff Customs complete the distinctive look of the bagger.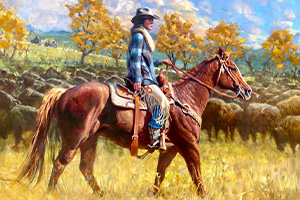 This one-of-a-kind painting by David Uhl depicts South Dakota Governor Kristi Noem atop her horse Ice at the Custer State Park Buffalo Round Up. Uhl created the piece to honor Noem, as he credits her for keeping his fine art program afloat during the tumult of 2020. All funds raised from the sale of this piece benefit non-profit anti-trafficking organization Treasured Lives. Both Noem and Uhl will be present to see the piece auctioned off.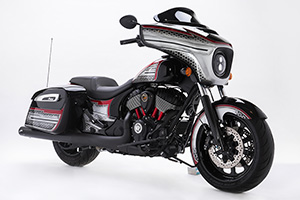 Buffalo Chip B4 Indian Motorcycle
This motorcycle is the first in the series of Signature Edition Buffalo Chip B4 Indian Motorcycles built by Tim Sutherland and Lloyd Greer. Based off Indian's flagship Chieftain model, the Sturgis Buffalo Chip signature edition B4 is loaded with a long list of exclusive customizations. From 1901 Customs' oversized wheel kit and wheels, to the specialized Arnott air-adjustable suspension, to the Lloyd'z Garage 126 Big Bore Kit, to custom paint by Rusty Nash and Rod Woodruff's "Ride Free Take Risks" credo embroidered on the custom seat, the Sturgis Buffalo Chip Signature B4 will add new dimensions in cool-factor, performance and collectability.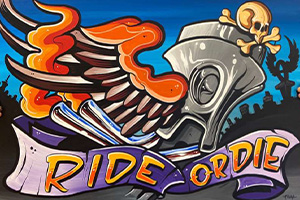 Darren McKeag "Ride or Die" Original Painting
"Ride or Die," an original 30×40" akrylik painting on canvas by Darren McKeag in true McKeag Art style. The piece takes a tattoo flash approach and features a winged piston, cemetery silhouettes and the phrase "Ride or Die." The piece took him around 40 hours to complete. McKeag will be present to hand the work off to the highest bidder.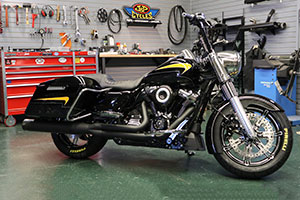 J&P Customized Harley-Davidson Road King
A Harley-Davidson Road King made its way to the auction block in 2019, with customization completed by Patrick Garvin of J&P Cycles and paint by Gilby's Street Dept.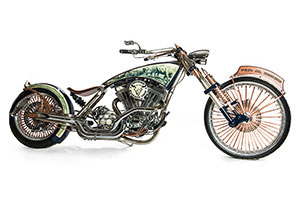 Paul Jr. Designs Sturgis Buffalo Chip-inspired custom built on American Chopper
The successful Discovery Channel series that brought America the father-son team of Paul Teutul Sr. and Paul Teutul Jr. is back. And the first two "American Chopper" episodes aired earlier this year feature a Sturgis Buffalo Chip-inspired custom bike, a project Paul Jr. took to heart. After meeting with Sturgis Buffalo Chip President Rod Woodruff, Teutul accepted the challenge to create a bike that would stand out as one of the most exceptional custom motorcycles on the planet, a bike that would go down in history as a testament to his incomparable talents.
S&S Harley-Davidson Dyna Low Rider
In honor of the Legends Ride 10th anniversary, S&S has tweaked a 2017 Harley-Davidson Dyna Low Rider into a sleek club-style chopper powered by a T143 Black Edition engine packing 143 cubic inches of 165 to 170 horsepower to the wheel. Harnessing that extra horsepower required S&S to upgrade the transmission, clutch and primary work. To clothe the powerful machine, S&S replaced the fairing and lowers and added some Dyna Defender bags. The blue and white striped paint job that finishes off this muscle machine pays homage to the Shelby Cobra.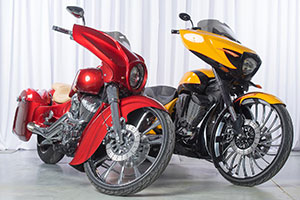 Buffalo Chip Challenge™ John Shope Signature 2015 Indian Chief Classic and Rusty Jones Signature 2016 Victory Cross Country
Black Hills area students transformed this award-winning 2016 Victory Cross Country and a 2015 Indian Chief Classic through the Buffalo Chip Challenge technical education and scholarship fund under the direction of Keith Terry of Terry Components, Randy Cramer of Dakota V-Twin and Chris Malo of Baggster. John Shope, star of HISTORY's "Biker Battleground: Phoenix," returned to the program as a major parts contributor on the Indian bike and rising industry name Rusty Jones of Rusty Jones Customs joined as a major parts contributor on the Victory bike so that the two signature head-turning customs could go head to head.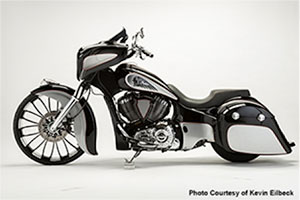 Buffalo Chip Challenge John Shope Signature 2014 Indian Chieftain
This award-winning 2014 Indian Chieftain came to the Legends Ride thanks to the hard work of a group of Black Hills area students, the dedication of the world's top customizers and the generosity of motorcycle industry leaders. Students in the 2015 Buffalo Chip Challenge transformed this bike primarily using John Shope's Dirty Bird Concepts fabrications Students worked under the guidance of Chris Malo of Baggster and Keith Terry of Terry Components.
Buffalo Chip Challenge Paul Yaffe Signature 2014 Harley-Davidson Road Glide
2015 marked the first year the Legends Ride motorcycle auction featured two award-winning customs built by students participating in the Buffalo Chip Challenge program. Students transformed this award-winning 2014 Harley-Davidson Road Glide primarily using parts from Paul Yaffe's Bagger Nation. Students worked under the direction of Randy and Nick Cramer of Dakota V-Twin and Keith Terry of Terry Components.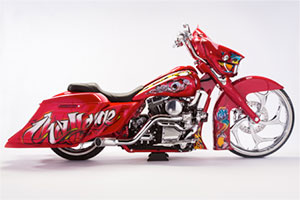 The 2014 Buffalo Chip Challenge™ Custom Harley-Davidson® Street Glide
Built by the students of Sturgis Brown High School under the direction of Keith Terry of Terry Components and Randy and Nick Cramer of Dakota V-Twin, this motorcycle was customized from a brand new 2014 Harley-Davidson Street Glide sponsored by Black Hills Harley-Davidson into a performance powerhouse with unmistakable style.