Thank you to our organizers for their time, talents and dedication. Without you, the Legends Ride would not be the premier charity-celebrity event in motorcycling!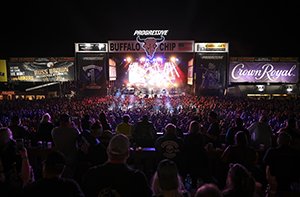 The Legendary Buffalo Chip developed the Legends Ride in 2008 to benefit worthy local charities. As the rally's premier campground and concert venue, the Sturgis Buffalo Chip has earned its name, The Best Party Anywhere®.
Each year the nation's top headliners and racers put on an incredible show at the Buffalo Chip. The 600-acre campground and entertainment venue hosts the rally's premier nine-day concert and race series, along with immersive experiences, modern camping facilities, diverse retail and food vendors, and top-of-the-line amenities.
The jam-packed event schedule combined with its picturesque locale make the Legendary Buffalo Chip the perfect place to call home base during the Sturgis rally. For more information on camping and concerts at the Legendary Buffalo Chip visit BuffaloChip.com or call (605) 347-9000!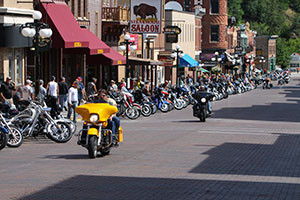 Just up the canyon from Sturgis, Historic Deadwood offers visitors a chance to walk in the footsteps of Wild West legends. And getting here is the just beginning of the excitement.
Highway 14A to Boulder Canyon takes riders from Sturgis into the Black Hills through a safe and scenic route before arriving in the Deadwood gulch. Cobblestone streets, period lighting and free Rally Week motorcycle-only parking on Deadwood's famed Main Street await riders.
Once here, gambling halls, cigar and retail shops, museums and living history exhibits, bars and restaurants and much more entertain visitors, while more than 1,500 hotel rooms offer lodging – from major chains to properties still standing from the late 1800s. From slot machines and steakhouses to the souvenir shops and 5-star accommodations, Deadwood offers something for everyone.
Walk in the footsteps of legends like Wild Bill Hickok, Seth Bullock and Calamity Jane – and discover your inner outlaw in Historic Deadwood.
For more information about Deadwood contact the Deadwood Chamber of Commerce at (800) 999-1876 or visit www.deadwood.org.
The Silverado Franklin Historic Hotel and Gaming Complex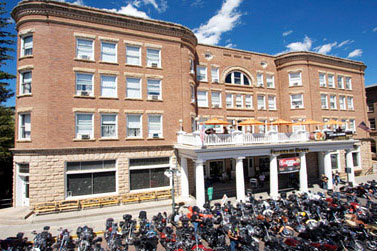 ​Located in the highest reaches of the Black Hills of South Dakota, the Silverado Franklin is Deadwood's largest and most elegant hotel and casino. With more than 368 state-of-the-art slots, 80 rooms, the largest selection of table games in the region and an outstanding Grand Buffet in our 300-seat restaurant, the Silverado Franklin Historic Hotel and Gaming Complex is the preferred choice of visitors to Deadwood. Built in 1903, the storied Franklin Hotel has housed many famous guests in its time, including Theodore Roosevelt, John Wayne and Big & Rich. Its intricate Victorian styling can be seen from the vintage tin ceilings on the main floor to the veranda above the white-columned hotel entrance, which affords guests a spectacular view down Deadwood's historic Main Street.
For more information on the Silverado Franklin Historic Hotel and Gaming Complex, call (800) 584-7005 or visit www.silveradocasino.com.