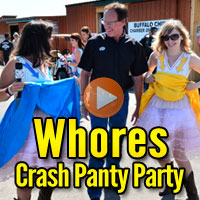 The Reformed Whores are a colorful pair of ladies who are nationally renowned for what they do with their mouths–sing hilariously dirty country western songs. However, when these ladies grabbed a microphone and camera and crashed Big Woody's Panty Party at the Sturgis Buffalo Chip's CrossRoads, a familiar flicker lit their eyes that hadn't been seen for a long time. Will the Reformed Whores keep their resolve, or will temptation provided by a plethora of panty-clad Chipsters prompt a return to their old ways? Watch and find out.
Big Woody's Panty Party was an attempt at breaking the Guinness World Record for most people in their underwear in one place. A total of 182 panty partiers showed up for the attempt, which unfortunately was not enough to break the record. The event's coordinators have vowed to make as many attempts as needed in order to put their butt prints in the sands of time.
Did you get to laugh it up with these Reformed Whores? Tell us about it in the comments below!