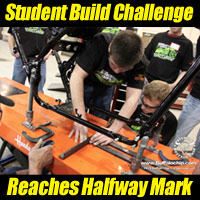 The 2014 Buffalo Chip Student Build Challenge™ has now been under way for one month, and keeping on schedule has become an uphill battle for its participants. Each week the Sturgis Brown High School class meets with mentors, Keith Terry of Terry Components and Randy and Nick Cramer of Dakota V-Twin, to transform their 2014 Harley-Davidson® Street Glide into a powerful and eye-catching custom bike. But because custom parts don't yet exist for this new-year model, each step of the build has brought on its own set of challenges. Check out the photos below to see what the motorcycle mentorship program has been up against.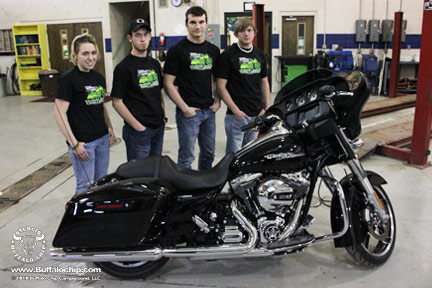 Some of the student participants pose with the 2014 Street Glide before they start tearing the bike down to begin the build. Black Hills Harley-Davidson® generously sponsors the motorcycle for the bike build project.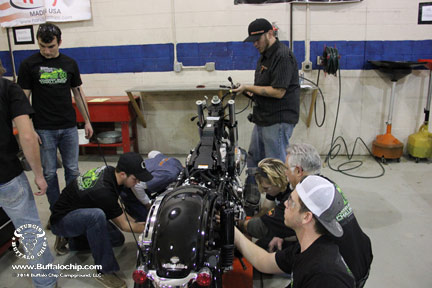 Before any modifications can be done to the bike, the students first need to strip it down to its frame.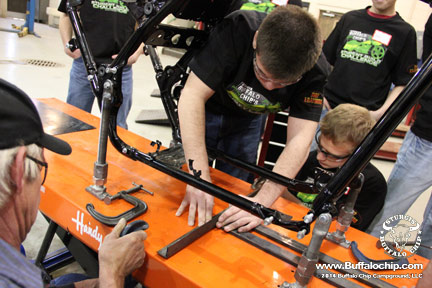 Once the bike is down to a bare frame, the students fix it to their Handy-Lift using a custom-designed jig from Dakota V-Twin. This will keep the bike level and stationary when they begin cutting the neck.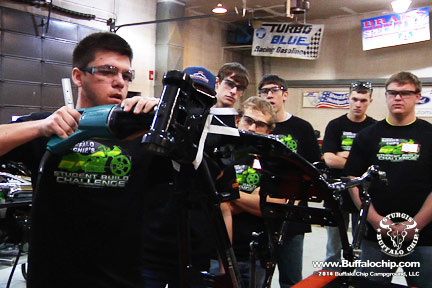 Wyatt Harwood begins to cut the neck of the frame while his classmates look on. Students take turns making the cut. They need to rake the frame in order to ensure that the trail of the bike remains level after they add the 26″ front wheel planned for the build.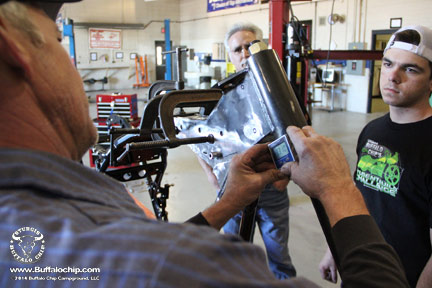 After installing the neck rake extension from Hawg Halters Inc., students ran into an issue of a two-degree difference from the angle used on past Street Glide kits. The class had to get in touch with Hawg Halters, who confirmed that they had changed the rake by two degrees. HHI explained that the bikes handled better with a 26 to 33 conversion, as opposed to the old 26 to 35 degree conversion. Seen here, Randy Cramer confirms the 33 degree angle before any welding is started.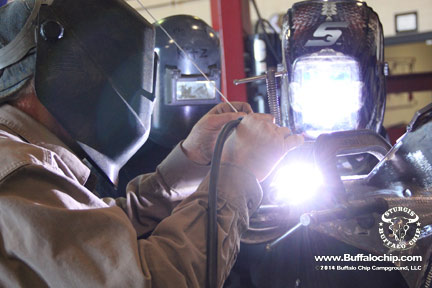 The class looks on as welder, Jack Van Kampen, uses a tig welder to attach the neck extension to the frame. The Student Build brings Jack in because of the importance of ensuring the welds on the frame are sturdy enough and the bike is safe to ride. The students get valuable experience from watching a master at his craft.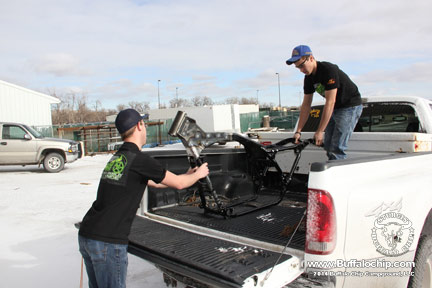 Now that the welding has been completed, the students load up the bike and send it to the painters. The frame on this year's build will match the color of the body parts so the frame blends with the rest of the bike.
The bike build project faces a fast-approaching deadline, and there's plenty of work yet to be done. Be sure to follow the Student Build Challenge on the Legends Ride Facebook page to find out if the students will reach their goal.
Special thanks to the sponsors and motorcycle industry leaders who make the Student Build Challenge possible: Sturgis Brown High School, Keith Terry, Terry Components, Randy and Nick Cramer, Dakota V-Twin, Black Hills Harley-Davidson, Arlen Ness Enterprises, Baggster, CP Carrillo, Dakota Digital, Inc., Dave Mackie Engineering, Diamond Fasteners, Diamond Heads, Dirty Bird Concepts, Feuling Parts, Handy Industries, Hawg Halters, Inc., Horsepower Inc., Hot Leathers, Howard Knight, Ian Strachan Designs, Jamie's Repair, KICKER Audio, Legend Air Suspensions, Owens Interstate Sales, R.C. Components, Thunder Cycle Design, Inc., Thunder Max, Trask Performance, Jack Van Kampen and Vee Rubber America, Inc