It's hard to imagine biker lifestyle today without Easyriders. Since the early '70s, the magazine has been a mirror for motorcycle culture, featuring righteous rides and rowdy rallies. Of course, it would be impossible to forget that all the issues came locked and loaded with some of the most head-turning cover photos of models and bikes you could imagine. Yes, lots of cool bikes and even 2 HOF exotic film stars, Traci Lords and Jenna Jameson.
Celebrate the rebellious return of Classic Easyriders in December 2021 and salute some of the best "Biker Bible" covers throughout the decades.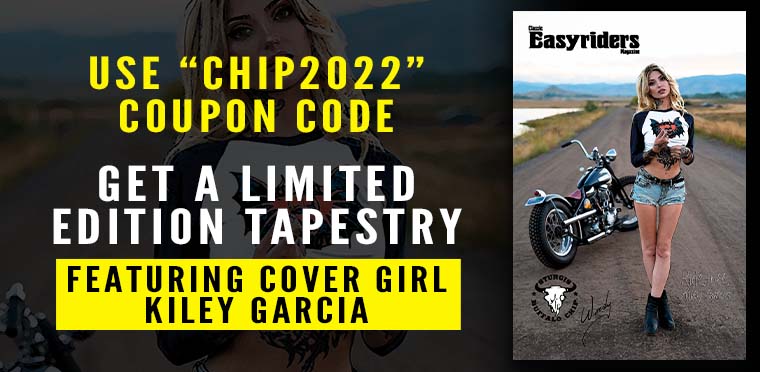 1970s
The first issue of Easyriders burst on the scene in June 1971, peeking behind the curtain of the notorious biker lifestyle and bringing custom bikes, babes and badassery to the masses.
Issue 001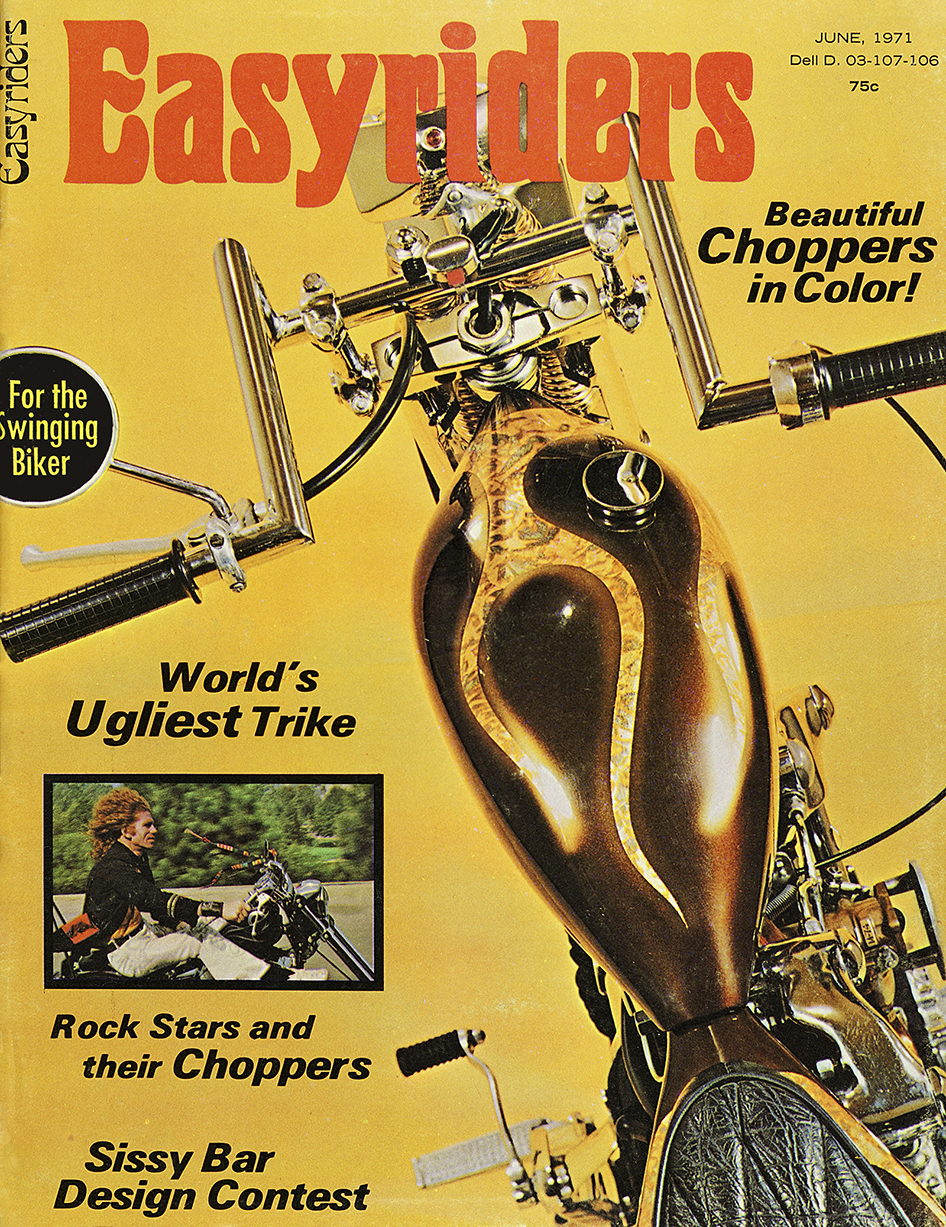 July 1971 kickstarted the chopper craze with a wild flame-painted Knucklehead on the cover and announced "Beautiful Choppers in Color!" The editors soon figured out that sex sells and started putting girls on the cover of every issue.
Issue 011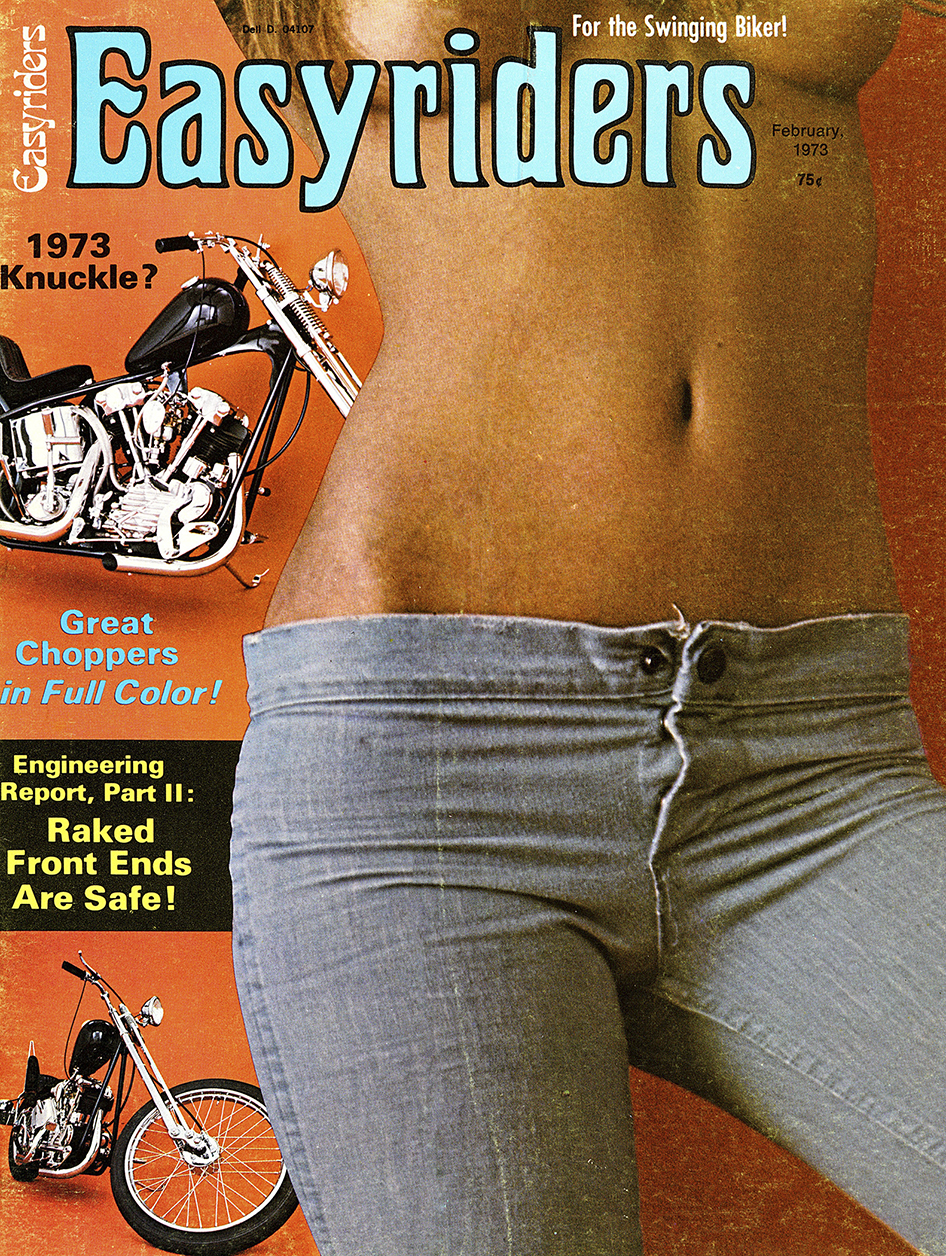 February 1973 featured a beautiful body across the cover and made sure you realized that this magazine is for "the swinging biker." That soon changed to "The World's Largest-Selling Motorcycle Magazine for Men."
1980s
What set Easyriders apart was that it was focused on the people who live to ride. While other motorcycle magazines focused on tech tips and shootouts between brands, Easyriders quickly took the lead by keeping it real.
Issue 149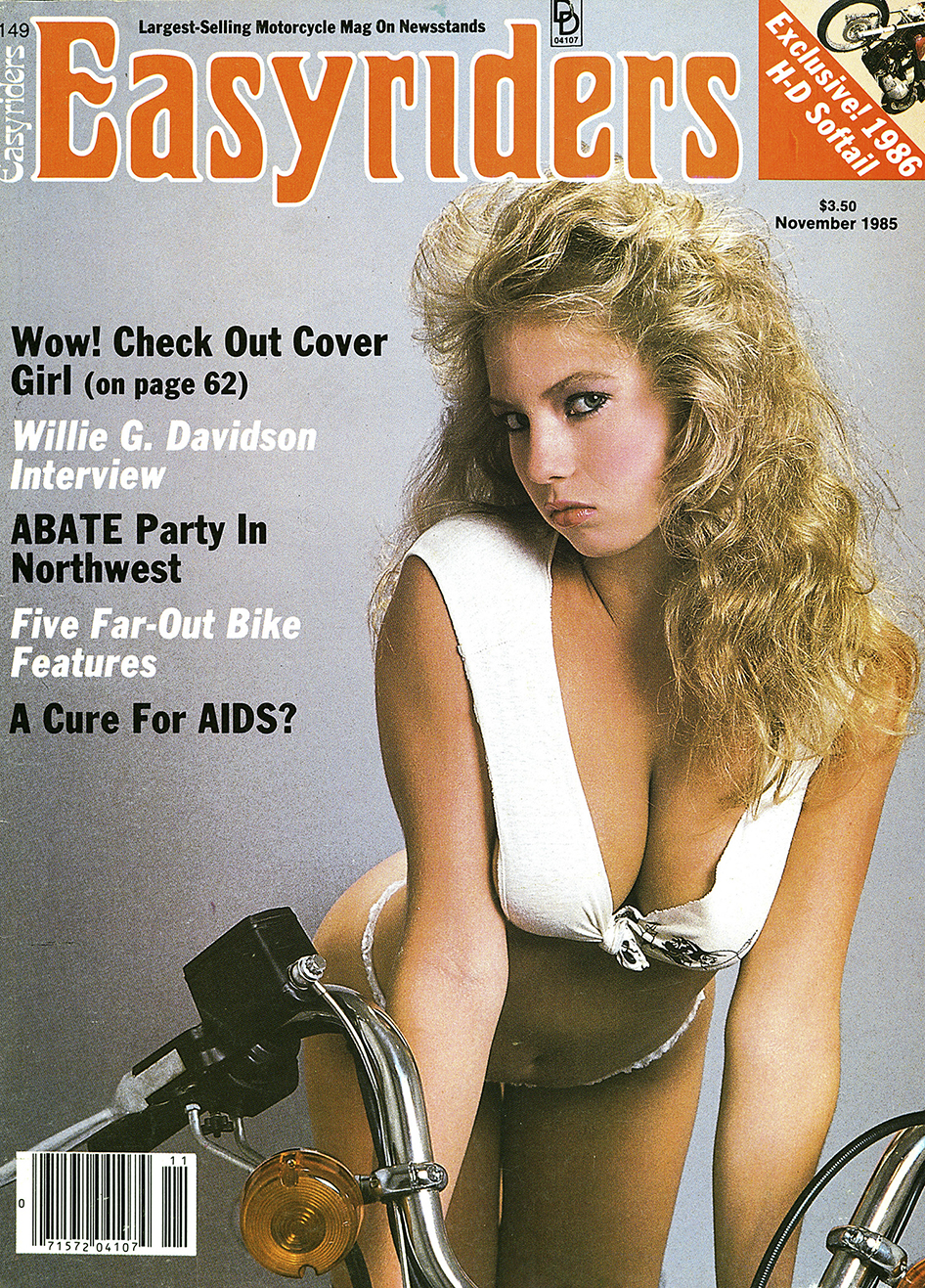 November 1985 showcased lovely young porn star Traci Lords and boasted an interview with Harley-Davidson's chief designer Willie G. Davidson. Quite a combo.
Issue 177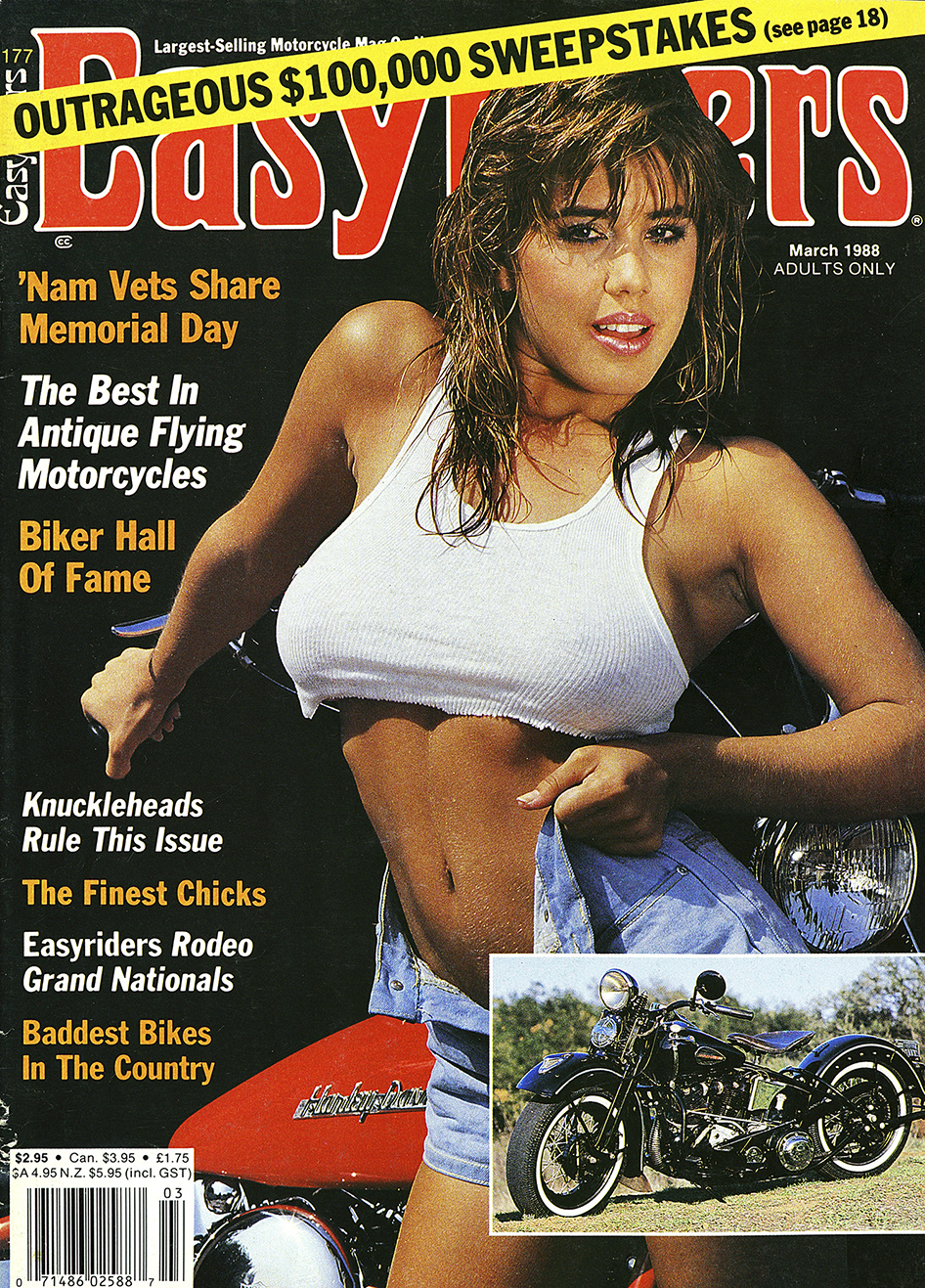 By the late 1980s, Easyriders was selling over a million copies per month. The concept was simple: gorgeous girls and righteous rides. It worked in March 1988. It still works today.
1990s
The motorcycle world exploded when Harley came out with the Evo motor. Everybody caught the fever, and Easyriders became the world's best-selling motorcycle magazine.
Issue 229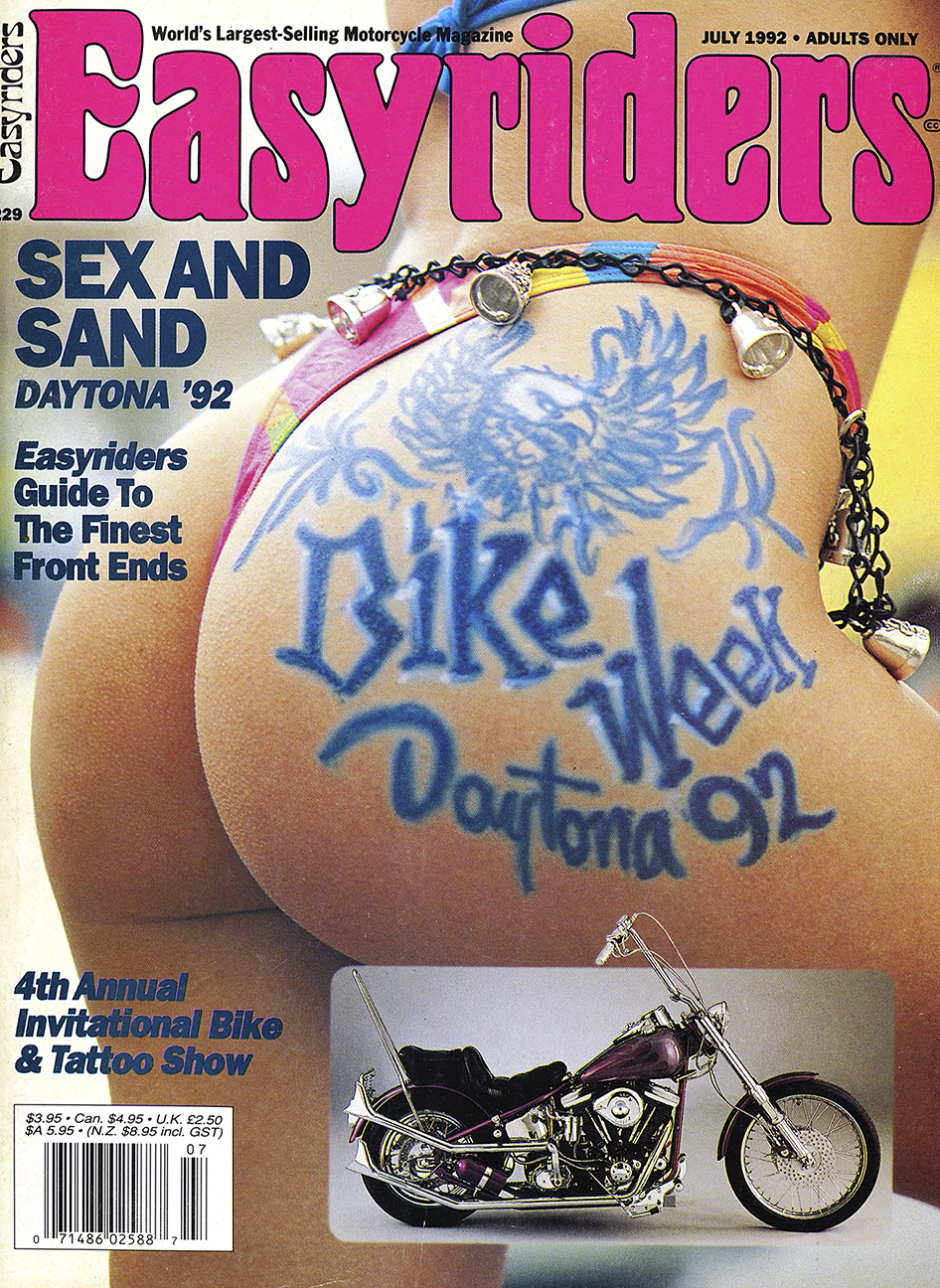 July 1992 made an ass of itself by featuring a perfectly pleasing butt on the cover to make sure readers realized that the magazine was promoting its killer coverage of Daytona Bike Week.
Issue 281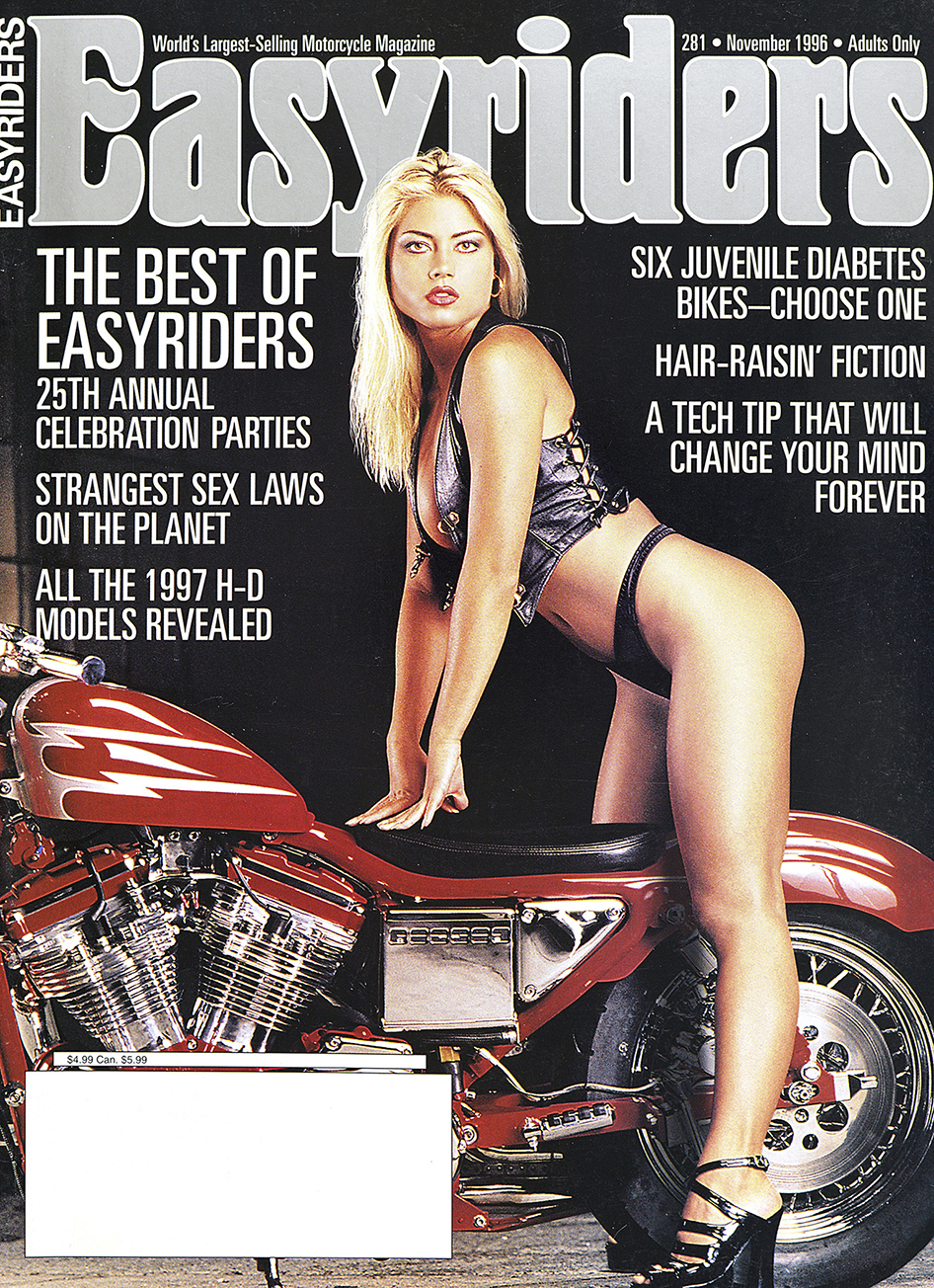 November 1996 featured the Best of Easyriders and a startled blonde on a Sportster for the cover. It brought you both all the new Harley models for 1997 AND an article on strange sex laws.
2000s
Easyriders got involved with The Discovery Channel and brought custom bike building to a whole new mainstream audience through TV series like the "Great Biker Build-Off."
Issue 325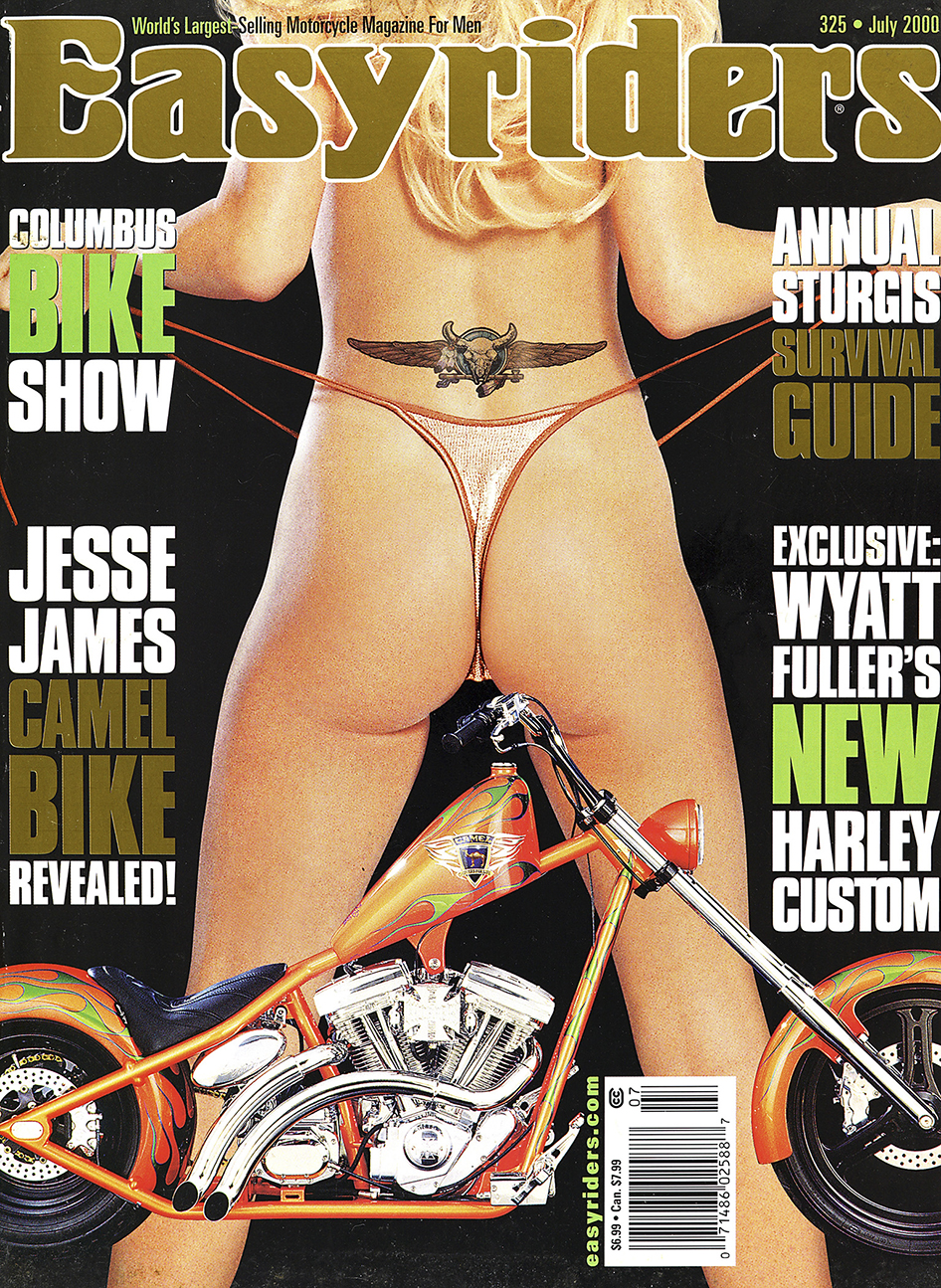 July 2000 featured America's bad boy Jesse James and one of his famous Choppers For Life motorcycles from Discovery Channel's "Motorcycle Mania" series.
Issue 374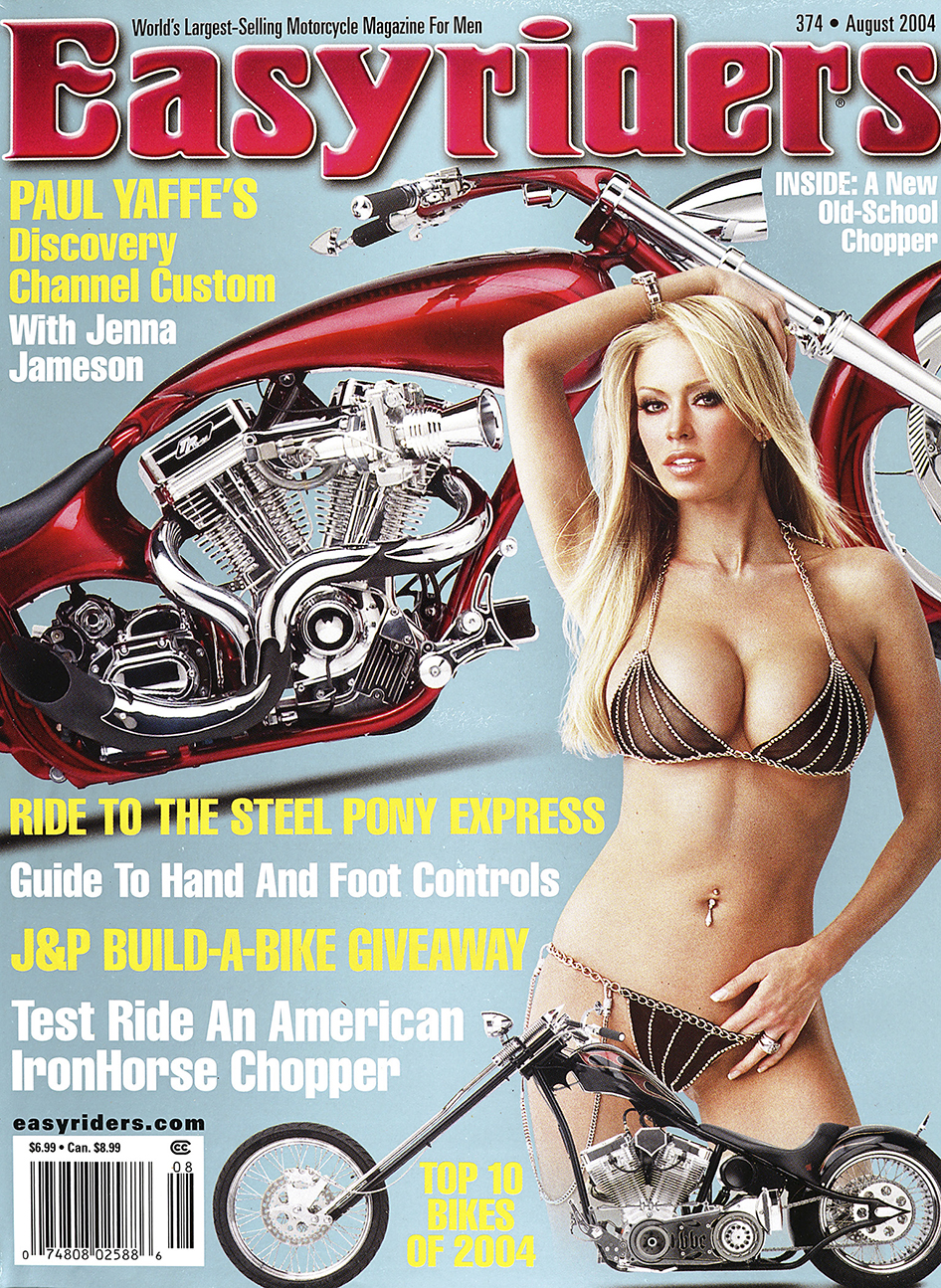 August 2004 was a huge seller and memorable as it featured both Paul Yaffe's amazing Biker Build-Off TV bike and the voluptuous curves of exotic film star Jenna Jameson.
2010s
For custom bike builders all over the world, the coolest honor of all was to get your bike featured in Easyriders magazine. In December of 2021, Classic Easyriders reimagined the biker culture in an updated monthly magazine that still rocks after 50 years of ridin' easy!
Issue 500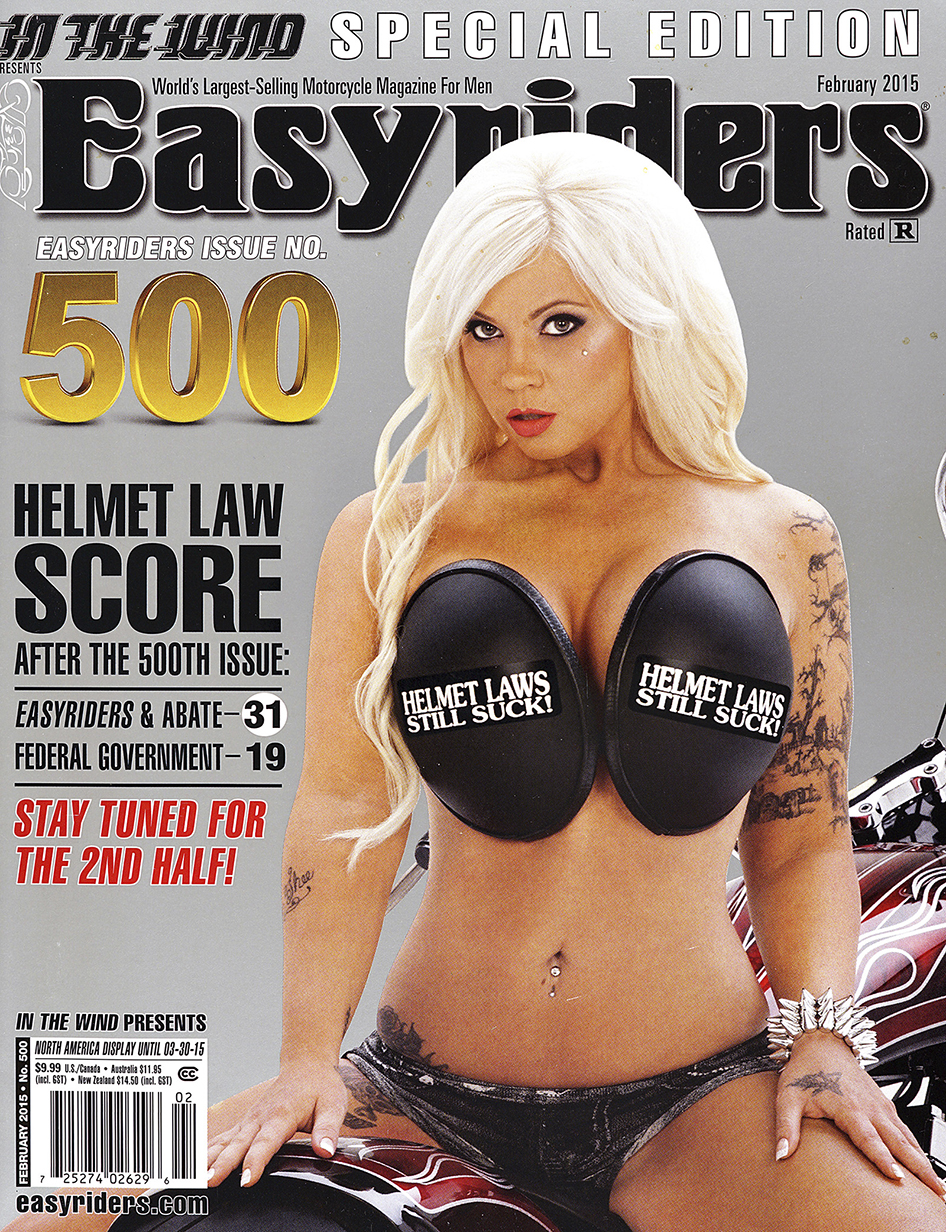 February 2015 made sure the world knew that "Helmet Laws Suck!" with a bra made of skid lids. Easyriders rode into 2015 with a smile on its face and bugs in its teeth after 500 leg-wettin' issues.
Issue 555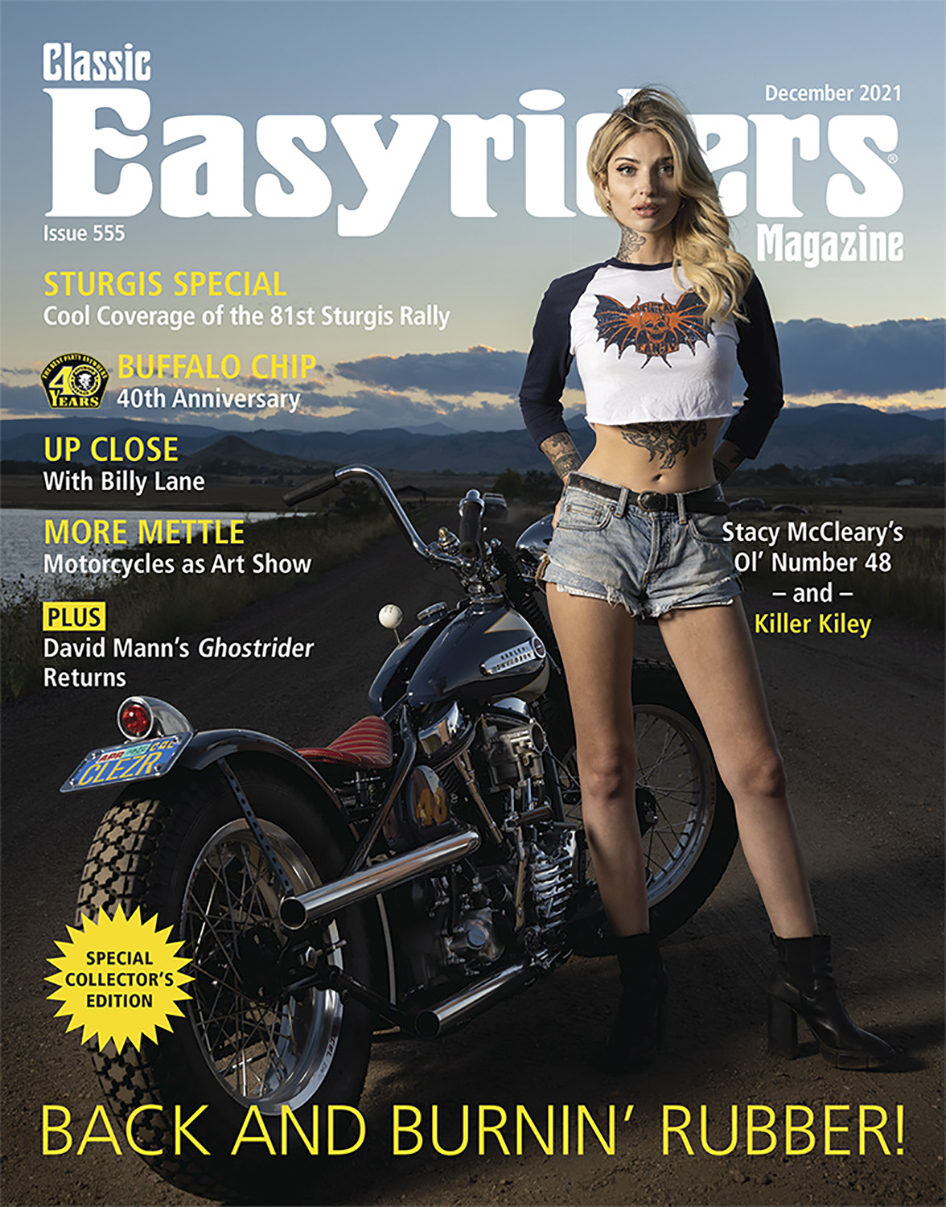 The "Biker's Bible" is back and burnin' rubber in December 2021 with the Sturgis Special. It includes coverage of the 40th anniversary party at the Sturgis Buffalo Chip® and the venue's 2021 Motorcycles As Art Exhibit, plus David Mann's legendary "Ghostrider" painting, and everything else that bikers love.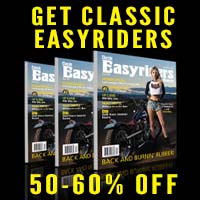 Presented by Classic Easyriders
Be a part of the biker brotherhood and sisterhood that began over 50 years ago and save over 50% on the cover price with a subscription to America's "Biker's Bible." Every sizzlin' 100-page monthly issue brings you killer custom motorcycle features; wild runs, rallies and biker parties; hot new parts and accessories; tech tips you can really use; interviews with biker legends; and classic biker lifestyle art by David Mann.