An average of 100 million viewers tune in to the Super Bowl each year, and thanks to extreme rivalries, legendary halftime performances and an easy excuse to celebrate Sunday Funday, that number only continues to grow. But long after your heartburn subsides from all the bad calls and Ted's ghost chili hot wings, the one part of the spectacle that's sure to stick with you is all the over-the-top advertisements. Throughout the decades, countless hilarious and heartwarming commercials have made their debut during this live sporting event, but since most companies can't afford a $5 million price tag, there will always be great ones you didn't get to see. Here are seven memorable Super Bowl commercials that should've been and the reasons why we think they deserved to be aired during the big game. (We saved the best for last.)
1. This hot tub sidecar is one of the most strangely wonderful customizations you'll ever see.
If one sniff was all it took to make this fantasy a reality, the biker community could singlehandedly keep Old Spice afloat.
2. Everyone wants a reason this twisted to get a carpet cleaning.
You've seen mayhem unfold when rock rebel Dee Snider gets twisted at the Sturgis Buffalo Chip®, but could you imagine bringing that kind of party to your own living room?! Stanley Steamer must have some powerful equipment!
3. In the right context, the name of beer can say it all.
As this classic commercial proves, everything sounds more enticing when coupled with the sound of a revving motorcycle. Just make sure you enjoy your Rainier Beer in moderation before getting behind the handlebars.
4. Those who are out of sight should never be out of mind.
John Wooden once said, "The true test of a man's character is what he does when no one is watching." This Guinness spot would've made for a powerful Super Bowl commercial for showcasing the true character of a community who honored a soldier while he was away.
5. Instead of hitting mute during the commercial break, this spot made you wanna turn it up, man.
The commercial for Freedom Rock started airing back in 1987, but it made such an impact we bet many of you can still recite the whole script word for word. Decades later, the spot continues to reach new audiences through parodies that are also Super Bowl material like this one from the Sturgis Buffalo Chip…
6. Pillow fights that remind you it's important to find a middle ground.
Going to the extreme can be fun, but, as this Bud Light commercial reminds us, sometimes your best bet is somewhere in the middle.
7. Weird is memorable and, in this case, hilarious.
This consumer-created spot was one of five finalists vying for a Super Bowl commercial in Doritos' Crash the Super Bowl Contest back in 2014. While the ad narrowly lost out in the online poll, the millions of views on YouTube are proof that bizarre ideas like a Doritos glory hole are pretty dang memorable.
What are your favorite Super Bowl commercials? Tell us or share a link in the comments below!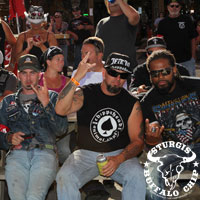 Known as The Best Party Anywhere®, the Legendary Buffalo Chip believes festivals should be fun like a high five, reenergize you like a broken rule, and romance you like someone you just met and have to take home.
This nine-day festival remains one of the most televised festivals in the world and has been featured on the Travel Channel, the Discovery Channel, CMT Bike Week, HISTORY, TLC, National Geographic and more.