It's that time of year again where the sound of jingle bells and holiday songs are ringing through the air just about everywhere you go. While there's nothing wrong with cranking up some traditional tunes, those of you looking to rock will find this ready-made playlist filled with choice jams perfect for getting you rockin' out in the holiday spirit. Vary up your listening this holiday season by checking out this list of holiday songs that'll rock your stockings off from your friends at The Best Party Anywhere – The Legendary Sturgis Buffalo Chip.
1. Alice Cooper – Santa Claus Is Coming to Town
This tune may share the name of a traditional Christmas song, but it's not just any old cover. It's got just the right amount of sick and twisted to be a Grade-A Alice Cooper tune.
2. James Brown – Soulful Christmas
If the thought of holidays gives you ants in your pants, then this is the tune for you. The Godfather of Soul will make you want to get on the good foot and groove with this one.
3. Spinal Tap – Christmas with the Devil
It's the world's most dangerous parody band singing the world's most dangerous holiday song! Listen at your own risk.
4. Chuck Berry – Run Rudolph Run
This might be one of the first ever holiday songs to rock stockings off. It's been covered countless times, by everybody from Lynyrd Skynyrd, Lemmy, Hanson, the Grateful Dead, Reverend Horton Heat and many more too numerous to name. While they all offer a nice twist, there's no beating the original.
5. George Thorogood – Rock And Roll Christmas
Throughout his career, George Thorogood has carried the torch of early 1950's style rock and roll, and this song is no exception. "I wanna Chuck Berry record and a picture of Elvis, too," Thorogood says with his trademark gravely voice as the Destroyers pound away on a blues progression with a rock and roll backbeat. If you're really digging on George's take on holiday tunes, be sure to give "Merry Christmas Baby" a listen as well.
6. Twisted Sister – Oh Come All Ye Faithful
It's kind of like "We're Not Gonna Take It" decided to stop being pissed off, cracked a holiday beer and go with the flow.
7. Bob Seger – Sock It To Me Santa
This is a funky, soulful yet rockin' tune that would be at home in the midst of James Brown's Christmas album. However, it's the Silver Bullet Band laying down this serious groove, and you'll have no recourse but to shake a leg once you hear it.
8. John Lennon – Happy Xmas (War Is Over)
Only John Lennon could so beautifully blend his political message with a song that sounds like a beautiful Christmas song.
Check out this cover version by Shinedown with a modern hard rock edge.
9. Adam Sandler – Chaunakah Song
It'd hardly be fair if only one holiday were represented in this list. Whether or not you've ever spun a dreidel, we can all agree this is one of the funniest holiday songs ever written.
10. Ramones – Merry Christmas (I Don't Want to Fight Tonight)
It's the kind of fast, spirited punk rock song the Ramones practically invented and made famous, and if nothing else, the title is a nice mantra to remind yourself of before spending time with some of your relatives.
11. The Kinks – Father Christmas
It's got sleigh bells, blissful Christmas melodies, and a bunch of mean kids beating up and mugging the neighborhood Santa Claus. It's the quintessential rock 'n' roll holiday song.
12. Tom Waits – Christmas Card from a Hooker in Minneapolis
This tune is just another classic example of Tom Waits gravelly, unforgettable story-telling featuring characters from the wrong side of the tracks.
13. Bad Religion – White Christmas
It's an up-tempo, fist-pumping punk rock version of the old standard with distorted guitars and pounding drums that's equally appropriate to blast at your holiday party or when you're sitting around the tree.
14. "Weird Al" Yankovic – Christmas at Ground Zero
A throwback "Weird" Al tune that'll make you feel all warm and fuzzy as you reminisce on 1980's Cold War paranoia. If you'd like to add more "Weird" to your holiday playlist, also check out "The Night Santa Went Crazy" by "Weird" Al.
15. Joe Satriani – Silent Night / Holy Night Jam
It's a mind-bending holiday shred odyssey that, when played with enough volume, is sure to crack open the sky and either summon Old Saint Nick and his sleigh or, at the very least, a troupe of very merry extraterrestrials.
16. Black Label Society – The First Noel
A beautiful acoustic rendition that could sneak its way into the most innocuous of Christmas albums if it weren't for those passages featuring Zakk Wylde's famous virtuosic guitar shredding. Careful when listening to this one near an open fire­– it may cause spontaneous face-melting.
17. Willie Nelson – Frosty the Snowman
This one might not quite "rock your socks off" in the same sense a shredding solo might, but any fan of Willie Nelson will feel that familiar chill they get when they hear the Red Headed Stranger sing anything.
18. John Prine – Christmas in Prison
John Prine is one of America's greatest songwriters. He is a master storyteller with an uncanny ability to create common ground among his listener and the unique characters who are often hard on their luck. This song is just another shining example of what he does so well.
19. Reverend Horton Heat – We Three Kings
It's the old traditional that everybody knows, but given new life thanks to Reverend Horton Heat's slapback, delay-drenched, signature psychobilly sound. "We Three Kings" is also the name of the Rev's Christmas album, which is a worthy holiday playlist all on its own.
20. The Killers – Don't Shoot Me Santa
When little boys and girls are naughty, they're usually told Santa's going to give them coal for Christmas. The Santa Claus in this song takes this to the next level, promising a bullet instead. Moral of the story? Don't f**k with Santa.
21. The Band – Christmas Must Be Tonight
The band The Band was one of the greatest bands to ever band, and their Christmas jams are no exception. "Christmas Must Be Tonight" is a beautiful classic rock-style treatment of that oh, so holy night.
22. Prince – Another Lonely Christmas
If the holidays are a tough time for you, then perhaps you'll relate to this song more so than any other on this list. It's a tearjerker of a ballad in which the late Prince recounts many fond memories with a lost lover while drinking himself blind on Christmas.
23. AC/DC – Mistress for Christmas
A gift many of us are probably afraid to ask for. Doesn't get much more rock 'n' roll than this.
Which of these holiday songs is your favorite? Are there any we missed? Let us know in the comments below!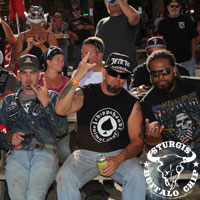 Sturgis Buffalo Chip®
Known as The Best Party Anywhere®, the Sturgis Buffalo Chip believes festivals should be fun like a high five, reenergize you like a broken rule, and romance you like someone you just met and have to take home.
This nine-day festival of concerts and motorcycle events promises to bring you exciting events like flat track races and live performances from artists like Aerosmith, Willie Nelson, Ozzy Osbourne, Kid Rock, Keith Urban, Rob Zombie and many more.
Find out more or get passes to the Best Party Anywhere at www.buffalochip.com and find out why it continues to be one of the most televised festivals in the world.