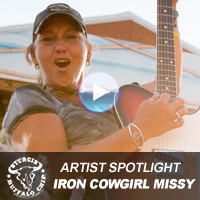 Missy Covill, known to her fans as Iron Cowgirl Missy, is the embodiment of everything Buffalo Chip. Her passion for music is just as strong as her love of riding motorcycles. The two go hand in hand.
Missy's story has captivated audiences during the Chip's August music festival for four years, and our fans can't seem to get enough. Shortly after confirming Iron Cowgirl Missy will be joining the band lineup for the 2014 August music festival, we caught up with Missy at her home in Napoleon, Michigan for this exclusive interview. Pull up a chair, folks…It's story time!
What made you decide to start writing and playing music?
Music and writing have been a big part of my life since I was a child. In 2008, after surviving cancer and a heartbreak, I retired my Honda CBR (with 107,000 miles) and purchased my Harley Deluxe. I packed my saddlebags and toured this great country for 10 weeks. Ultimately, I ended up at the Sturgis Buffalo Chip, where I camped on the hill, playing my Baby 'T' guitar and meeting amazing people who could relate to my story, and my journey. When I returned home, I started writing music about my journey and using my music to tell a story—to always chase your dreams. So I guess you could say, I started writing and playing music when I became serious about spreading this message.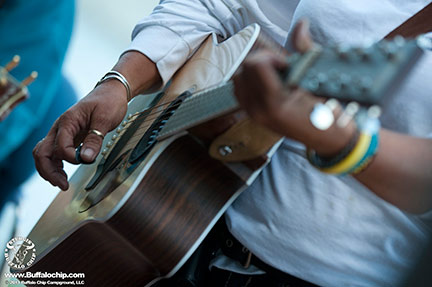 How has playing music changed your life?
Playing music has given me, a single mom who spent 20 years as a mig welder, the opportunity to do what I love to do, leave a little mark on this world, be a part of history, tour and ride around this great country, and encounter some of the most worldly people I've ever met. It has given me a chance to express myself, and an opportunity to encourage people to chase their dreams and never give up. It has given me inspiration, direction, strength, determination, and a euphoric feeling like never before.
What do you feel really separates you from other performers and makes you stand out?
I think we all are working hard chasing our dreams. My determination and drive pushes me to be who I want to be. Although I'm fearless and am trying to do things my way, I'm my biggest critic, and am constantly trying to improve. I make mistakes just like everyone else, and use those mistakes as lessons, and I move on. I don't have a manager or a booking agent, so I work as hard as I can to achieve my goals. I'm sending a message of believing in oneself, and I hope that is what makes me 'stand out'. A message of being positive, and never giving up or giving in and encouraging people to always chase their dreams even if they have to chase them alone. Music about survival, overcoming life's challenges and being true to yourself. Something else that "separates" me from some, is that I don't dress up enough, and am notorious for wearing my trusty ball cap.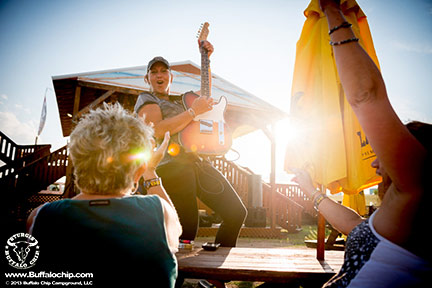 Who are your biggest musical influences?
My parents and my grandmother were big musical influences. My father was born in 1928, so his genre of music was old country, from Charlie Pride to Hank Williams. My mother introduced me everything from to Motown—the Supremes, Commodores—to the sweet blues of BB King, Bonnie Raitt, to the good ol' rock 'n' roll of Lynyrd Skyrynd, Bob Seger, Allman Brothers, Kansas, CCR, Eagles, Doobie Brothers, Fleetwood Mac and more. My grandmother would sing all types of music with me and play piano.
We understand you're working on a new album. When is it due out, and what can fans expect?
In February, we will head back into the studio to finish our third album, "Live Your Truth," which is scheduled to be released during the rally. I'm really excited to share this new chapter of my life, of moving on and chasing dreams, meeting friends, having fun living life, some of the struggles that come along with life, and living your truth by being true to you!
When did you start riding, and what attracted you to the "Iron Horse?"
I've been on a bike since I could ride on the tank; I've ridden my own since I was eight. For my eighth birthday I was given a blue Honda-50, and from that point on, I've been riding. That mini-bike carried me many miles, up and down sand hills, to the deepest part of our woods. Either way, I was in my happy place, being able to just go.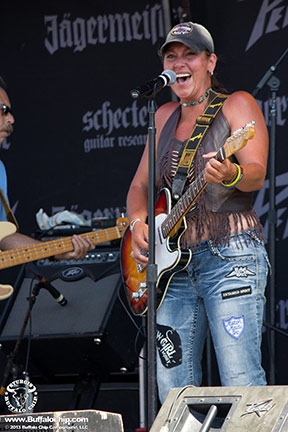 What can you tell us about your bike, Mr. Bones?
For nine years I would go into my local HD and sit on my dream bike, a Harley-Davidson Deluxe. For nine years, the salesman would ask, "Is today the day Missy?" On June 11, 2008, I retired my Honda CBR and decided that from that day forward, I'm living for me and what makes me happy. Excited out of my mind, to have this copper and black anniversary model, with a seat that looked like my horse's saddle, I called and told the dealer to get it ready. I was on my way to pick it up!! I purchased Mr. Bones, and for the next 10 weeks, we shared 15,000 unforgettable miles, with my guitar strapped to the side, and we rolled across this great country together! Through rain, snow, deathly heat, and fog, I've been gracefully carried to every destination safely. When it's just me and my bike, I feel that freedom I felt when I was eight. The older I get, the more I appreciate things that make me feel like a kid again. So, when you ask, "What can you tell us," I'll tell you Mr. Bones is a very important part of my life.
How would you describe the showcase experience at the Chip? How does performing at the Chip compare to other venues?
Wicked cool, and there is no comparison. The showcase experience is an opportunity to "showcase" the music we perform and introduce new music to our fans. I'm able to give a show that will leave a crowd wanting more with motorcycles revving all around. The showcase experience helps to promote on so many levels, and the opportunities that The Sturgis Buffalo Chip offers to musicians is something that I hold dear and search for! Being a showcase artist is also like a huge family reunion, and the thousands of friends/riders that faithfully come back to the Chip every year make the party and experience so very awesome! There is no place I'd rather perform, than in front of fellow bikers who relate to the music about the open road and stories of life, I tell through my music. So come out and see us. 2014 is going to be an EPIC year!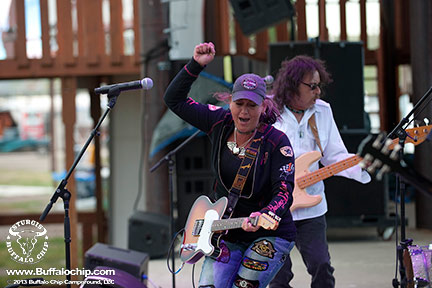 Can you tell us about your most memorable experience at the Chip?
Most memorable would have to be performing at the Biker Belles event/ride with so many amazing women. The women who are making history and been a part of history for many years. I'm humbled and honored to be among them. Also, being on the big stage with the Doobie Brothers in 2010, in front of thousands of people with motorcycles revving is a very cool memory. Biggest character would have to be Captain Jack (who also performs at the Chip), with his silver penny and lighthearted attitude, you can always count on a story and many laughs. A memorable moment was a time when we were on stage (he knows I love to hear the sound of motorcycles rev) and he rode his moped through the crowd to the front of the stage and revved its engine…LOL. He is a character and leaves you with very cool memories.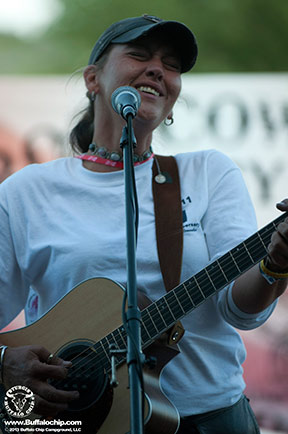 Are there any specific opportunities that have arisen from having been a showcase artist at the Chip?
Magazines, TV interviews, radio interviews, other venues (Sturgis Buffalo Chip has helped with bookings), sharing the stage with many great performers/musicians, and an interview with Discovery America, which will air sometime soon. This will be our fifth year at the Chip, and every year is a new adventure with many opportunities if you look for them.
What is it that makes you want to come back to the Chip year after year?
The people, the staff, the riding, and the feeling of being a part of something so huge is not only really cool, it's an honor. Plus all the concerts, burnouts, contests, vendors and, of course, the journey. This will be our fifth year at the Chip, and every year is a new adventure.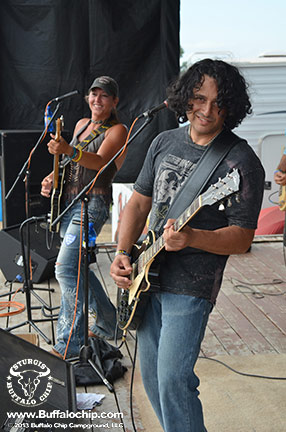 What are you dreams and goals for the future?
My goals are to continue doing what I love to do, which is performing and making a career out of music. Creating an awesome album that will take us to a new level in music, and booking more gigs to help us keep moving forward. I cherish every minute I'm available to perform, and cherish every venue that gives us an opportunity. Doing mostly everything on my own means everything from running a business, keeping a band alive, writing, promoting, booking, traveling expenses, etc., so getting a manager is also a goal. Ultimately, I want to leave an impression on people so they remember the music being encouraging and real. Making an impression on the music industry, and be a legend by being recognized for the music I've written. There is no better feeling than having someone tell me that my music changed their life.
Don't miss your chance to become a part of Missy's story. Reserve your passes now!