June 6, 2016 Update: Road Now Open!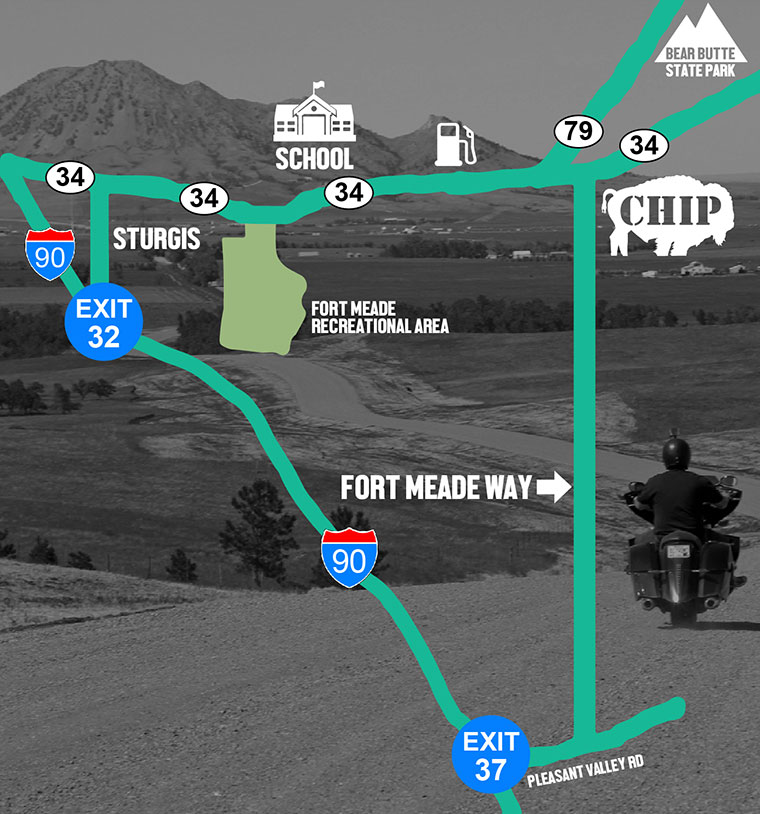 The decades-long effort to complete Fort Meade Way has finally come to fruition as the road officially opened on June 6, 2016. This opening date is nearly two months ahead of the original target date of July 25th. The roadway is a direct 5.6-mile shortcut from I-90 exit 37 to the front gate of the Sturgis Buffalo Chip®.
May 31, 2016 Update: Work Underway on I-90 Exit 37 Bridge!
The county highway department is nearly done with graveling the 2.5-mile road from I-90 Exit 37 to the Buffalo Chip campground.
"We should, if everything goes as planned, open it up by Thursday (June 2)," Meade County Highway Superintendent Lincoln Shuck said. "If we don't get the signs up, we will hold off opening until the first full week in June."
Fort Meade Way is already proving popular — even before its official opening.
Ranchers have already "snuck" through the roadwork.
Meade County Highway Superintendent Lincoln Shuck said, "It's been an ongoing battle."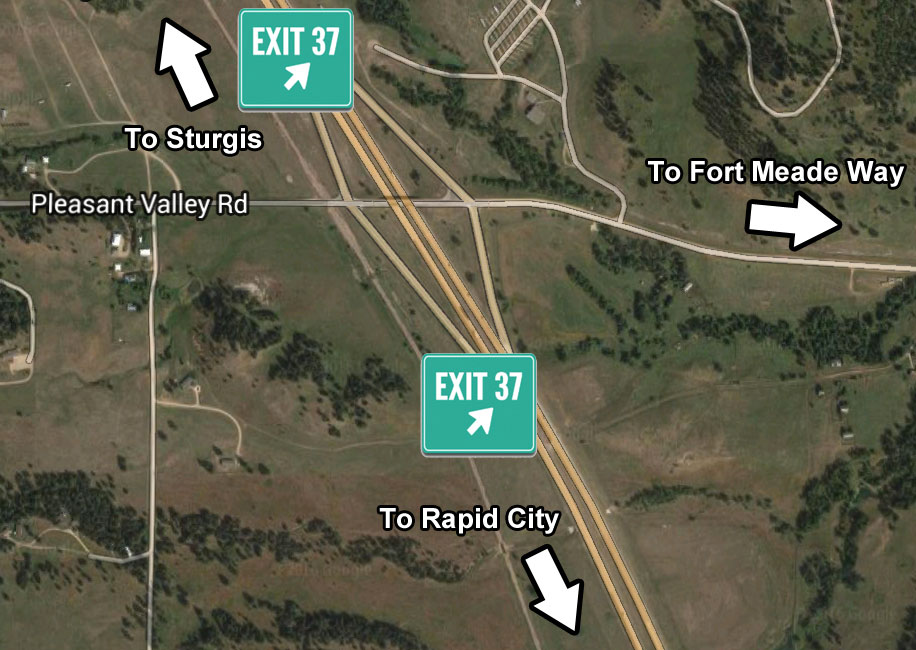 Courtesy of Google Maps
According to an article by SDDOT, the South Dakota Department of Transportation began repair work on the Exit 37 Pleasant Valley Road bridge over Interstate 90 on Tuesday, May 31.
The repairs involve repairing concrete on the bridge and placing a new concrete overlay over the entire bridge deck.
Work on the bridge is expected to be complete by mid-July in time for use during the rally.
April 8, 2016 Update: Surfacing of Fort Meade Way has begun!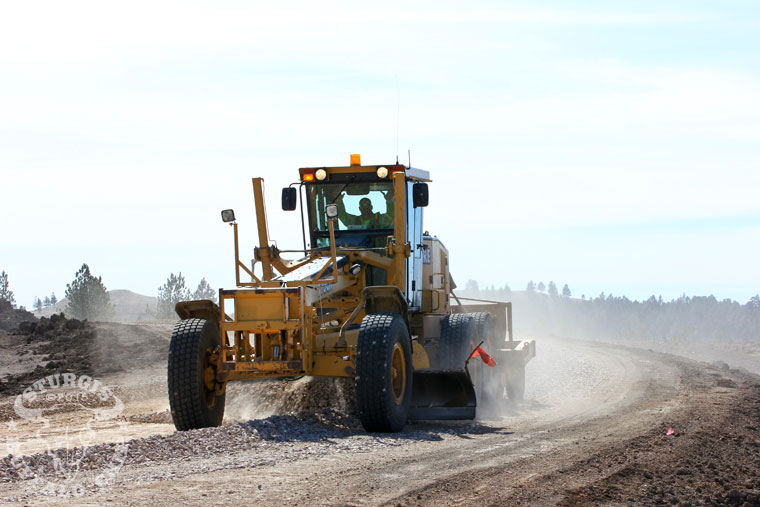 Zandstra construction has begun the process of adding the gravel surface to Fort Meade Way. They will surface the road's previously existing south end first before moving onto the two miles of recently created road. The project remains ahead of schedule as crews have been afforded an unseasonably warm spring.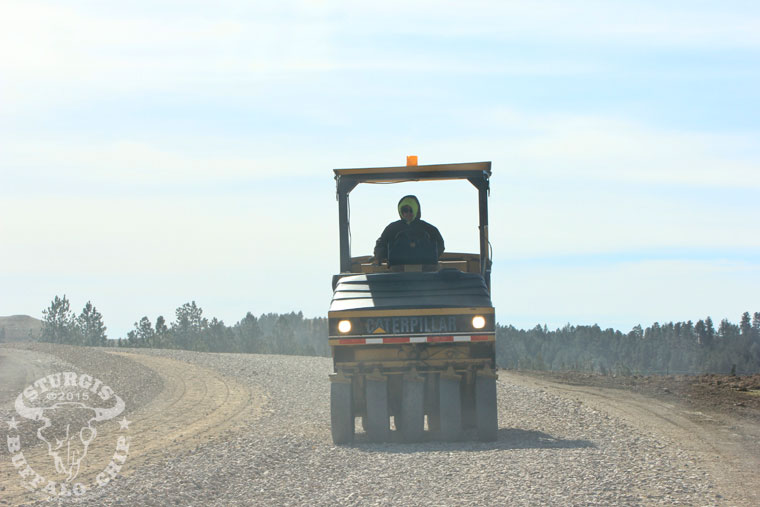 March 18, 2016 Update: Could Fort Meade Way be finished ahead of target date!?
Officials who track the climate say this has been South Dakota's 11th warmest winter in recorded history. This unseasonably warm weather has allowed Zandstra Construction to work on Fort Meade Way unimpeded by weather constraints. If this trend continues, the road could be ready for use ahead of its target July 25, 2016 completion date!
March 3, 2016 Update: Fort Meade Way grows wider and smoother each day!
Progress on the construction of Fort Meade Way continues to move along at a rapid rate. Crews have widened and flattened the route substantially since making the initial cuts in mid February. Once completed, the road will be 66 feet wide (including the right of way).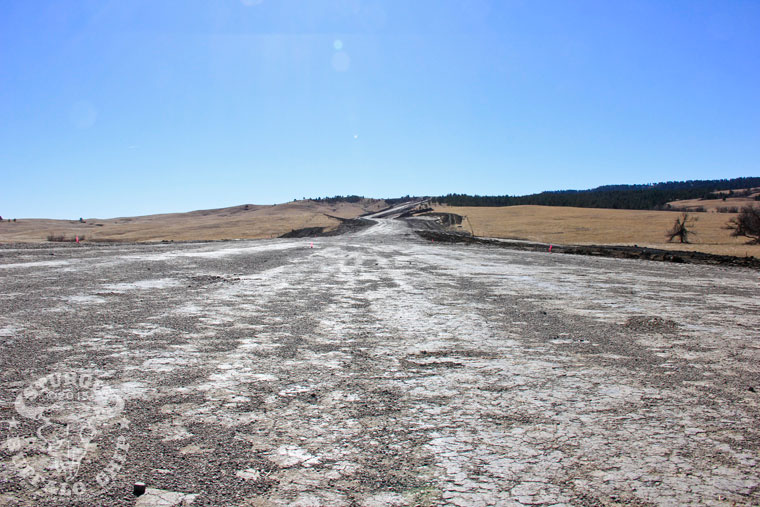 Fort Meade Way will be so wide it barely fits in the frame of this photograph.
We were told the road's surface will be gravel treated with magnesium chloride. This treatment will make the road's surface harder and more compact than untreated gravel. By binding road particles together, this compound will keep dust down, reduce erosion and help prevent the surface from becoming uneven or developing potholes. The easement is 100 feet wide so that eventually the road could become three-lanes of pavement.
The road will also provide a shortcut for RVs, trucks and other four-wheeled vehicles, freeing up existing pavement for bikes.
In other words, riders will be safer visiting Sturgis because there will be fewer large and four wheeled vehicles to be sandwiched between on the paved roads to, from and in town.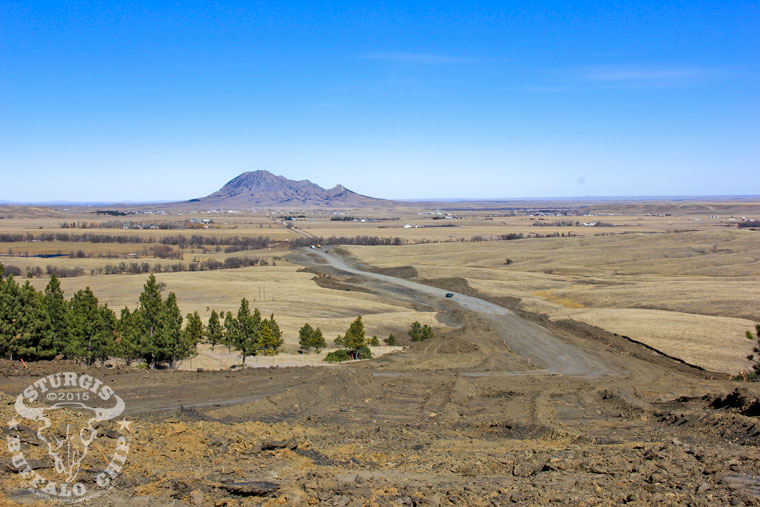 The path from I-90 exit 37 to the Chip continues to improve each day.
As previously reported, the roadway will be a direct 5.6-mile shortcut from I-90 exit 37 to the front gate of the Buffalo Chip. Fort Meade Way's construction remains on schedule to be completed and ready for use by its target date of July 25, 2016.
Feb. 12, 2016 Update: Exit 37 Now Leads to The Chip®!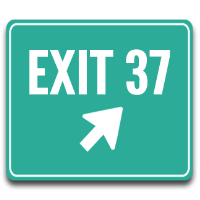 In a historic moment for which many have waited years or even decades, Zandstra Construction has made a 1.5-mile first cut of the new road that connects the northern and southern dead ends of Fort Meade Way. Once completed this road will give new meaning to the phrase "take the scenic route," as it will offer visitors a breathtaking eight-minute ride between the Buffalo Chip and I-90!
The freshly carved roadway has laid the foundation for a direct 5.6-mile shortcut from I-90 exit 37 to the front gate of the Buffalo Chip®.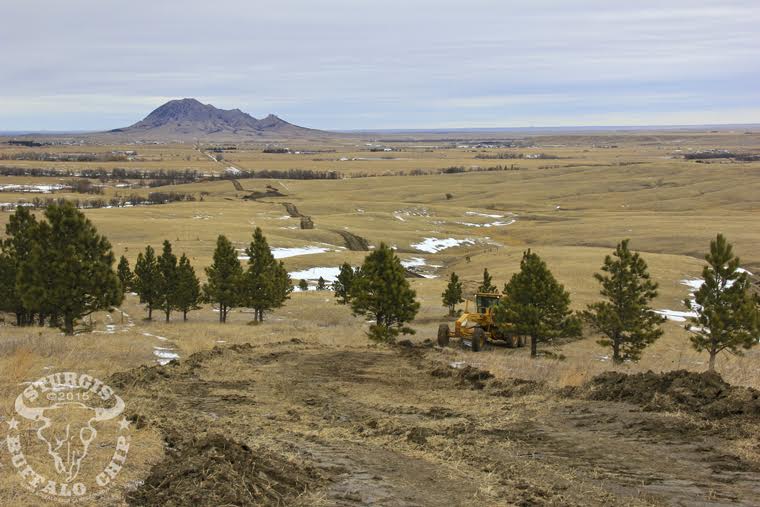 The Fort Meade Way path travels through a scenic expanse of prairie and pine.
New Road Section Has No Stop Signs or Intersections.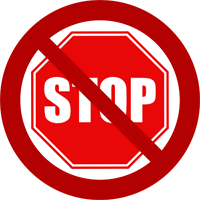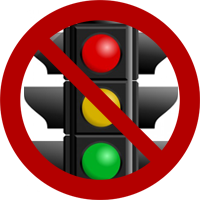 Visitors should enjoy the fact they can hang a left out of the Buffalo Chip gates and be on I-90 in a matter of minutes!
The project remains on schedule to be completed and ready for use by its target date of July 25, 2016.
Jan. 7, 2016 Update: Heavy machinery shows up onsite.
Heavy machinery shows up onsite. Zandstra Construction spokesperson Scott Zandstra stated that the company has already surveyed for new culverts and is currently replacing old fence with a temporary fence in preparation for roadway construction to begin. After Zandstra Construction digs the necessary holes to build the temporary fence, the project will begin moving forward Feb. 1.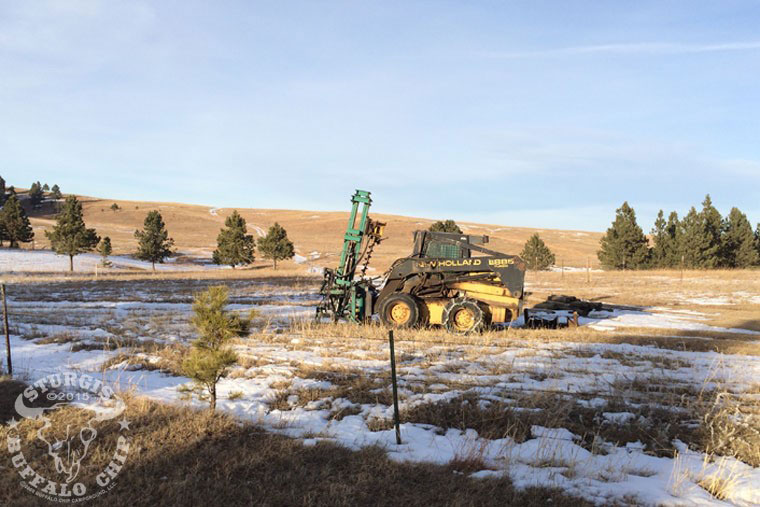 This posthole digger is the first piece of equipment on site.
November 24, 2015:
An ending is finally in sight for the decades-long effort to complete Fort Meade Way, a road that would connect I-90 to the east side of Sturgis, SD at exit 37. A decision issued on Monday, November 23 from South Dakota Fourth Circuit Court denied an attempt by opponents to keep the construction of this critically necessary road from happening. Following the decision, Meade County commissioners accepted a bid Tuesday, November 24 to begin construction on the road.
In the last ditch effort intended to derail the road project, opponents attempted to force the Meade County Commission to pass an ordinance that Judge Eckrich stated would allow "the use of a person's property to be held hostage by the will and whims of neighboring landowners without adherence or application of any standards or guidelines [which] is repugnant to the due process clause of the Fourteenth Amendment."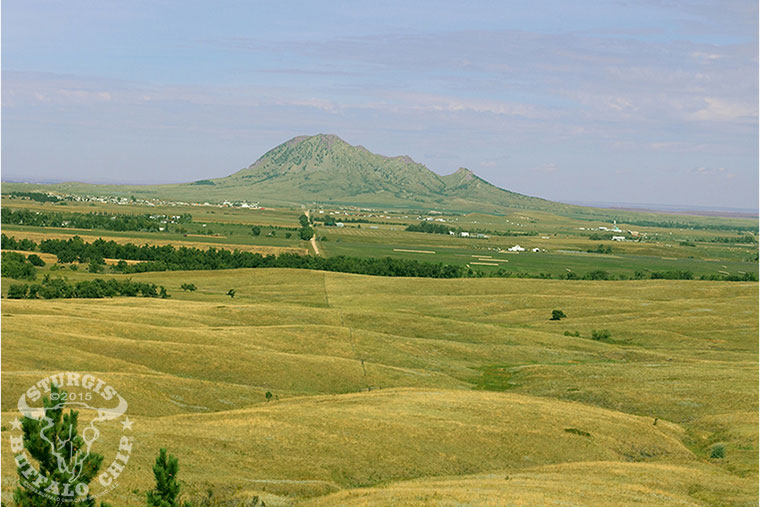 The bid Meade County Commissioners accepted for the road project came from Zandstra Construction. The company's bid came in at $1.28 million, which is less than half the cost of the $2.6 million estimated for the project. Meade County had $1.6 million budgeted for the road's completion and anticipated being $1 million short. A citizens group had planned to raise the million-dollar shortfall, but now their efforts will no longer be necessary, making this bid a huge win for Meade County. So what does all this mean? Come this August, the unbearable traffic jams you've been forced to sit through that have plagued the rally for years may soon see relief from the alternate access.
The court's decision is a breath of fresh air for the countless bikers, area residents, Fort Meade employees and serviced veterans, Sturgis Brown High School staff and students, truck drivers, ranchers, tourists, emergency vehicle drivers and others who've been lobbying for this road for decades.
How will the road benefit you?
By providing an alternate route from I-90, the scenic 5.6-mile road will alleviate traffic bottlenecks, provide a shorter route to emergency care facilities and make city roads safer by routing large trucks and tractors down a country byway. Construction of the roadway is likely to begin in late November, and completion is expected in summer 2016. It may be usable by July 25.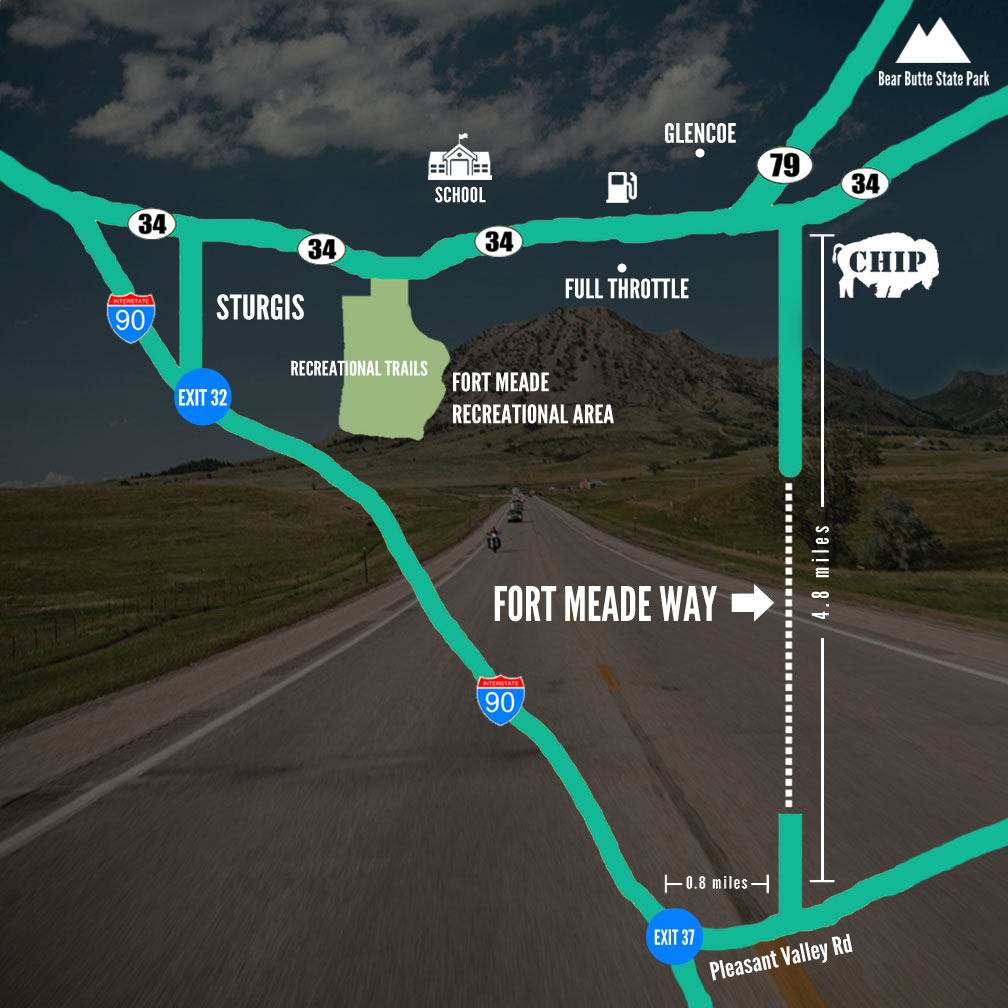 Say "Amen!" in the comments below!