Summing up the Sturgis Buffalo Chip experience is no easy feat. From the moment you first ride onsite until you're packing up to head home, you're immersed in a whirlwind of stimuli. Nine days of killer concerts, action-packed racing and stunts, eye-popping custom bike shows, plus all the people watching, eye candy and outrageous party shenanigans provide a near sensory overload that's difficult to distill into a digestible explanation for all your friends. Thankfully, you don't need to be a master storyteller to convey your experience; you can just show them this video!
What was your favorite part of your trip to the Chip during the 2019 Sturgis rally? Tell us what it was in the comments below.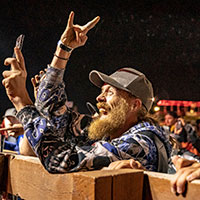 Presented by the Sturgis Buffalo Chip
Known as The Best Party Anywhere®, the Sturgis Buffalo Chip believes festivals should be fun like a high five, reenergize you like a broken rule, and romance you like someone you just met and have to take home.
This nine-day festival of concerts and motorcycle events promises to bring you exciting events like flat track races and live performances from artists like Aerosmith, Willie Nelson, Five Finger Death Punch, Kid Rock, Rob Zombie and many more.
Find out more or get passes to the Best Party Anywhere at www.buffalochip.com and find out why it continues to be one of the most televised festivals in the world.