It's been a long, cold winter for much of America, and nobody is affected more by the brutal snow and temps than motorcyclists. Luckily there's a great way to wipe away those winter blues and get excited about riding again. The Donnie Smith Bike and Car Show is a massive collection of some of the coolest custom builds, antique restos, eye-popping paint jobs and off-the-wall fabrications you'll find in one place. It also hosts a huge parts extravaganza for anyone wanting to customize their ride or find a replacement takeoff. After two days cruising the floor talking bikes with the Twin Cities crowd, here's some of our highlights.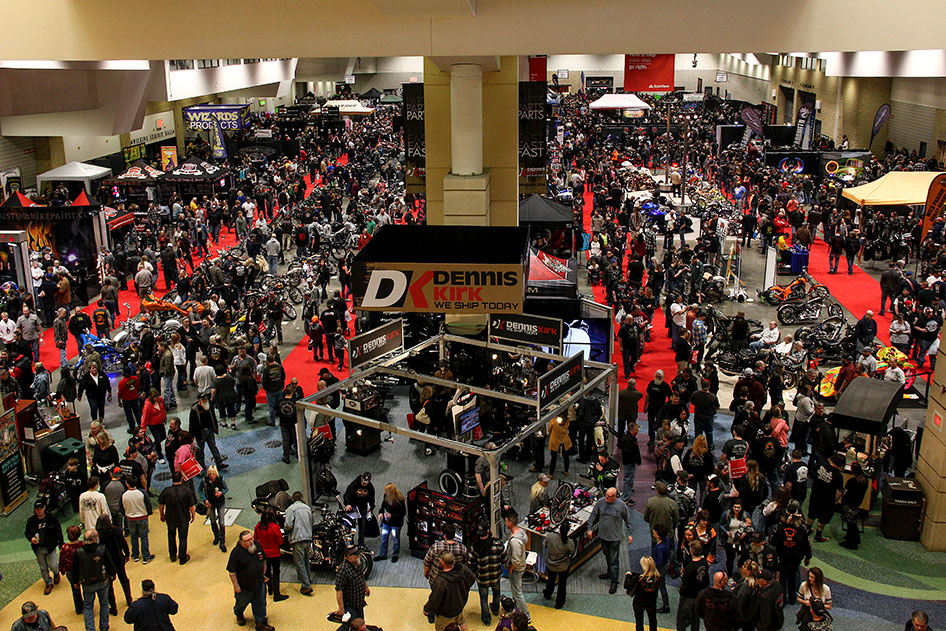 It was another huge year for the show as thousands of people milled the floor, checking out the hundreds of motorcycles and cars on display. Vendors lined the hall and offered everything from apparel to fully custom accessory options. No matter where you looked you were surrounded by motorcycle stuff.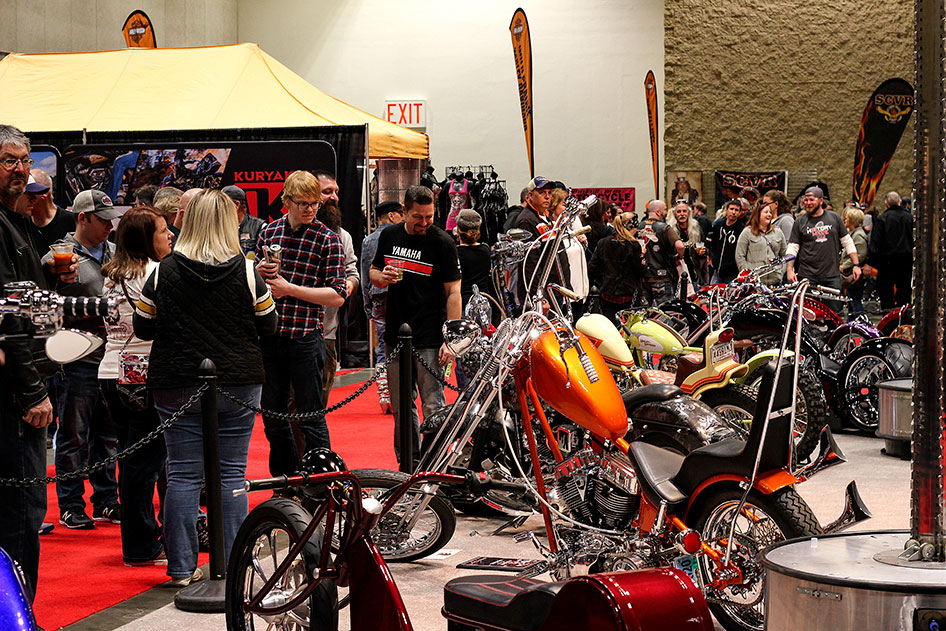 The Pro Class carpet was the centerpiece of the show with some of the most radical custom builds we've seen since last year's Sturgis Rally. Motorcycles of all types were represented with an emphasis on one-off details that set each one apart.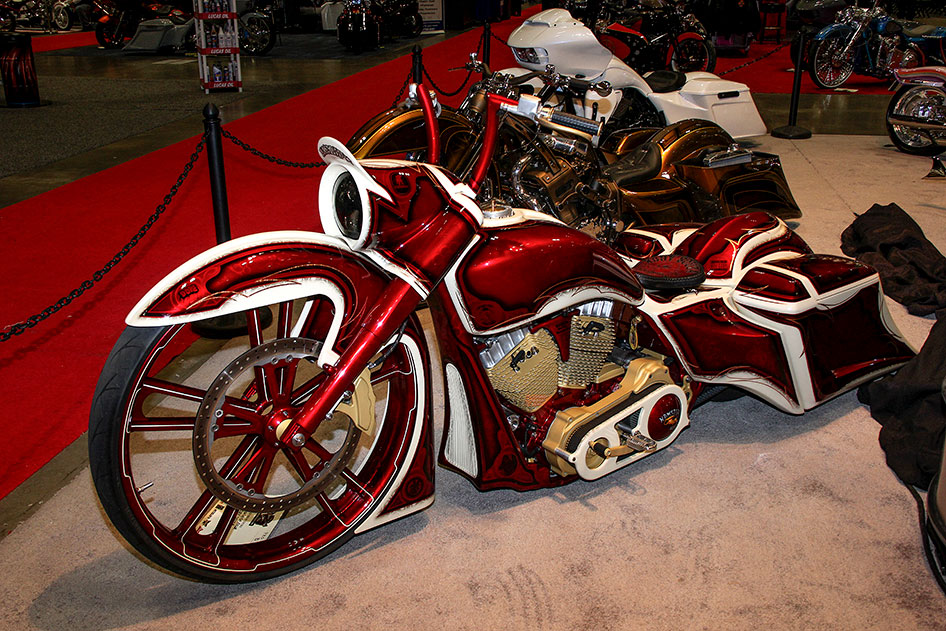 One of our favorites was a lay frame Road King 32″ bagger by Kory Souza. This full custom build had some radical details that included custom cut fins on the jugs, an exposed primary, custom leather seat and a paint job filled with pop culture references. Every time we looked at this bike we found something new.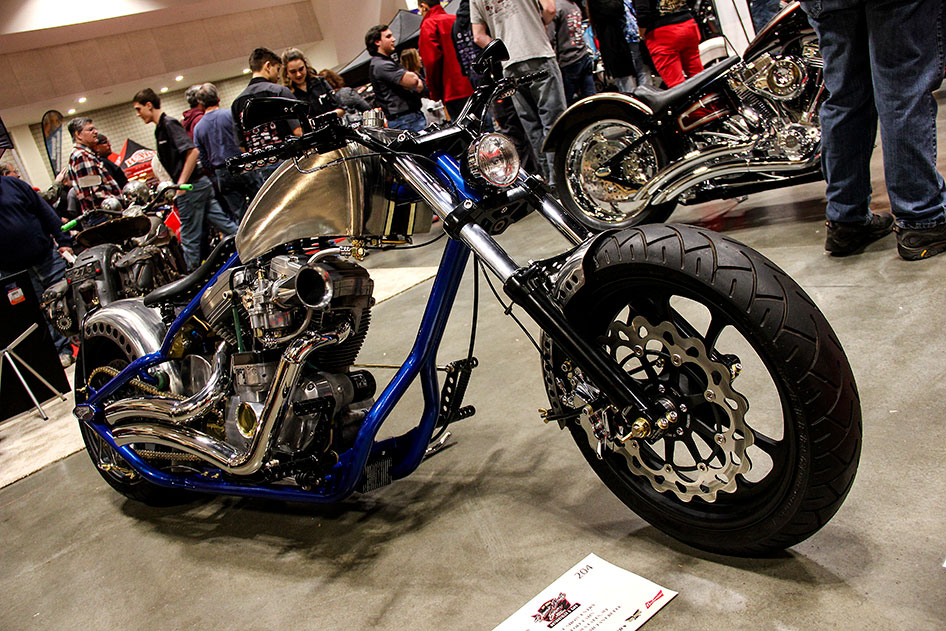 There was plenty of good stuff to see off the pro carpet as well. This mean-looking build, aptly named "Mutant Buell," was a real eye catcher with its deep blue frame and bare metal custom tins. The builder used speed holes throughout and brass wing nuts that really tied the whole bike together.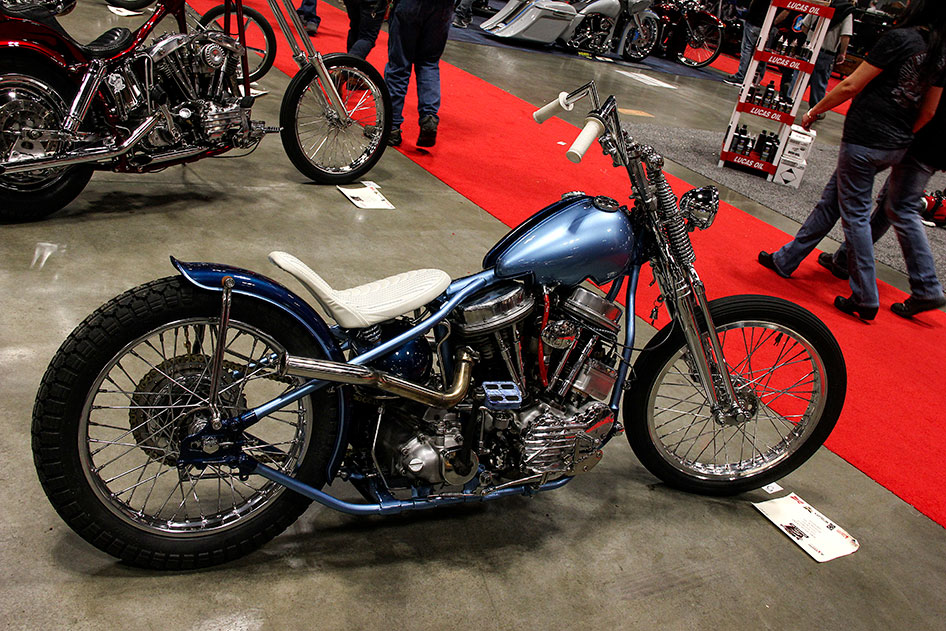 The show gives a little bit of something for everyone, and the chopper section was enough to satisfy even the purest of custom culture lovers. This panhead was a clean example with a springer front end and custom gas tank cutouts that brought the tank closer in to the engine for a low, sleek look.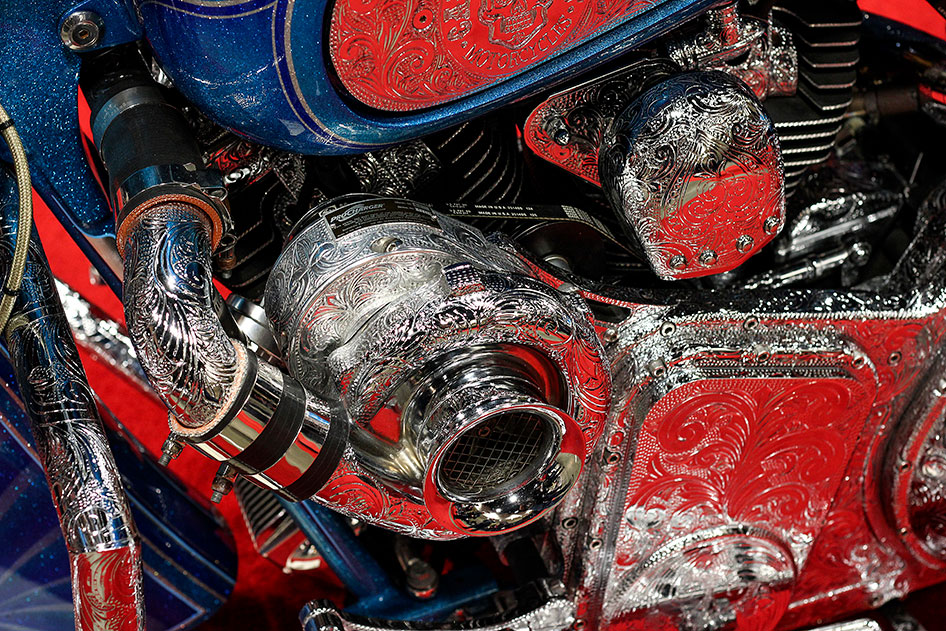 Sometimes the real beauty is in the details. This Road King from DD Customs was a real eye catcher. Absolutely every square inch of metal was engraved on this turbo fitted bagger. Ape hangers, fishtails and a stunning paint job rounded out a bike that was sporting more bling than Lil Jon.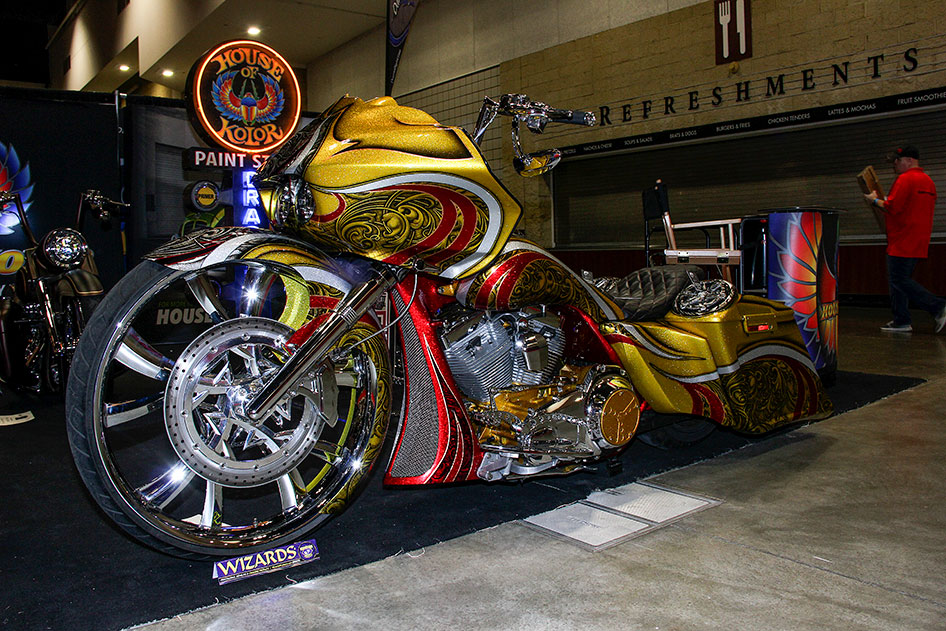 Speaking of bling, House of Kolor brought a few gems that really made you stop and take a closer look. Everyone knows Jon Kazmoski's paint pops, but it really is something else to see it in action on a masterfully painted bike like this Road Glide showcased at their booth.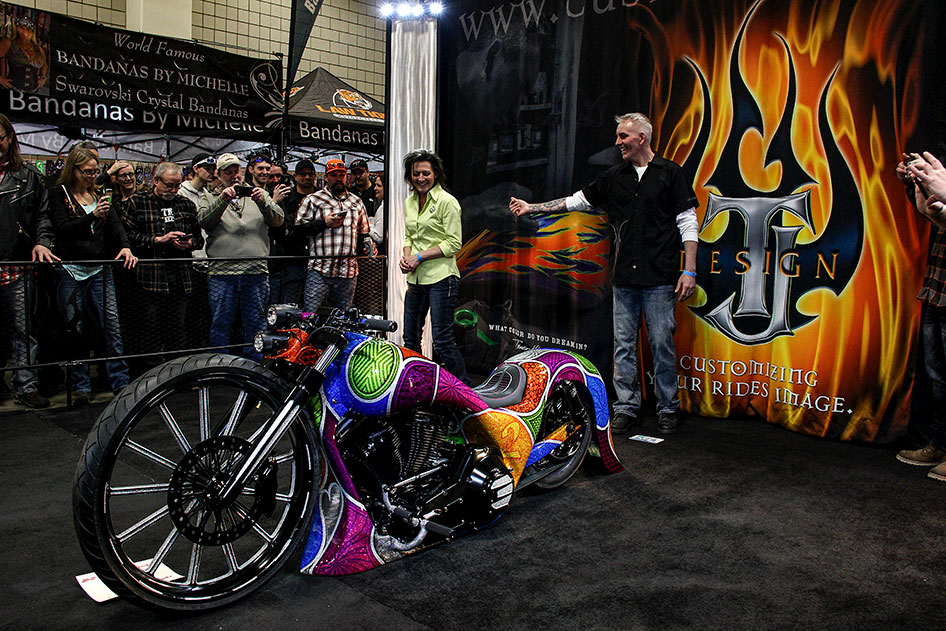 When people of the Twin Cities think of radical paint jobs, they think of local favorite TJ Design. Shop owner TJ unveiled a very special project at the show dedicated to his wife, Lizzy. This full custom lay frame Harley was special painted with specific themes dedicated to her and in honor of a miraculous recovery from an otherwise terminal illness.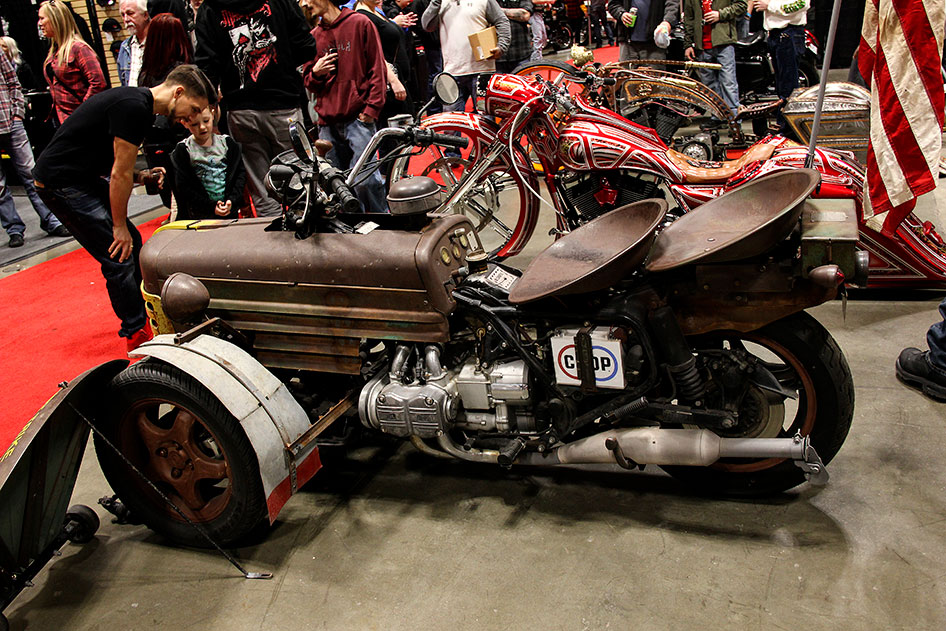 Not everything that was in the show was built to be pretty and shiny though. This Honda Goldwing sported a Mazda Miata front end and some "rustic" tractor body parts that really set it apart from anything else in the show.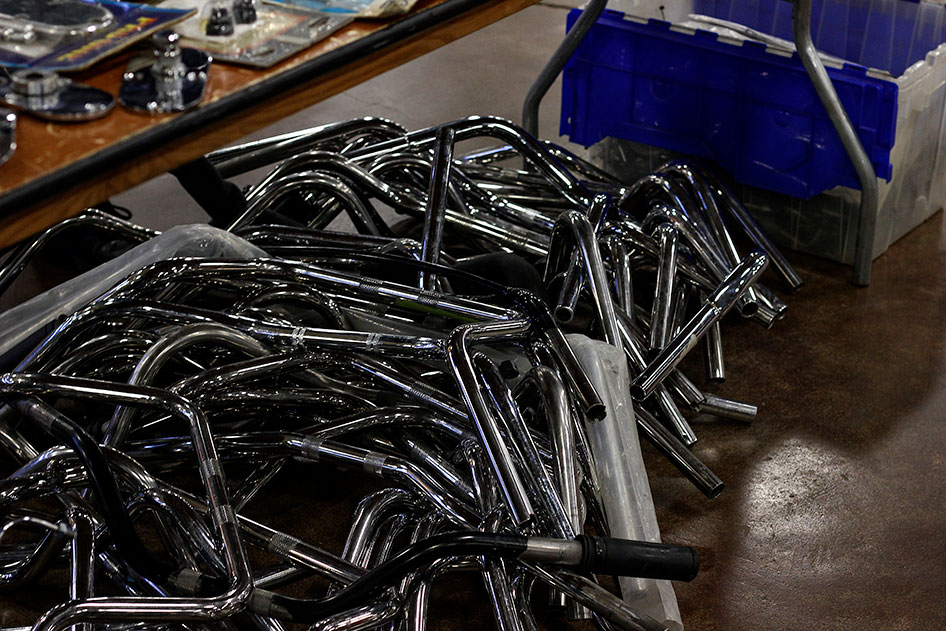 Before heading upstairs to the Car Show, you absolutely have to cruise the Parts Extravaganza. You might end up digging through a pile of stuff, but it's totally worth it when you finally find the set of handlebars and risers that give your ride that look you've been after.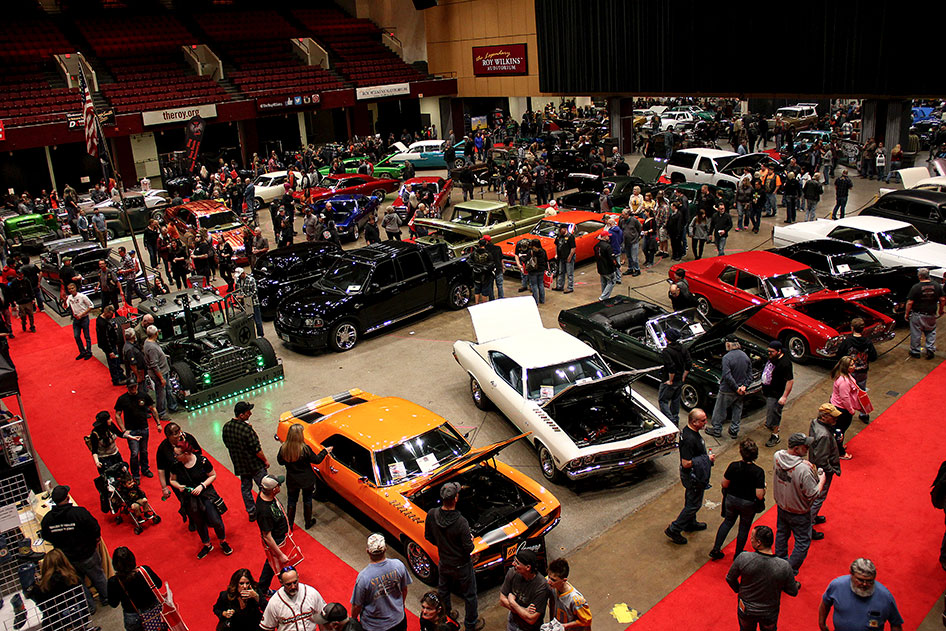 The Donnie Smith Car Show is always a mixed bag of vehicles. Muscle cars and lowriders mix with hot rods and antiques. Make sure to set aside enough time to really browse the cars and peer under some hoods at this show. There's always some exciting surprises to be found.
This hot rod called "Creature" was inspired by the famous horror flick, and it was scary how cool it was. It had fur on the interior ceiling and a dual wheel rear axle with a flat bed. Those pipes straight off the engine were deafening without the owner having to even fire it up.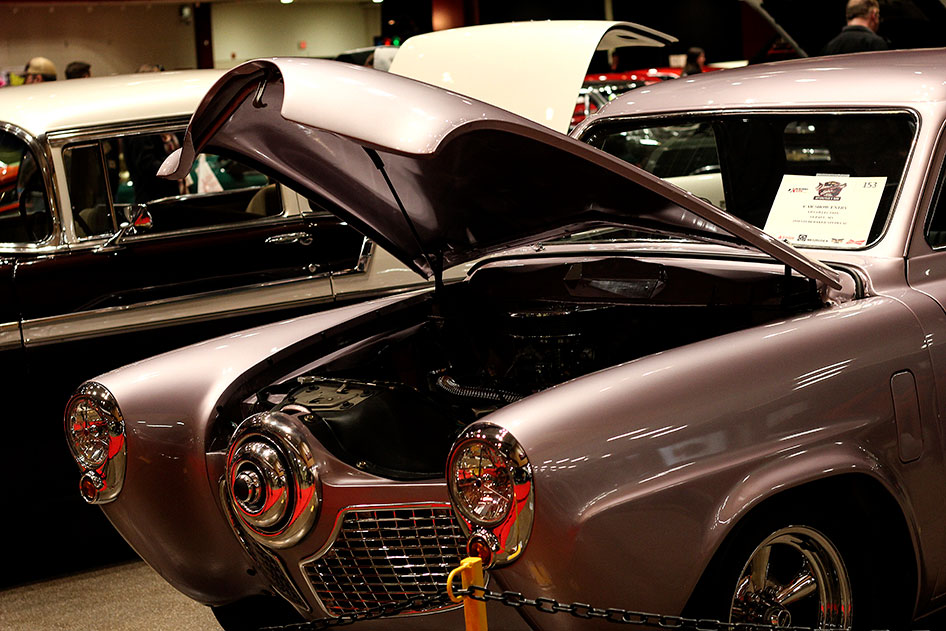 This Studebaker was painted with the most pleasant hue of purple, and the car was elevated to another level with polished chrome everything. We kept walking past her like a teenager trying to lock eyes with his crush. And when she finally looked back, we were in love.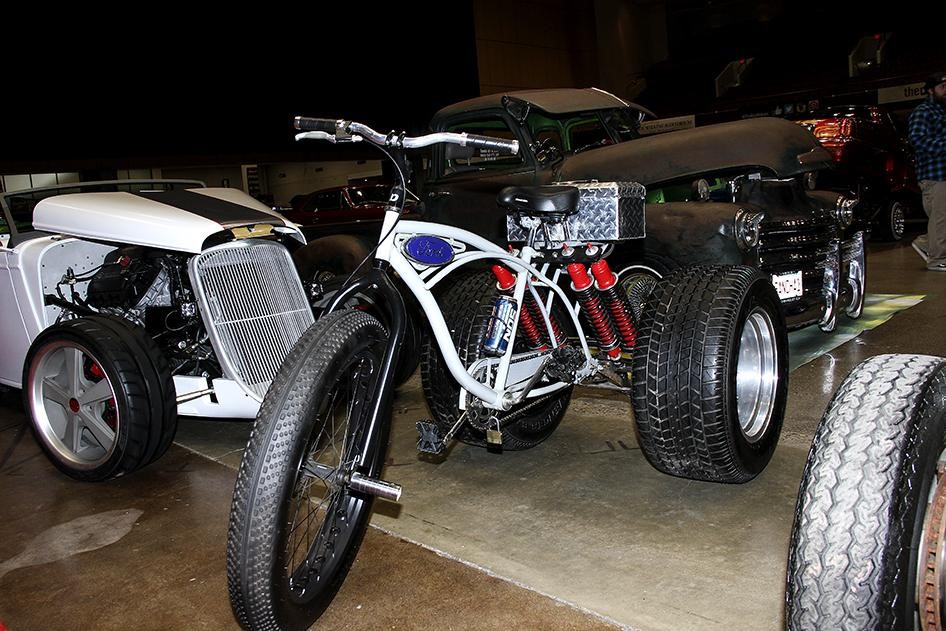 True to our word, we found this surprise hidden among the hot rods. The juxtaposition between the heavy duty rear axle and the bmx front end only really made sense when you discovered the details that revealed the builder's sense of humor. The Ford "tank emblem", liquid NOS in the bottle holder and diamond plated "trunk" made us think this guy would really fit in at the Chip.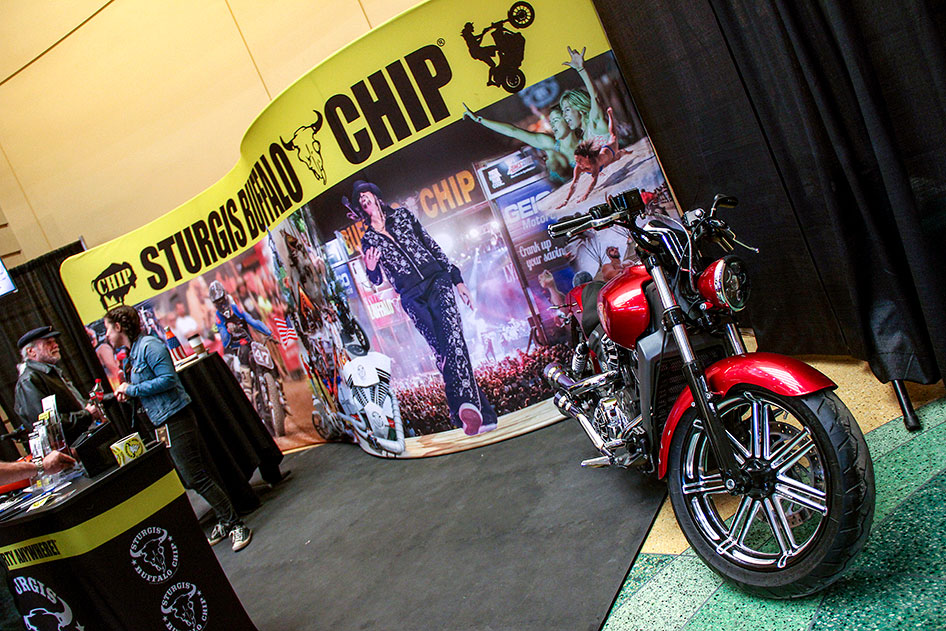 Of course the Buffalo Chip wasn't going to show up without something to show off. Visitors to the booth could sign up to win one of two motorcycles customized by J&P Cycles for the Moto Stampede® Bike Giveaway. This Indian Scout muscle bike was a real popular choice amongst the hopeful entrants.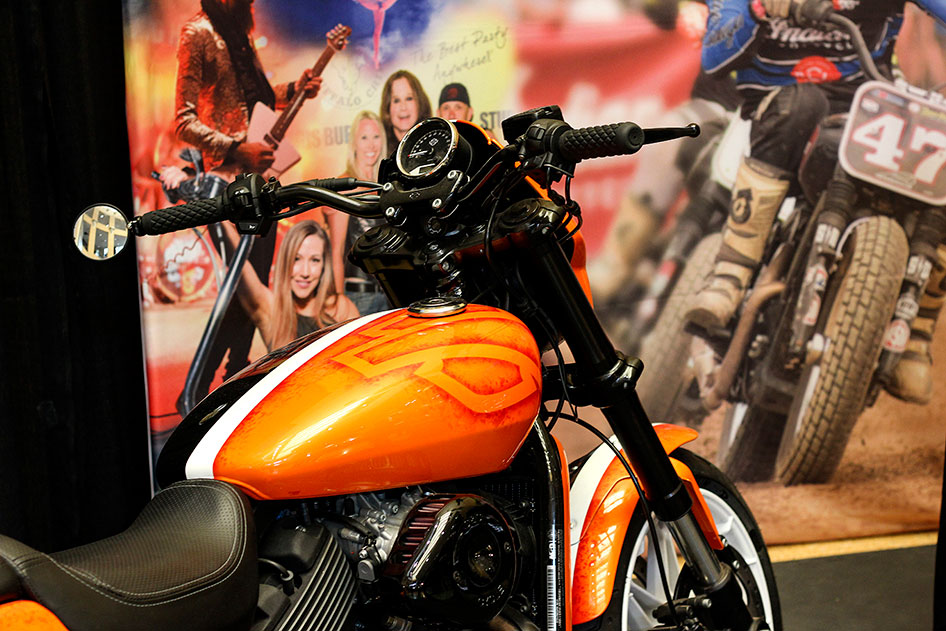 Of course the other choice for the Moto Stampede Bike Giveaway, this performance oriented Street Rod, was a favorite among potential Black Hills visitors who were ready to throw a leg over and take a rip up a canyon.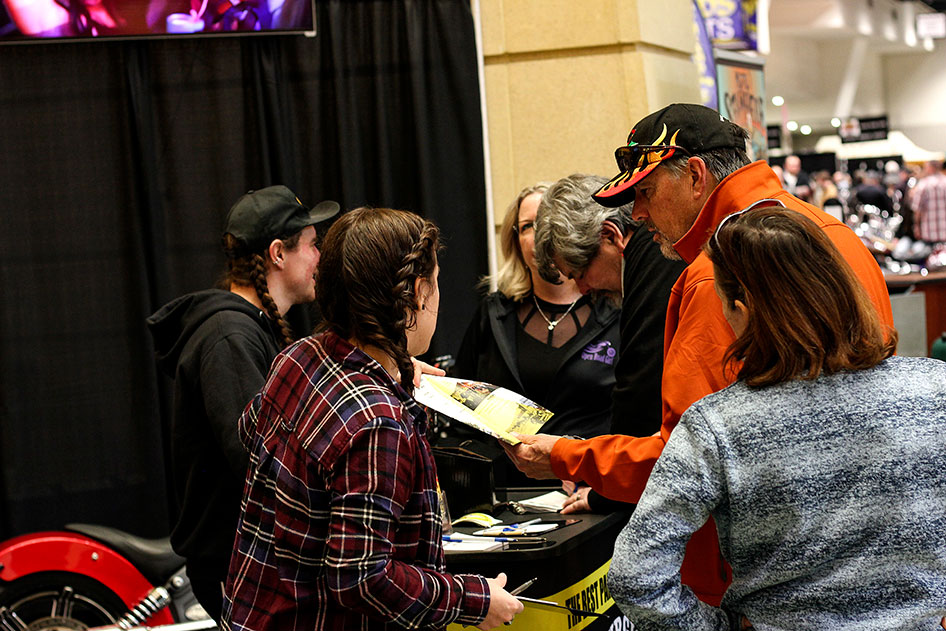 Lots of our Twin Cities moto-friends were talking about a trip to Sturgis this year, and the Chip staff had a great time reminiscing about past concerts and parties. People were excited to hear about Keith Urban, Godsmack, Toby Keith and the rest of the lineup for this year's festival.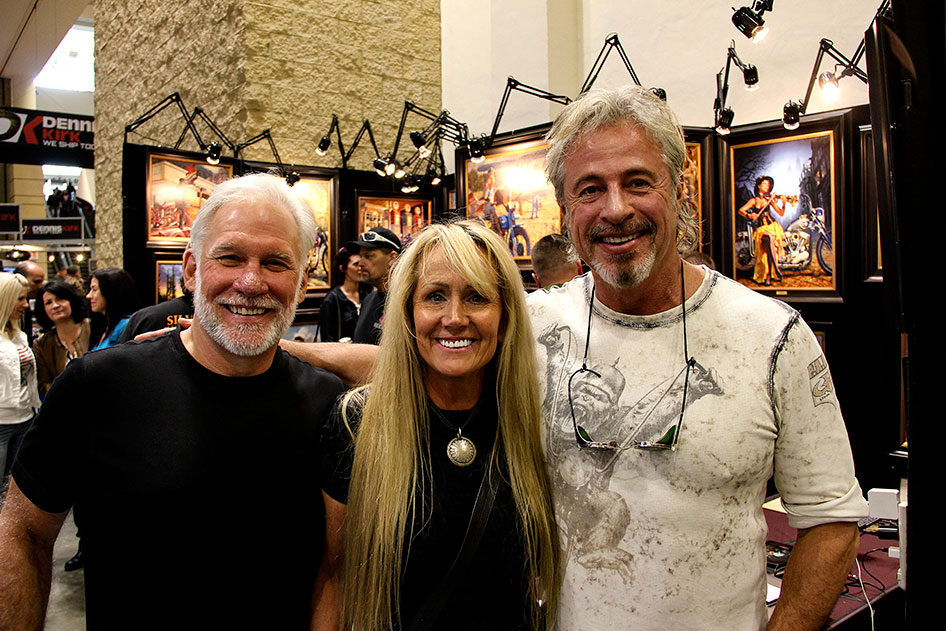 We even ran into a few friends. Popular artist David Uhl was at the show, presenting some of his amazing motorcycle-inspired paintings. David is a longtime contributor to the Buffalo Chip's Legends Ride®, and you'll be sure to seem him and some of his work at this year's event.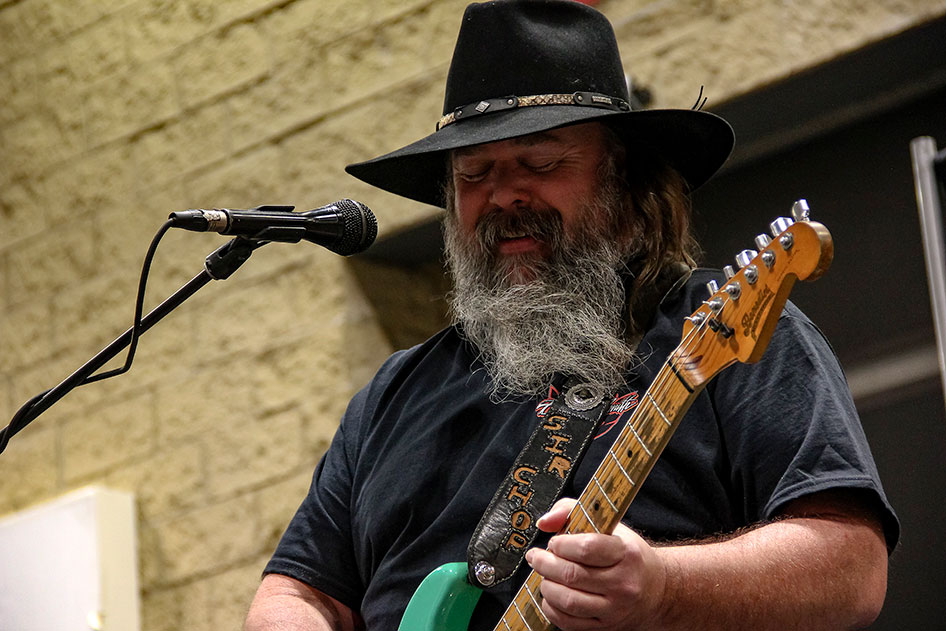 Of course, we couldn't give you a full recap without mentioning the great time we had listening to Porkchop jam the blues during the Budweiser Happy Hour. We made some new friends, had beers with some old ones, checked out some beautiful bikes and even scored some sweet handlebars. Without a doubt, this year's show was one for the record books.
Did you attend the Donnie Smith Show? Tell us what your favorite bikes and cars were in the comments below.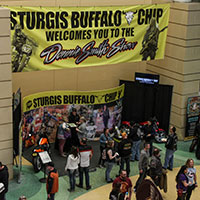 Presented by The Sturgis Buffalo Chip
Known as The Best Party Anywhere®, the Legendary Buffalo Chip believes festivals should be fun like a high five, reenergize you like a broken rule, and romance you like someone you just met and want to kiss.
This nine-day festival of concerts and motorcycle events promises to bring you exciting live performances from artists like Aerosmith, Willie Nelson, Five Finger Death Punch, Kid Rock, Rob Zombie, "Weird Al" Yankovic, Toby Keith, Lynyrd Skynyrd, Mötley Crüe, Miranda Lambert, 3 Doors Down, ZZ Top, Sublime with Rome, Slash, and many more.
The Best Party Anywhere remains one of the most televised festivals in the world and has been featured on the Travel Channel, the Discovery Channel, CMT Bike Week, HISTORY, TLC, National Geographic and more.
Learn more at www.buffalochip.com.