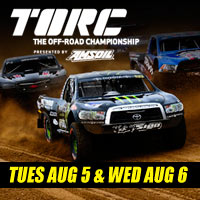 Off-Road racers live dangerous and thrilling lives. And it won't be long before you'll be able to witness first hand the insanity of their 900-horsepower race trucks tearing around the track and flying through the air at speeds over 100 mph at the Buffalo Chip's new PowerSports Complex! TORC Off-Road Racing crews have arrived at the Buffalo Chip to break ground on this heart-stopping attraction's most unique track. Since countless excited fans have had questions about the Chip's inaugural TORC race, six TORC drivers competing in the Battle at the Chip agreed to give you an inside glimpse of what you can expect. Keep reading to find out about some of the crazy shiznit these drivers have to divulge about their most intense moments on and off the track!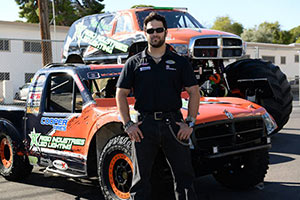 Driver: Joe Sylvester
Hometown: Youngstown, OH
Division: Pro Light
Team JSM – Team Owner for Bobby Runyan Jr. and Bryan Osborn
See Joe's Full Driver Profile
What was one of the most intense moments of your career?
When we were at Primm, a driver crashed into the back of my truck at a corner while trying to pass me. My truck got flipped over on top of the concrete barrier, but one of my back tires was still touching the ground. Coming from monster trucks, rolling over and crashing is just a part of it, so you don't freak out when it happens. You just try to do all sorts of crazy shit in the truck to try to save it. So I put it in reverse and put it to the floor. The tire grabbed, threw the truck off the wall and put it back on all fours. I took back off, caught up to the person who hit me and then passed him. That's off-road racing. It is absolutely crazy—like a street fight out there on the track!
Do you own a motorcycle?
I've been on motorcycles since before I ever had my driver's license. I don't have my own bike, but my good friend in town owns DZ Kustoms, and he's letting me come out to Sturgis with one of his custom baggers. I'll be riding it in the Legends Ride, which is going to be really awesome. It's a custom Road Glide that's all blacked out, and all the components and the motor are powder coated flat red. It's got air ride front and rear, so it's all stretched out and low. It's got custom pin striping, custom black ape hangers and a giant 26-inch front wheel. It's a sick bike!
What about the Buffalo Chip are you looking forward to most?
My racing has pretty much consumed my life for the past 10 years, so I've never had the chance to be able to come out to the Chip. I've always had a thing for anything that was built with your own two hands. So it's pretty cool that I'm going to be able to come to the Buffalo Chip and check out so many custom bikes!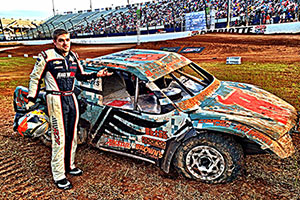 Driver: Bobby Runyan Jr.
Hometown: Denair, CA
Division: Pro Light
Truck Type: Wide Body Nissan
See Bobby's Full Driver Profile
What is one tip you might give to a TORC driver lining up for the very first Off-Road race?
The throttle is your friend. If you're going to do anything, stand on the gas.
What was one of the most intense moments of your career?
During a NASCAR race in Sonoma, I dislocated a rib going around the corner in turn four. Ribs are kind of like fingers with sockets—once the rib pops out and pops back in and the cartilage is torn, it will keep moving. So after racing a two-hour race in 100-degree weather and 90 percent humidity, I almost passed out because I couldn't breathe as hard. It was the hardest race I've ever done in my entire life. The funny thing was that I got out of my car after two hours, drenched in sweat, not being able to breathe, and this woman fan came up to me yelling my name, and I almost keeled over. She asked if I was okay, and I told her I was dizzy and asked for some water, and she gave me her beer.
What do you ride around in when you're not racing?
I achieved one of my lifetime goals and bought a Hummer H2. My dad bought one when I was 12, and I fell in love it with it as soon as I saw it. I got one about three or four months ago, and it's been my absolute pride and joy ever since.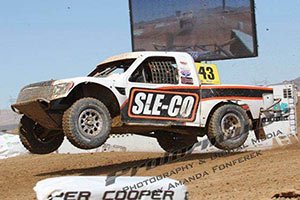 Driver: Travis Dinsmore
Hometown: Paris, Ontario, Canada
Division: Pro Light
Truck Type: Ford Raptor Body
See Travis's Full Driver Profile
What was one of the most intense moments of your career?
I had a really bad wreck where I actually ran into the berm of a wall backwards, and it ripped the back of my helmet off, and then it ripped the motor and transmission out of the truck. I was seeing stars there for a little bit.
What is one tip you might give to a TORC driver lining up for the very first Off-Road race?
You have to finish a race before you can win the race. Going out in the first corner and then wrecking will never win you any races!
Do you own a motorcycle?
I've owned a Suzuki RMX 250 few years now, and I try to get out as much as I can. I love motorcycle riding too, but I don't personally own one because they aren't very affordable in Ontario. If I could have a motorcycle, I think I'd have GSXR, because I'm a crotch rocket guy. We all like to go fast, right?!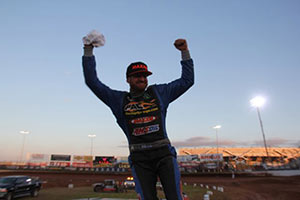 Driver: Shawn Morris
Hometown: Loveland, CO
Division: Pro Light
Truck Type: Ford Motor/Chevy Colorado Body
See Shawn's Full Driver Profile
What was one of the most intense moments of your career?
I won the championship in the Super Buggy, and the points were really close. It was the last race of the season. I knew I had to just finish the race, and the guy behind me had to win. Everyone was on the podium, and I blew my motor up and just putted around the last two laps, not knowing if it was enough to get me the championship. I was pulling my hair out inside that racecar. We got on the podium and they brought four guys out there to try to calculate the points, and finally they made the call that I had won the championship. The crowd just went nuts, and I went crazy and climbed the fence to reach over to the crew guys and fans!
What do you ride around in when you're not racing?
We have a 2000 Toyota Tacoma, a little 2-wheel drive stick shift with cassette radio. It's just a way to get from point A to point B.
Do you own a motorcycle?
I dabbled in dirt bikes when I was a child, but a broken arm shut that down. Then I had a KTM dirt bike I would go trail riding on and take to the sand dunes. But it became more apparent I didn't have time for those fun trips anymore, as I got deeper into racing, so I got rid of the bike about two years ago. My grandfather's old Triumph bike is sitting in our garage. It needs some work, but I'd love to get it up and running someday!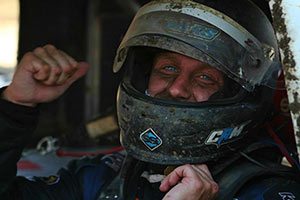 Driver: Cam Reimers
Hometown: Ogden, IA
Division: Pro Light
Truck Type:
See Cam's Full Driver Profile
What was one of the most intense moments of your career?
We were really fast at Red Bud last year. We started on the front row, and basically ran within the top three the entire race. To get a podium spot my rookie season was kind of a big deal. Coming down on the last lap, the engine started spitting and sputtering, and the ignition box went out. My heart kind of dropped during the race, but I was barely able to keep it in third for the last few turns. I had a lot of pride to be up front, battling with a lot of the fast guys who I'd been studying off and learning from.
What is one tip you might give to a TORC driver lining up for the very first Off-Road race?
You can't be afraid. There's so much contact out there between trucks. If you're not one of the guys dishing a little bit of the contact out, you usually end up on the other side of it, having someone else ruin your race. You have to be ready for the contact, not let it get you too flustered and just race though it. You want to try to stay fairly clean and stay out of trouble before the Mandatory Caution Lap, but then after that, turn up the aggression a little bit. It's a balancing act between patience and aggressiveness.
Do you own a motorcycle?
I don't ride any road bikes, just dirt bikes. Right now we're kind of in the Pit Bike craze. They're the little dirt bikes that are meant for kids, but there's been an explosion of adults riding them. We have a complete mini track built out at our race shop and have a lot of people around us that have these 110s. You could compare it to going to an indoor carting facility. You have a lot of fun, but you don't have the dangers of actually putting your leg over a full sized dirt bike. You could make break an arm or an angle, but they're relatively safe because they're slow enough.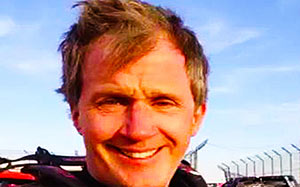 Driver: Mark Kvamme
Hometown: Columbus, OH
Division: Pro 4
Truck Type: Ford
See Mark's Full Driver Profile
How did you get into this career?
I've been a dirt motorcycle guy for a long time in motocross and super cross. I raced as a vet, and then I actually owned the KTM Factory Team—one of the largest teams on the circuit. I had a big dirt bike accident, and I decided I still wanted to race and have fun. But that old expression goes, "With age comes a cage." So I started off-road truck racing, and I haven't looked back since. This is my third season doing the Pro 4 Class.
Do you have a motorcycle?
I love motorcycles and used to own five motorcycle dealerships. I have Harley Ultra Glide Screaming Eagle that I'm looking forward to riding in your Legends Ride.
What about the Buffalo Chip are you looking forward to most?
For probably 20 years, I've wanted to experience Sturgis. I can't wait to see the diversity of the crowd, and I hear the people-watching is phenomenal!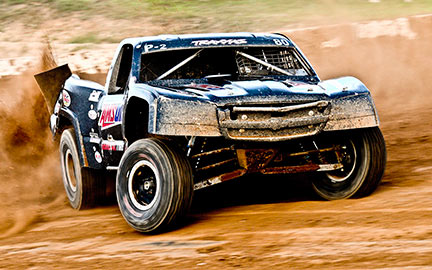 Don't miss your chance to get it on the Chip's newest, most thrilling and most talked about attraction. Reserve your passes today!
Have you witnessed some intense off-road racing moments before? Have you claimed your TORC tickets already? Tell us about what you saw or what you hope to see at the upcoming Buffalo Chip races in the comments below!