For bikers everywhere, making a trip to the Sturgis Motorcycle Rally crosses something big off the bucket list. But when you say you're going to Sturgis, there's no way you're just going to Sturgis. That's because the surrounding area is cram packed with attractions and rides that would be worthy of a trip on their own. If you're making the journey to "Sturgis" this August, be sure a few of these iconic Black Hills landmarks make your list.
1. Mount Rushmore National Memorial
It practically goes without saying that Mount Rushmore should be on your South Dakota vacation bucket list. After all, the state nickname is "The Mount Rushmore State," and the monument is emblazoned on every single "Welcome to South Dakota" sign you'll pass at the state's border. America's Shrine of Democracy is truly a sight to behold, with 60-foot-tall faces of Washington, Jefferson, Roosevelt and Lincoln, surrounded by the beauty of the Black Hills.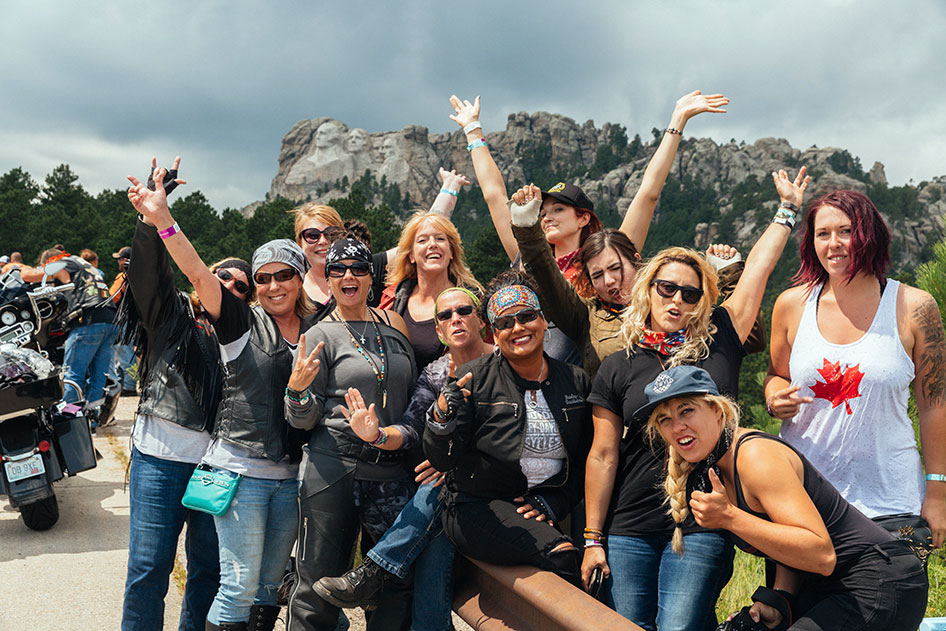 You don't have to go into the memorial itself to see the sculpture as it's easily viewed from Hwy 244 as you snake along the ridge south of Keystone. That said, it's well worth the admission to experience the beautifully designed park, learn the history behind the monument and walk under the waving flags of 56 U.S. states and territories on your way to the Grand View Terrace and Presidential Trail.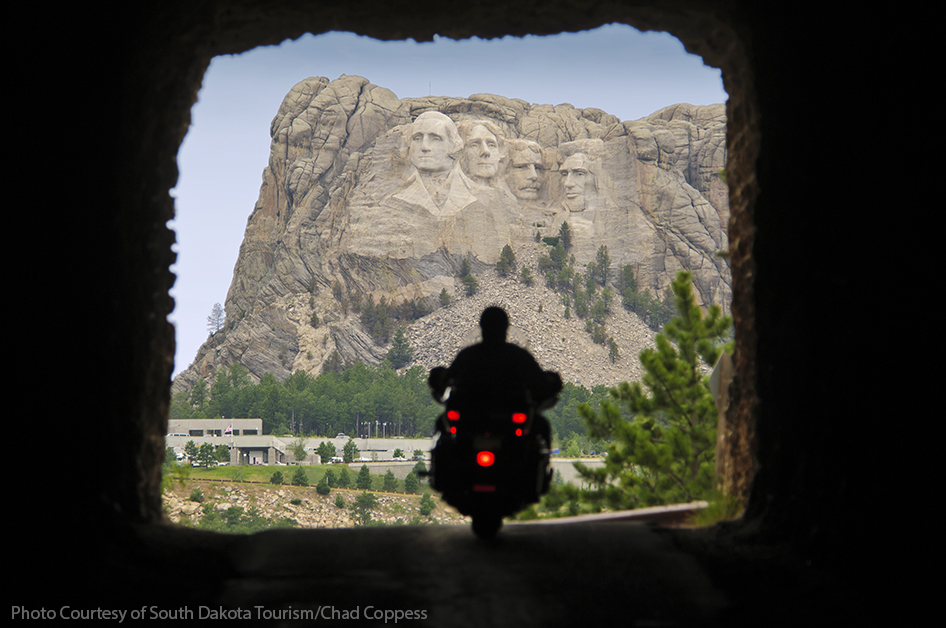 Mount Rushmore is also a great taking-off or endpoint for rides down Iron Mountain Road and Needles Highway.
Former South Dakota Governor Peter Norbeck knew something as special as Mount Rushmore needed a road equally special by which visitors could admire both the national monument and the state he called home. Because of his efforts, you'll find the turnoff to one of the most memorable 17-mile stretches of motorcycling you'll ever experience between Keystone and Mount Rushmore as part of Peter Norbeck National Byway.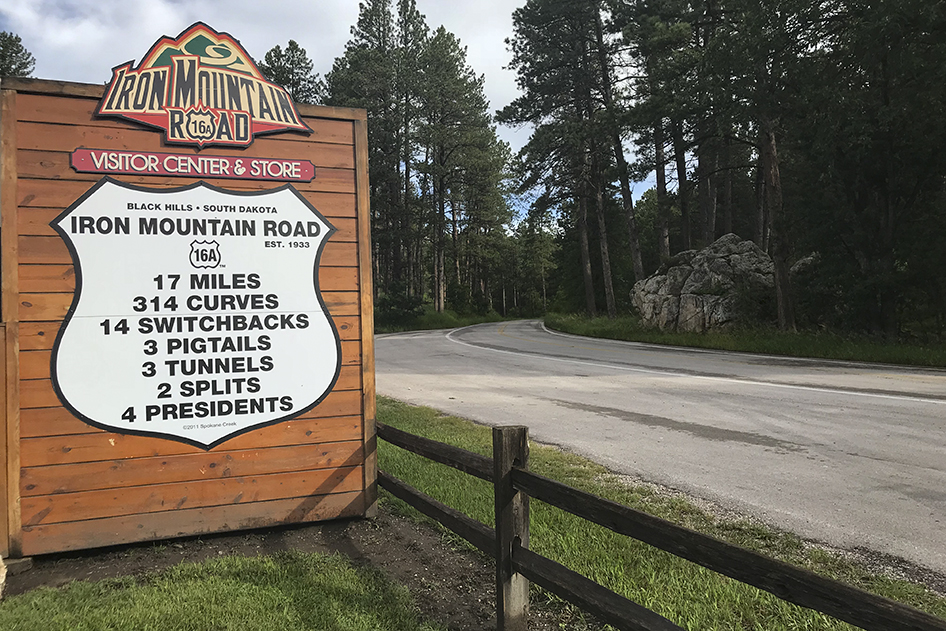 Whether Norbeck intended for this or not, Iron Mountain Road (US 16A) is absolutely made for motorcyclists. It's the type of ride where you'll seemingly spend more time on your edges than upright with 314 curves, 14 switchbacks and three 360-degree turns known as pigtails.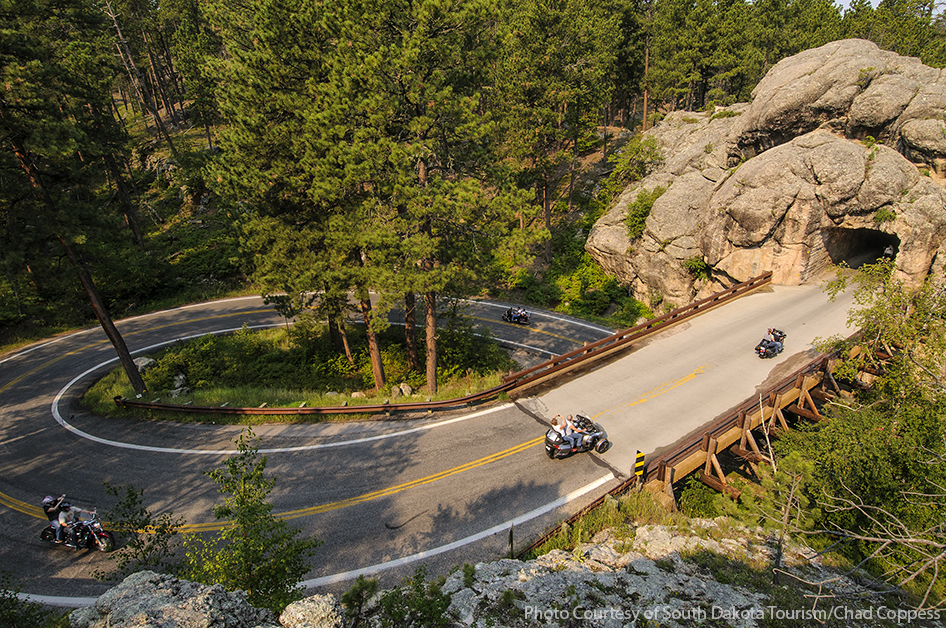 Iron Mountain Road is a challenging ride, but its spectacular views of Mount Rushmore, three granite tunnels and endless curves make it worth the upper body workout.
Learn more about Iron Mountain Road in the article "From Pigtails to Past Presidents, Iron Mountain Road is a Singular Experience".
3. Needles Eye Tunnel
A trip down Needles Highway is like riding through a movie set. The adventure will take you through an alien-like terrain filled with giant granite spires, narrow tunnels and tight turns.
Calling this 14-mile stretch a highway is a misnomer. You'll probably never see third gear on this tight two-lane road. That's just fine because your head will likely be on a swivel trying to take in the uniqueness of the rocky landscape.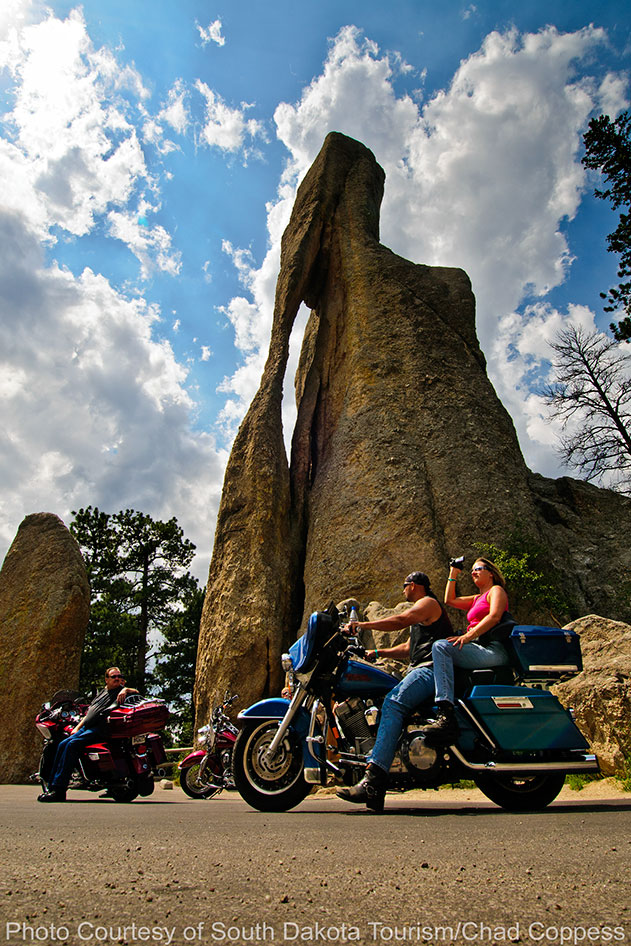 Needles Eye is they highway's signature tunnel, and Needle analogies quickly become apparent, from the delicate connection that forms the eye of its namesake rock formation to the way tour buses thread the tunnel.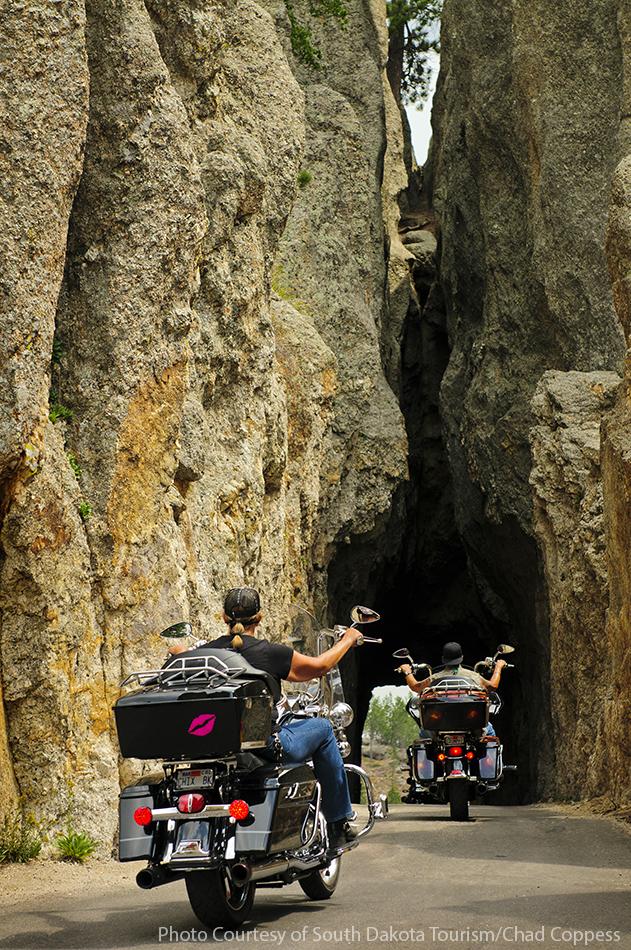 This road is within Custer State Park, and admission to the park is $10 for motorcyclists. Consider it money well spent. There are plenty of other beautiful Black Hills landmarks to explore within the park including Sylvan Lake and the Wildlife Loop.
4. Crazy Horse Memorial
If you thought the 60-foot faces at Mount Rushmore were grand, you'll be absolutely floored by the scale of the in-progress mountain carving of Lakota leader Crazy Horse. When completed, the depiction of this great warrior will be the world's largest mountain carving at a whopping 641 feet long and 563 feet high.
The monumental sculpture project began in 1948 with the purpose of protecting and preserving the culture and living heritage of all North American Indians. You'll be able to get your eyes on it just a few miles north of Custer, SD, on the side of Hwy 385, but it's absolutely worth the cost of admission. The memorial is a non-profit organization, with all funding provided by admission fees and private donations.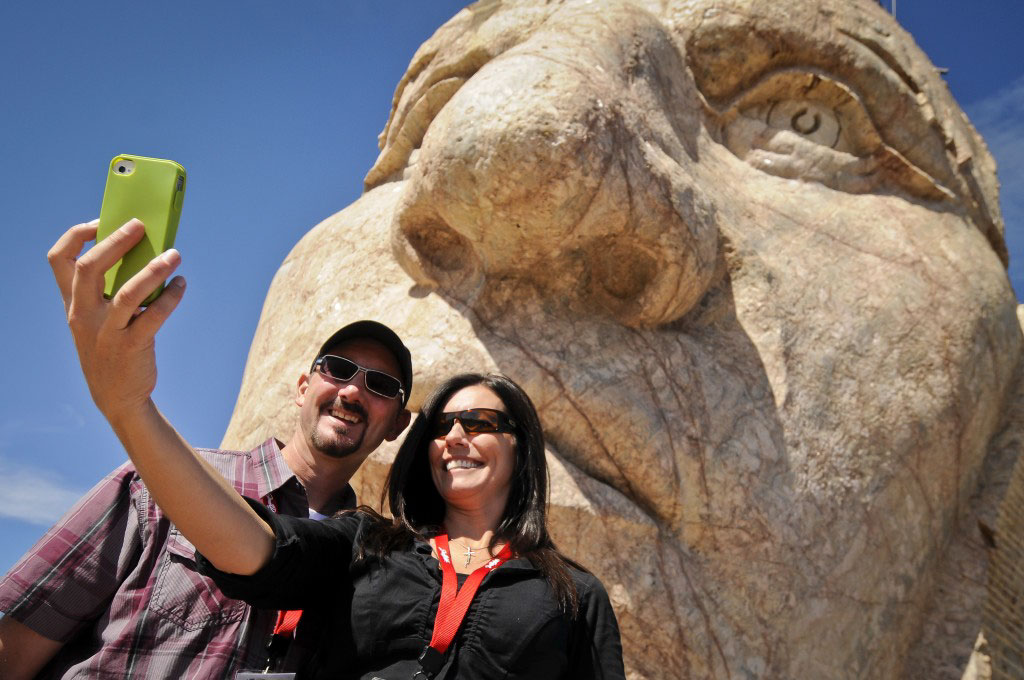 Crazy Horse is quite a site, even in its unfinished state, and the visitor's center is not only stunning architecturally but packed with Native American and regional history, too. It's a great place to learn about the Black Hills and gain a deeper understanding of the area you're riding through.
If you're looking for a party, look no further. Known as The Best Party Anywhere®, this campground and venue three miles east of Sturgis has been the epicenter of the annual Sturgis Motorcycle Rally since its establishment in 1981.
Each year the Sturgis Buffalo Chip hosts some of the biggest names in music, and you can experience all the concerts free with camping. Legendary acts including Ozzy Osbourne, Kid Rock, Bob Dylan, Willie Nelson, Snoop Dog, Aerosmith and hundreds more have played the Chip throughout the years.
With camping, showers, a swimming hole, bars, food, shopping and a ton of amenities, you'd technically never have to leave the property if you didn't want to. Of course, with so many great Black Hills attractions and rides in the area, you probably will.
6. Devils Tower
Standing roughly 1,000 feet tall across a vast plain, Devils Tower is unlike anything you've seen before. This astounding geologic feature located between Sundance and Hulett, WY has been fascinating onlookers since practically the dawn of time.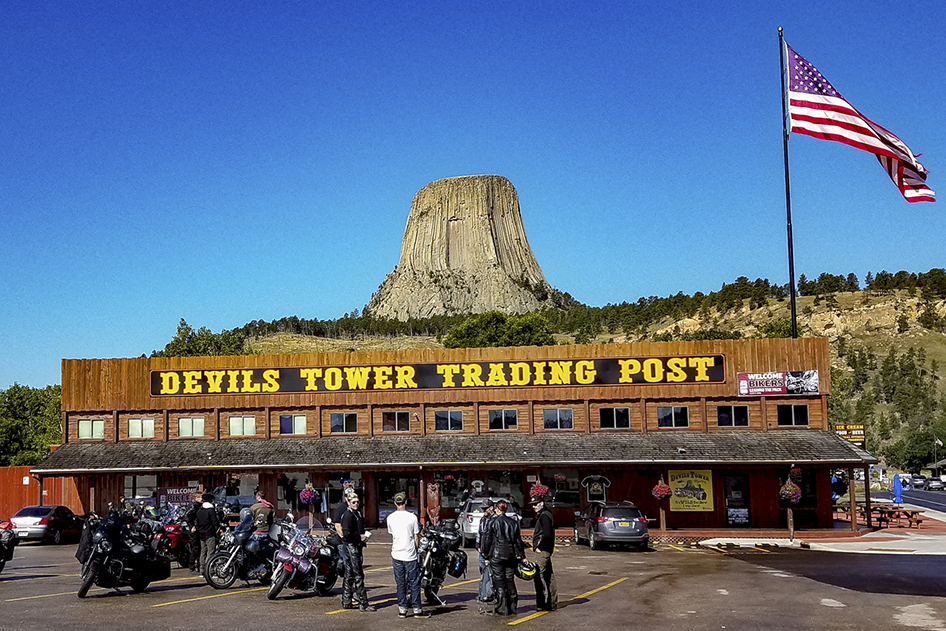 Long considered sacred by Northern Plains Indians and indigenous people, Devils Tower later earned its designation as the first US national monument from President Theodore Roosevelt in the early 1900s.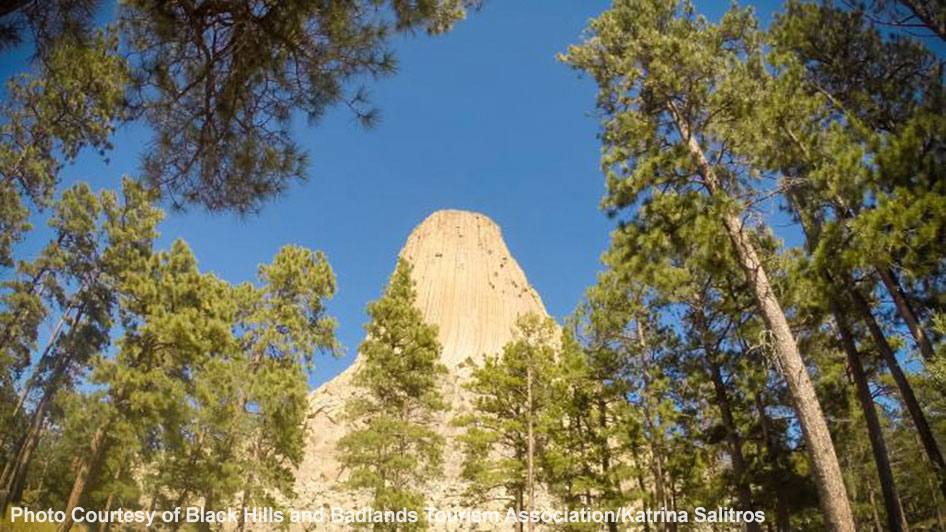 You can experience the breathtaking beauty of this natural wonder two ways. Take Hwy 34 W to Wyoming 24 W through Hulett, WY—an interesting town with Western flair. Or you can take I-90 W to Sundance, then turn north on 24 to ride alongside the red sandstone cliffs of the Belle Fourche River.
7. Historic Deadwood Main Street
Just up Boulder Canyon from Sturgis, Historic Deadwood offers a chance to walk in the footsteps of Wild West legends and discover your inner outlaw. And getting there is only the beginning of the excitement.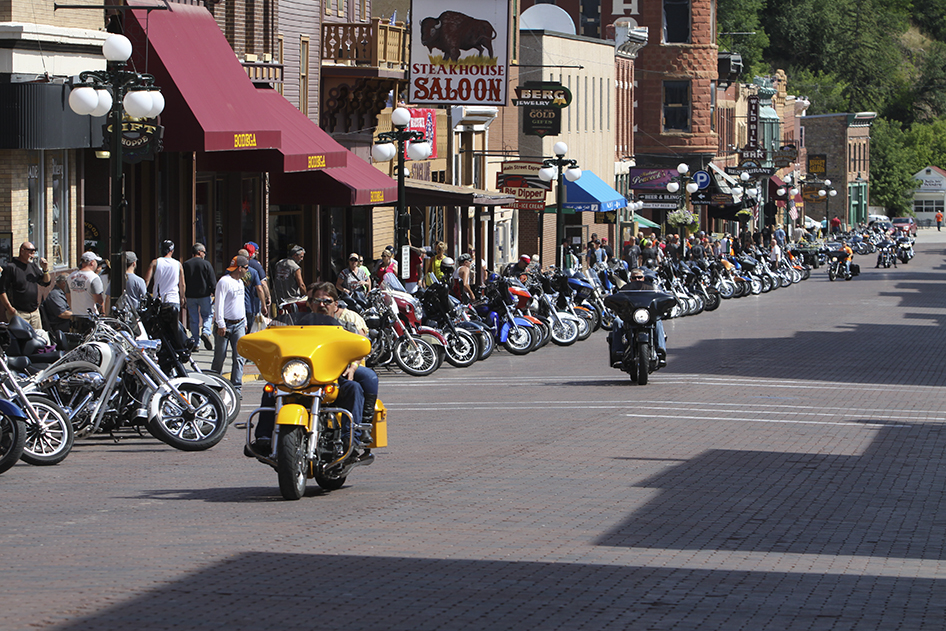 Deadwood has the look and feel of an authentic Wild West town, complete with casinos, saloons, rustic storefronts, cobblestone streets, period lighting and, best of all, free Rally-week parking on its famed Main Street.
There's no bad day to visit Main Street Deadwood, but Monday during the Sturgis Motorcycle Rally is arguably the best, as it's the day of the Buffalo Chip's annual Legends Ride®.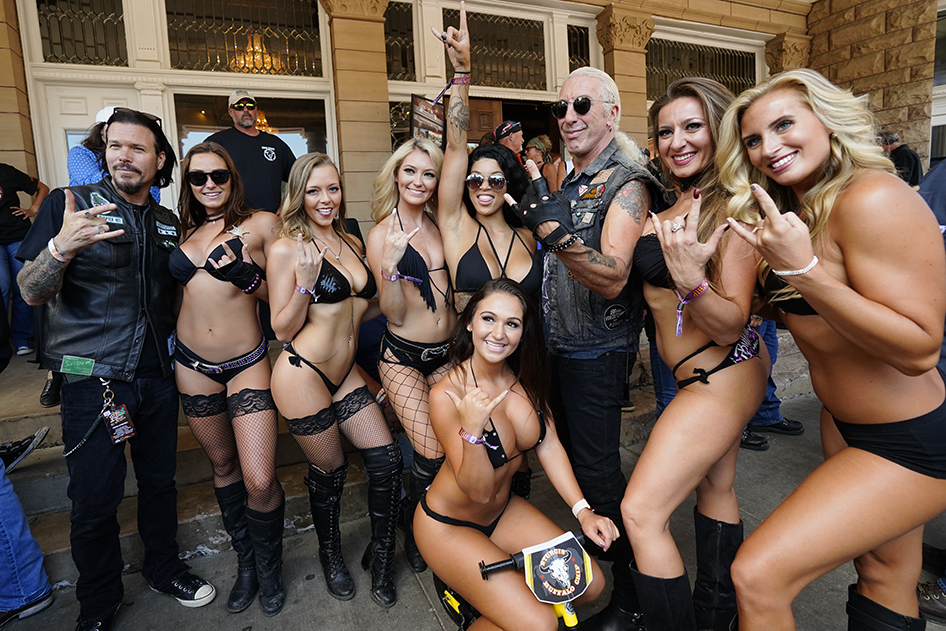 During the event, Main Street becomes a real who's who, giving you the chance to rub elbows with celebrities and ogle bikes from some of the most progressive builders in the world.
Learn more about how you can participate in the Legends Ride here.
8. Badlands
Though they technically lie outside of the Black Hills, no rider who makes it this far should leave the area before at least considering a pass through the Badlands Loop just to the east of Black Hills proper. Don't let its outlying location deter you. This area is so unique, it's sure to make your favorite rides list once you've experienced it.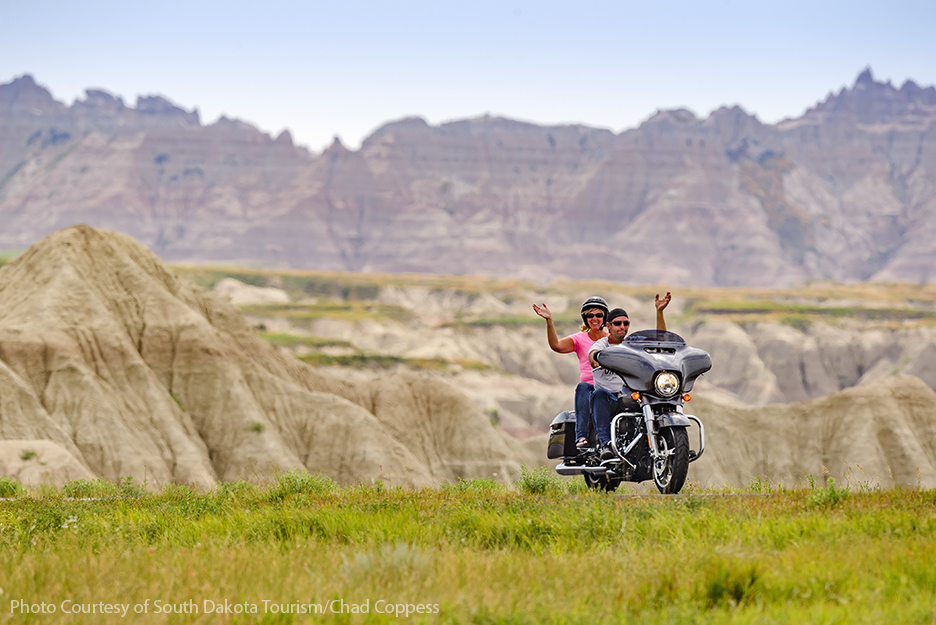 Millions of years of wind, water and erosion have created this otherworldly landscape filled with the multi-colored spires, deep canyons and jagged buttes. Badlands Loop State Scenic Byway is a 31-mile stretch of two lane that cuts right through the center of this vast labyrinth, taking you on an hour-long detour south of I-90.
Depending on which direction you're headed, you'll want to either start or end you trip with a stop at the world-famous Wall Drug in Wall, SD—the Gateway to the Badlands.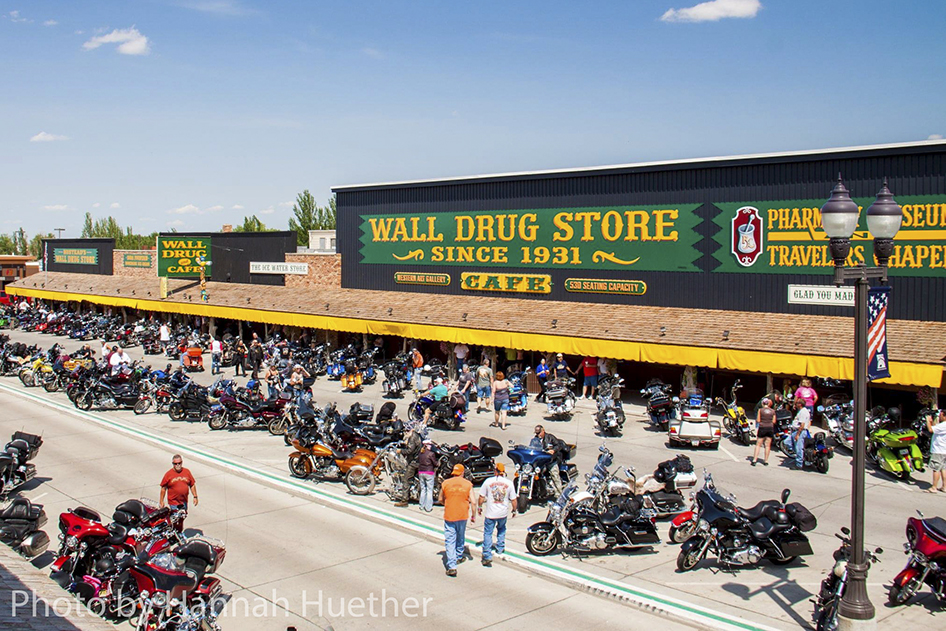 If you rode to the Black Hills, you no doubt passed plenty of signs for this place, and you can rest assured that it lives up to the hype. Here you can try your quick draw against a local gunslinger or have your picture taken on the giant Jackalope. They serve free coffee to veterans and are famous for their outstanding breakfasts and homemade cinnamon rolls.
9. Spearfish Canyon
Without question, Hwy 14A through Spearfish Canyon (accessible from I-90 exits 12 or 14) is one of the best 22 miles you can travel on two wheels. It's the quintessential scenic road adorned with steep cliffs cut through the gorge by a bubbling stream, plus multiple waterfalls and striking vistas at every turn.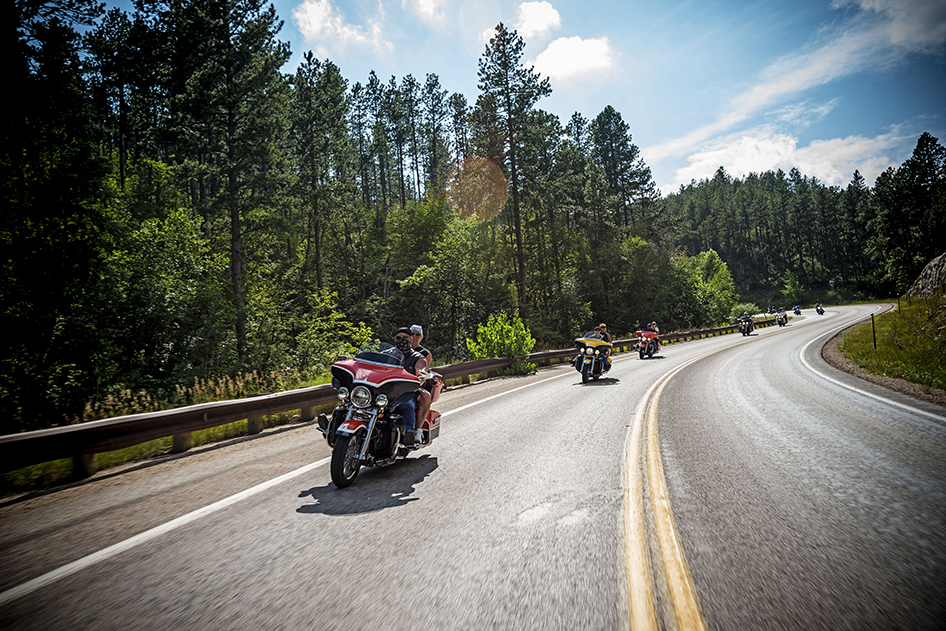 Nearly everyone stops in the parking area seven miles up to take in Bridal Veil Falls' 60-foot plunge into the canyon. You can also stop further up in Savoy to take one of the relatively short hikes to either Spearfish Falls or Roughlock Falls.
Six more miles up the road, you'll reach the end of Spearfish Canyon at Cheyenne Crossing. This place is a famous Black Hills landmark in and of itself, where you can enjoy excellent homemade pie and Indian tacos, and an outdoor beer garden.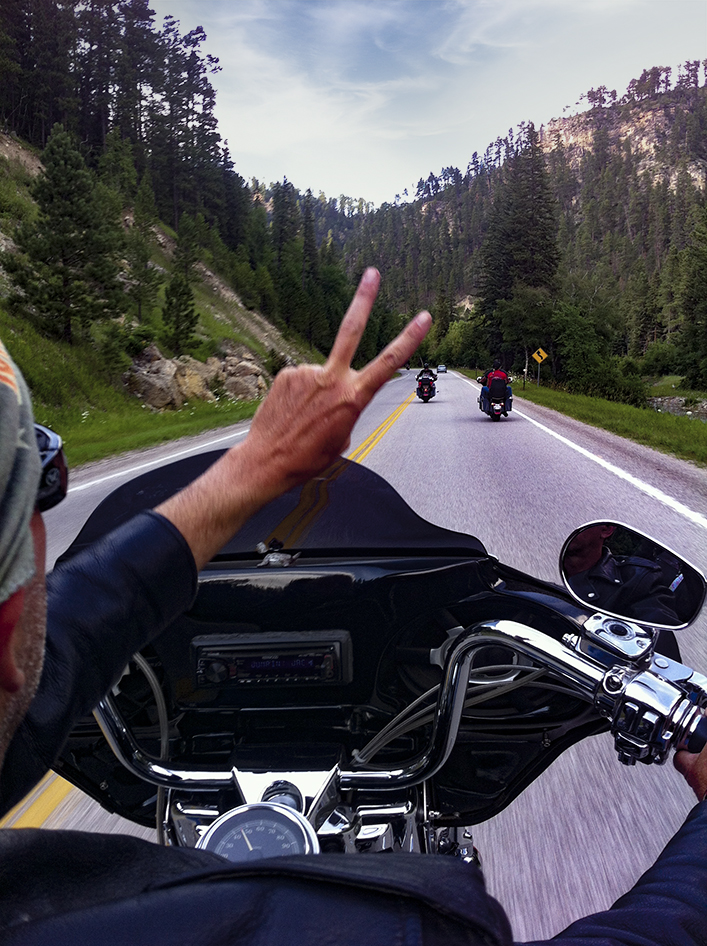 A group of seasoned riders unanimously singled out Spearfish Canyon when we asked them to share their favorite ride anywhere. See the compilation of their experiences in the Sturgis Rider News® article "One Ride You Must Take Before You Die."
10. Sturgis Main Street
A trip to the Sturgis Motorcycle Rally would appear incomplete without a trek into Sturgis itself. You could ride through just about any part of town and lose count of all the bikes and t-shirt vendors you'd passed, but the place you'll find the highest concentration of them is on Main Street.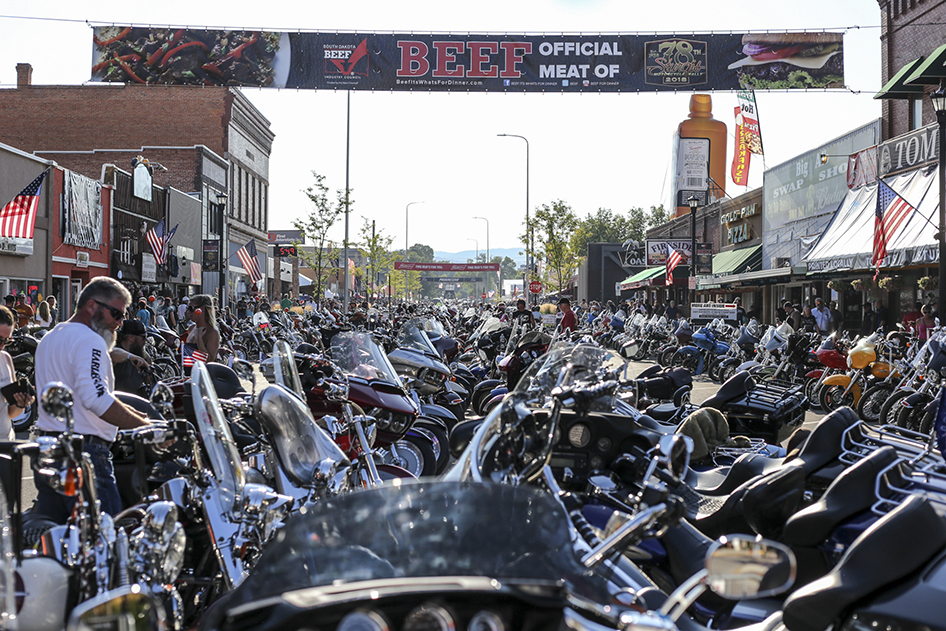 It seems to be a rite of passage to ride the down Main Street at least once during the rally. Making your way through the gauntlet of bikes is similar to riding in a parade where the floats and the spectators are equally as eye catching.
During the rally, Main Street is strictly for motorcycles, with 10 blocks of bikes lining both sides of the roadway and a double row parked in the middle. Once you're able to snag a parking spot, you'll may find yourself becoming a spectator yourself or slipping into establishments like the Loud American Road House, One Eyed Jack's, The Knuckle Saloon or the Dungeon Bar to quench your thirst.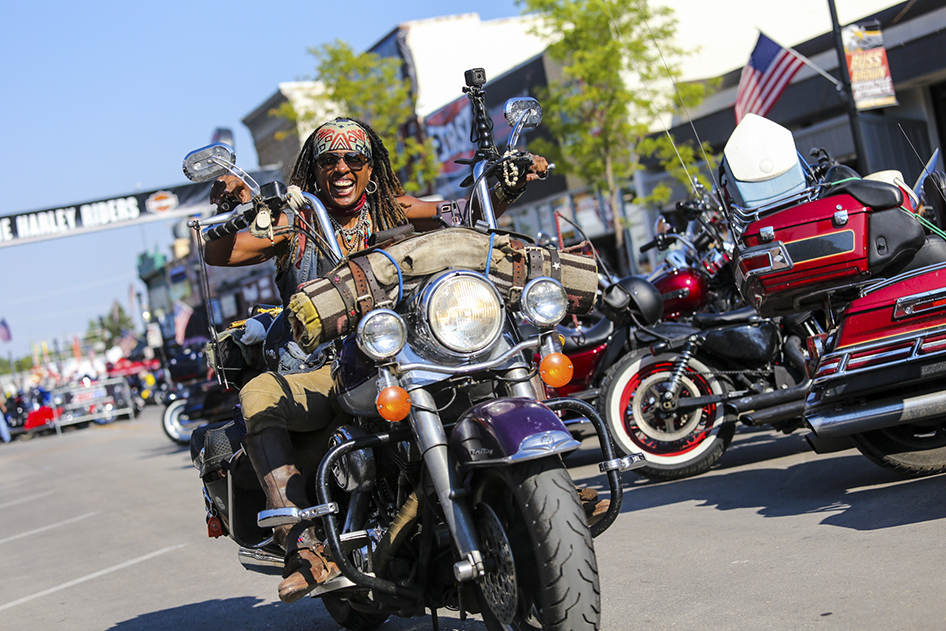 Just make sure to keep an eye on your intake and familiarize yourself with Sturgis traffic laws before getting back on your bike. You wouldn't want a ticket to be your most memorable Main Street souvenir.
Check out What Sturgis Police Will Be Watching for During this Year's Motorcycle Rally for more on this.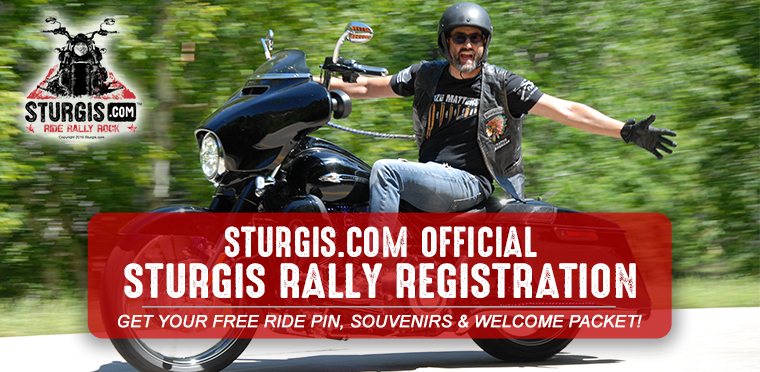 If you're coming to Sturgis to ride the Black Hills during the rally, then you should be sure to claim your free ride pin and patch from Sturgis.com's Official Sturgis Rally
Registration. You can them pick up, along with a ride map and more area information, at the Sturgis Rally Information Center located at the Buffalo Chip.
Is there anywhere to go where we won't fight a crowd?
A stop at any of these Black Hills attractions should come with the expectation that lots of other bikers will be there when you arrive.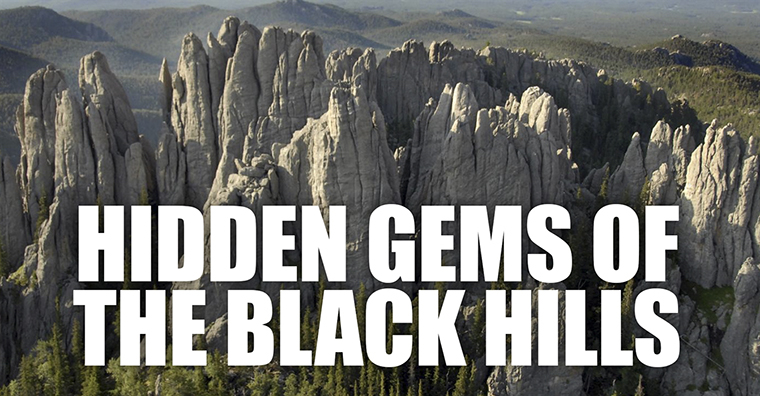 If you're looking to have a quieter day and fight fewer crowds, the Black Hills is also full of amazing hidden gems you'll want to discover. Learn more about these spots here!
What Black Hills landmarks are on your bucket list for your next trip to the Sturgis Motorcycle Rally? Tell us in the comments below!
What Black Hills landmarks are on your bucket list for your next trip to the Sturgis Motorcycle Rally? Tell us in the comments below!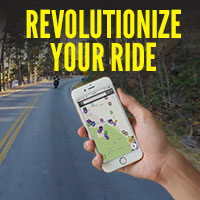 Presented by the Sturgis Buffalo Chip
Presented by the Sturgis Rider Friendly Establishments Mobile App
Look…we all eat, we all sleep, and we all enjoy finding friendly folks who want to help us get from point A to B in life. And when you're out on the road riding in uncharted territory, sometimes finding those places and faces can be a real guessing game. But now you can find thousands of places ready to roll out the red carpet for bikers like you with the interactive map on the Sturgis Rider Friendly Establishments mobile app. See who's on your route, find out why they're place is worth a stop and share your experience with other bikers. This handy tool is a FREE DOWNLOAD on any Apple or Android device. Revolutionize your ride and download yours today!